Andretti & Power Have High Long Beach Hopes
Story By: BRUCE MARTIN / INDYcar SERIES MEDIA
Photos By: CHRIS OWENS / INDYcar SERIES PHOTO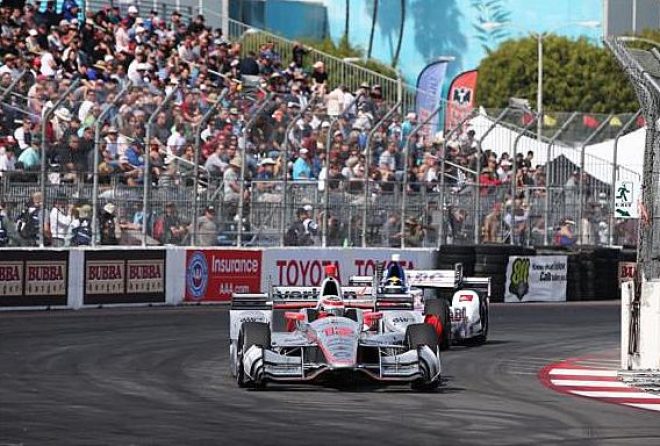 LONG BEACH, Calif. – April 8, 2017- The two fastest drivers in Friday's Verizon IndyCar Series practice sessions would like to win the 43rd Toyota Grand Prix of Long Beach for different reasons.
Team Penske's Will Power, the fastest driver of the day with a lap at 1:07.0800 around the 1.968-mile, 11-turn street course for a speed of 105.617 mph, would like to establish himself as the best active driver at Long Beach. The 2014 Verizon IndyCar Series champion won the Champ Car Series finale in 2008 at Long Beach for KV Racing Technology and won their again in 2012 for Team Penske.
A third victory at Long Beach would tie him with Sebastien Bourdais for the most of any active driver in the series.
For Marco Andretti of Andretti Autosport, the second fastest driver in Friday's combined practices sessions at 1:07.3576 (105.182 mph), a victory would make him a third-generation winner at Long Beach.
His grandfather, Mario, won the 1977 United States Grand Prix in 1977 driving for John Player Team Lotus and added three CART Long Beach wins in 1984, '85 and '87.
Marco's father, Michael, won his first career CART race in 1986 and his final CART victory in 2002 – both coming at Long Beach. Andretti Autosport cars have won twice with Ryan Hunter-Reay in 2010 and Mike Conway in 2011.
"There's a lot of history in general," Marco Andretti said. "For our family, it's definitely a special one. My dad actually won his first and his last race here, which is pretty cool. I want to win my third (career) race here, if it's this season.
"There is just so much history, even going back to F1 and stuff. It's just a magical place. The weather is probably great. It will probably rain tomorrow, now that I said that.
"For the fans, it's a fun event."
Andretti entered this season with a positive and upbeat attitude. He believes he must make racing fun against if he is going to get back to Victory Lane.
He was fast in practice in the season-opening Firestone Grand Prix of St. Petersburg but was unable to advance out of his round in qualifications. He regained his speed on the streets of Long Beach on Friday afternoon and is hoping it carries over to Saturday's knockout qualifications culminating with the Firestone Fast Six.
"It's just been a lot of work in the off-season," Andretti said. "It's not just one thing. It's a lot of things. It's attention to detail. It's I think our whole approach as a team. You know, the way we test, the way we do shaker, the way we do everything.
"I think this is as confident as I've felt and as fast as I've been in off-season testing and stuff like that my career. I don't remember being in the top two or top five the whole off-season. And in practice and in St. Pete, I think St. Pete didn't really show what the 27 had. We had those problems in qualifying, then it turned into a fuel race.
"I think we have the pace. Now the goal is to convert that to, you know, a race win really. But results, you know, finishing seventh there was not a reflection of our pace. That's a good thing. Last year, it would have been, seventh is OK. There, we were a third or fourth place car. Here we're showing some pace. We need to convert it. That's the goal."
Andretti has entered seasons where he was very demanding of himself and that wasn't the right approach. The more he lost, the deeper the hole that he created for himself.
This year he is hoping a positive mental attitude will make him a winner again.
"When you're running well, it's easier to smile," he said. "You're not going to run well if you're not smiling. That's the hole I had to dig myself out of in the off-season.
"I think it's maybe 60 percent that our cars are just better this year. But the rest of it is we need to execute. Now that we're able to be fast, we need to really turn it into results. That's going to be the key.
"In 2013, I was able to lead the championship almost at the halfway point, but we let it go. We need to really stay on it all the way through the year, if we're able to march forward, which will be the goal. So, it's easier to have fun when you're fast."