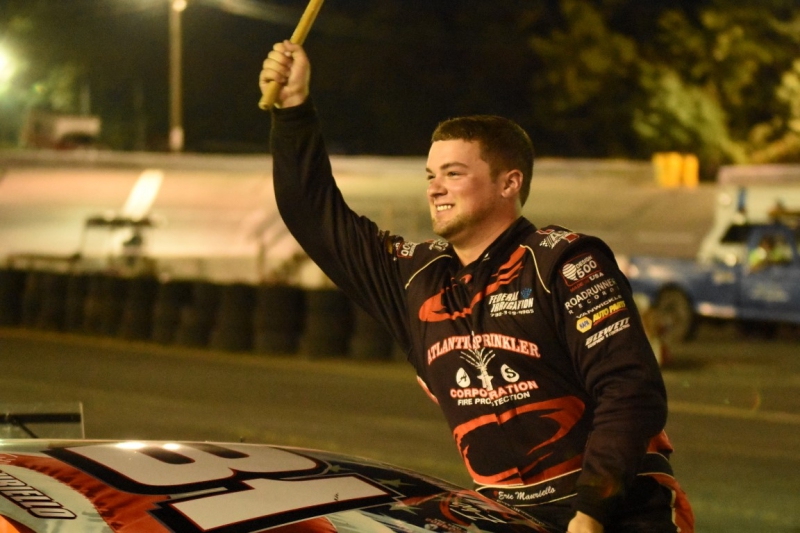 MAURIELLO MOTORS TO MODIFIED WIN AT WALL SATURDAY
Story By: Jeff Gravatt/Wall Stadium
Photos By: John John Lane/RacersGuide.com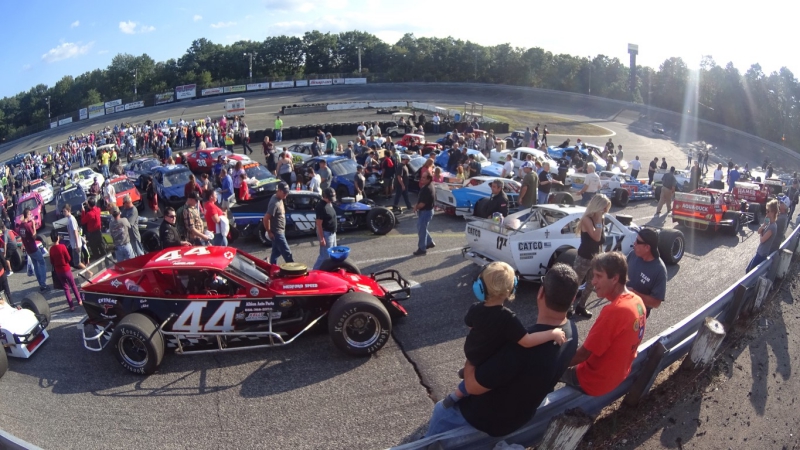 WALL TOWNSHIP, N.J. ~ In front of a large crowd that had gathered for NAPA Auto Parts Fan Appreciation Night action and an on-track party, Eric Mauriello was dominant in racing from the rear of the pack to win the 40-lap main event for the Pete & Elda's Bar/Carmen's Pizzeria Modified stock cars at Wall Stadium Speedway. The Howell speedster's Saturday night win was his first victory of the 2018 All American Auto Group Racing Series.
The race did not start well for Mauriello as a first turn scramble at the initial green flag found his No. 31 sitting on the track in the wrong direction. He then righted his car for the restart and immediately began his march to the front. Jackson's Jason Treat jumped to the early lead and was soon fighting off Manasquan's Kenny Van Wickle and then Derek Hopkinson of Toms River for the glory. Meanwhile, Mauriello was charging to the front and arrived in third by the halfway mark. Without the benefit of a restart Mauriello then advanced to second by lap 30 and then dove to the inside lane to take the lead for good one lap later.
Mauriello then stretched his advantage to the checker flag with Treat, Hopkinson, point leader Jimmy Blewett of Howell and Jackson's Steven Reed completing the top five.
"I am just so happy for Steve Ferrara and everyone who works on this car," Mauriello said in the winner's circle. "They pour their heart and soul into this team and we've had some disappointing outings. After that first lap mess when we were pointed in the wrong direction I thought this could be another one of those disappointing races. But they had this car running so fast! I think it was the best it has ever been!"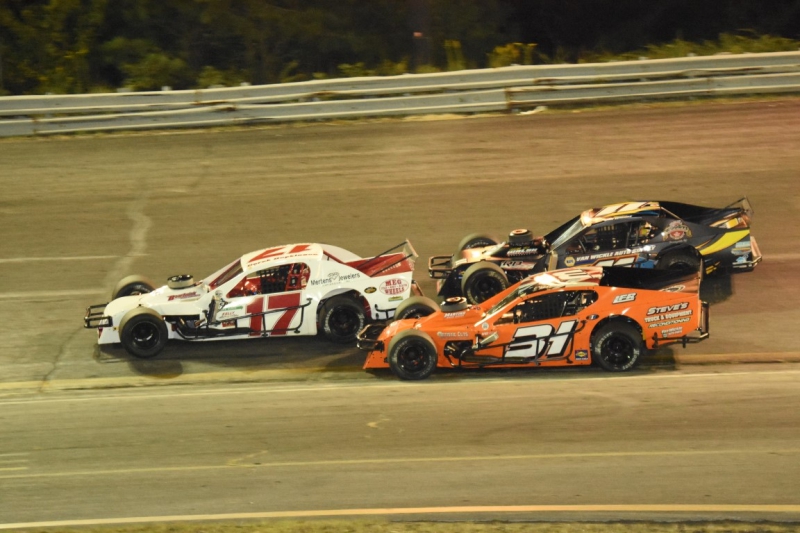 After his own fair share of disappointment this season Michael Rising of Red Bank raced to the win in the 25-lapper for the Center State Engineering Sportsman cars. Rising took the lead on a lap seven restart, the final one of the event, and raced on to the impressive win. Point leader Kevin Davison of Howell was the runner-up, with Eddie McCarthy of Pt. Pleasant, Jackson's Carsten DiGiantomasso and title contender Kyle Scisco of Jackson wrapping up the top five. Title contender Eric Lane of Howell suffered a reported broken wrist in a lap five tangle was was credited with 14th.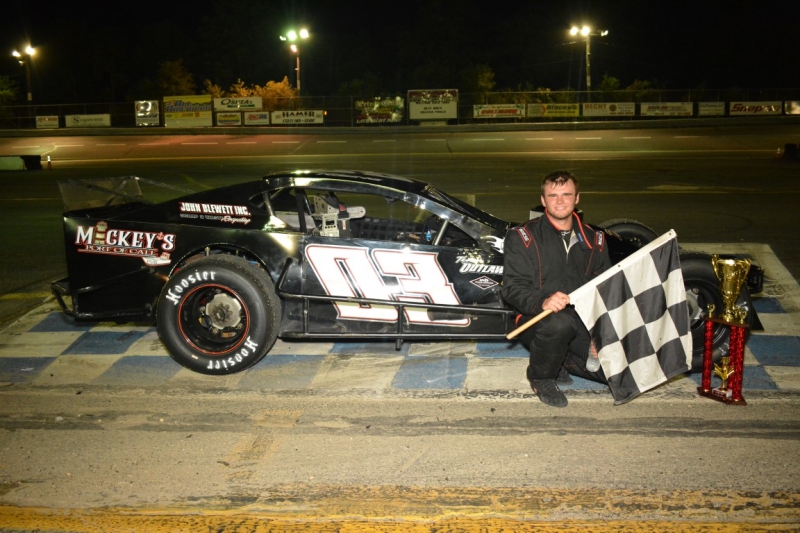 Shanon Mongeau of Jackson had a big night by winning both the Mike's Performance Center Limited Late Model and O'Shea's Auto Repair Factory Stock 25-lap races. In the Limited Late Model ranks, where he has been undefeated this season, Mongeau was chased across the line by Joe Mongeau of Brick, Carteret's Harry Schaeffer, Dom Casola of Holmdel and Bayville's Mike Tillett.
In the Factory stock race Mongeau took the lead for good on lap 18 and was followed to the finish by point leader Mike Montano of Freeport, N.Y., Beachwood's Elliott Wohl, John Bowers of Pt. Pleasant and Gerry Koenig of Seaford, N.Y.
TJ Graves of Wall took the lead on lap six and raced to win the 25-lapper for the Surfside Collision 4 Cylinder Stocks. Neil Rutt III crossed the finish line second but was moved to eighth in the final order for what officials felt was avoidable contact. Point leader Brian Osborn of Howell was officially second, with AJ Jadacki, Chris Silvestri and Nicole Razzano completing the top five.
Championship point leader Nick Van Wickle of Edgewater Park won his fourth Green Flag Driving Experience Legend Cars 25-lapper of the year over Peter Bruno of Little Silver, Joe Przybylinski, James Van Wickle and Roger Nickerson.
The All American Auto Group Racing Series regular season wraps up this Saturday with Champion's Night action when the 2018 title winners will be crowned. The Pete and Elda's Bar/Carmen's Pizzeria Modifieds will return for a 40-lap main event, while the O'Shea's Auto Repair Factory Stocks, Surfside Collision 4 Cylinder Stocks, Mike's Performance Center Limited Late Models, the Center state Engineering Sportsman cars and the Green Flag Driving Experience Legend Cars will all compete in a 25-lappers. Due to the importance for deciding the championships on the track, a rain date for Sunday, October 7, will be in effect.
On Saturday, October 6, grandstands will open at 5:00 p.m., qualifying is set for 5:45 p.m. and feature race action set for 7:00 p.m.
The Halloween themed "Spooky Spectacular" racing event is then set for October 20 and the annual Turkey Derby is set for Friday, Saturday and Sunday of Thanksgiving weekend. These post-season racing cards start during the daylight hours..
Wall Stadium is located on Route 34 in Wall Township, N.J., just one mile north of Garden State Parkway exit 98 and Interstate 195 exit 35B. The speedway website is wallspeedwayracing.com, the hotline number is 732-681-6400 and the email address is ckmotorsports@aol.com.
RACE RESULTS
MODIFIED FEATURE – 40 Laps – 1. ERIC MAURIELLO, HOWELL, 2. Jason Treat, 3. Derek Hopkinson, 4. Jimmy Blewett, 5. Steven Reed, 6. Chas Okerson, 7. Andrew Krause, 8. Kenny Van Wickle, 9. Roger Coss, 10. Shaun Carrig, 11. Jonathan Mandato, 12. Joey Merlino, 13. Tyler Truex, 14. Tom Catanzaro, 15. Dom Fattaruso, 16. Nick Baer
SPORTSMAN FEATURE – 25 Laps – 1. MICHAEL RISING, RED BANK, 2. Kevin Davison, 3. Eddie McCarthy, 4. Carsten DiGiantomasso, 5. Kyle Scisco, 6. Jonathan Laureigh, 7. Michael Carr, 8. Robert Vassilatos, 9. Jake Nelke, 10. Howie Conk, 11. Tom Martino, 12. Roland DeMartino, 13. Sal Liguori, 14. Eric Lane, 15. Jarret DiGiantomasso, 16. Louie Keraitis, 17. Larry Thompson, 18. Donnie Ericson, 19. Todd Dige.
FACTORY STOCKS FEATURE – 25 Laps – 1. SHANON MONGEAU, JACKSON, 2. Mike Montano, 3. Elliot Wohl, 4. John Bowers, 5. Gerry Koenig, 6. Scott Riggleman, 7. Johnny Carpenter, 8. Richie Byrne, 9. Whitey Miller, 10. Tim Majek, 11. Robert Ptaszynski, 12. Bryan O'Shea, 13. Bill Stockert, 14. Bob Haberstick, 15. Robert DePonte, 16. Matt Malachatka, 17. Nancy Riggleman, 18. Steve West, 19. Ricky Collins, 20. Gary Bronne, 21. Jon Bronne, 22. Terry Cain, 23. Waylon Speer
4 CYLINDER STOCKS FEATURE- 25 Laps – 1. TJ GRAVES, WALL, 2. Brian Osborn, 3. AJ Jadacki, 4. Chris Silvestri, 5. Nicole Razzano, 6. Todd Dige, 7. Jeffrey Loesch, 8. Neil Rutt III, 9. Darianne McLaren, 10. Randy Hart, 11. Billy Both, 12. Jennifer Schultz, 13. Charlie Lauble, 14. Frank Ciancitto, 15. Max Montijo, 16. JC Duvall
LIMITED LATE MODEL FEATURE – 25 Laps- 1. SHANON MONGEAU, JACKSON, 2. Joe Mongeau, 3. Harry Schaeffer, 4. Dom Casola, 5. Mike Tillett, 6. Greg Miranda, 7. Greg Gastelu
LEGEND CARS FEATURE – 25 Laps – 1. NICK VAN WICKLE, EDGEWATER PARK, 2. Peter Bruno, 3. Joe Przybylinski, 4. James Van Wickle, 5. Roger Nickerson, 6. Bill Petrolino.