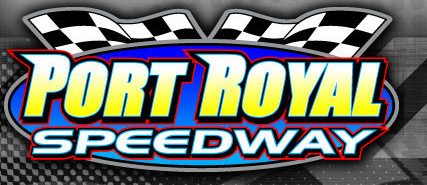 Justin Whittall Breaks Through for First Port Royal Victory in Final 410 Sprint Car Start of the Season
By Justin Snyder
Port Royal Speedway- PORT ROYAL, PA- (October 15, 2022)- In a year filled with near misses and continued growth as a driver, Justin Whittall saved the best for last as he picked up his first career Port Royal Speedway victory Friday night during the final Weikert's Livestock 410 Sprint Car event of the season.
The victory came over a hard charging Dylan Cisney and Lucas Wolfe and was worth $6000 as it served as the make-up for the cancelled Labor Day Classic event.
Whittall lined up from the front row for the 25-lap A-main event alongside of Devon Borden and it was Whittall jumping to the top of the Speedway to grab the opening lead over Cisney, Borden, Wolfe and Buddy Kofoid.
Eighth-place starter Freddie Rahmer was on the move early as he moved into sixth on lap three.
However, Whittall was quickly distancing himself from the rest of the field as he stretched his advantage to more than two seconds within five laps. One lap later the New Jersey native hit lapped traffic, while the rest of the field hoped to track him down.
With 15 laps remaining, Cisney was starting to cut into Whittall's lead, but four laps later Whittall was gain stretching the lead as he approached a 3.0 second advantage with 11 to go.
Whittall had a scare one lap later when Austin Bishop, Jeff Halligan and Mike Water got turned around right in front of him and the youngster was forced to make an acrobatic maneuver to avoid contact and kept his car clean with 10 laps remaining.
While Whittall remained steady up front, it was Wolfe on the move after the restart as hehe went two four one to briefly move from fourth to second. Cisney took the runner-up spot back on the following lap.
Borden, who was running fourth at the time, saw his night come to an end with five laps remaining after a mechanical failure caused him to spin entering turn three to bring out the caution again.
Cisney tried a slider on Whittall after the return to green, but Whittall was not to be denied off the top of the Speedway. Rahmer got by Wolfe for the final podium spot one lap later, but Wolfe came powering back by on the following lap to regain the spot.
As Cisney hoped for a miracle over the final three laps, Whittall cruised home to the victory. Rahmer and Logan Wagner completed the top five followed by Kofoid, Danny Dietrich, Walter, Mike Wagner and Paulie Colagiovanni.
Danny Varin finished 12th and advanced six positions to earn the $500 Valley Supply Hard Charger Award.
Sprint Car Feature Results (25 laps): 1. Justin Whittall. 2. Dylan Cisney 3. Lucas Wolfe. 4. Freddie Rahmer. 5. Logan Wagner. 6. Buddy Kofoid. 7. Danny Dietrich. 8. Michael Walter II. 9. Mike Wagner. 10. Paulie Colagiovanni. 11. Danny Varin. 12. Dan Shetler. 13. Kassidy Kreitz. 14. Cameron Smith. 15. Logan McCandless. 16. Devon Borden. 17. Jeff Halligan. 18. Austin Bishop. 19. Ryan Smith. 20. Derek Hauck.