Will Power Led a Team Penske Sweep of The Top-Three Positions During Verizon IndyCar Series Qualifying Saturday at Barber Motorsports Park
Story By: MITCH ROBINSON / INDYcar SERIES MEDIA
Photos By: BRET KELLY / INDYcar SERIES PHOTO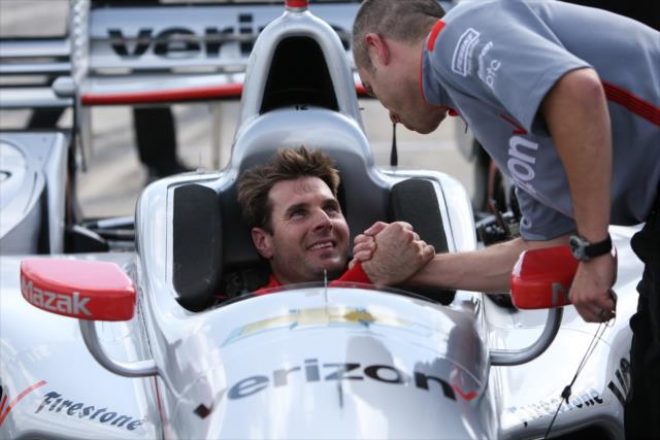 LEEDS, Ala. – April 23, 2017- After getting off to a bit of a slow start this year, Team Penske got back on track by sweeping the top-three spots in Verizon IndyCar Series qualifying on Saturday at Barber Motorsports Park.
Will Power scored his second Verizon P1 Award of the season and the 46th pole of his IndyCar career, which ranks fifth all-time. It was also Power's fourth pole at the 2.3-mile, 17-turn road course.
Power lapped the tricky track in 1:06.9614 for a speed of 123.653 mph in a Chevrolet. Helio Castroneves qualified second for Team Penske, followed by the third Team Penske Chevrolet driven by Simon Pagenaud in third.
"It's good and shows the hard work that Penske does," Power said. "The drivers work very well together. When you have good cars, what can you say?
"It's having a very good team and car. We are working well this weekend and making sure we work on the right things. I had a much better car on used tires and a very good result."
A Team Penske driver has won seven of the eight poles at Barber with Power starting first in 2010, 2011, 2014; Castroneves in 2012 and 2015 and Pagenaud last year.
"It was inevitability," Honda driver James Hinchcliffe said. "We all expected this in St. Pete. We've had a two-race reprieve a bit even though they were on pole the first two races as well, but this Penske Parade is a bit concerning.
"Those guys are going to be tough to beat on Sunday. We just want good racing. They are all incredible drivers and we like having them up there. But when it is all of them up there ahead of everybody else that is when it gets a bit dull."
Castroneves was second at 1:07.1429 (123.319 mph) and Pagenaud third at 1:07.3817 (122.882 mph) as the first three drivers were in Team Penske Chevrolets.
"It's phenomenal for the team," Pagenaud said. "They did a fantastic job preparing these cars and this is a very good track for us in general. We have really good grip and an understanding of the aero package as well. It was a good session but a little hectic being at the end of pit lane. I couldn't get a good out lap on my tires so we wore out our tires in Q1 and Q2 and we pushed too hard in the Fast Six.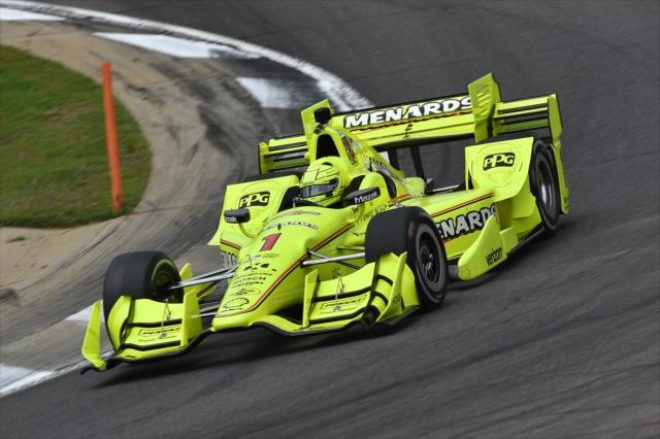 "We were very aggressive in the setup and went a tick too far. But congratulations to Will Power."
Scott Dixon was in the fastest Honda at 1:07.5817 (122.518 mph). He has finished second four times at Barber Motorsports Park.
"The cars have been really strong since the start of the season," Dixon said.
Two-time Honda Indy Grand Prix of Alabama race winner Ryan Hunter-Reay of Andretti Autosport was fifth at 1:07.6851 (122.331 mph) with Toyota Grand Prix of Long Beach race winner James Hinchcliffe rounding out the Firestone Fast Six at 1:07.5941 (122.496 mph).
The only Team Penske driver not in the Fast Six was newcomer Josef Newgarden, who barely missed advancing into the final round. The 2015 Barber winner will start seventh at 1:07.5941 (122.496 mph).
"I was surprised he took that risk of used Reds, which were only a half-lap old," Power said. "He was quick so I'm sure he would have been in the top four."
By not using his second set of Firestone Red tires, that gives Newgarden one extra set of the faster tires in Sunday's race.
A big surprise is Graham Rahal starting last in the 21-car field after finishing second here the past two years. He didn't make it out of his second group in segment one with a lap at 1:08.0499 (121.675 mph).
"We're all sliding around, it's just the level at which you are doing that," Rahal said. "We can't seem to get the tire to bite the road at all. I had nothing else for qualifying. This morning I put in one miracle lap but couldn't get within half of a second of it again. That's what we have been banking on in qualifying. It got us through once in St. Pete and got us into the Fast Six in Long Beach but we couldn't do that today.
"We have to unload competitive right away because we don't have a second car to split the workload and try different setups, spring rates or anything. For us as a single car team it's impossible to catch up over a race weekend. We've always been good here, we want to win races and get the PennGrade car in Victory Lane."
In the first group in segment one, Hinchcliffe started off fast but Newgarden takes control before Hinchcliffe comes back with 31 second remaining at 1:07:3014. Advancing are Hinchcliffe, Tony Kanaan, Newgarden, Mikhail Aleshin, Ed Jones and Max Chilton.
Once again, Marco Andretti could not advance out of his first segment. Neither did Charlie Kimball, Spencer Pigot or Zach Veach.
"I was a bit loose but with the margin I had this morning I definitely should have had it," Andretti said. "This one really hurts. I'm going to need a start like I had here last year."
The second group of the segment one was stacked with some outstanding racers. It was inaugural Barber winner Helio Castroneves who was fast out of the blocks with a time of 1:07.4333 before two-time Barber winner Power powered his way to a time at 1:07.2471. With five minutes to go, Pagenaud was third followed by Dixon, Ryan Hunter-Reay and Takuma Sato. Outside of the Fast Six with four minutes left were points leader Sebastien Bourdais, Alexander Rossi, Graham Rahal, Conor Daly and Carlos Munoz.
Bourdais' bolted on the Firestone Reds with 3:21 left in the first session in an attempt to give him faster rubber to advance into segment two.
In the closing minute, the two Foyt drivers – Munoz and Daly – started on flying laps as did Bourdais, who was using one of his sets of Reds. He was the last driver on the track after time ran out as he attempted to complete his lap. Hunter-Reay was able to get into the Fast Six in the final minute as did Bourdais, whose crafty tire move was enough to qualify sixth.
The six drivers that advanced were led by Power's 1:06.9311, Dixon's 1:07.1954, Castroneves' 1:07.4333, Pagenaud's 1:07.4536, Hunter-Reay's 1:07.6055 and Bourdais' 1:07.6287.