Wayne Taylor Racing Drivers Ricky Taylor, Jordan Taylor and Alexander Lynn Drove To Victory In Saturday's Mobil 1 Twelve Hours Of Sebring.
Story & Photos By: IMSA WEATHERTECH SERIES MEDIA
SEBRING, Fla. –March 19, 2017- Wayne Taylor Racing stormed to a dominant victory in the Mobil 1 Twelve Hours of Sebring on Saturday at Sebring Int'l Raceway.
Ricky Taylor piloted the No. 10 Cadillac DPi V.R during the final stint, besting the No. 5 Action Express Racing Cadillac DPi V.R driven by Joao Barbosa at the checkered flag by more than 12 seconds to win overall and in the Prototype class.
"To be able to cross the line and drink the Florida orange juice is awesome," said Ricky Taylor. "I had all the confidence in the world that our beautiful Cadillac here with Konica Minolta was going to be in victory lane and these guys did so good."
Taylor shared the No. 10 with his brother, Jordan Taylor, and newcomer Alexander Lynn. Wayne Taylor Racing opened the season with a victory in the Rolex 24 when Jeff Gordon and Max Angelelli joined the Taylor brothers in victory lane.
The top-two finishers in the Prototype class were the only two cars to finish on the lead lap, with both cars completing 348 laps.
In GT Le Mans, Corvette Racing's Antonio Garcia prevented Chip Ganassi Racing's Ford GT program from collecting another crown jewel. Garcia, who shared the No. 3 Chevrolet Corvette C7.R with Jan Magnussen and Mike Rockenfeller, fended off Joey Hand in the No. 66 Ford GT by just more than four seconds during a lengthy stint on Saturday evening.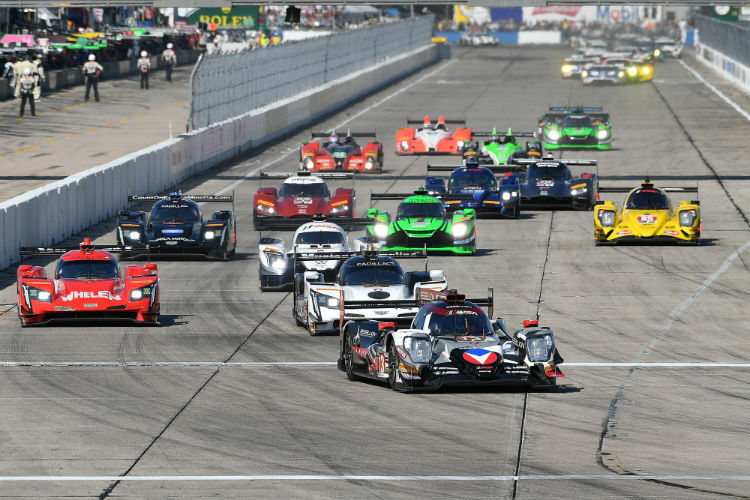 "That was amazing," Garcia said. "I don't know what I did. I knew I had to do it. I did three hours following the 66 (Ford GT) flat out and I couldn't pass him. I knew it had to be done by strategy, fast laps and tire changes and I think we nailed everything."
Jeroen Bleekemolen gave the new Mercedes-AMG GT3 its first victory in IMSA WeatherTech SportsCar Championship competition in the GT Daytona class Saturday night.
Bleekemolen, who piloted the No. 33 for Riley Motorsports – Team AMG alongside Ben Keating and Mario Farnbacher, bested the No. 63 Ferrari 488 GT3 driven by Alessandro Balzan by a comfortable margin at the finish.
The GT Daytona win comes 60 years since the last appearance by Mercedes in the Mobil 1 Twelve Hours of Sebring.
In Prototype Challenge, Performance Tech Motorsports picked up where they left off in the Rolex 24 with another dominant performance. The No. 38 ORECA FLM09 shared by James French, Patricio O'Ward and Kyle Masson captured the class victory by two laps over the No. 8 Starworks Motorsports entry driven by Sean Rayhall, Maxwell Hanratty and Garett Grist.