A Stacked 40-car Entry List Has Been Released For The IMSA WeatherTech SportsCar Championship Event At Circuit Of The Americas Next Week.
Story & Photos By: IMSA WEATHER-TECH SERIES MEDIA
DAYTONA BEACH, Fla. – April 28, 2017- All four IMSA WeatherTech SportsCar Championship classes, totaling 40 cars, have been entered for next week's Advance Auto Parts SportsCar Showdown at Circuit of The Americas on May 6.
The largest of the four WeatherTech Championship classes, GT Daytona (GTD), brings a strong field of 17 cars, including Texas-based Lone Star Racing, which makes its 2017 series debut in its home state event. Co-drivers Dan Knox and Mike Skeen will share the team's No. 80 ACS Manufacturing Mercedes-AMG GT3 in the first of four planned WeatherTech Championship events this season.
"This schedule worked for us last year and we are looking forward to visiting four of our favorite tracks again in 2017," Knox said. "We would love to do more races, who wouldn't, but I also have many time commitments away from the race track with family and business. It has been six months since we last raced so we are anxious to get things going very soon at COTA."
The team has chosen a race car with serious momentum in the GTD class, as Mercedes-AMG enters the race riding a two-race win streak. Texan Ben Keating – a three-time winner at COTA – and Jeroen Bleekemolen gave the three-pointed star its first WeatherTech Championship win at Sebring in their No. 33 Riley Motorsports-Team AMG machine and rate among the top GTD contenders at COTA as well.
Gunnar Jeannette and Cooper MacNeil made it two in a row for the manufacturer in their No. 50 WeatherTech Racing-Riley Motorsports Mercedes-AMG GT3 on April 8 at Long Beach. And a fourth Mercedes-AMG, the No. 75 SunEnergy1 Racing entry to be shared at COTA by Kenny Habul and Tristan Vautier, scored the manufacturer's first GTD pole with Vautier at the wheel in Sebring.
Mercedes faces a stiff challenge from seven other manufacturers to keep its GTD winning streak alive, though. Lexus has a pair of entries, as does Acura and Lamborghini. There are four Porsche 911 GT3 Rs in the class field and single entries from BMW, Ferrari and Audi.
In the Prototype class, the fastest of the four classes in the WeatherTech Championship, the entry list includes the same 10 cars that competed at Long Beach, albeit with one driver lineup change. Marco Bonanomi joins incumbent co-driver Jose Gutierrez in the No. 52 PR1/Mathiasen Motorsports Ligier LM P2 car.
Leading the class are brothers Ricky and Jordan Taylor, who won the first three races of the season in their No. 10 Konica Minolta Cadillac DPi-V.R and also won the 2016 WeatherTech Championship race at COTA.
Not unlike the Prototype class, GT Le Mans (GTLM) also features the same field of cars it had for the BUBBA burger Sports Car Grand Prix at Long Beach. However, there is one notable driver lineup change in GTLM as well, with Wolf Henzler moving into the No. 912 Porsche 911 RSR alongside Laurens Vanthoor for the Porsche GT Team.
The Charlotte, North Carolina-based team scored a 1-2 sweep in GTLM at COTA last year with its previous generation RSR and a vastly different driver lineup.
After sitting out Long Beach, the Prototype Challenge (PC) class returns to action with a four-car field. Leading this class are James French and Pato O'Ward in the No. 38 Ric-Man Construction/Neurospine Institute/Cardio Access/AIG Technologies/Arnold Palmer Hospital for Children ORECA FLM09 for Performance Tech Motorsports.
French, O'Ward and the Performance Tech team scored dominating victories in both the season-opening Rolex 24 At Daytona and March's Mobil 1 Twelve Hours of Sebring Fueled by Fresh From Florida.
While the WeatherTech Championship headlines the Advance Auto Parts SportsCar Showdown on May 6, the IMSA Continental Tire SportsCar Challenge takes center stage on the 3.4-mile COTA race track for a two-hour race on May 5.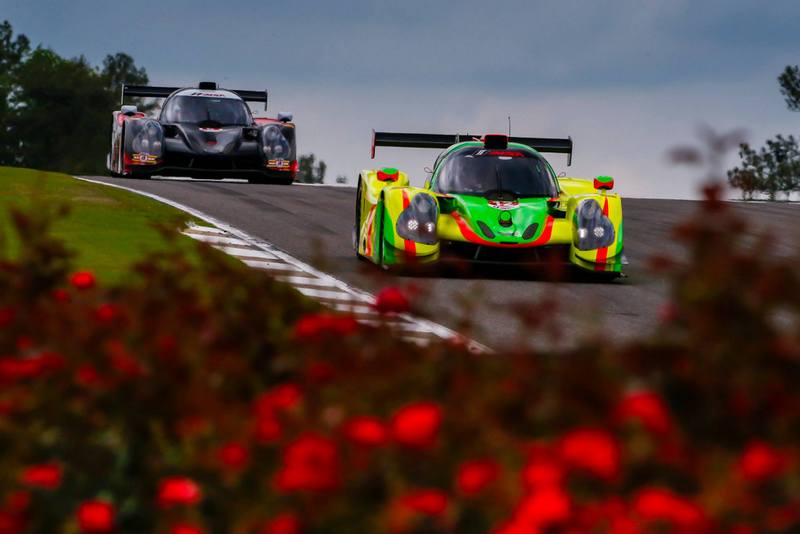 The Continental Tire Challenge will feature a strong, 33-car entry list split nearly evenly among its two classes. The faster Grand Sport (GS) class has 16 entries, with 17 set to compete in the Street Tuner (ST) class.
Making its debut in IMSA the is the Camaro GT4.R, Chevrolet's new GT4-spec racer. The car made its worldwide competition debut earlier this year, but the May 5 race will mark its first outing in the Continental Tire Challenge, fielded by 2015 GS champions Stevenson Motorsports.
The GS class features a pair of entries from Austin-based CJ Wilson Racing, the No. 33 Porsche of Fresno/Sonic Tools/Forgeline/Alpinestars Porsche Cayman GT4 for co-drivers Marc Miller and Till Bechtolsheimer and the No. 35 Techemet/Engie/Winward Cayman for Russell Ward and Damien Faulkner.
The ST class also features a team from deep in the heart of Texas, San Antonio-based Murillo Racing, which fields defending COTA ST winners Jeff Mosing – of Austin – and Dallas-resident Eric Foss in the No. 56 Mosing Motorcars Porsche Cayman.
Houston's Tim Probert shares the No. 65 Murillo Racing Porsche with Brent Mosing, from Lafayette, Louisiana.