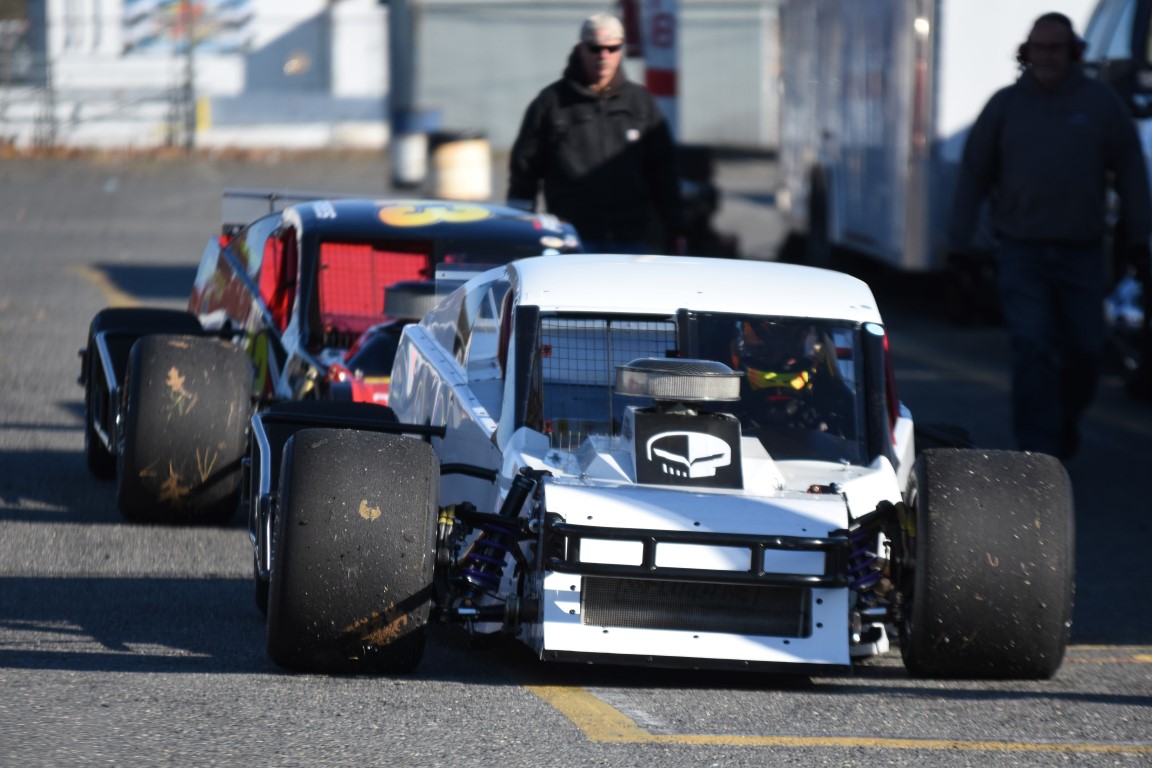 LARGE FIELD OF CARS TESTS AT SATURDAY PRACTICE; MANY CARS EXPECTED FOR WALL STADIUM TURKEY DERBY
Story By: Jeff Gravatt/Wall Stadium
Photos By: John John Lane/RacersGuide.com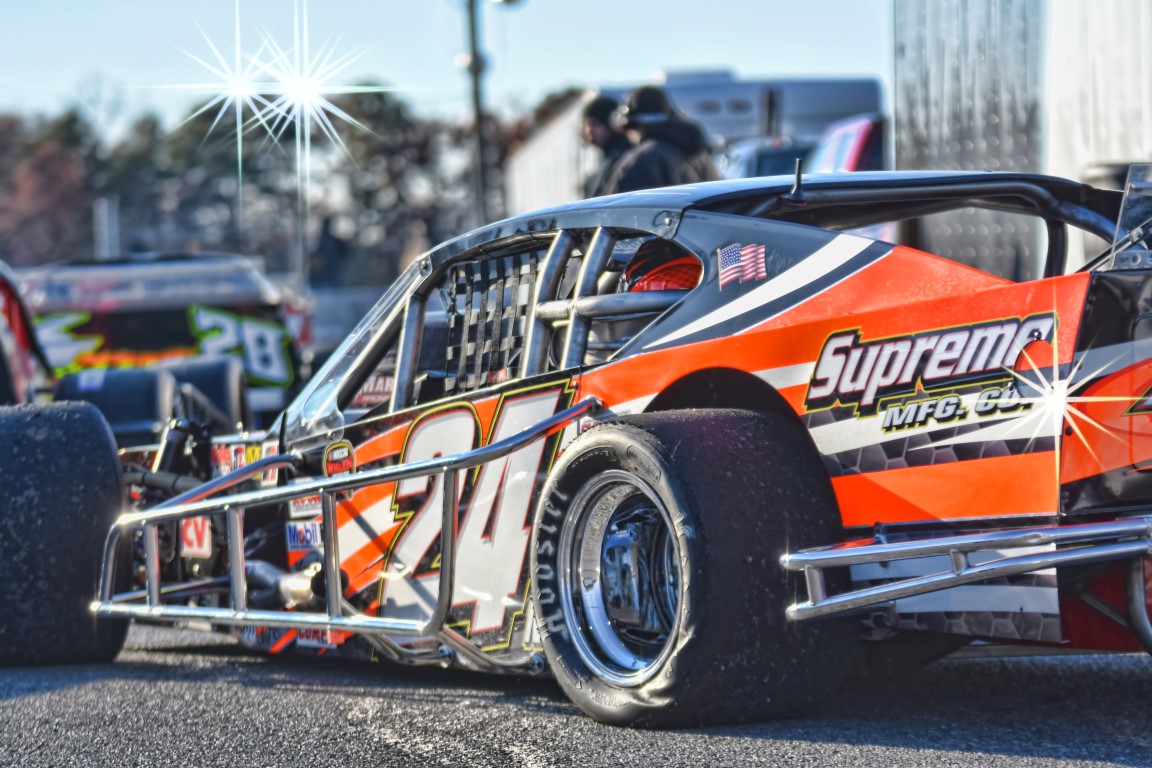 WALL TOWNSHIP, N.J. ~ If the close to 70 race teams that were in the Wall Stadium Speedway pit area for the November 10 practice session are any indication, the 45th running of the Turkey Derby stock car classic could feature a record setting field in both quality and quantity. One last practice day is set for this Saturday (Nov. 17).
The Turkey Derby is presented on Friday, Saturday and Sunday of Thanksgiving weekend during the daylight hours.
Among the Tour Type Modified stock car standouts expressing interest in the annual classic are Jimmy Blewett of Howell, Timmy Solomito of Center Moriches, N.Y., Matt Hirschman of Northampton, Pa., Chuck Hossfeld of Lockport, N.Y., Dave Sapienza of Riverhead, N.Y., Holmdel's Andrew Krause, Derek Hopkinson of Toms River, Matawan's Anthony Sesely, Zane Zeiner of Bath, Pa., Roger Coss of Lafayette and Long Island racer Kenny Darch. Also planning to compete in Tour Type Modified action are Brick's Ron Frees, Jonathan Mandato of Toms River and Jackson's Blake Barney. More entries are expected during the days leading up to the race.
The speedway's own Wall/SK Modifieds will also be well represented by both local favorites and invaders. Newly crowned champion Jimmy Blewett, former champ Steven Reed of Jackson, Jason Hearne of New Egypt, Brick's Marc Rogers and Howell's Eric Mauriello are all reportedly planning to compete in the Wall Modified 100-lap feature. Mayetta's Tyler Truex, Jackson's Jason Treat and Chris Andretta of Neptune are also expected to be in the field.
Many of the above mentioned racers participated in Saturday's practice.
Several racers are contemplating competition in both pavement type Modified races. In fact, Krause plans extra duty as he is also planning to compete in the Dirt Modified feature race. A healthy field of Dirt Modifieds practice during Saturday's tune-up session.
In fact, each division that will compete in Turkey Derby action was well represented by both locals and invaders at Saturday's practice session indicating that large fields will be on hand for every class.
On Friday, November 23, day one of Turkey Derby, pit area gates will open at 6:30 a.m., practice will begin at 8:30 a.m. and grandstand seating will open at 9:30 a.m. Qualifying is set for 12:15 p.m. with feature racing scheduled to start at 2:00 p.m. The Sportsman cars will compete in a 50-lap main event, the Limited Late Models will battle in a 50-lapper and the Factory Stocks and the 4 Cylinder Stocks will each battle in 40-lap races.
On Saturday, November 24, the pit area will again open at 6:30 a.m. with practice at 8:30 a.m. and grandstands opening at 9:30 a.m. Qualifying will start at 11:00 a.m. with main events set for 1:00 p.m. The Tour Type Modifieds are set for a 150-lap, $5,000 to win feature race while the speedway's Wall/SK Modifieds will compete in a 100-lap feature race that offers $5,000 to the winner. Dirt Modifieds will also be on the Saturday card in a 50-lap feature and the Green Flag Driving Experience Legend Cars will compete in a 30-lapper. The TQ Midgets will race on the inner oval in a 30-lap race.
The Turkey Derby weekend will then wrap up on Sunday, November 25, with pit gates opening at 10:00 a.m., practice starting at 11:00 a.m., grandstand opening and qualifying at noon and main events set for 1:00 p.m. The Legend Cars will be competing in a 40-lapper and the Factory Stocks will race in a 50-lapper. The 4 Cylinder Stocks are set for a 75-lapper on Sunday while the Dirt Outlaw Stocks and the Dirt Sportsman cars will each compete in 25-lap main events. A Demolition Derby will cap off Sunday's action.
Among special awards offered for the weekend will be the Larsen Brothers Memorial Fast Time Award for both the Tour and Wall Modified divisions.
A special commemorative Turkey Derby 45 sweatshirt will be available during the weekend and fans are reminded to bring small headset type radios to listen to the live call of the race events over the track's 90.1 FM frequency. Campers are welcome but they are urged to call the speedway office prior to the event to make mandatory reservations.
Turkey Derby rules, registration forms, ticket purchase forms and more detailed information are all available on the speedway website at wallspeedwayracing.com.
Wall Stadium Speedway is located on Route 34 in Wall Township, N.J., just one mile north of Garden State Parkway exit 98 and Interstate 195 exit 35B. The speedway hotline number is 732-681-6400 and email address is CKMotorsports@aol.com.