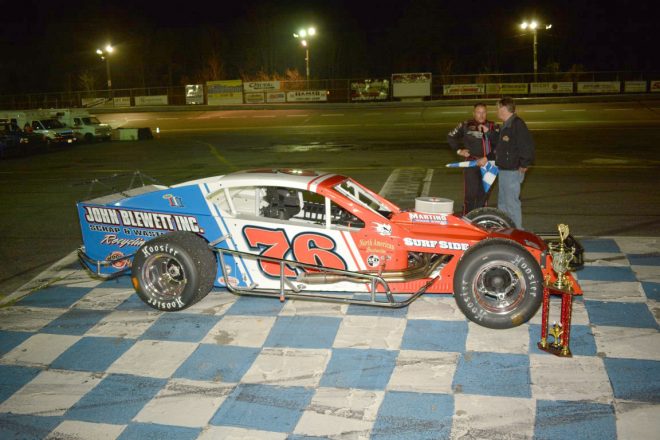 BLEWETT WINS WALL STADIUM MODIFIED OPENER
Story By: Jeff Gravatt/Wall Stadium
Photos By: John John Lane/RacersGuide.com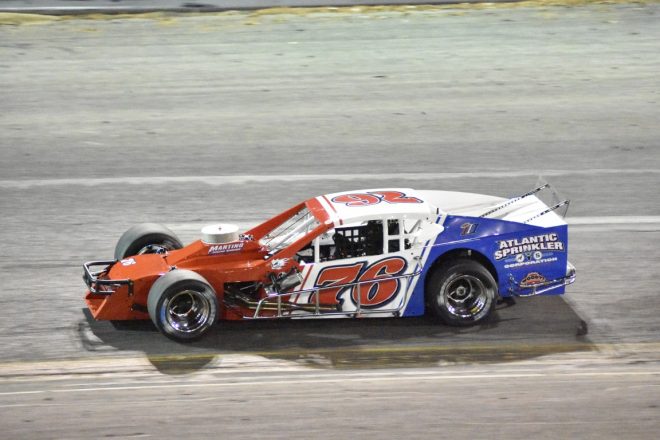 WALL TOWNSHIP, N.J. ~ For the third straight year defending Modified stock car driving champion Jimmy Blewett won the season opening race at Wall Stadium Speedway on Saturday night. It was the 77th career main event win for the Howell resident.
Derek Hopkinson of Toms River jumped to the lead early in the 40-lapper but Blewett soon advanced to second spot in the 23 car field. Blewett then stalked Hopkinson until making his winning pass in the outside lane in turns one and two. Hopkinson was not ready to settle for second, however, as he challenged Blewett to the finish. Former champ Steven Reed of Jackson, Ricky Collins of Willow Grove, Pa. and Ron Frees of Lanoka Harbor completed the top five.
"This is the white No. 19 that we ran at Turkey Derby last year," Blewett said. "During the off season I felt that I really wanted to get back to my family's colors and the No. 76. I think the red, white and blue car looks good here in victory lane."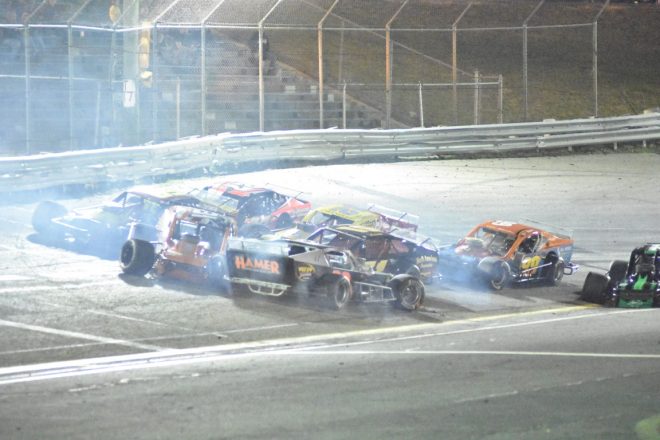 After setting fast time in qualifying Jackson's Kyle Scisco raced into the lead in the closing laps to win the companion 25-lapper for the Center State Engineering Sportsman racers. Larry Thompson of Parlin finished second and Brick's Robert Sutphin finished third after taking his turn in the lead. Tommy Martino, Jr. of Farmingdale and Carsten DiGiantomasso of Jackson wrapped up the top five.
Shannon Mongeau of Manchester, who was undefeated in winning the Mike's Performance Center Limited Late Model championship last season, continued his success by winning Saturday's 20-lapper. Former champ Mike Tillett of Bayville, Chris Silvestri and Greg Miranda, both of Hazlet, and Mike Shea completed the top five.
Mongeau also crossed the finish line first in the 25-lapper for the O'Shea's Auto Repair Factory Stocks, but when his car did not get past post-race inspection Elliott Wohl of Beachwood earned the win. Farmingdale's Kenny Green, Tim Majek of Scotch Plains, defending champ Mike Montano of Freeport, N.Y. and Wall's Bryan O'Shea were second through fifth.
Mike Alcaro of West Milford won the 25-lapper for the Green Flag Driving Experience Legend Cars over Kevin Nowak of Medford, N.Y. Howell's Rob Silver, Sean Verwys and Ronnie Milroy were third through fifth.
Jeffrey Loesch of Neptune City was the opening winner in the 25-lapper for the Surfside Collision 4 Cylinder Stocks over Neil Rutt III of Waretown, Alonzo Morales of Mt. Ephraim, Brick's Randy Hart and Chuck McDonald.
Although Saturday night stock car racing will be suspended this Saturday night (April 20) in observance of Easter weekend, the speedway will host a paid practice session on Saturday with rookies on the track at 10:00 a.m. and then all racers welcome to test from 11:00 a.m. until 4:00 p.m.
The 2019 Saturday night regular season then continues in two weeks on Saturday (April 27) evening with the Modifieds, Sportsman cars, Factory Stocks, 4 Cylinder Stocks, Legend Cars and the Limited Late Models in action The pit area will open at 1:00 p.m. Grandstands will open at 4:00 p.m. and a special "Fan Fest" on track party is set for 4:30 p.m. Qualifying starts at 5:45 p.m. and main event action starts at 7:00 p.m.
Saturday night racing action continues through early October with schedule details at wallspeedwayracing.com.
Wall Stadium is located on Route 34 in Wall Township, N.J., just one mile north of Garden State Parkway exit 98 and Interstate 195 exit 35B. The speedway hotline number is 732-681-6400 and email address is ckmotorsports@aol.com.
RACE RESULTS
MODIFIED FEATURE – 40 Laps – 1. JIMMY BLEWETT, HOWELL, 2. Derek Hopkinson, 3. Steven Reed, 4. Ricky Collins, 5. Ron Frees, 6. Timmy Solomito, 7. Kenny Van Wickle, 8. Ken Matlach, 9. Joey Jarowicz, 10. Kevin Davison, 11. Chris Andretta, 12. Roger Coss, 13. Joey Merlino, 14. Andrew Krause, 15. Shaun Carrig, 16. Jonathan Mandato, 17. Jason Treat, 18. Eric Mauriello, 19. Vinny Marone, 20. Tyler Truex, 21. Dom Fattaruso, 22. Eddie McCarthy, 23. Ed DeLage
SPORTSMAN FEATURE – 25 Laps – 1. KYLE SCISCO, JACKSON, 2. Larry Thompson, 3. Robert Sutphin, 4. Tommy Martino, Jr., 5. Carsten DiGiantomasso, 6. Jarrett DiGiantomasso, 7. Jake Nelke, 8. Tomas Stanious, 9. Michael Carr, 10. Louie Keraitis, 11. Timmy Stephan, 12. Roland DeMartino, DQ Michael Rising
LIMITED LATE MODEL FEATURE – 20 Laps – SHANON MONGEAU, MANCHESTER, 2. Mike Tillett, 3. Chris Silvestri, 4. Greg Miranda, 5. Mike Shea, 6. Greg Gastelu
FACTORY STOCK FEATURE – 25 Laps – 1. ELLIOTT WOHL, BAYVILLE, 2. Kenny Green, 3. Tim Majek, 4. Mike Montano, 5. Bryan O'Shea, 6. Scott Riggleman, 7. Gerry Koenig, 8. John Bowers, 9. Tom Rajkowski, 10. Richie Byrne, 11. Nick Kilmer, 12. Matt Badessa, 13. Robert Ptaszynski, 14. Waylon Speer, 15. Eric Bodenschatz, 16. Joey Helberg, 17. Nancy Riggleman, 18. Matt Malachatka, 19. Bill Both, 20. Terry Cain, DQ Shanon Mongeau
LEGEND CARS FEATURE – 1. MIKE ALCARO, WEST MILFORD, 2. Kevin Nowak, 3. Rob Silver, 4. Sean Verwys, 5. Ronnie Milroy, 6. Peter Bruno, 7. Vinny Delaney, 8. Austin Bellamere, 9. Joe McGrath, 10. Joe Przybylinski, 11. Jim Downey, 12. Quinn Trimmer, 13. Kevin Pritchard, 14. Roger Nickerson, 15. Richie Davidowitz, 16. Eugene Drew
4 CYLINDER STOCK FEATURE – 25 Laps – 1. JEFFREY LOESCH, NEPTUNE CITY, 2. Neil Rutt III, 3. Alonzo Morales, 4. Randy Hart, 5. Chuck McDonald, 6. Sal Liguori 7. Ronnie Mullen, 8. Nicole Razzano, 9. Jennifer Schultz, 10. Darianne McLaren, 11. Marko Vulsanic, 12. Bill Schwartz, 13. Max Montijo, 14. Ryan Maher