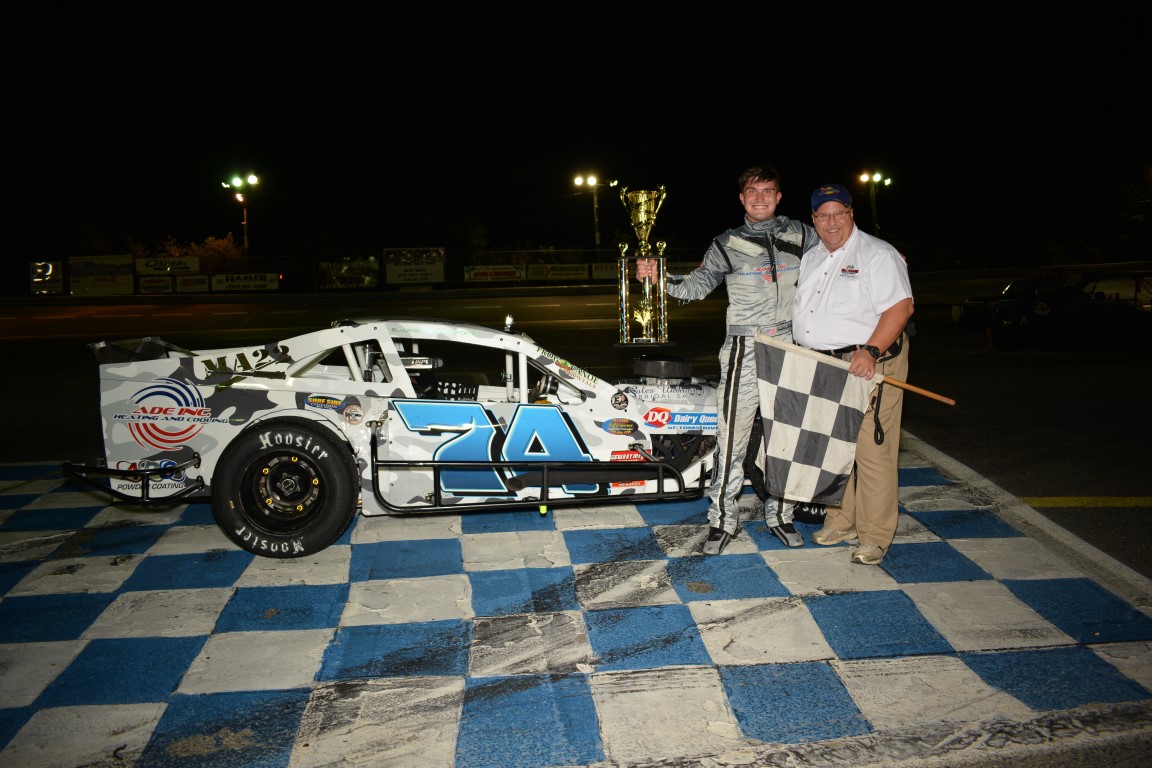 LAUREIGH WINS SPORTSMAN, MAJEK CASHES TO FACTORY WIN AT WALL SATURDAY
Story By: Jeff Gravatt/Wall Stadium
Photos By: John John Lane/RacersGuide.com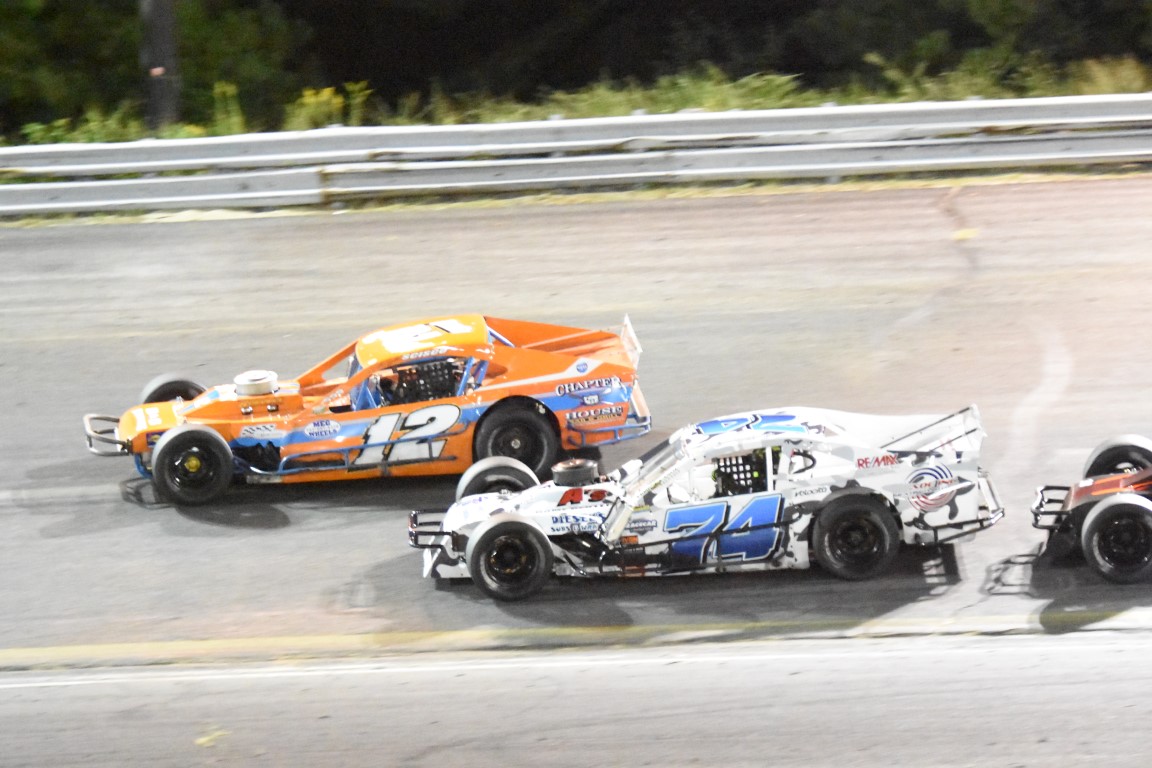 WALL TOWNSHIP, N.J. ~ Jonathan Laureigh of Lanoka Harbor recovered from what has been a disappointing 2018 All American Auto Group Racing Series to win the 25-lap main event for the Center State Engineering Sportsman cars Saturday night at Wall Stadium Speedway. Tim Majek of Scott Plains also had a night to remember as he won his career first 25-lap race for the O'Shea's Auto Repair Factory Stocks and crashed just past the finish line.
Laureigh was an early leader of the Sportsman race but Eddie McCarthy of Pt. Pleasant and Toms River's Louie Keraitis soon slipped into the top two spots. This duo then battled for the lead until lap 20 when McCarthy spun from the top spot in turn two. McCarthy went to the rear of the field for causing the caution while Keraitis also went to the back since officials felt he contributed to the spin.
That put Laureigh on top with Kyle Scisco and Jarret DiGiantomasso, both of Jackson, close behind. The final five laps saw this trio fight for first before Laureigh took down the win. DiGiantomasso grabbed second in the closing laps with Scisco finishing third. Point leader Kevin Davison of Howell and Carsten DiGiantomasso of Jackson completed the top five.
"We took home a wrecked car last week and came back to win tonight so this feels real good," Laureigh said after the race. "I have to thank my mom and dad for all their hard work and of course my sponsors for their support. I know it is late in the season but I think we may have a couple more wins in this car."
Majek led the majority of the regularly scheduled Factory Stock 25-lapper and fought off early challenges from John Bowers of Pt. Pleasant and Howell's Richie Byrne. Point leader Mike Montano of Freeport, N.Y. took up the chase late in the race and shadowed Majek to the finish line. Majek's big problem came about 50 feet past the finish line as lapped cars suddenly spun and he had no way to avoid them, badly damaging his winning car.
Montano, Shanon Mongeau of Manchester, Bayville's Elliott Wohl and Byrne wrapped up the top five.
In a make-up factory stock 25-lapper from earlier this season Howell's Johnny Carpenter raced to his second win of the year, taking the lead with an outside lane pass on lap ten. Wall's Bob Haberstick, Montano, Majek and Howell's Steve West were second through fifth.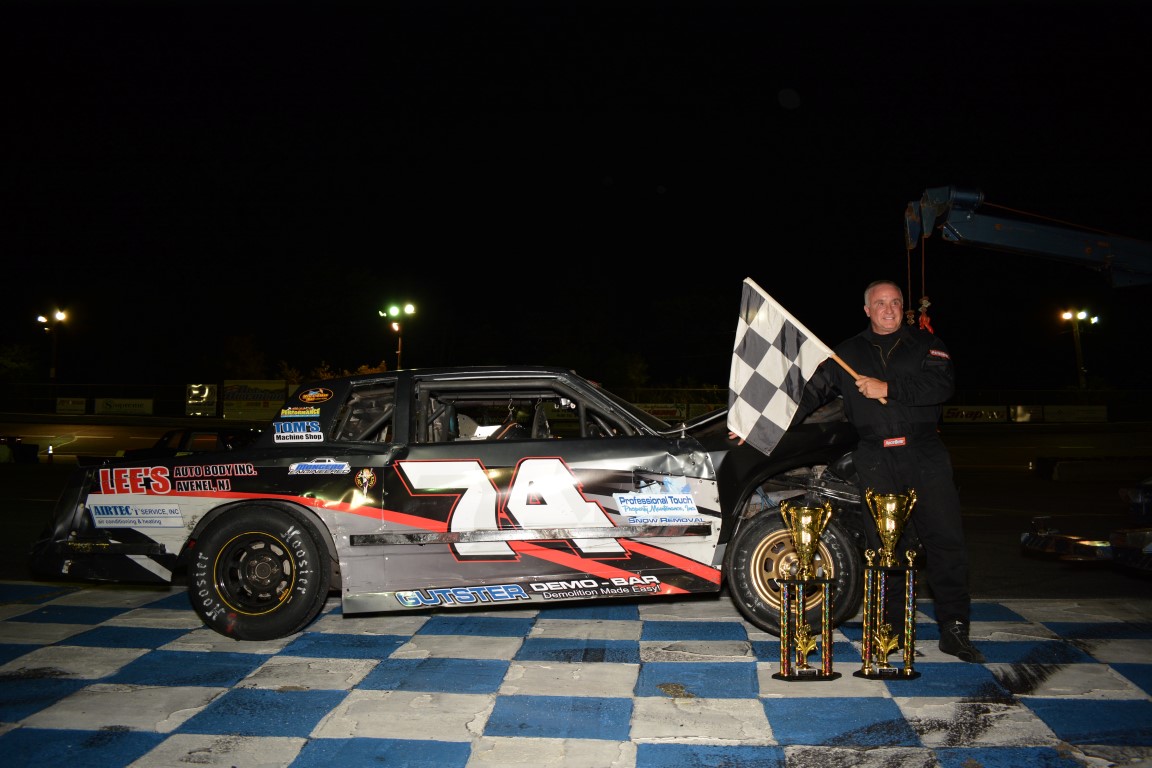 Jeffrey Loesch of Neptune City earned his second win of the campaign in the 25-lap race for the Surfside Collision 4 Cylinder Stocks, taking the lead on lap seven. AJ Jadacki and Brian Osborn, both of Howell, were second and third while Brian DeSarno and TJ Graves, both of Wall, were fourth and fifth.
Kyle Taraska won his first ever 25-lap main event for the visiting open cockpit Three Quarter Midgets and Joey Helbent of Pemberton won the big car Demolition Derby.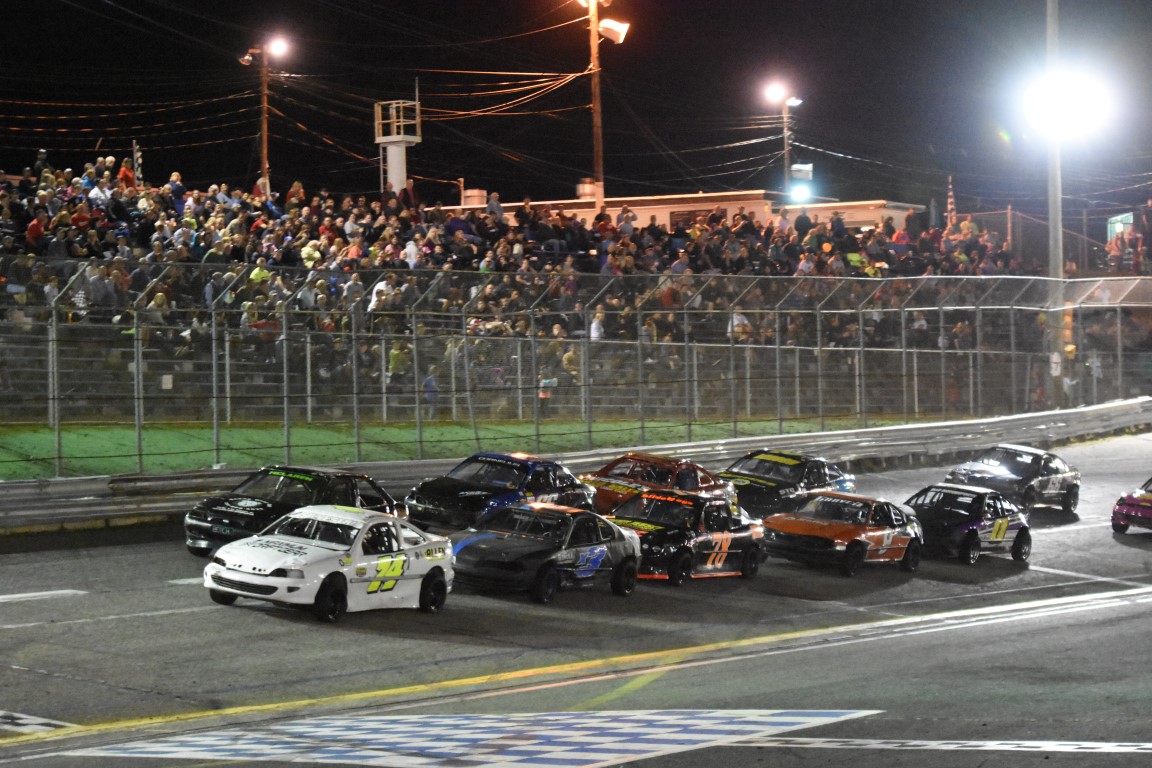 The All American Auto Group Racing Series continues this Saturday evening (Sept. 29) on "Fanfest Night," sponsored by area NAPA dealers. The Pete and Elda's Bar/Carmen's Pizzeria Modifieds will return for a 40-lap main event, while the O'Shea's Auto Repair Factory Stocks, Surfside Collision 4 Cylinder Stocks, Mike's Performance Center Limited Late Models, the Sportsman cars and the Green Flag Driving Experience Legend Cars will all compete in a 25-lappers. Grandstands will open on hour early at 4:00 p.m., with the "On Track Party" starting at 4:30 p.m. Qualifying is set for 5:45 p.m. and feature race action set for 7:00 p.m.
Saturday night racing action continues through the October 6 "Champion's Night" with schedule details at wallspeedwayracing.com. The Halloween themed "Spooky Spectacular" racing event is set for October 20 and the annual Turkey Derby is set for Friday, Saturday and Sunday of Thanksgiving weekend. The post-season racing cards start during the afternoon.
Wall Stadium is located on Route 34 in Wall Township, N.J., just one mile north of Garden State Parkway exit 98 and Interstate 195 exit 35B. The speedway hotline number is 732-681-6400 and email address is ckmotorsports@aol.com.
RACE RESULTS
SPORTSMAN
FEATURE – 25 Laps – 1. JONATHAN LAUREIGH, LANOKA HARBOR, 2. Jarret DiGiantomasso, 3. Kyle Scisco, 4. Kevin Davison, 5. Carsten DiGiantomasso, 6. Jake Nelke, 7. Eric Lane, 8. Larry Thompson, 9. Michael Rising, 10. Eddie McCarthy, 11. John Blewett IV, 12. Howie Conk, 13. Tom Martino, 14. Louie Keraitis, 15. Mike Brennan, 16. Joe Cooley, 17. Robert Sutphin
FACTORY STOCKS
1ST FEATURE – 25 Laps – 1. JOHNNY CARPENTER, HOWELL, 2. Bob Haberstick, 3. Mike Montano, 4. Tim Majek, 5. Steve West, 6. Shanon Mongeau, 7. Bryan O'Shea, 8. Elliot Wohl, 9. Scott Riggleman, 10. Tony Bartone, 11. Theresa Collins, 12. Nancy Riggleman, 13. Whitey Miller, 14. Gerry Koenig, 15. John Bowers, 16. Robert Ptaszynski, 17. Matt Malachatka, 18. Robert DePonte, 19. Anthony Pancoast, 20. Gary Bronne, 21. Josh Merlino, 22. Eric Bodenschatz, 23. Tom Rajkowski, 24. Neil Rutt III, 25. Terry Cain, 26. Matt Badessa, 27. Waylon Speer, 28. Richie Byrne
2ND FEATURE – 25 Laps – 1. TIM MAJEK, SCOTT PLAINS, 2. Montano, 3. Mongeau, 4. Wohl, 5. Byrne, 6. bowers, 7. Koenig, 8. West, 9. Carpenter, 10. Scott Riggleman, 11. O'Shea, 12. Rajkowski, 13. Ptaszynski, 14. Miller, 15. Speer, 16. Malachatka, 17. Collins, 18. Nancy Riggleman, 19. DePonte, 20. Danny Bruer, 21. Jon Bronne, 22. Bodenschatz, 23. Gary Bronne, 24. Bartone, 25. Haberstick, 26. Merlino, 27. Rutt
4 CYLINDER STOCKS
FEATURE- 25 Laps – 1. JEFFREY LOESCH, NEPTUNE CITY, 2. AJ Jadacki, 3. Brian Osborn, 4. TJ Graves, 5. Brian DeSarno, 6. Nicole Razzano, 7. Chris Silvestri, 8. Darianne McLaren, 9. Billy Both, 10. Ian Ashford, 11. Doug Ashford, 12. Max Montijo, 13. Neil Rutt III, 14. Charlie Lauble, 15. Jennifer Schultz
TQ MIDGET FEATURE – 25 Laps – 1. KYLE TARASKI
DEMOLITION DERBY WINNER – JOEY HELLBENT, PEMBERTON