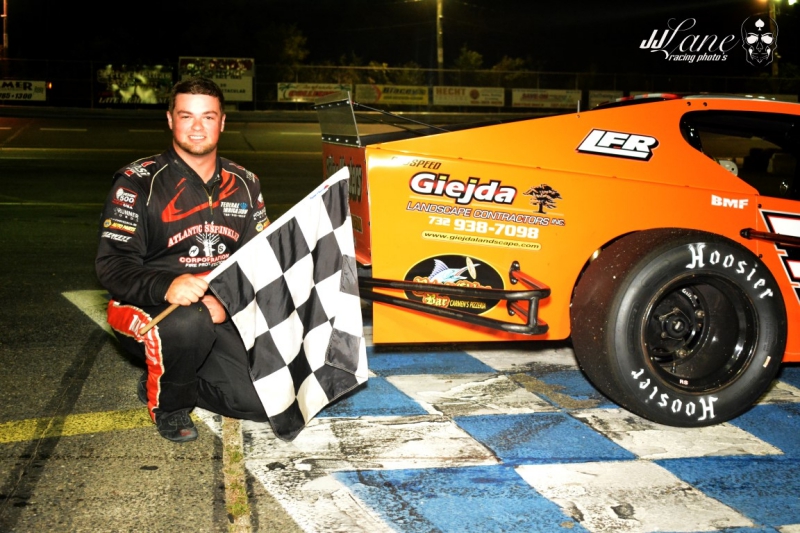 BLEWETT WALL MOD CHAMP; MAURIELLO GRABS SATURDAY WIN
Story By: Jeff Gravatt/Wall Stadium
Photos By: John John Lane/RacersGuide.com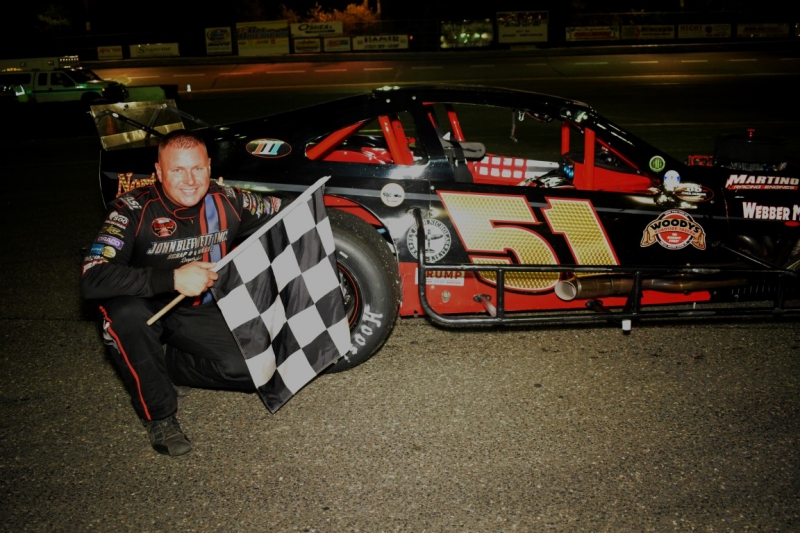 WALL TOWNSHIP, N.J. ~ Jimmy Blewett of Howell finished fourth in Saturday night's All American Auto Group Racing Series 40-lap main event for the Pete and Elda's Bar/Carmen's Pizzeria Modified stock cars and that was more than enough for him to clinch his fourth Wall Stadium Speedway title. Eric Mauriello of Howell won the event, racing from the rear to the front of the field for the second Saturday night in a row.
Brick's Dom Fattaruso was the early leader Derek Hopkinson of Toms River and Mauriello chipped their way to the head of the class. By the halfway point Hopkinson and Mauriello entered the top five and they advanced to the top three with eight laps remaining. Mauriello then slipped past Hopkinson for second with two laps remaining and then dove to the inside lane on the final lap to take the win. Fattaruso spun in the fourth turn on the final lap to ruin his strong effort, while Hopkinson, Pine Hill's Joey Merlino, Blewett and Freehold's Chas Okerson completed the top five.
"Our car is finally running great after a lot of work," Mauriello said. "It makes me wish this was the beginning of the season."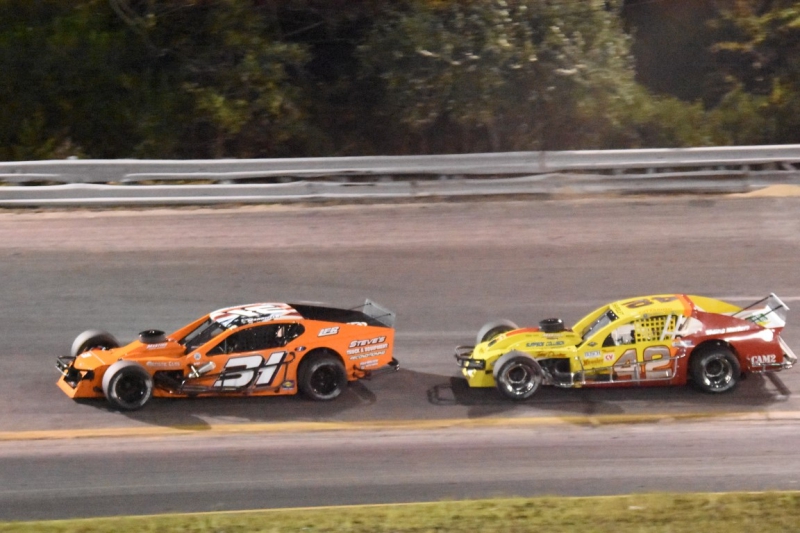 "This championship is the result of a lot of work and dedication from everyone," Blewett said. "My grandfather puts so much into this. The crew works hard and we have very dedicated sponsors."
Jarret DiGiantomasso of Jackson grabbed the lead with a turn two pass near the halfway point to win the Center State Engineering Sportsman 25-lapper while early race leader Louie Keraitis of Toms River was second. Carsten DiGiantomasso, also of Jackson, Jake Nelke of Manahawkin and Eddie McCarthy of Pt. Pleasant wrapped up the top five. Howell's Kevin Davison crossed the finish line eighth which earned him his third speedway title.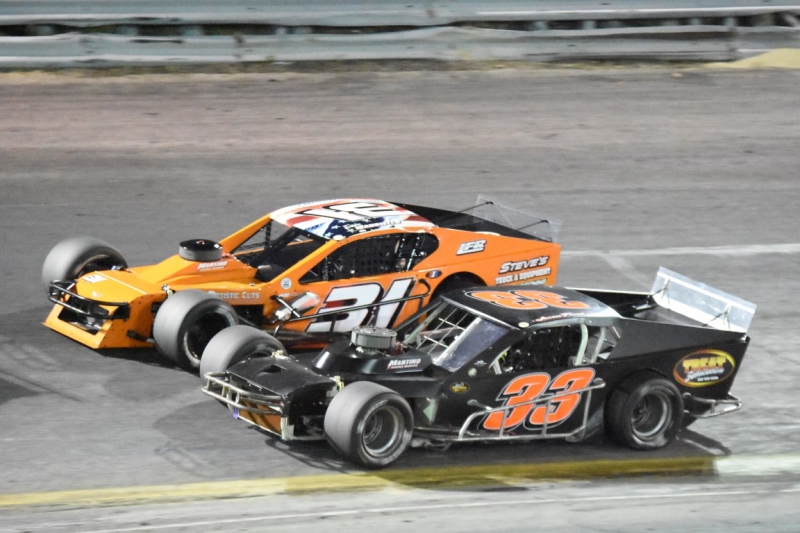 Elliot Wohl of Beachwood, who entered the night second in the chase for the O'Shea's Auto Repair Factory Stock title, gave it his all by winning the 25-lap race, but Mike Montano of Freeport, N.Y. won the crown by crossing the finish line third behind Wohl and Scott Riggleman of Manchester. Tim Majek of Scotch Plains and Howell's Johnny Carpenter were fourth and fifth.
Peter Bruno of Little Silver also knew that winning the final race was his only chance to steal away the Green Flag Driving Experience Legend Car crown so he fought off Ed Cheslak, Chis Hammett, Mike Benton and Joe Przybylinski for the win. But that was not enough as Nick Van Wickle fought through trouble in the form of two race tangles and a spin out and returned for sixth to claim his first ever driving crown.
Howell's Brian Osborn was convincing in winning his second straight Surfside Collision 4 Cylinder Stock driving title by winning the final regular season 25-lapper. Wall's TJ Graves, Darianne McLaren of Edison, Brick's Randy hart and Todd Dige were second through fifth.
Jackson's Shanon Mongeau also nailed down the Mike's Performance Center Limited Late Model in the 25-lap feature race along with the 2018 driving title. Mongeau also went undefeated with ten wins in ten starts. Mike Tillett of Bayville, Brick's Joe Mongeau, Harry Schaeffer of Carteret and Holmdel's Dom Casola were second through fifth.
With the All American Auto Group Racing Series regular season now complete, Wall Stadium returns to action on Saturday afternoon, October 20, with the annual "Spooky Spectacular." The O'Shea's Auto Repair Factory Stocks and the Surfside Collision 4 Cylinder Stocks will both see twin main event action, while the Mike's Performance Center Limited Late Models and the Center State Engineering Sportsman cars will compete in main events, as well. A championship Demolition Derby is also on the agenda.
On Saturday, October 20, grandstands will open at 1:00 p.m., qualifying is set for 1:45 p.m. and feature race action set for 3:00 p.m.
The annual Turkey Derby is then set for Friday, Saturday and Sunday of Thanksgiving weekend.
Wall Stadium is located on Route 34 in Wall Township, N.J., just one mile north of Garden State Parkway exit 98 and Interstate 195 exit 35B. The speedway website is wallspeedwayracing.com, the hotline number is 732-681-6400 and the email address is ckmotorsports@aol.com.