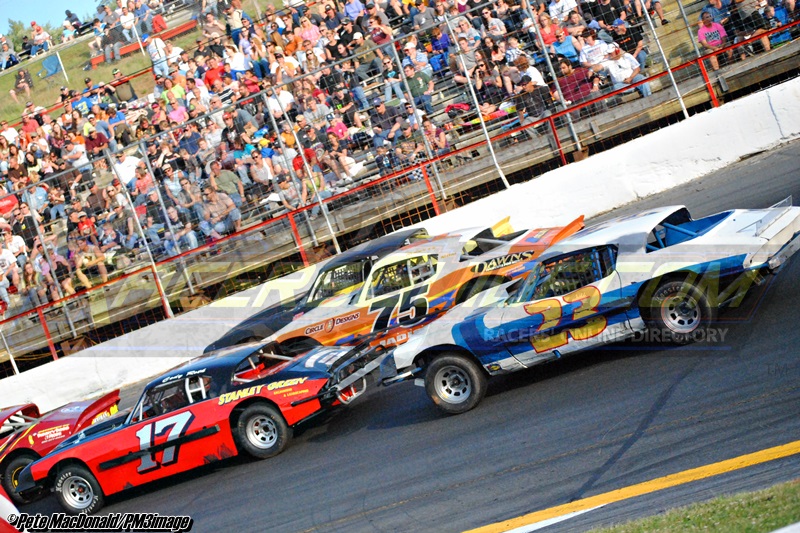 [xyz-ihs snippet="Posts-Ad"]
COMING EVENTS:
Aug. 22 Xcel 600 Mods + all regular divisions
Aug. 29 All regular track classes + Small Car Enduro
Sept. 5 Mike Krempasky Memorial Street Stock Triple 19s + all regular track classes
Xcel 600 Mods joins line-up of pavement pounders Saturday night at Mahoning Valley Speedway + BRCTV-13 to tape "Thunder in the Valley"
(LEHIGHTON, Pa. 8-19-15) Saturday night at Lehighton's Mahoning Valley Speedway there will be plenty of pavement pounding action taking place that includes all regular track classes of Modifieds, Late Models, Street Stocks, Dirt Mods, Pro 4s and Hobby Stocks plus the Xcel 600 Modifieds are back.
On June 6 the scaled down Mods ran a very entertaining feature that saw Geoffrey Sutton hold off track top dog Earl Paules for his first every victory at the 1/-mile oval.
All divisions will run a full complement of heats and features.
Additionally BRCTV-13 is back for another taping of their "Thunder in the Valley" program. The previous segments, shown in hi-definition, have gotten rave reviews. The show not only does a great job of showcasing all of the local and regional talent, but also provides drivers the chance to show off their sponsors to a much wider audience.
There will also be lots of fun for kids too with Big Wheel Races at intermission and a coloring contest that is open to ages 4 through 10.
Contest rules are as follows: Ages groups are 4 and under, 5-7 and 8-10. All entries must be colored by children only and no helpers. Only one entry per child. Using official contest form, color your favorite driver's car or color your own racing helmet. Crayons, magic markers or colored pencils only. The coloring entries will be judged by color, creativity, neatness and overall effect. Name and age must appear on back of picture along with your favorite driver. One winner per age group will be awarded a prize. There will be one (1) overall winner. Judge's decision is final.
Early paid practice will be held from 12:30 to 3:00. Regular practice begins at 4:00. Main gates open at 4:00 pm. Adult general admission is $15. $2 off for students, seniors 65+ and active military. Must have ID. Children 10 years old and under are free.
Fans are reminded to get in on the weekly $50 cash Gary Lee's Brown Daub KIA Wheel Spin just by purchasing the track's Thunder in the Valley program book.
Additional news can be found on the track's official site at www.mahoningvalley-speedway.com or on Facebook at Mahoning Valley Speedway and on Twitter at twitter.com/MahoningSpeed. Mahoning Valley Speedway is adjacent to the Mahoning Valley Farmers Market on PA Route 443 just a few miles west of Lehighton.
Coming up on Saturday, August 29 will be a Small Car Enduro along with all regular track classes.