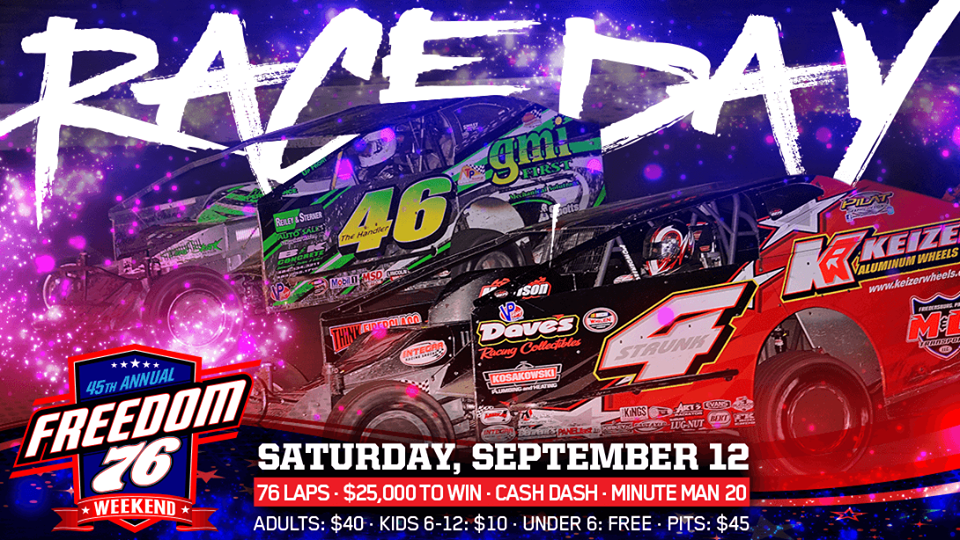 [xyz-ihs snippet="Posts-Ad"]
WEATHER WIPES OUT 45TH ANNUAL FREEDOM 76 AT GRANDVIEW, RESCHEDULED FOR SEPT. 19TH
BECHTELSVILLE, PA September 12, 2015 . . . Ma Nature did not smile on Grandview Speedway today. Weather forecasts for this afternoon and evening, stretching in to tomorrow, have forced the postponement of the 45th Annual Freedom 76 Modified Classic, scheduled for this evening, to Saturday, September 19th.
                "We are all disappointed but we felt, based on the weather conditions being forecast, that it was best to call the events early and save racers and fans time, travel costs and effort to travel to the event only to be disappointed," said promoter Bruce Rogers. "We have rescheduled for Saturday, September 19th and will follow the same event schedule as we had planned for today."
                The 45th Annual Freedom 76 Modified Classic will have the green flag unfurled at 7 p.m. on Saturday.
                Advance tickets will still be available at $35 for adults and will be available from 6 p.m. to 8 p.m. at the track on Friday, September 18th. On race day the adult tickets will sell for $40 with youngsters, 6-11, paying $10 and kids under 6 admitted for free.  Pit passes, no license required, will be available for $45.
                Pits will open at 9 a.m. on Saturday, September 19th while advance ticket holders will be admitted to the grandstands at 3 p.m. Ticket windows will open at 3:30 p.m. Racing will start at 7 p.m.
                Included in the racing program will be qualifying heat races, consolation events, the Pioneer Pole Buildings Cash Dash for top performers, the Schaeffer Motorsports Minuteman 20 (last chance to make the Freedom 76) and the Freedom 76 Classic.
                Again, just as was expected today, many of the top stars in dirt track racing action will return to try for the $25,000 first place money.
                Additional information will be released as it is made available during the days leading up to the big race. Check in at www.grandviewspeedway.com or follow Grandview on Facebook and Twitter. Track telephone number is 610.754.7688.
                Grandview Speedway, a one-third-mile, banked clay track, is located on Passmore Road, just off Route 100, in Bechtelsville, PA, 10 miles north of Pottstown.