After Transferring Through the Last Chance Qualifier, Mike Mahaney Drives to Runner-up Finish at Fulton Speedway; Maresca and Williamson Turned some heads; The Johnson Brothers find their way into the top-five and Larry Wight fires from dead last to finish third
Story and Photos By: MATT NOLES / RACERSGUIDE.COM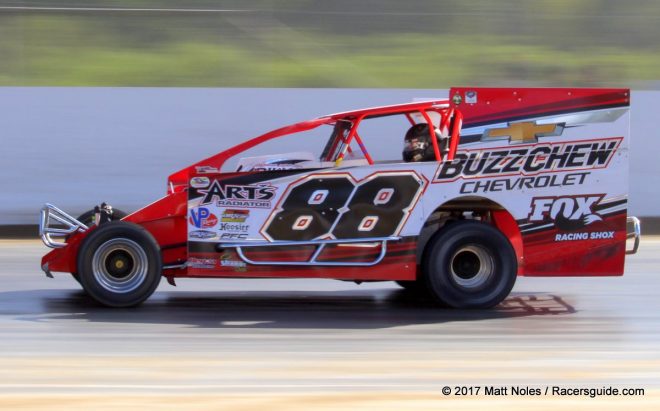 FULTON, NY- October 2, 2017- Beyond a doubt, racing requires a multitude of diverse components in order to make one successful in this fickle business.
An individual must – above all others – possess talent; that's almost the most obvious item to point out. However, the sport requires much, much more.
One must be determined, tenacious at best and steadfast in the least; patient and aggressive and often both at the same time and beyond any reason of  a doubt, it's an absolute necessity to have a hard-working race team in their corner. For King Ferry, N.Y. native Mike Mahaney, Sunday's 32nd running of the annual Outlaw 200 proved that he has all of the aforementioned items and more in spades.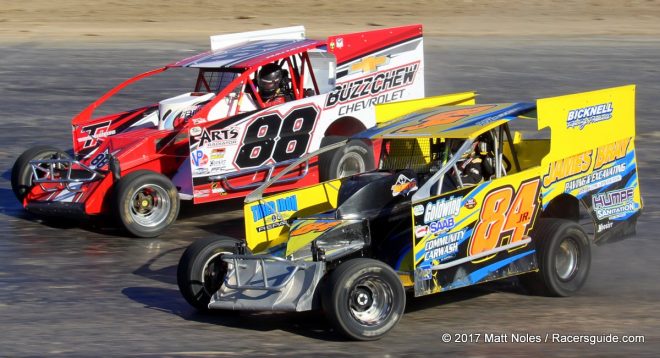 After a lackluster run in his heat race Sunday afternoon that sent him to the last chance qualifier, Mahaney never faltered; never seemed to be down and out even though he would be firing from the 37th position on the grid for the $20,000-to-win event. Needless to say, he proved the old adage true yet again; it ain't about where you start, it's about where you finish.
"We have a great team and we have a great car," Mahaney stated Sunday night. "The heat race, we just had a bad draw and I was behind a car that just didn't go on the start and that dropped us way back and we couldn't recover. There were no cautions and the track was really slick early on in the afternoon."
Those slick track conditions – which have become synonymous with the Outlaw 200 at Fulton – quickly dissipated by the time the consolation races rolled onto the speedway surface.
"We started on the front row in the consi and the bottom groove was rubber," Mahaney continued. "You had to be on the bottom. If you were outside pole and you didn't get to the bottom, you were going way back to who knows where. That race was really tough; you really had to hit your marks and be perfect."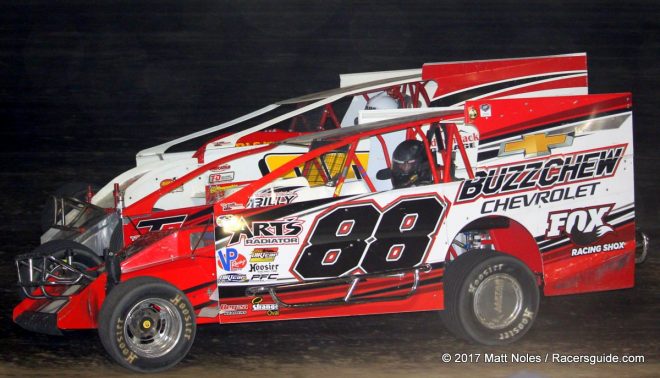 Before the feature, the track crew went out to re-work the surface in an attempt to widen the racing groove out. That decision paid dividends until there were about 50-laps remaining in the 200-lap feature. Then, it became a mad dash for the bottom lane.
"We made about 150-laps of slick-track racing," explained Mahaney. "And then the last 50, it rubbered up again. The key to the race tonight was just getting to the front slowly through the first half – we made it up to eighth – and we just had to have a good car for the middle of the race track and we did; we passed a lot of cars running through the middle."
Passing became less and less frequent as the second half of the event wore on and the track locked down making the racing groove extremely narrow. There was no hit or miss in this sense; there was only hit. If you missed your line, there was a freight train ready to shuffle those such unfortunates to the back of the line.
"Once the track locked down, it was all about track position," said Mahaney. "Around lap 150, we were stuck in the outside row on a restart and we went backwards all the way to seventh. Then we were on the inside row for the next restart and we were up to fifth. Then on the next restart we were up to third and then on another restart, we got to second. Being on the inside for a restart was key towards the end of the race."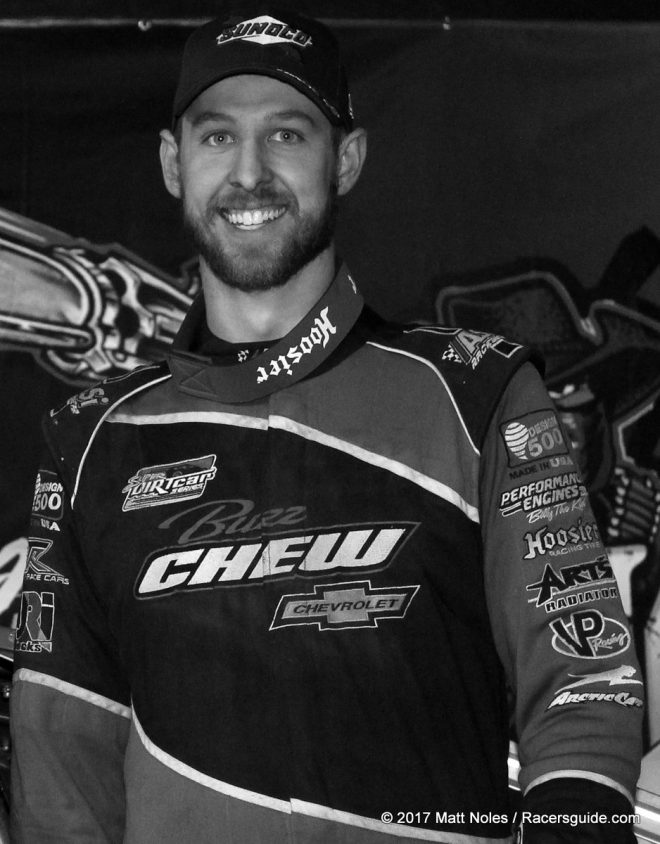 Though there was certainly a possibility for the driver of the Buzz Chew No. 88 to make a run at eventual race winner Billy Decker, a vibration caused by contact while fighting for the bottom lane negated his chances at winning the much sought after Outlaw 200.
"I think I bent a right rear wheel or something on one of those restarts," Mahaney stated. "It probably happened when we were all fighting for that inside groove. We made some contact and had a major vibration and the car just was not as good as it was earlier in the race. At that point, I didn't have anything for [Billy] Decker. At that point I was just riding and trying to hang onto second."
Though no racer likes to finish second – after all that negates the point of the sport entirely – Mahaney can take some solace in knowing that he still received one hell of a payday for his efforts.
"I'm glad we could come home with a second tonight," He continued. "It's still a $10,000 payday for us. It's nice to get a good finish for this team especially with the way we qualified and had to start in the back. I hope it was exciting for everyone to watch; Larry [Wight] came from the back too and it shows what this race track is and it's always been a great race here and I'm glad they're keeping it going."
With the unofficial start of Super DIRT Week now safely behind him, all roads are leading north to the 'Steel Palace' in Oswego, N.Y. for Mahaney and company. It's a week that he's certainly looking forward to especially knowing that he has the ability to come from the back in long-distance races if qualifying doesn't work in his favor.
"I've always wanted the chance to run Super DIRT Week and last year we did," concluded Mahaney. "It was a little rough and we ended up breaking a lot of stuff but this year, I have a lot more confidence in the track prep and it's going to be a whole different ballgame. We really don't know what we're getting into but I do have a lot of confidence in our team and our race car; Buzz Chew gives me great stuff and the team in the shop is unbelievable. Having a team like that gives you confidence and it goes a long way; it definitely pays dividends."
Maresca and Williamson Flex Some Muscle
Among all of the other "story lines" that surrounded the Outlaw 200 on Sunday, there are two that should receive some much deserved attention.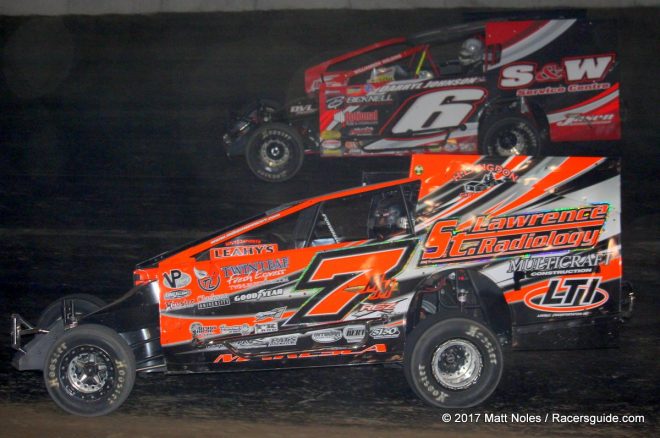 Fayetteville, N.Y. resident Mike Maresca drove his familiar No. 7mm into the top-five Sunday night and may have had a top-three finish coming if he wasn't collected in a late-race jingle – through no fault of his own no less – that relegated the rookie modified competitor to a 16th place finish.
What's more impressive is that the driver of the St. Lawrence Radiology sponsored entry did so with a DIRTcar spec small-block under the hood. For those who seem to balk at the idea of spec or crate motors, if it weren't for the fact that Maresca stated he was running one, nobody would have been the wiser. The road to rebuilding the modified division may be underway.
Canadian import Mat Williamson also impressed many in attendance on Sunday night with a masterful drive from the 33rd starting position to the top-five by the second half of the feature.
Unfortunately, late race contact forced the driver of the No. 6m to go pit-side and left him with a 19th place finish at the end of 200-laps. Regardless of this fact, every single individual in attendance certainly knew he was there and could have had a very realistic shot at finishing well within the top-five.
What Do You Mean There's No Passing?
For years, avid race fans have long complained that extra distance races – especially 200-lap events – become follow the leader after the 75th circuit. The race becomes boring and drawn out and shouldn't be any longer than however many laps the armchair promoter thinks that it should be.
Unless you were unconscious for the entirety of the Outlaw 200 on Sunday night, the aforementioned statement is about as accurate and correct as walking into a hardware store and asking for a water hammer.
Aside from Larry Wight and Mike Mahaney starting from 37th or worst and finishing second and third respectively, the dynamic duo of Alan and Danny Johnson achieved the same feat. Both drivers came from the consolation round to finish fourth and fifth respectively. In fact, half of the top-ten finishers started from 33rd position or worse.
That shoots the boring race theory out of the water.
We're Boycotting Everything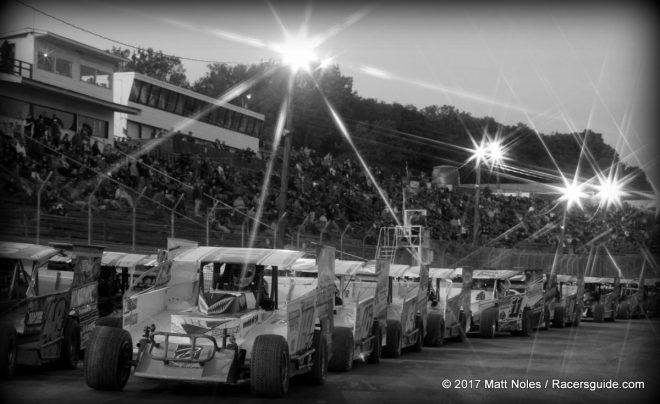 Social Media is a grand invention isn't it? At times, the only thing comparable seems to be the invention of the circumcision.
After the announcement was made that modified star Matt Sheppard wasn't going to be allowed to participate in this year's Outlaw 200, the keyboards and cell phones across the region came to life in a way that Dr. Frankenstein could only dream of.
With cries of anguish, race fans took to the airwaves to denounce the decision and to boycott the event. Couple that with having to push the weekend schedule back a day due to weather – because who can control it let alone predict the annoying stuff that we are forced to live with – and the weekend was surely going to be a bust for the staff of the Fulton Speedway.
Wrong.
With some 280 race teams that took to the pit area and speedway surface over two days – not to mention the sold out campground and fairly full grandstands – it's safe to say that one of two items happened. Either A) nobody was ever going to boycott anything or the more likely scenario B) those that were boycotting the event were probably going to watch it on Race Monitor irregardless of what decisions were made.
It was a hell of a weekend and one of the best events of 2017; kudos to the staff at the Fulton Speedway.
Matt Noles is a contributing writer for Racer's Guide and Dirt Track Digest. He currently resides in Sprakers, New York and can be reached via e-mail at matt_noles@yahoo.com.