Billy Decker Proves Yet Again that Where Extra Distance Races are Concerned, He is the Man to Beat at the Fulton Speedway
Story and Photos By: MATT NOLES / RACERSGUIDE.COM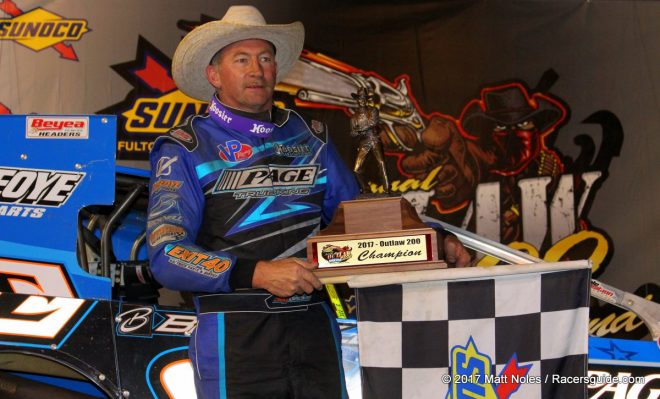 FULTON, NY- October 2, 2017- Very seldom do you hear Billy Decker – the 'Franklin Flyer' of all people – describe a race as 'tough.'
With the amount of ease and finesse that the driver of the familiar No. 91 so seemingly appears to beat his competitors in extra-distance races; the word tough doesn't seem to fit into his vocabulary. It just doesn't seem probable; possible maybe, but probable; certainly not.
Then again, if you were in attendance Sunday night for the 32nd running of the Outlaw 200 at the Fulton Speedway in Fulton, N.Y., you may understand where the wily veteran is coming from. The final 50-circuits would leave any driver tired and their nerves moderately frayed.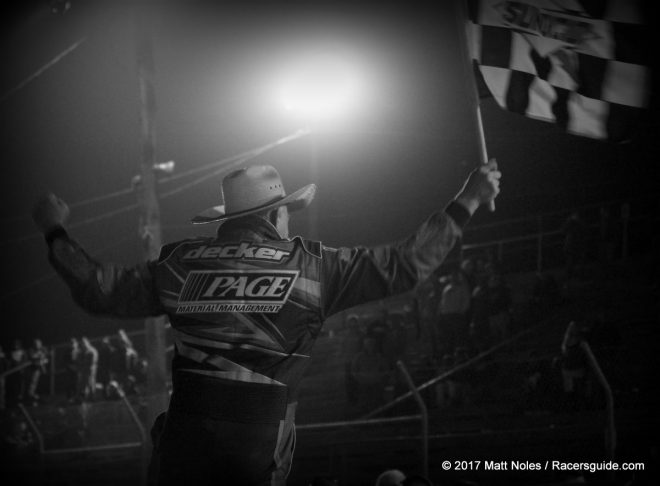 After over 150-laps of three – and at times four – wide racing, nobody really expected the speedway to take rubber and become a one-groove racing surface like it had prior to the feature events on Sunday afternoon. To Decker's – among many others – dismay, that's exactly what took place. In short, the former modified track champion had to work a little harder than normal for the $20,000 winner's share.
"That race was tough," Decker said in victory lane on Sunday night. "It was demanding. It was difficult to get through traffic early; lapped traffic was difficult and when it [the speedway surface] got down to one groove, it got really difficult because you can't get out of that one lane and you come up on lapped cars real fast; it was just difficult."
Race traffic was certainly a challenge early on as the track remained wide and slick leaving Decker with plenty of real estate towards the front of the field, but not an overabundance of grip when it came to passing his fellow competitors. Patience and finesse – more so the latter than the former – seemed to be the secret to getting to the front in the early going.
"The track locked down earlier in the day and then they turned it over a bit and got it better," He continued. "And it stayed better for quite a while and then all of a sudden, it just tightened down in the second half. It doesn't lock down too often here; in the series race in the spring it did and it's a little scary because the last two extra distance races here, it's locked down and it usually doesn't. Track position became really, really important."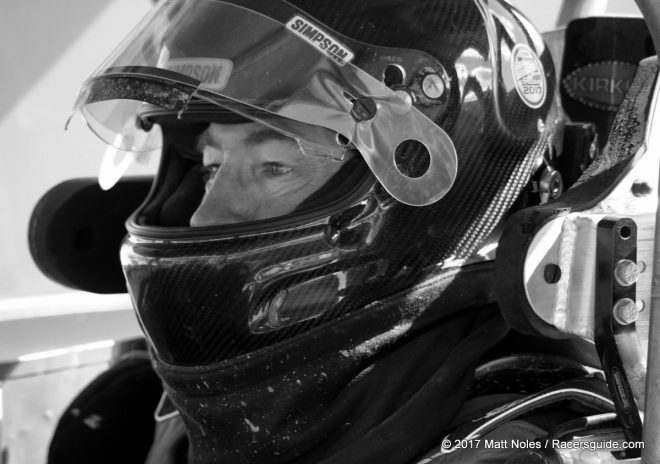 There are few things that seem to rattle drivers especially when they're behind the wheel. One of the fleeting articles that can would be one of the most frightening six-letter words known to most racers; change.
"I'm not sure what the answer is to keeping the track from locking down," said Decker. "I mean, you can't predict the weather but today, the sun was up pretty high and the track had a lot of racing on it and I don't think you can really save any track at that stage."
Decker may not have any answers as far as preparing a track for 200-laps of racing is concerned, but surely he must have an answer to the question that seems to be on the mind of countless fans and competitors; how is he so consistent and good at long-distance races? Prepare yourself to be disappointed; even the driver of the Page Trucking sponsored entry seems to be stumped and can offer no logical, scientifically proven theory. In short, it is what it is.
"I don't know," Decker said with a smirk. "It's long-distance races as a whole really. I usually fare better at extra-distance events than I do in short races. I can't really explain why but that's been a strong point of mine for quite a few years now."
One would also think that with Super DIRT Week literally right around the corner – and only 10-miles up the road at that – Billy Decker must be taking his latest triumph at Fulton and filing that into the confidence builder file for the long week coming up at Oswego. It absolutely is.
"We've been around a long time," Decker explained. "You just try to carry this and use it as energy towards next week and as a confidence builder. The teams has been working hard and we did make some adjustments that we don't normally do and it worked so that's a little bit of a confidence builder there."
Then again, stepping out of one's comfort zone and making adjustments that stray away from the norm can have some adverse effects as the season winds down and the big races wind up.
"Making changes outside of what we normally do can make you nervous," concluded Decker. "We have to be reluctant because what we've been doing has been working really well but we thought the track was just a little bit different today so we needed a little different approach and it worked out in our favor. Hopefully we can take what we've learned and the momentum we have after this race with us into this week."
Matt Noles is a contributing writer for Racer's Guide and Dirt Track Digest. He currently resides in Sprakers, New York and can be reached via e-mail at matt_noles@yahoo.com