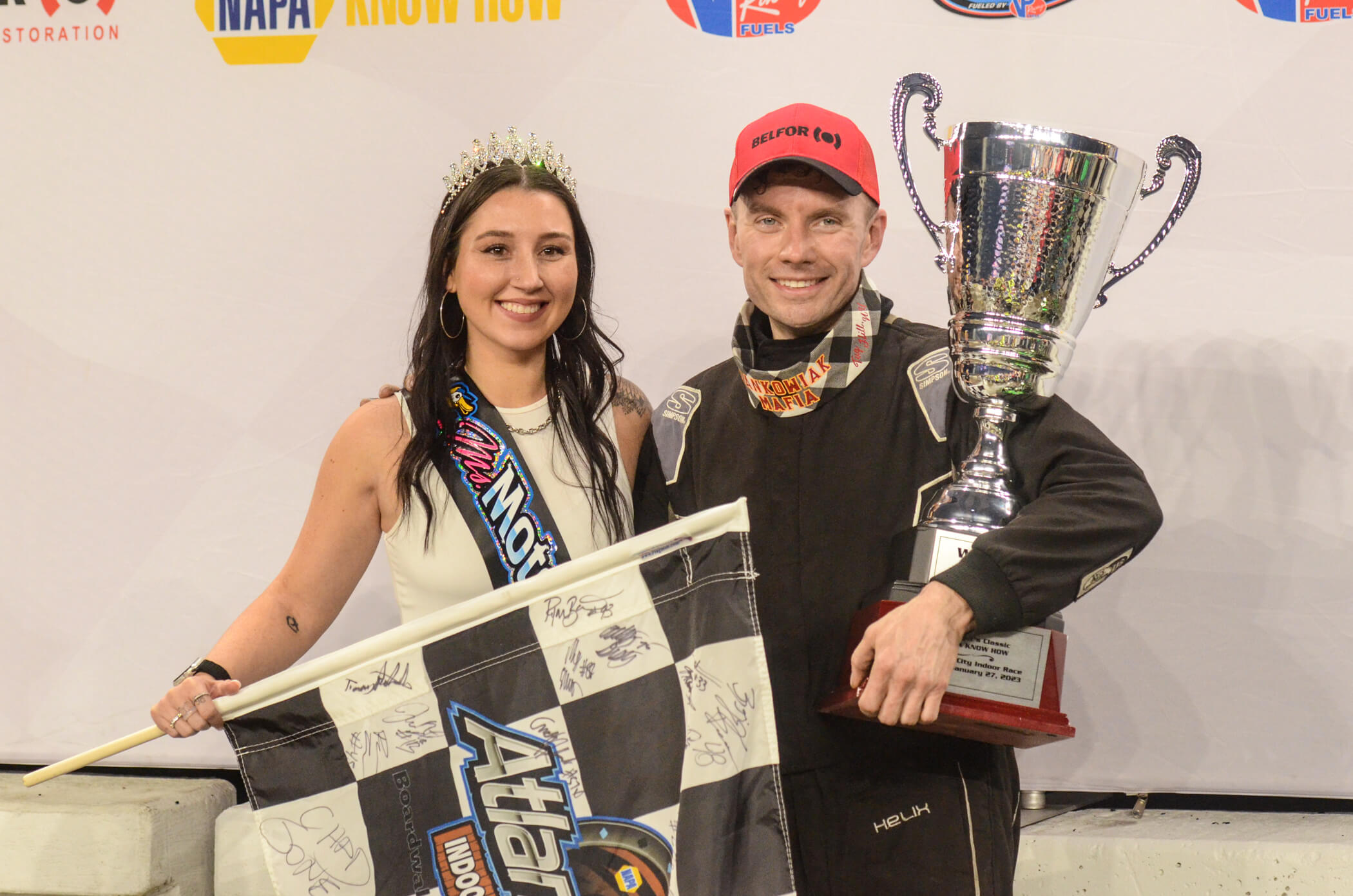 NEWS FROM LEN SAMMONS PRODUCTIONS
INDOOR AUTO RACING CHAMPIONSHIP SERIES FUELED BY VP RACING FUELS
NAPA AUTO PARTS INDOOR AUTO RACE IN ATLANTIC CITY
ATLANTIC CITY, BOARDWALK HALL – JANUARY 27, 28, 2023
Andy Jankowiak Wins Thrilling Friday Night BELFOR Property Restoration Indoor Auto Racing Series Gambler's Classic; Champ Karts, Slingshots, 600 Micros Complete Qualifying Races; Four Features Set For Saturday Night AC Finale
Atlantic City, NJ (Fri., Jan. 27) – Andy Jankowiak became a three-time winner of the Gambler's Classic Indoor Auto Racing Series TQ Midget feature Friday night as part of the NAPA Auto Parts racing weekend inside historic Boardwalk Hall in Atlantic City, NJ, hoisting the iconic Gambler's Classic trophy emblematic of victory.
Jankowiak's fellow front-row starter Scott Kreutter jumped into the lead at the start of the Gambler's Classic before Jankowiak passed him after a thrilling side-by-side struggle. Close behind was fastest qualifier Briggs Danner, who worked his way under Jankowiak for command on lap 16. At the halfway mark of the 40-lap event, Danner, Jankowiak, and Kreutter were joined by Ryan Flores and Tommy Catalano all inches apart.
Danner, who nearly spun out unassisted while leading, was passed by Jankowiak. Camped on Danner's outside, Jankowiak nosed ahead on lap 24 and when a caution flew on lap 25, Jankowkiak restarted up front.
Danner then dropped back to third, with Flores gaining ground on the lap-25 restart to become Jankowiak's main rival. The race took a turn on lap 30 when Danner spun and Erick Rudolph, who had moved into contention, spun as well when the two collided.
This gave Jankowiak the lead with eight laps left and Flores right behind him. Tommy Catalano and Tim Buckwalter ran third and fourth with three laps left. Two final restarts reshuffled the field putting Catalano in front of Jankowiak and Flores with Kyle Lick and Joey Bailey moving into the picture.
Catalano's bid for victory was derailed by an engine issue that robbed him of power on the final restart with two laps remaining. Jankowiak took over the lead for the fourth different time in this wild race to win with Buckwalter taking second in the scramble behind Catalano's slowing car. Anthony Sesely, who started 19 th in the feature, closed with a rush to third with Catalano's power-starved car fourth. Mike Christopher, who had flipped in his qualifying heat, made the feature through a B Main and started 20 th, finished a solid fifth. Lick, Flores, Bailey, Nick Ladyga, and Chad Jones completed the top ten in the thrilling event.
After Danner bested a 52-car field in time trials (8.166 seconds), six TQ Midget 10-lap heat races were won by Tim Buckwalter over Danner, Tyler Wagner over Shawn Nye, Andy Jankowiak who bested Kyle Lick, Erick Rudolph over Tyler Ferris, Matt Swanson over Nick Ladyga and Jeremy Haudricourt over Matt Janisch. Mike Christopher, Jr. escaped injury in the only crash in the sixty laps of intense racing. Three TQ Midget 12-lap B Mains were won by Anthony Sesely over Andrew Molleur, by Christopher over Tyler Thompson, and by Matt Roselli ahead of Dakota Kessler.
The headline TQ Midgets will do it all over on Saturday, January 28 with the big night ending with the 2023 Gambler's Classic. The race winner will once again hoist the prestigious Gambler's Classic winners trophy.
Joining the TQ Midgets Saturday will be the Slingshots, sponsored by Pa.'s Kutztown Action Track, the Hoosier Tire Champ Karts, and the 600cc Dirt Micro Sprints. Champ Karts, 600 Micros, and Slingshots ran qualifying races Friday that helped set their fields for Saturday night's features.
Tyler Brown (9.270) out-qualified 43 Champ Kart drivers. Heat winners were Preston DeMello, TJ Reed, and Chase Keiser.
Brett Bieber (9.882 seconds) set fast time for the 42 Slingshot entrants. Mark Mohr, Simon Egan, and Tyler Ulsh won the three Slingshot heat races.
Kyle Lick (8.966 seconds) was the fastest in Friday's 600 Micro time trials. Lick and Tyler Gunn won the pair of heat races.
Prior to Saturday's event Fan Fest will be held on the racing surface for those with lower-level reserved tickets from 5 to 6:15. Drivers from the event as well as NHRA Funny Car champion Ron Capps will be signing autographs.
Once the Indoor Auto Racing Series Fueled By VP points are calculated, the 2023 champion will be presented the TC Cup Trophy, named after the late Ted Christopher, a seven-time Indoor Auto Racing Series race winner including two Gambler's Classic. The presentation will be made at trackside.
Good seats for Saturday's races remain available at Ticketmaster, a direct link is available from the series website, indoorautoracing.com, or daily at the Boardwalk Hall Box Office where the price is increased by $5 the day of the event.
For those who cannot attend, the Saturday event will be available on DTD Pay-Per-View for $39.99.
Gambler's Classic TQ Midget Feature (40 Laps): 1. Andy Jankowiak, 2. Tim Buckwalter, 3. Anthony Sesely, 4. Tommy Catalano, 5. Mike Christopher Jr., 6. Kyle Lick, 7. Ryan Flores, 8. Joey Bailey, 9. Nick Ladyga, 10. Chad Jones, 11. Briggs Danner, 12. Tyler Ferris, 13. Jeremy Haudricourt, 14. Timmy Catalano, 15. Shawn Nye, 16. Tyler Wagner, 17. Ryan Bartlett, 18. Scott Kreutter, 19. Andrew Molleur, 20. Dakota Kessler, 21. Erick Rudolph, 22. Matt Swanson, 23. Tyler Thompson, 24. Matt Roselli, 25. Matt Janisch, 26. Zach Bealer.