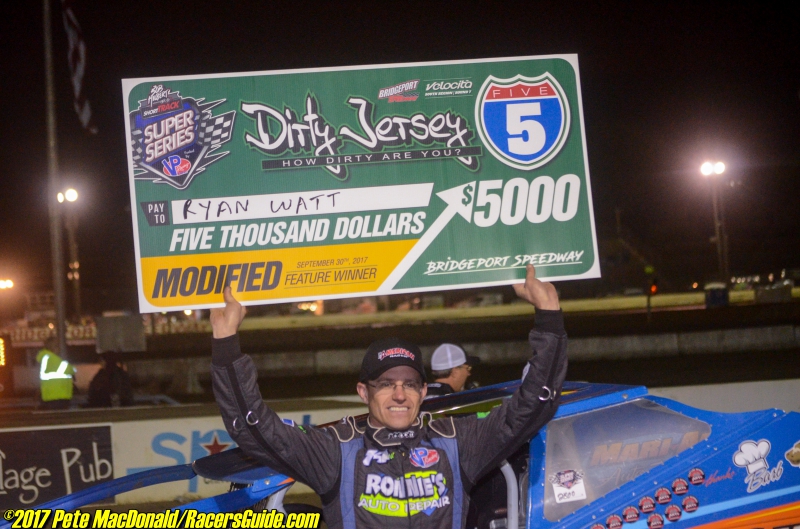 Watt Wires Bridgeport Speedway Short Track Super Series 'Dirty Jersey 5' Saturday, Bests Two-Day American Racer 'Southern Swing' Weekend
Story By: Brett Deyo/SSTS
Photos By: Pete MacDonald/RacersGuide.com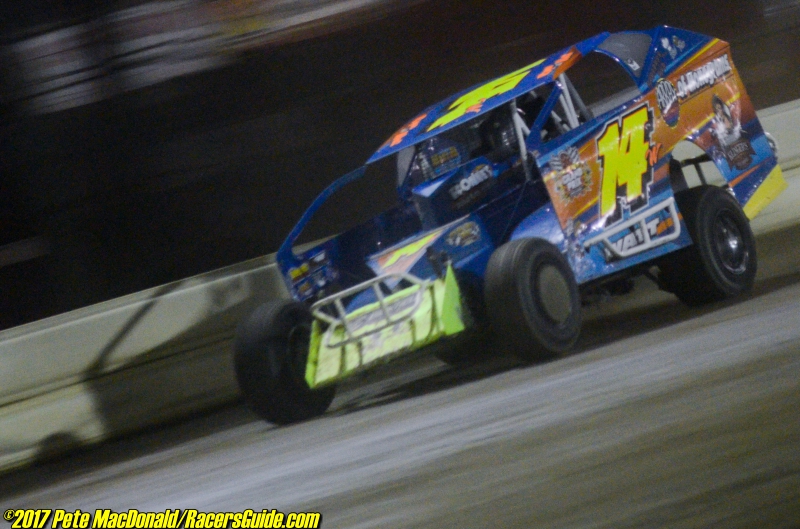 BRIDGEPORT, NJ – The cards fell for Ryan Watt to secure a 'Dirty Jersey 5' victory on Saturday night at Bridgeport Speedway.
Through the gate, Watt drew No. 1, starting from the pole of the first heat race, then again picked the first position in a post-qualifying redraw of top qualifiers. The Boyertown, Pa., driver took the lead at the outset and was never headed in the 40-lap Bob Hilbert Sportswear Short Track Super Series (STSS) Fueled By VP big-block/small-block Modified event on the five-eighths-mile.
The win for Watt was worth $5,000 from the posted payout, a $500 product certificate from Art's Radiator, a free Keizer wheel, and another $500 in cash as the two-night American Racer 'Southern Swing' champion contested between Friday at Georgetown (Del.) Speedway and Saturday at Bridgeport.
"Everything went our way tonight," offered Watt following his second STSS victory of the season. His first came in June at Delaware International Speedway during the 'Diamond State 50' program.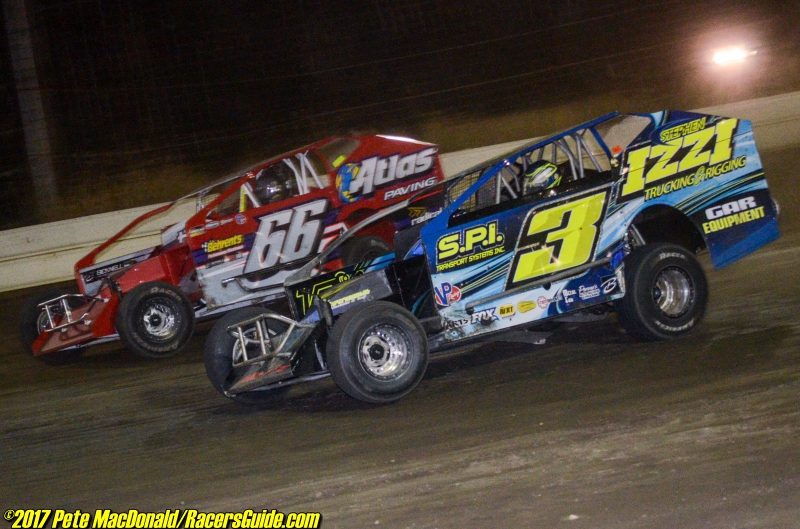 "We've been fast here all year. Getting to start up front made it easier on us, but you're never safe at these races. There were a lot of good cars here tonight."
Saturday's event was the final "100-point" program of the season. The $10,000 Velocita-USA championship will be decided on October 27-28 at Georgetown Speedway during Mid-Atlantic Championship Weekend utilizing increased championship points.
At the drop of the green, Watt's Ron Roberts-owned car took over the lead.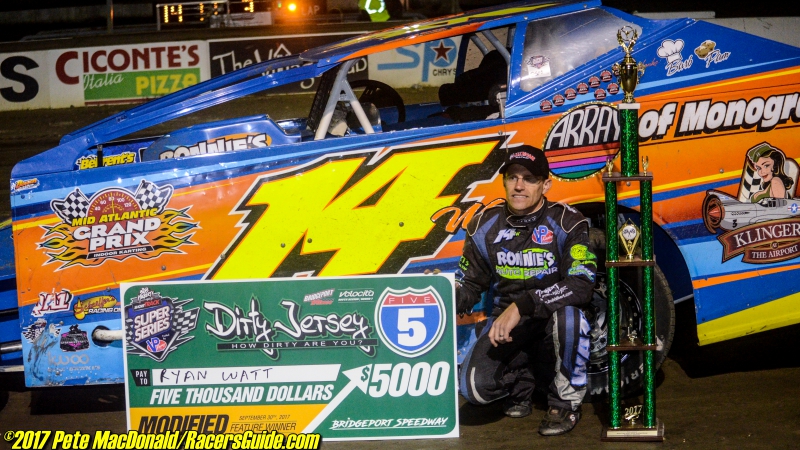 Delaware driver Jordan Watson shot from fourth into the second position. It was Watson who ran closest to Watt's blistering pace. However, eight laps from the finish an apparent engine issued forced Watson's No. 1J to the infield.
A final caution with five laps remaining set up a dash to the finish.
With Watt out front, all eyes were on Craig Von Dohren. The Oley, Pa., driver started 12th and struggled to gain ground in the early laps. However, Von Dohren's Dick Biever-owned No. 14s gained speed in the mid- to-late stages.
With just one lap remaining, Von Dohren swept into the runner-up spot, chasing Watt across the line. Von Dohren earned the Bob Hilbert Sportswear Hard Charger Award in the process (24 custom, screen-printed 'team wear' tee-shirts).
Track regular Sam Martz of Somerville, N.J., completed a steady performance to fill out the podium. Ryan Godown was rim-riding in the final laps aboard the Atlas Paving No. 66, but the Ringoes, N.J., driver settled for fourth. Garden State star David Van Horn Jr. throttled Fred Vahlsing's No. 323ov from 13th to complete the front five.
Finishing sixth through 10th, respectively, were Jimmy Horton of Neshanic Station, N.J., in the Halmar International No. 43; Rick Laubach of Hellertown, Pa., driving the Gary and Lori Hermann No. 7; Friday night Georgetown winner Anthony Perrego of Montgomery, N.Y., aboard the Superior Remodeling No. 44; 19th-starter Billy Pauch Sr. of Frenchtown, N.J.; and Billy Pauch Jr. of Milford, N.J., driving the Danny's Pizza Pizzazz No. 22.
Heat winners for the 33 assembled STSS Modifieds were Watt, Von Dohren and Perrego. Pauch Sr. annexed the consolation.
Support-division victors were Matt Stangle in the Crate/Sportsman event and Jeremy Doerr (Outlaw Stock).
To learn more about the Short Track Super Series Fueled By VP or BD Motorsports Media LLC, visit www.shorttracksuperseries.com or www.bdmotorsportsmedia.com, call 845.728.2781 during business hours, e-mail bdmotorsportsmedia@gmail.com, "like" Short Track Super Series on Facebook or follow @ShortTrackSS on Twitter.
BRIDGEPORT BITS: A $1,500 point fund was established between Bridgeport on Saturday and Friday night's Georgetown Speedway 'September Showdown' special. Watt earned the two-day title and $500 over Perrego ($400), Godown ($300), Jamie Mills ($200) and Van Horn ($100)….
A fan favorite at Bridgeport, the feature starting field and redraw took place in the midway behind the grandstands….
Struggling uncharacteristically throughout the night was Duane Howard, who had to qualify through the consolation and finished 14th with Norm Hansell's No. 357….
The 2017 Short Track Super Series is presented by American Racer/Lias Tire, VP Racing Fuel, Bob Hilbert Sportswear, Halmar International, Allstar Performance, ATL Racing Fuel Cells, Behrent's Performance Warehouse, Bicknell Racing Products, Dirt Track Digest, Fast Axle, Fox Racing Shocks, Hig Fab, Henry's Exhaust, HyperCo, Keizer Wheels, Kirkey Racing Fabrication, K&N, QA1, Race Pro Weekly, Racing Optics, Speed51.com, Teo-Pro Car, Velocita & Wilwood.
'DIRTY JERSEY 5' RESULTS SUMMARY – BRIDGEPORT SPEEDWAY SEPTEMBER 30, 2017
Bob Hilbert Sportswear Short Track Super Series Fueled By VP Velocita South Region Event. No. 7 'Dirty Jersey 5' Big-Block/Small-Block Modified Feature Finish (40 laps): RYAN WATT, Craig Von Dohren, Sam Martz, Ryan Godown, David Van Horn Jr., Jimmy Horton, Rick Laubach, Anthony Perrego, Billy Pauch Sr., Billy Pauch Jr., Jeff Strunk, Brett Kressley, Brandon Grosso, Duane Howard, Jamie Mills, Neal Williams, Richie Pratt Jr., Michael Barone, Jim Britt, Jordan Watson, Andy Bachetti, Wade Hendrickson, Mike Franz, Ron Roberts, Joseph Watson.
Did Not Qualify: Travis Hill, Dave Shirk, Brian Hitz, Tom Carberry, Ricky DiEva, Bucky Kell, Ernie Miles, Bob Sarkisian.
American Racer/Lias Tire Bonuses (FREE Tire): Anthony Perrego (eighth) & Brett Kressley (12th)
Art's Radiator Bonus ($500 Product): Ryan Watt (winner)
Bob Hilbert Sportswear Hard Charger Award (24 FREE Teamwear Shirts): Craig Von Dohren (12th to second)
ATL Fuel Cell Bonus ($200): David Van Horn Jr. (fifth)
Behrent's Performance Warehouse Bonuses ($50 Gift Cards): Ryan Godown (fourth) & Billy Pauch Sr. (ninth)
Fast Axle Bonus ($50 Certificate): Jimmy Horton (sixth)
Keizer Racing Wheels Bonus (FREE Wheel): Ryan Watt (winner)
QA1 Hard Charger ($50 Certificate): Craig Von Dohren (12th to second)
VP Racing Fuels Makin' Power Positions: Craig Von Dohren (second), Brett Kressley (12th) & Wade Hendrickson (22nd)
Weld Wheels Bonus ($50 Certificate): Neal Williams (16th)
Wilwood Brakes 'Lucky 7' Bonus ($50 Certificate): Rick Laubach (seventh)