Denny Hamlin, FedEx Sign Extensions with Joe Gibbs Racing
Story By: REID SPENCER / NASCAR WIRE SERVICE
Photos By: GETTY IMAGES / NASCAR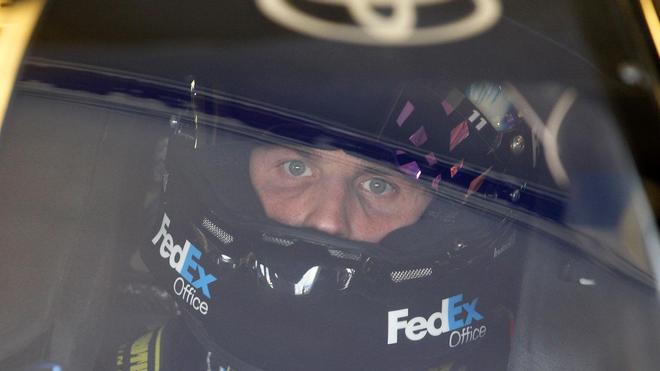 DAYTONA BEACH, Fla. –February 24, 2017- Denny Hamlin has signed an extension to drive the No. 11 Joe Gibbs Racing Toyota with FedEx continuing as his sponsor, the team announced at a press conference on Thursday at Daytona International Speedway.
"Obviously, we've had a great relationship over the 12 years of my career," Hamlin said of his association with FedEx, which began with his debut race at Kansas Speedway in October 2005. "To do it with one team and one sponsor is very rare in our sport…
"I'm definitely blessed, and I wake up every day thanking my lucky stars that I'm in the position I'm in."
Hamlin has 29 victories in 398 starts in the Monster Energy NASCAR Cup Series. He's also the defending winner of the Daytona 500. Hamlin came closest to a championship in NASCAR's foremost series in 2010, when he led the standings entering the final race at Homestead-Miami Speedway before finishing second in points to Jimmie Johnson.
Hamlin has qualified for the postseason playoff in 10 of his 11 full-time seasons, the exception coming in 2013 when he missed four events after suffering a compression fracture of his L1 vertebra in a wreck at Auto Club Speedway in Fontana, Calif.
For every lap Hamlin leads in 2017, FedEx will donate $111 to Safe Kids Worldwide, a non-profit dedicated to keeping children safe on the move in vehicles, at home and at play. For every Hamlin victory, FedEx will contribute $11,000 to the cause.
Should Hamlin win the Monster Energy NASCAR Cup Series champion, FedEx will donate $111,000. The Safe Kids Worldwide road safety program is particularly important to FedEx, which on a typical day has 150,000 vehicles in service throughout the world.
"They're naming all these big charities," Hamlin joked. "I thought I was probably their biggest charity."
Though the terms of the new agreement were not disclosed, Hamlin did allow that he'd be "very gray" when he completes his tenure at Joe Gibbs Racing.
FedEx is among the longest-tenured team sponsors in the sport, citing the success of the program as its motivation for continuing in a long-term agreement.
"It is very powerful," said Patrick Fitzgerald, senior vice president, FedEx Integrated Marketing and Communications. "It's something we measure very carefully and closely. It's a significant investment and it has been. We hold ourselves accountable to make sure it is the right thing and I can tell you it pays for itself many times over in the value it brings."
KEVIN HARVICK: NEW RACE FORMATS WILL IMPACT STRATEGY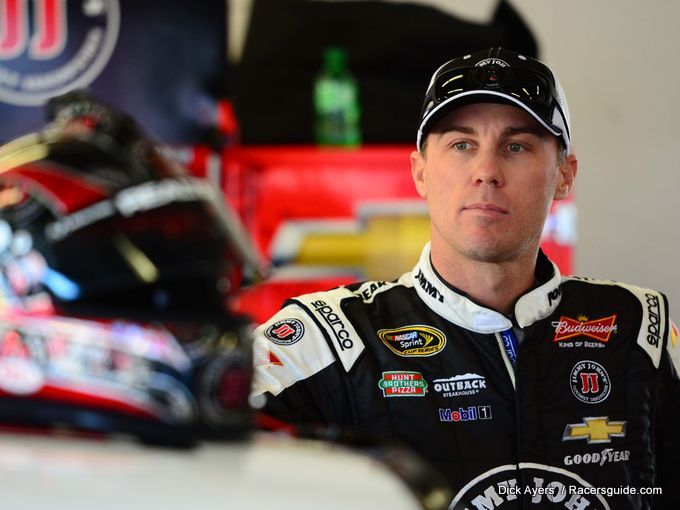 If there's a consensus among NASCAR drivers, it's that dividing races into stages, with points available at the end of each stage, will further tax the cunning of their crew chiefs.
"I think that's the biggest thing," said 2014 Monster Energy NASCAR Cup Series champion Kevin Harvick. "It's going to change the strategy. I think there's going to be a lot of strategy involved. Late cautions in segments or the timing of the segments… if there's an early caution, do you stay out and gain the points and pit later? There's going to be a lot of strategy that will mix the field up more than we've seen in the past…
"I think, as competitors, you always wanted to try and gain an advantage, and you have that opportunity to go out and grab those bonus points and gain as many as you can throughout the year. There's really no time to relax, and I think that's going to create a bit more of a chaotic atmosphere for the fact that there's so much to get, and if you don't aggressively go out and try and get those things, you're going to get behind really fast."
In Harvick's view, the new format should suit his team, from driver to crew chief Rodney Childers on down.
"I think that fits our team well, just to the fact that we're an aggressive bunch of people," Harvick said. "We want to go out and lead laps. We want to go out and try to position ourselves as far forward as we can, because you just never know when it's going to change and what's going to happen. We're definitely going to treat it aggressively and try and gain as many bonus points as we can."
YOU'LL HEAR FAMILIAR VOICES IN "CARS 3" THIS YEAR
NASCAR and Disney-Pixar's "Cars 3" announced a season-long partnership on Thursday at Daytona International Speedway. Scheduled for release on June 16, Cars 3 "very much pays homage to stock car racing and its rich history," said director Brian Fee.
"Our drama leans into the drama, emotion and excitement NASCAR fans find at every race."
Owen Wilson, who will serve as the grand marshal for Sunday's 59th running of the Daytona 500, will reprise his role as the voice of Lightning McQueen, but his isn't the only voice NASCAR fans will find familiar.
Drivers Chase Elliott, Ryan Blaney, Daniel Suarez and Darrell "Bubba" Wallace Jr. all will voice characters in the film, joining NASCAR veterans Richard Petty, Darrell Waltrip, Jeff Gordon, Kyle Petty, Ray Evernham, Humpy Wheeler and broadcasters Mike Joy and Shannon Spake.
Cars 3 will have an at-track presence throughout the 2017 season, as well as a co-branded merchandise program through Fanatics, kicking off this week for the Daytona 500.
The sport's youth program, NASCAR Acceleration Nation, and the NASCAR Hall of fame will be featured prominently throughout the Cars 3 nationwide tour. Later this year, NASCAR and Disney will release NASCAR Acceleration Nation and Cars 3 co-branded in-classroom learning materials for elementary school students.
DIVERSITY CLASS INTRODUCED AFTER AWARDS PRESENTATION
Reporters met the 2017 NASCAR Drive for Diversity class in the Daytona media center on Saturday. The class includes Collin Cabre and Chase Cabre, the first siblings ever to participate in the same D4D class; Ruben Garcia Jr., the youngest driver to win the NASCAR Peak Mexico Series championship (in 2015 at age 20); Jay Beasley, the first African-American driver to win a Super late Model race at the Las Vegas Motor Speedway bullring; Madeline Crane, who posted 59 top fives in 82 starts in Legend cars; and Macy Causey, the granddaughter of Diane Teel, the first female driver to compete in  what is now the NASCAR XFINITY Series.
The introduction of the 2017 Drive For Diversity class followed a luncheon that featured the presentation of 10th annual NASCAR Diversity Awards. Winners were as follows:
Daniel Suarez—NASCAR Ignition Award.
Jesse Iwuji—NASCAR Diverse Driver Award
Peri Karslioglu—NASCAR Diversity Internship Participant Award
Association of Latino Professionals for America (ALPFA)—NASCAR Institution Award
Hallie Deegan—Young racer Award
Smithfield—NASCAR Partner Award
Kenyatta Houston—NASCAR Diverse Crew Member Award
Pocono Raceway—NASCAR Track Award
Patriot Motorsports/Circle Track Racing—NASCAR Team Award
Josh Avila—Industry Ambassador Award