EMERLING TOPS HIRSCHMAN IN 75 -LAP RoC SPENCER VICTORY
Story By: GARY SPAID / SPENCER SPEEDWAY MEDIA
Photos By: MARK RANALLETTA / RACERSGUIDE.COM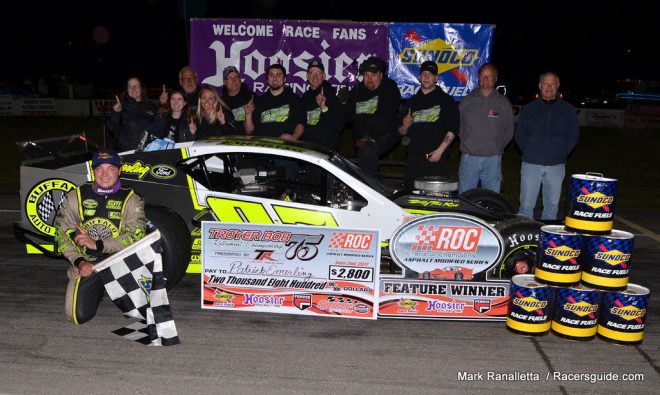 WILLIAMSON, NY – June 3, 2017- The Race of Champion Modified Tour came back to Spencer Speedway last night, where Patrick Emerling, from Orchard Park, NY, took the 75-lap victory.
"This was a really tough one for us," related Emerling. "The track puts that stuff down around the track and this is a really fun place to race. You can run two wide. It makes for a lot of work, but also a lot of fun."
Also on the race card were the New York SuperStocks. Chris Finocchario, from nearby Macedon, NY took the 25-lap win.
"I was worried about running out of gas, with all of those yellows we had early on," stated Finocchario. "I tried to pick my way through the field. It was a good race and we had twenty some cars. I am pretty happy."
The 75-lap RoC main event started off with Chuck Hossfeld, Ransomville, NY, taking an early lead from his outside pole starting position. Hossfeld was able to out drag the pole sitter Bryan Sherwood.
Hossfeld was joined up front by Tyler Rypkema, Owego, NY and Mike Leaty, Williamson, NY. On lap 11, Leaty was able to grab second from Rypkema and take off after Hossfeld. Three laps later, Leaty tried an inside move down the front chute on Hossfeld, but fell short.
As the laps mounted up Hossfeld, Leaty, Rypkema, Emerling and Sherwood circled the huge half mile oval. Lap 18, saw Matt Hirschman, Northhampton, PA, pass Sherwood to join the top five.
The race remained green until lap 42, when Karl Hehr, Cheektowaga, spun coming off the fourth turn and into the infield grass down the front chute to bring out the first yellow of the night.
The restart saw the old adage of, "yellow flags bread more yellow flags" came true. Each time the field tried to restart a yellow flag flew. On lap 43, the red had to be displayed after contact on the back stretch between Hehr and Sherwood eliminated both cars from the race.
On lap 45, Leaty's car suffered a right front flat tire. He pulled into the pits under yellow to replace the tire. He returned to the rear of the field. The lap 46 restart saw Emerling grab the lead from Hossfeld, but still the yellow flag fever seemed to halt the racing.
Finally on lap 50 the race resumed with Emerling in the lead followed by Hirschman, Tommy Catalano, Ontario, NY, Hossfeld and George Skora, Eden, NY.
As the laps wound down Emerling and Hirschman were able to pull out to a two car advantage over Hossfeld. Hirschman made an attempt on Emerling, but was unable to complete his pass. At the finish line it was Emerling, Hirschman, Hossfeld, Tommy Catalano and Skora and the checkers.
From here the RoC moves on to Lake Erie on June 10 and Jennerstown on June 17. Both sites are in Pennsylvania. Lake Erie Speedway will even host the RoC finale on September 30, as the championship race returns to Pennsylvania for the first time since the RoC races at Pocono. The tour returns to New York at Lancaster Speedway on June 29.
The New York SuperStocks were pushing the track curfew when their green flag flew. Kenny Atkins, Grahamsville, NY, grabbed the early lead followed by Nat Peckham, Seneca Falls, NY and Steve Pesarek, Phelps, NY.
The first yellow flew on lap five, for a multi-car crash in the fourth turn. The restart saw Peckham take the lead, with Chris Finocchario on his rear bumper. Another three car incident in the fourth turn again saw the yellow fly on lap eight. This time Finocchario took the lead. He would hold that spot through three more yellows and a red flag to clear oil from the inside of the first turn.
Finocchario, Vogler, Peckham, Pesarek and Zach Willis, Williamson, NY made up the top five. Finocchario was able to pull away from the pack to record a five car advantage at the checkers. Vogler held off a late race charge by Peckham as they crossed the finish line in second and third. Pesarek and Willis rounded out the top five finishers.
SPENCER SHORTS: The night was dedicated to Troyer Race Cars, Inc, retiree, Bob Mueller. Mueller, assisted Troyer asphalt teams to win over 6000 victories. He also crew chiefed the "Mystic Missile". We worked at Troyer's for 29 years….Matt Hirschamn set fast time during modified timed hot laps with a lap of 18.848 seconds….Tommy Catalano earned the hard charger awad for the RoC race.
This coming Friday, June 9th, is Classic Asphalt Modified Series night. On the race card are the three main divisions at Spencer; the Sunoco Modifieds, Super Sixes and Grandpa Dog 4-cylinder Scorpions. Of course the Classic Asphalt Modifieds will be joining the action running a 15-lap feature of their own. Race time will be fifteen minutes earlier, starting at 7:15 p.m. sharp.
Spencer Speedway is located just fifteen minutes east of Rochester, NY, along Route 104 in the Town of Williamson. Spencer Speedway is the local "NASCAR Place to Race" for Central New York in 2017. Points earned each week at Spencer are counted as part of the national NASCAR Whelen All-American Point Chase.
For more information go to: www.spencerspeedway.org.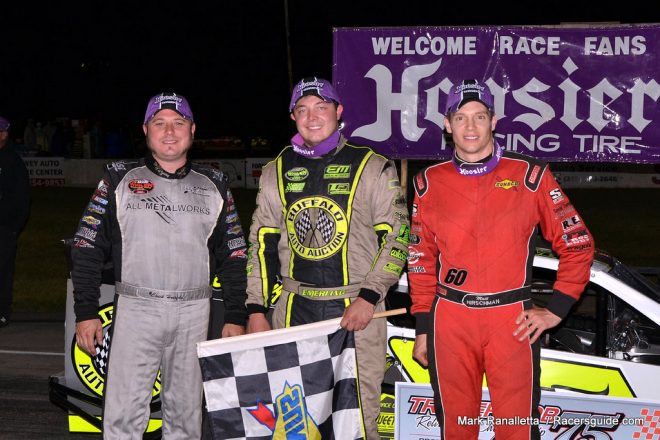 SPENCER SPEEDWAY RoC NIGHT SUMMARY
RoC  MODIFIEDS
HEAT 1:  M. Leaty, G. Skora, T. Rypkema, B. Sherwood, T. Catalano.
HEAT 2:  M. Hirschman, P. Emerling, T.J. Potrzebowski, K. Totten, A. Catalano.
HEAT 3:  C. Hossfeld, D. Lewis Jr., A. Jankowiak, A. Kochenash, R. Coss.
FEATURE (75-laps):  PATRICK EMERLING, Matt Hirschman, Chuck Hossfeld, Tommy Catalano, George Skora, Andy Jankowiak, Mike Leaty, Roger Coss, Austin Kochenash, Amy Catalano, Tyler Rypkema, Daryl Lewis, Daren Scheer, Kirk Totten, Chris Ridsdale, Tommy Rought, T.J. Potrzebowski, Karl Hehr, Bryan Sherwood.
NYS SUPERSTOCKS
HEAT 1: D. Bancroft, S. Pesarek, D. Lazzaro, B. Ripley Jr., R. Miszczak
HEAT 2: N. Peckham, C. Finocchario, M. Hyman, K. Atkins, B. Coyle.
HEAT 3:  K. Willis, S. Frarey, J. Miller, T. Cheetham, M. Larrivee
FEATURE (25-laps): CHRIS FINOCCHARIO, Chris Vogler, Nathan Peckham, Steve Pesarek, Zach Willis, Kenny Atkins, Billy Coyle, Dale Lazzaro, Terry Cheetham, Shaun Frarey, Jason Dinzler, Matt Larrivee, Dylan Bancroft, Mike Hyman, Nathan Worden, Joe Miller, Bob Ripley Jr., Todd Blair, Joel Gleason, Zak Petrie, Brianna Dinzler, Josh Schoonmaker, Rob Miszczak