First Career Win  Comes in Front of Biggest Crowd of Season at Mahoning Valley Speedway
Story By DINO OBERTO / MAHONING VALLEY SPEEDWAY MEDIA
Photos By: WALT SMITH / RACERSGUIDE.COM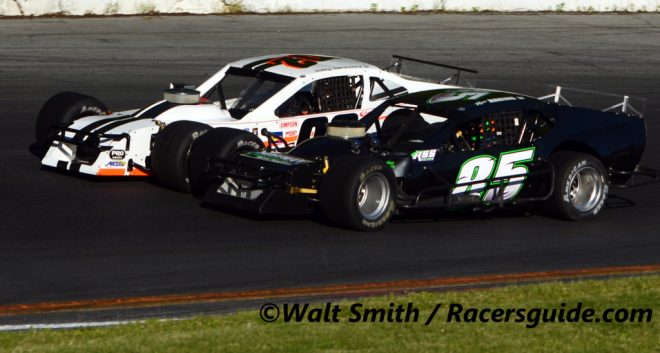 LEHIGHTON, PA. -June 4, 2017-  In making the transition from dirt to asphalt racing, Ron Haring Jr., has come a long way in a short period of time. The 28-year old from Alburtis earned his career first feature win on Saturday evening at Mahoning Valley Speedway which was witnessed by a packed grandstand on Brown-Daub KIA Fan Appreciation Night.
For the past eight years Haring spent his weekends running Modifieds at Grandview and Big Diamond Speedway's and with very limited results. He felt that a change was in order and during this past off season he acquired a pavement Modified and prepared himself for the tight confines of Mahoning Valley.
Despite never having run on asphalt, Haring steadily adapted, keeping himself clear of trouble and learning with each lap.
Now in just his sixth start he became an instant hero with his fine outing. And, taking into consideration that he held off the all-time leader in eastern Pennsylvania short track pavement wins, Brian DeFebo, there was good reason to see why he was beaming afterwards from his defining achievement.
"It's all the guys who help me out like my dad, Shayne and Todd Geist, Doug Bell and so many people who have supported me and it all came full circle tonight," said Haring. "When I was running on dirt I had limited help and to run here it doesn't take as much compared to that racing."
Haring started on the outside front row and by lap three zipped by Josh Scherer for the lead. A lap later Terry Markovic moved to second.
The race was reeling off rapidly as green flag action was the setting for this one. With Haring showing the way he controlled the pace very well while also turning back the ongoing challenges of Markovic. Scherer was holding steady in third with Kris Graver and Bobby Jones making up the top five.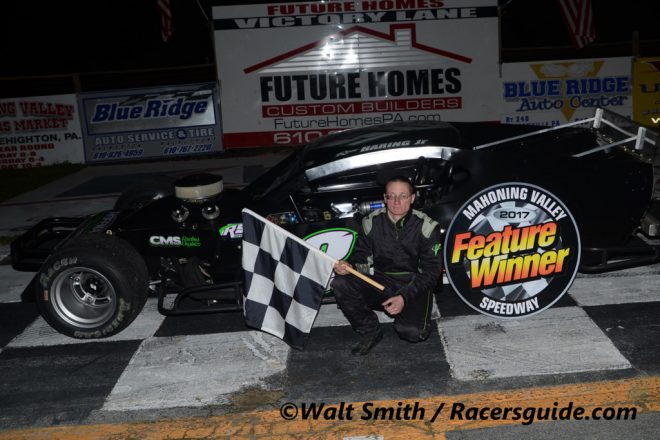 As the race began to come into the final laps, slower traffic was in play. On lap 33 Haring and Markovic were able to get by but as for the rest of the pack it was harrowing situation that unfolded.
Everyone from third place back were in a tight pack which included the back marker car. Coming into turn four, Scherer, who was on the bottom lane, touched wheels with the car to his right and suddenly vaulted overtop and came to a grinding halt head on in the front straight wall. His car was badly damaged but thankfully he walked away unscathed. Several others were also eliminated in the incident including last week's winner Kyle Strohl, Joey Jarowicz and Graver, who was the only one able to return after pitting. Austin Kochenash was blacked flag also for his involvement.
After the cleanup it was a single file restart with Haring, Markovic, DeFebo, Jones and Eric Beers in line. With no laps to spare DeFebo was wasting little time as he stormed past Markovic and on the final tour went to the outside of the leader but was unable to make the pass, giving the unforgettable victory to Haring.
"I just tried to hit my marks and once I got to the lapped car I wanted to get around him as quick as I could and I was going to try and use him as a cushion but then the caution came out," said Haring. "It got very tough at the end when (Brian) DeFebo got up alongside of me.
"During that caution I just kept drilling in my head to stay focused. I knew it was going to be a single file restart which played in my favor. I didn't want to spin the tires on the restart too and not blow it. It was a good setup for tonight and actually the car was fast right from the beginning of the year."
Although he had to settle for second, DeFebo was able to regain the point lead. Markovic had great night in garnering third while Jones and Beers completed the top five.
Jacob Kerstetter notched his second career win in the Late Model feature. Getting to the checkers first though was a hard fought affair to say the least.
Kerstetter came from the inside of row two to grab the lead after the opening lap. He was then locked horns with Lorin Arthofer II who at most times was making continued attempts to pass him on the outside.
Arthofer finally got it done after a lap 17 restart but it would be short lived as Kerstetter powered right back on the ensuing circuit.
The pressure was still on for Kerstetter as not only did Arthofer keep up the stress but point leader Mike Sweeney had the afterburners going strong. With five laps to go Sweeney went to second spot and in short order was hounding the race leader. Using the outside groove, Sweeney was beside Kerstetter and would be scored as the leader as they received the white flag.
However, as they went two-wide through turns one and two, there was contact and Sweeney suddenly went into a spin. Kerstetter stayed the course and was back in front for the restart and would hold back Arthofer for the exhausting win.
"I hated that racing incident at the end with (Mike) Sweeney. That's not how I wanted it to go but thanks to my team we showed in the past few weeks that this car has come to life and we just never gave up," said Kerstetter.
Jared Ahner got a win of redemption in the 30-lap Street Stock feature. A week ago Ahner came up just short after leading 70 of 75 laps and had to settle for second place. This week, however, he was not to be denied.
After some thrilling two-wide laps for the lead with Jillian Long, Ahner went to the front for keeps on lap 15 and remained smooth and steady to the finish over a very persistent Mark Deysher.
Mike Stofflet held off Frank Parastino for his unprecedented fifth consecutive Dirt Mod win.
Cody Kohler has got a good knack for winning in the Pro 4s of late as he outraced Kevin Stein for his third win in four starts.
Kohler advanced to the lead after an opening lap scuffle reset the field. He then held back Stein over the 20-lap distance in gaining the verdict.
For Ryan Berger, the third time was the charm when it came to leading in the Hobby Stocks. For the third straight week Berger was able to lead the feature but in the previous two he dropped out and had to settle for disappointing finishes due to mechanical gremlins.
This time around all systems where working in sync and Berger easily outclassed the rest of the stout field to become the sixth winner in as many races.
Tyler Wagner took the lead at the outset of the Micro Stock main and then had to fend off fast charging Alex Greenzweig en route to his first win of the season with the traveling club.
Modified Feature Finish (35 Laps): 1. Ron Haring Jr., 2. Brian DeFebo, 3. Terry Markovic, 4. Bobby Jones, 5. Eric Beers, 6. Nick  Bear, 7. Lou Strohl, 8. Brian Romig, 9. Gene Bowers, 10. Jack Ely, 11. John Markovic, 12. Kristopher Graver, 13. Brian Romig Jr., 14. Josh Scherer, 15. Joey Jarowicz, 16. Kyle Strohl, 17. Austin Kochenash
Late Model Feature Finish (25 Laps): 1. Jacob Kerstetter, 2. Lorin Arthofer, 3. Chris Anderson, 4. Frankie Althouse, 5. Jacob Nemeth, 6. George Ramos, 7. Kenny Hein, 8. Geno Steigerwalt, 9. Jeremy Miller, 10. Robbie Kutz, 11. Mike Sweeney, 12. Dylan Osborn
Street Stock Feature Finish (30 Laps): 1. Jared Ahner, 2. Mark Deysher, 3. Josh Mooney, 4. Corey Edelman, 5. Rick Reichenbach, 6. Jon Moser, 7. Alan Schlenker, 8. Stacey Brown, 9. Todd Ahner, 10. Jill Long, 11. Shayne Geist, 12. Lonnie Behler, 13. Steve Steigerwalt, 14. Jamie Smith, 15. Logan Boyer, 16. BJ Wambold
Dirt Mod Feature Finish (20 Laps): 1. Mike Stofflet, 2. Frank Parastino
Pro 4 Feature Finish (20 Laps): 1. Cody Kohler, 2. Kevin Stein, 3. Ken Reeder, 4. Jason Finken, 5. Jeremy Guerra, 6. Tanner Laybourn, 7. Kailyn Beers, 8. Johnny Bennett DNS: Jake Kibler
Hobby Stock Feature Finish (20 Laps): 1. Ryan Berger, 2. Michael Wambold, 3. Austin Beers, 4. Paul Effrig, 5. Cody Geist, 6. Devin Schmidt, 7. Tiffany Wambold, 8. Alton Snyder Jr., 9. Avery Arthofer, 10. Rich Mutarelli, 11. Kevin Behler, 12. Justin Merkel, 13.Jeff Biegley, 14. Travis Solomon, 15. Al Arthofer, 16. Nicolas Kerstetter, 17. Brayden Spencer, 18. Trisha Connolly, 19. Thomas Hunsicker Jr., 20. Todd Geist DNQ: Lyndsay Buss, Colton Perry, Travis Nothstein, Jay Visnosky, Seth VanFossen
Micro Stock Feature Finish (15 Laps): 1. Tyler Wagner, 2. Alex Greenzweig, 3. Roger Snyder, 4. Larry Ealey, 5. Wayne Krenn, 6. Tom Arntz, 7. Walt Mueller, 8. Steven Freundt, 9. Bob Wagner
COMING EVENTS:
Saturday, June 10 @7:00 pm All regular track classes ($14 adult admission)
Saturday, June 17 @ 7:00 pm All regular track classes ($14 adult admission)
Saturday, June 24 @ 7:00 pm All regular track classes + ATQMRA ($14 adult admission)