Alonso Skates Through Successful First Day Of Indy 500 Practice
Story By: JEFF OLSON / INDYcar SERIES MEDIA
Photos By: CHRIS JONES / INDYcar SERIES PHOTO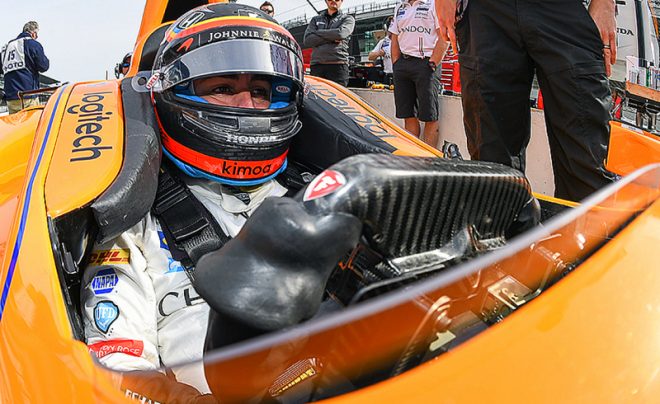 INDIANAPOLIS, Indiana –May 16, 2017- After the opening day of practice for the 101st Indianapolis 500 presented by PennGrade Motor Oil, Fernando Alonso rolled to his news conference on a motorized skateboard.
He answered nine questions, most of which could be paraphrased as such: It's great, I'm learning a lot, and I'm enjoying myself.
Then he hopped on his skateboard and rolled back to Gasoline Alley at Indianapolis Motor Speedway without a care.
Thus was the introduction to the month of May for Alonso, the two-time Formula One champion who will skip the Monaco Grand Prix to participate in the Indy 500 on May 28. The 35-year-old Spaniard tested on the IMS oval on May 3, but today was his first run in traffic and first experience with his entire six-car team. Judging from the results and the positive attitude, all went well.
And it didn't take long for him to adjust to an Indy car after finishing 12th Sunday in F1's Spanish Grand Prix and jetting across the Atlantic to Indianapolis.
"It took one corner," Alonso said. "At the (May 3) test, we were shown quite quickly. You jump in the car and have a sitting position that is quite different than Formula One. … You just have to remind yourself exactly what you were driving two weeks ago. You go flat out and you know what is going to happen. It took really no time to go from one to another."
Alonso's fastest lap of the day in the No. 29 McLaren-Honda-Andretti Honda – 223.025 mph – ranked 19th among the 32 drivers who took part in the opening-day practice that consisted of two hours for rookies and veteran refreshers followed by four hours open to all drivers. That was 0.5907 seconds off the pace set by his Andretti Autosport teammate, Marco Andretti, whose leading effort in the No. 27 United Fiber & Data Honda was 226.338 mph.
After participating in the two-hour rookie/refresher session largely without traffic earlier in the day, Alonso got his first experience with other cars on track during the later afternoon practice.
"The most difficult thing will be the race itself – all the things that happen in a race like this one, which are the traffic, running in traffic and learning all the little tricks to overtake," Alonso said. "Then to use the performance of your car in which moment of the race (and) why. All these little things that only with experience and with races you can learn. … I don't have that experience and I don't have that time, so I know that I will be weaker in some of these aspects. I need to learn as quick as I can in the next 10 days, 12 days."
Unlike his fellow competitors, especially later in the week, Alonso won't expend much energy on preparing for this weekend's two days of qualifying. Instead, he'll focus primarily on race setup.
"In my case, qualifying is not very important," Alonso said. "Obviously, when you are out there, you want to be fast. … But the priority for us in my garage is to set up the car for the race, to feel comfortable in traffic, to learn as much you can (about) the way to overtake, how to overtake and how to lose the minimum time possible with those maneuvers."
During his lunch break, Alonso spent time talking to 77-year-old Mario Andretti, the retired 1969 Indy 500 winner, 1978 F1 champion, four-time Indy car champion and father of Andretti Autosport CEO Michael Andretti.
"We went through many, many things, from Formula One to talking about the tires here, how they perform, to talking about the fires in Formula One," Alonso said. "He's an amazing person and a true legend in motorsports, so every comment, every word that he says, is obviously very, very important for all of us."
But, more than anything, Alonso's first official day was a skate in the park.
"Today, I was happier," he said. "I felt better in the car. Definitely a much better day, much better feeling. I was able to drive the car or start driving the car today. Still a long way for me to work and to learn, but definitely I feel some good steps today."