Oswego Speedway Back in Action Saturday, June 10 with Supermodified Twin 35s, Autograph Night
Press Release By: CAMDEN PROUD / OSWEGO SPEEDWAY MEDIA
Photos By: CHRIS BURGESS / RACERSGUIDE.COM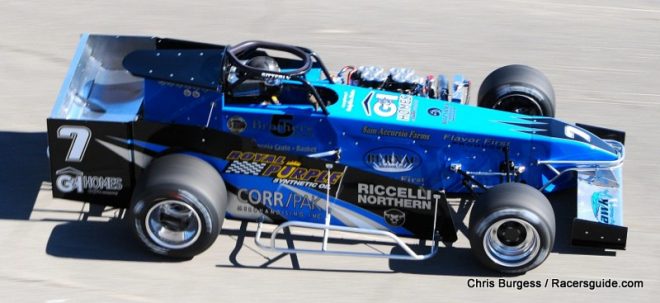 OSWEGO, NY – June 5, 2017 –  Oswego Speedway returns to action this weekend with the always exciting, historic and action packed Novelis Supermodified Twin 35's presented by Burke's Do-It-Best Home Centers and A&P Auto Parts along with the first driver autograph session of the season on Saturday, June 10.
Saturday night's schedule of events, which includes two 35-lap Novelis Supermodified features and a 30-lap main for the Pathfinder Bank Small Block Supermodifieds, will see the popular driver autograph session at 5:15 p.m.
The driver autograph session will follow the completion of hot laps at 5pm. Fans of all ages are welcomed to join the speedway's competitors and teams on the track's front straightaway to meet their favorite driver and get an autograph card, candy, or merchandise. The autograph session is free with the price of admission.
Heat racing action will get underway at 7pm on Saturday following group time trials for both divisions. Supermodified heats will be first to see action followed by the SBS before feature attractions get underway shortly thereafter with the first Novelis Supermodified Twin 35, the Pathfinder Bank SBS 30-lapper and the second Novelis Supermodified Twin 35.
The speedway's Twin 35s began in 1976 and have been a fan favorite for over 20 years. Twin features have been ran at Oswego as far back as the year 1970, when Jim Shampine claimed double wins in May of that year.
Before the Twin 35's took the speedway by storm in 1976, the very unique Triple 33's were held in 1973 and 1974 with Shampine claiming five of the six features.
With that said, it is no surprise to see that Shampine has won more scheduled Twin events than any other driver in the speedway's history with 21 victories in total. After Keith Shampine picked up his first career victory two weeks ago, watch for the driver of the Osetek Racing Technologies No. 55  to have two opportunities to go back to back and join his Uncle Jim as one of the few drivers to double up in victory lane on Twin night.
Bentley Warren (17), Doug Heveron (12), Eddie Bellinger Jr. (12), and Steve Gioia Jr. (10) join Shampine as the only drivers to have double digit victories in Twin events.

In 1975 two sets of Twin 30's were contended, before Oswego adapted the Twin 35 distance from 1976 through 1998. The race then went away in 1999 and 2000.
In 2001 the Twins returned, with 30-laps being the distance, and they were ran off and on up until the 2011 racing season.
In 2014 the historical Twin 35 format returned for the first time since 1998 with Randy Ritskes and Michael Barnes driving to victory lane.
A total of 14 drivers have won their first Supermodified feature in Twin Supermodified events at the speedway, with the most recent being last season as Jeff Abold held off Brandon Bellinger for his first career victory in the second Twin of the night.
Since 1971 Fred Graves, Gary Albritain, Brian Herb, Mike McLaughlin, Dean Hoag, Howard Page, Greg Furlong, Otto Sitterly, Jeff Holbrook, Gary Morton, Jerry Curran, Pat Lavery, and Muldoon have all won their first, and in some cases only, Supermodified feature during a Twin event.
This weekend, Dan Connors, Logan Rayvals, and Lou LeVea Jr. will all search for their first victory in each of the twin events for the Supermodifieds while Jesse Bearup, Camden Proud, Greg O'Connor, and more all aim for their first Pathfinder Bank SBS glory.
Barnes and Sitterly are tied atop the Novelis Supermodified standings heading into the weekend ahead of Dave Shullick Jr, Shampine, and Abold.
Dave Cliff leads the Pathfinder Bank SBS contingent over Andrew Schartner, Jack Patrick, Kreig Heroth and Cameron Rowe.
WHAT:
Novelis Supermodified Twin 35's, Pathfinder Bank SBS 30 plus Autograph Night presented by Burke's Do It Best Home Centers and A&P Auto Parts.
WHEN:
Saturday June 10, at Oswego Speedway in Oswego, NY. Pit gates will open at 2:30pm, grandstands at 4pm, hot laps at 4pm, autographs at 5:15pm, time trials at 6:30pm, racing at 7pm.
WHERE:
Oswego Speedway is located at 300 East Albany St. in Oswego, NY.
TICKETS:
Padded reserved seats $25, general admission $20, Pit Passes $35, VIP $90. Tickets can be purchased in advance by calling (315) 342-0646. Kids 16 and under are free with paid adult. Active military are free with proper ID.
ON THE INTERNET:
Oswego Speedway – www.oswegospeedway.com
Twitter – @OswegoSpeedway
Facebook – facebook.com/OswegoSpeedway
YouTube – OswegoSpeedwayOnline
Live Updates can be seen on Twitter, Facebook, as well as the Oswego Speedway website.
ABOUT THE TRACK:
Oswego Speedway is a semi-banked 5/8 mile paved oval.  The non-wing Novelis Supermodified track record is held by Joey Payne with a time of 15.802 seconds at 142.397 mph, established on August 29, 2014.  The wing Supermodified track record is 14.730 seconds at 152.749 mph, set by Mike Lichty on May 28th, 2016.  The official SBS track record is held by Russ Brown with a lap of 18.504 seconds at 121.595 mph set on September 2, 2016.
2017 Oswego Speedway – Novelis – Hoosier Tire – SUNOCO
Supermodified Driver's Championship
POS. ## DRIVER PTS.
1 68 MICHAEL BARNES 218
2 7 OTTO SITTERLY 218
3 2 DJ SHULLICK* 209
4 55 KEITH SHAMPINE* 186
5 05 JEFF ABOLD 180
6 0 TIM SNDER 175
7 00 JOE GOSEK 173
8 02 BRANDON BELLINGER 171
9 01 DAN CONNORS 169
10 15 MICHAEL MULDOON 164
11 50 DAVE GRUEL 156
12 94 LOGAN RAYVAS 155
13 83 LOU LEVEA JR 149
14 14 JOEY PAYNE 143
15 56 HAL LATULIP 130
16 52 DAVE DANZER 96
17 18 HOWARD PAGE 67
18 40 BOBBY MAGNER 61
19 70 DAVE MCKNIGHT 60
Novelis Supermodified Rookie of the Year
POS. ## DRIVER PTS.
1 94 LOGAN RAYVALS 155
Lighthouse Lanes Hard Charger Award
DATE ## DRIVER
May 13th 0 TIM SNYDER
May 27th 00 JOE GOSEK
Supermodified Top5 Finishes
Top5's ## DRIVER
2 7 OTTO SITTERLY
2 68 MICHAEL BARNES
1 6 DJ SHULLICK
1 52 DAVE DANZER
1 0 TIM SNYDER
1 55 KEITH SHAMPINE
1 00 JOE GOSEK
1 05 JEFF ABOLD
Supermodified Top 10 Finishes
Top 10's ## DRIVER
2 7 OTTO SITTERLY
2 68 MICHAEL BARNES
2 05 JEFF ABOLD
2 0 TIM SNYDER
2 94 LOGAN RAYVALS
1 6 DJ SHULLICK
1 52 DAVE DANZER
1 01 DAN CONNORS
1 83 LOU LEVEA JR.
1 15 MICHAEL MULDOON
1 55 KEITH SHAMPINE
1 00 JOE GOSEK
1 02 BRANDON BELLINGER
1 50 DAVE GRUEL
2017 Oswego Speedway – Pathfinder Bank- Hoosier Tire – SUNOCO
Small Block Supermodified Driver's Championship
POS. ## DRIVER PTS.
1 50 DAVE CLIFF 227
2 18 ANDREW SCHARTNER 206
3 9 JACK PATRICK 185
4 04 KREIG HEROTH 180
5 77 CAMERON ROWE 180
6 01 DALTON DOYLE 174
7 37 JESSE BEARUP 166
8 54 CAMDEN PROUD 165
9 13 RUSS BROWN 161
10 91 BARRY KINGSLEY 159
11 74 MIKE BOND 154
12 99 DENNIS RUPERT 143
13 90 GREG O'CONNOR 140
14 89 TONY PISA 140
15 23 CAMERON BLACK 133
16 15 JAMES BABCOCK 118
17 22 MIKE BRUCE 114
18 87 MATT MAGNER 90
19 2 ROB PULLEN 77
20 88 BRAD HAYNES 73
21 8 JOSH KERR 71
22 69 MARK CASTIGLIA 70
23 14 ALEX MCRAE 65
Pathfinder Bank SBS Rookie of the Year
POS. ## DRIVER PTS.
1 89 ANTHONY PISA 140
D&S Landscaping Hard Charger Award
DATE ## DRIVER
May 13th 13 RUSS BROWN
May 27th 15 JAMES BABCOCK
Small Block Super Top 5 Finishes
Top5's ## DRIVER
2 18 ANDREW SCHARTNER
2 50 DAVE CLIFF
1 13 RUSS BROWN
1 54 CAMDEN PROUD
1 04 KREIG HEROTH
1 74 MIKE BOND
1 77 CAMERON ROWE
1 91 BARRY KINGSLEY
Small Block Super Top10 Finishes
Top10's ## DRIVER
2 18 ANDREW SCHARTNER
2 50 DAVE CLIFF
2 04 KREIG HEROTH
2 9 JACK PATRICK
2 37 JESSE BEARUP
2 01 DALTON DOYLE
2 91 BARRY KINGSLEY
1 13 RUSS BROWN
1 54 CAMDEN PROUD
1 87 MATT MAGNER
1 74 MIKE BOND
1 77 CAMERON ROWE
1 15 JAMES BABCOCK
1 89 TONY PISA
UP NEXT at Oswego:
Saturday, July 1 – Oswego D Bus & Holiday Inn Express Independence Day Weekend Grand Prix Night plus FIREWORKS and Novelis Can Collection #2 (Novelis Supermodified 75, Pathfinder Bank SBS 35)
For more information on Oswego Speedway be sure to visit www.oswegospeedway.com. You can also LIKE the Oswego Speedway page at facebook.com/OswegoSpeedway, or FOLLOW on Twitter @OswegoSpeedway. To purchase tickets or order merchandise please call the speedway box office at (315) 342-0646.
About Oswego Speedway: Oswego Speedway, a sports entertainment company, is a 5/8 mile semi-banked pavement racing oval located off the shores of Lake Ontario in scenic Oswego, NY. Oswego Speedway has been a continuously run weekly racing venue since August, 1951. The premier open-wheel pavement short track cars in the world, Supermodifieds, run weekly at Oswego Speedway making Oswego the only weekly Supermodified racing venue in the world. The Small Block Supermodifieds accompany the full blown Supers on a weekly Saturday night schedule which runs from May through September. Oswego Speedway is mentioned in racing circles as the "Indy of the East," as no fewer than a dozen past and present competitors have competed at the famed Indianapolis Motor Speedway including Mario Andretti, arguably the greatest driver of all time, two-time Indy 500 champion Gordon Johncock, along with former International Classic Champions Bentley Warren, Joe Gosek, and Davey Hamilton.