TRENT STEPHENS CAPTURES ISMA SUPERMODIFIED WIN AT LANCASTER
Story By: DAVE BUCHANAN / LANCASTER SPEEDWAY MEDIA
Photos By: ALEX & HELEN BRUCE / RACERSGUIDE.COM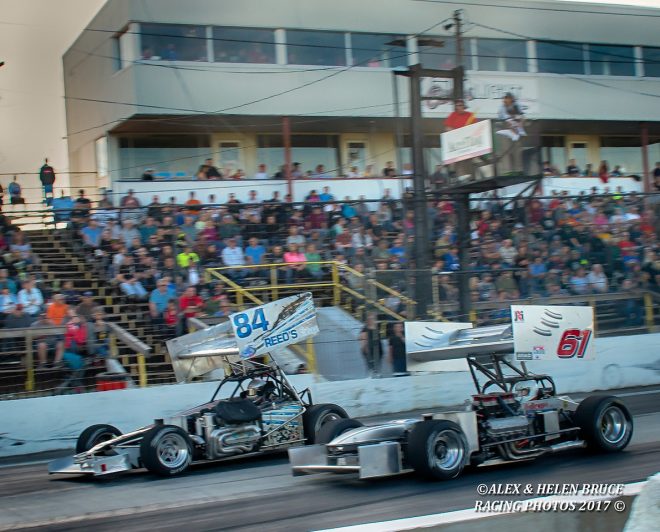 LANCASTER, N.Y. -June 4, 2017 – A packed crowd was on hand Saturday night to witness the International Supermodified Association (ISMA) make its first visit to Lancaster National Speedway in 14 years. Fans were thrilled to see the fastest short track cars in the world thunder around Lancaster's ½-mile once again as part of Double Wing Night at Lancaster.
The ISMA Supermodifieds blistered the track, with the quickest lap times being run in under 15 seconds and average lap speeds of over 132 mph. Dave Shullick, Jr. of N. Ridgeville, Ohio set a new track record during practice with a lap time of 14.794 seconds.
A total of 24 ISMA Supermodifieds took the green flag for their first feature at Lancaster since 2003. Moe Lilje and Dan Bowes led the field to the initial start of the 50-lap main event with Lilje jumping out to the early lead.
Trent Stephens of Ravenna, Ohio started fourth, but took advantage of a restart on lap 4 to move into the second position. Stephens then tracked down Lilje for the lead.
On lap 15, Stephens was able to get underneath Lilje in turn four to take over the top spot.
The second and final caution of the event happened on lap 23 when Mike Lichty spun and hit the Thermal Foam block in turn 1. He was able to walk away, but his evening was over with just before the halfway point of the race.
Dave McKnight, Jr. entered the event as one of three drivers to previously win an ISMA event at Lancaster. He started the day with rear end problems during practice, but his crew made repairs in time for to make his heat race and qualify feature. McKnight started eighth and used the outside line to pick up a few position early on. He made the move of the night around lap 20 when he made a three-wide pass around Dan Bowes and a lapped car to take over fourth place.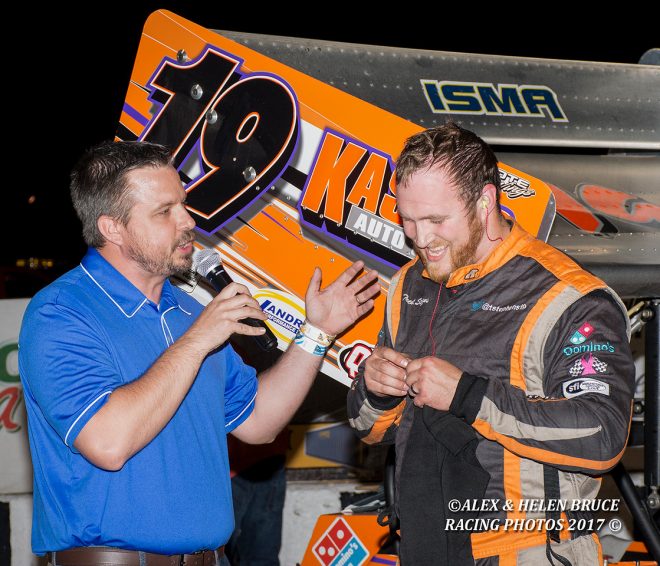 McKnight moved into the runner-up position after the ensuing restart for the spin by Lichty. Stephens was able to pull away from McKnight from the rest of the field in clean air, but lapped traffic allowed McKnight to reel him back in. McKnight got close enough to make a couple attempts at the lead, but he couldn't get by Stephens.
Stephens pulled away once again after the leaders got through the lapped traffic. He cruised home during the final laps to score his first ISMA victory of the season.
McKnight had his hands full in the closing laps as he had fight off challenges from Jon McKennedy and Mike McVetta to preserve the runner-up finish. McKenndy was third, followed by McVetta and Bowes.
The other portion of Double Wing Night at Lancaster was the winged Can-Am TQ Midgets, which also made a long overdue return to the ¼–mile inner oval. Mack DeMan of Mississauga, Ontario, Canada picked up the win in the 25-lap feature.
DeMan passed Adrian Stahle for the lead on lap 10 and never looked back as he drove on to victory lane. DeMan used knowledge he gained for racing at Lancaster in non-winged TQ Midgets events to help him get around the track.
Stahle settled for second. Lancaster regulars Andy Nye and Andy Jankowiak worked their way through the field to finish third and fourth respectively. Adam Racine rounded out the top five.
In X-Press Signs Stock Car Series action, Rich Sharpe of Lancaster scored his third win of the season in the Advance Auto Parts Street Stocks. Sharpe passed Lou Carbone for the lead with six laps to go, and then survived a pair of restarts with less than four laps go to secure the win.
Carbone finished second followed by Mark Hoch, Trevor Pettit and Dave Wilson. Wilson battled back after suffering a flat tire on lap 7.
In the Roaming Buffalo 4-Cylinders, Dave Milbrand, Jr. of Clarence, N.Y. earned his first career feature win. Milbrand led 21 of 25 laps in the winning effort after passing Joe Brunka for first place on lap 4. He had to survive a strong challenge from defending track champion, Kevin Bainbridge, in the final laps to hold on for the victory.
The X-Press Signs Stock Car Series returns to action on Saturday, June 17 with the Joe Reilly Sportsman Summer Slam. The Sunoco Sportsman will be showcased in their biggest race of the season. The Advance Auto Parts, Roaming Buffalo 4-Cylinders and NYPA TQ Midgets will also be in action. Racing starts at 6:30 p.m.
About Lancaster National Speedway & Dragway: Founded in 1959, Lancaster National Speedway and Dragway, WNY's Premier Motorsports and Event Facility, is a multi-use facility located on 77 acres just outside of metropolitan Buffalo, N.Y. The facility features a 1/8-mile drag strip, a 1/2-mile oval track and hosts several non-motorsports events such as car shows and concerts. For the latest information on Lancaster National Speedway & Dragway check out our website www.lancasternationalspeedway.com. Additional information for racers and fans can be found on our Facebook page (www.facebook.com/LancasterSpeedway) and on Twitter (@LancasterSpdwy).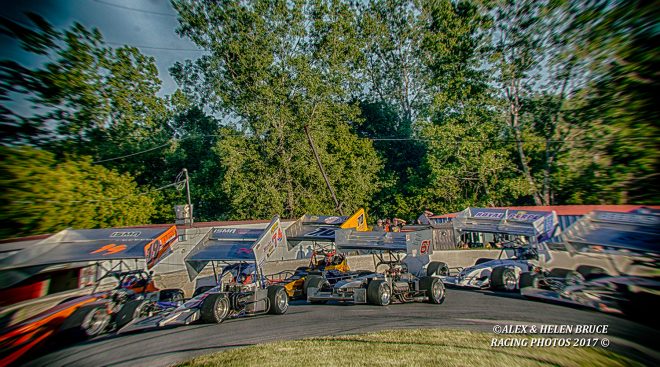 RESULTS
INTERNATIONAL SUPERMODIFIED ASSOCIATION
Heat Winners: Trent Stephens, Dan Bowes, Mike McVetta
Feature: TRENT STEPHENS, Dave McKnight, Jr., Jon McKennedy, Mike McVetta, Dan Bowes, Timmy Jedrzejek, Dave Shullick, Jr., Mark Sammut, Chris Perley, Mike Ordway, Jr., Otto Sitterly, Ben Seitz, Moe Lilje, Dave Gruel, Tim Snyder, Kyle Edwards, Talon Stephens, Howie Page, Bobby Magner, Dave Danzer, Mike Lichty, Rich Reed, Mike Muldoon, Joe Gosek
ADVANCE AUTO PARTS STREET STOCKS
Heat Winners: Keith Flanigan, Jarrod Brown, Max Northem
Feature: RICH SHARPE, Lou Carbone, Mark Hoch, Trevor Pettit, Dave Wilson, Tommy Wentland, Jarrod Brown, Rob Pocobello, Jerry Kosmowski, Don Sitarski, Ken Maltby, Andy Cryan, Keith Flanigan, Frank Prell, Mike Dalfonso, Jr., Jimmy Pierce, Chris Handley, Gino Pinto, Randy Rogers, Garrett Cleversley, Max Northem, Mike Dalfonso, Sr., Tim Garlock DNS: Tom Northem
ROAMING BUFFALO 4-CYLINDERS
Heat Winners: Dan Dressel, Joe Brunka
Feature: DAVE MILBRAND, JR., Kevin Bainbridhe, Bobby Woch, Dan Dressel, Jason anasiewicz, Mark Scarpace, Joe Brunka, Zach Cleversley, Dave Anasiewicz, Charles Palmer, Justin Johnson, Kayla Joseph, Dave Brunka, Chris Pennell
CAN-AM TQ MIDGETS
Heat Winners: Mack Deman, Darren Dryden
Feature: MACK DEMAN, Adrian Stahle, Andy Nye, Andy Jankowiak, Adam Racine, Barry Dunn. Ryan Fraser, Brandon Zavarella, Darren Dryden, Mark Schulz, Darren McLennan, Steve Murdock, Arik McGruder, AJ Hessler, Vinny Christiano, Jr., Pat Smith, Vinny Christiano III, Dominique Smith, Greg Richardson, Lucas Munsie