Jimmie Johnson Is Good To Go For Three More Years—At Least
Story By: REID SPENCER / NASCAR WIRE SERVICE
Photos By: GETTY IMAGES / NASCAR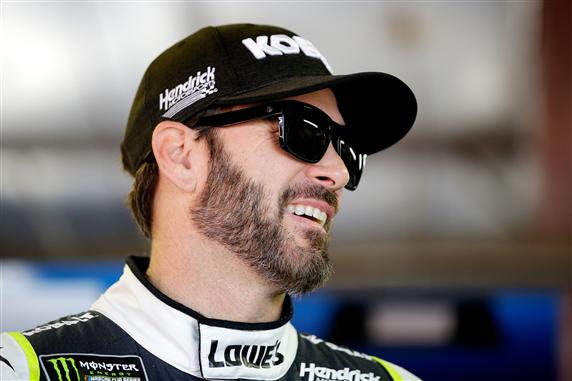 BROOKLYN, Mich. –June 17, 2017-  Don't read anything into the term of Jimmie Johnson's new contract with Hendrick Motorsports.
Yes, Johnson signed a three-year extension with the organization that has provided him a ride for his entire Monster Energy NASCAR Cup Series career.
Yes, that's shorter than the five-year deal he inked last time. At the end of the 2020 season, Johnson will be 45, a year older than his car owner and mentor, Jeff Gordon, was when he retired from full-time racing at NASCAR's highest level.
But Johnson says passion, not age, will govern his decision to step aside—whenever that may be.
"I think in all fairness to the questions and to myself, any contract I sign right now with my age is probably going to raise questions," Johnson told the NASCAR Wire Service on Friday before opening practice for Sunday's FireKeepers Casino 400 (3 p.m. ET on FS1).
"I get it, but I don't have a vision of if it's three (years), if it's five, if it's seven—I don't know. I do know I'm having a great time, and I don't want to stop right now."
Johnson has unfinished business, after all. His victory at Dover gave him 83 for his career, tied with NASCAR Hall of Famer Cale Yarborough for sixth all-time. Right in front of Johnson are Hall of famers Darrell Waltrip and Bobby Allison, tied for fourth with 84 wins each.
And, of course, there's the eighth championship. Should he win one more, Johnson would stand at the pinnacle of the sport—alone.
"I've never honestly been driven by stats, and I've said it so many times, but it's hard to ignore where I sit on the wins list and not let my competitive spirit kick in and want more," Johnson said. "Certainly, would love to climb further up the ladder there. Eight championships, I would love to stand alone at that…"
But for Johnson, the competition is paramount, and any new performance standards he accomplishes, he wants to do with crew chief Chad Knaus, whose contract is up after next year. For Johnson, that means another year to convince his long-time pit boss to stay around for the duration.
"For me, it's really about racing," Johnson said. "I just love to race. The experience I have with my engineers, with my team, with Chad, that bond and that experience combined with the experience of driving and competing… there is a high in that, that I've chased my entire career.
"That's still why I get in that race car. Someday, when that fades, that's when I'll step down. It's not going to be because of stats and where I rank or how many championships I have. It's all about that experience in the car. That experience is as cool as it's ever been, and I'm really enjoying it right now."
RYAN BLANEY: A YOUNG DRIVER WHO RESPECTS OLD-SCHOOL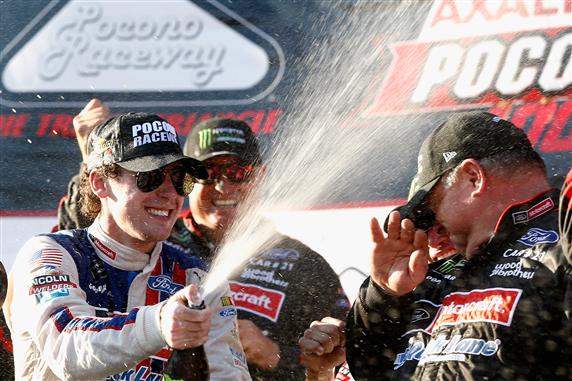 In relation to the magnitude of the moment, Ryan Blaney's victory celebration last Sunday at Pocono Raceway was positively subdued.
Blaney had just won his first Monster Energy NASCAR Cup race, passing 2015 series champion Kyle Busch with nine laps left and held off 2014 champion Kevin Harvick over the final eight circuits.
The victory was the 99th for the Wood Brothers, the most venerable organization in NASCAR racing. Yet Blaney refrained from a celebratory burnout, preferring to keep things "old-school" in deference to his team owners.
"This year I kind of decided that I didn't really want to do one anymore," said Blaney, who will turn 24 on New Year's Eve. "When I was younger, I used to do them and love them. They are fun to do. I just thought it was fitting not to do one in the Wood Brothers car because, traditionally, that is not how they used to do it.
"They used to just kind of go around and wave at the fans, so I figured that is what we would do. Probably the biggest regret of not having my radio working (it was broken during the race) was I couldn't find these guys (team owners Eddie and Len Wood). I couldn't find where they were and pick them up. I didn't really see any negative things about not doing a burnout. I thought it was fitting for the Wood Brothers team."
JOEY LOGANO: RAIN WON'T NIX TRACK RUBBERING EFFORTS
Before race weekend at Michigan International Speedway, the tire dragon did yeoman work for roughly eight days, dragging tires around the two-mile oval in an attempt to widen the racing groove.
A hard rain shower hit the track on Friday morning, but according to driver Joey Logano, that won't negate the efforts to "rubber-in" the racing surface.
"On weekends when it rains it doesn't really wash away as much rubber as we really think it does," said Joey Logano, a two-time winner at Michigan. "It will definitely wash some rubber off, but it gets laid down pretty quick. For whatever reason, maybe all the little small holes in the race track get filled up or they are already filled up, and the rain washes it away and the rubber fills them up the next time. Kansas is a good example of that.
"I know track temperature effects things more than anything as far as widening out. The hotter it is, the more rubber will get laid down, cars make mistakes and get up by the wall and lay down rubber and the groove gets wider."
Logano didn't get a chance to see what kind of effect the tire dragging might have had during Friday's first practice because he was concentrating on mock qualifying runs.
"When you're in qualifying trim, you aren't really moving around the race track," he said. "You're going to go to the lane that you know is the fastest groove. Now, watching the ARCA race and XFINITY race here will help that as well and seeing how much wider it is going to get. This place usually gets to three lanes."
And three lanes typically make for entertaining racing, giving drivers options to find the fastest way around the track for their particular setups.