Mat Williamson Surprises Everyone with Convincing Victory over Stewart Friesen in 100-lap Small-Block Super DIRTcar Series Feature at Utica-Rome Speedway
Story and Photos By: MATT NOLES / RACERSGUIDE.COM
VERNON, NY- October 4, 2017- In racing there are surprise winners, and then there are winners that are surprised.
Where Mat Williamson is concerned, the latter is as close to a perfect description as one can possibly get. Not only were the fans in attendance and his fellow competitors shocked when he topped the podium, but the Canadian native was as well. In short, it takes quite an occurrence to leave a race car driver speechless.
After riding around mid-pack for the first half of Tuesday night's kickoff to Super DIRT Week at the Utica-Rome Speedway in Vernon, N.Y., – which found the young driver considering pulling in around lap-20 due to his lack of forward movement – Williamson put on what can only be described as one hell of a show on his way to victory at the Oneida county facility over modified superstar Stewart Friesen.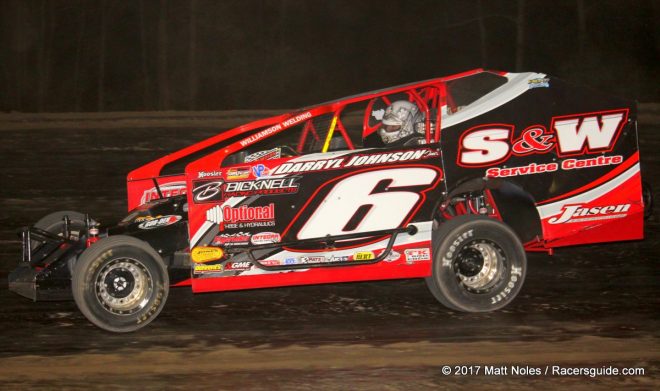 "I'm pretty surprised right now," Williamson said in a post-race interview Tuesday night. "We've really had our stuff together the last month or so and I said that we were going to come down here and make waves and it started at Fulton [Speedway in Fulton, N.Y.] last Sunday and we were pretty stellar. That race definitely got us some momentum heading into this week."
Hard work always pays its dividends and the young pilot of the No. 6 Bicknell chassis certainly knows the meaning of the phrase. He also understands that races are won in the shop and immediately after his strong run in the Outlaw 200, that's exactly where he and his team went on little to no sleep at all to prepare for the grueling week of racing that is Super DIRT Week.
"I got home from Fulton really late Sunday," Williamson continued. "I went to work and then went to the shop and hung the body on this thing to get ready to go and I told my guys that we were going to come down here and keep this momentum going and we were able to do that and some tonight."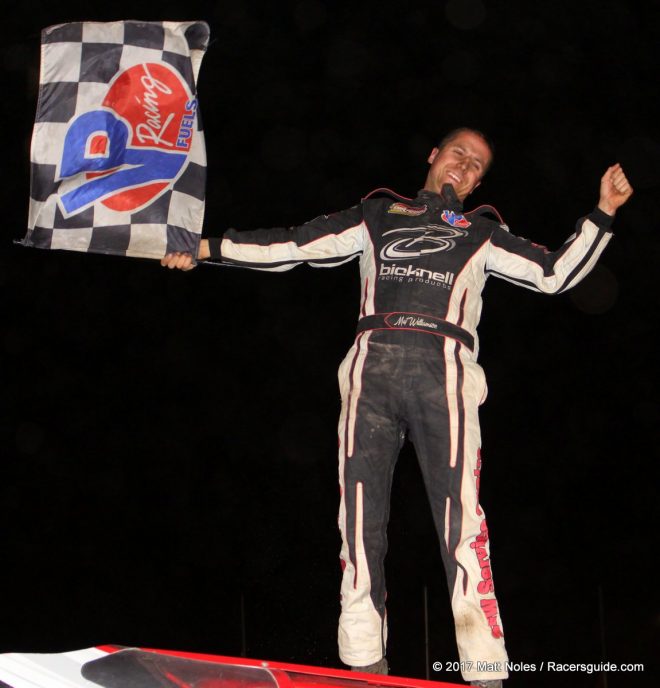 It would be easy to say that the driver of the S&W Service Centre sponsored modified never had a doubt in his mind of what the outcome would be at Utica-Rome on Tuesday night. It might have been easy to say that, but it couldn't have been further from the truth.
"At the beginning of the race I thought that I had disappointed my guys," explained Williamson. "We weren't very good. It just felt like we were way off and then all of a sudden, we clicked onto something and we started passing guys and closing in on the front of the field."
Though he was closing in on the top runners and passing them in rapid succession, Williamson didn't quite grasp how well he was running until the rear bumper of Matt Sheppard's No. 92s started getting closer and closer with each passing lap. What was an even greater surprise was that right in front of Sheppard was none other than the current race leader, Stewart Friesen.
"I knew I was catching Sheppard," He said. "But I didn't know I was catching Stewie and then Sheppard blew it into turn one one lap and I saw Stewie on the bottom and I said 'God, he's right there.' Then we just kept our stuff together and it seemed like we got better and better and man, the car was on rails."
On rails is the understatement of the night. Not only did Williamson pass both Matt Sheppard and Stewart Friesen, but he did so in a manner so convincing that people will be going through the record books to see when the last time anyone ran both of those drivers down in 15-laps and passed them like they were dragging an anchor.
"I grew up watching Stewie race," He continued. "I mean, we grew up 20-minutes from each other and he is arguably one of the best all-time in this modified game and Sheppard is just as good if not better. When we got to fifth I thought 'hey, we're actually pretty good.' Then I got to third and I thought it would be cool to do a victory lane with those guys; I didn't think we were going to catch them and then we did and we passed them. I'm shocked and I'm speechless really. This is unbelievable."
Racing is never about one single thing; one entity that outshines all others. It's a package deal; it always has been and always will be and for Mat Williamson, he has his program firing on all cylinders and has reached another entirely different level because of it.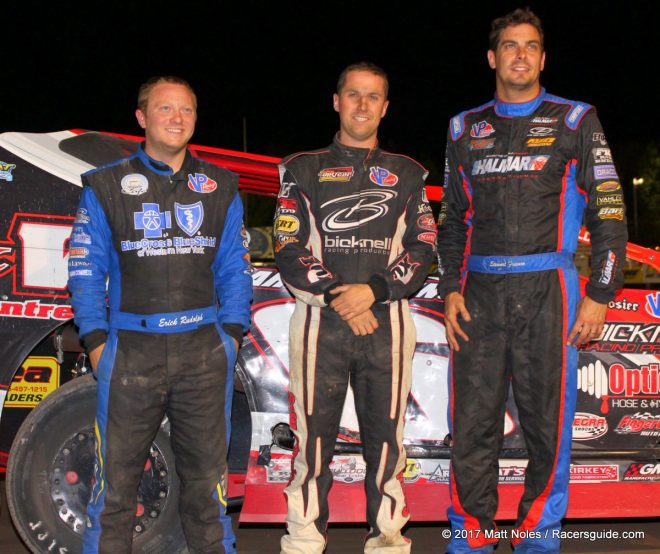 "I have to thank everyone that put this deal together," He stated. "Especially Integra Shocks and Bicknell Racing Products; those two companies really helped me to bring my game up a level and I can't thank my dad and all of my guys enough; they took my game and stepped it up a little bit and I have to thank them for that."
After a career-defining victory, one can only assume what would be next for Williamson. The answer? Another chance to do it all over again tomorrow night.
"We're going to Weedsport [Speedway in Weedsport, N.Y.] tomorrow night," Williamson concluded with a laugh. "We're going to go there and win that son-of-a-bitch too."
Matt Noles is a contributing writer for Racer's Guide and Dirt Track Digest. He currently resides in Sprakers, New York and can be reached via e-mail at matt_noles@yahoo.com.