"Mr. October" Stewart Friesen Just Misses Victory Lane in 100-Lap Small-Block Super DIRTcar Series event at Utica-Rome Speedway; Are Coil Cars Making a Comeback; Matt Sheppard Burns Up in Closing Laps; Small-Block Racing is Still Exciting
Story and Photos By: MATT NOLES / RACERSGUIDE.COM
VERNON, NY- October 4, 2017- We've seen this all before.
Stewart Friesen – a man who has made the Utica-Rome Speedway his own personal playground in the past – seemed to be well on his way to yet another triumph at the Vernon, N.Y. facility. Of course – given the headline of this article – the uttered phrase 'seemed' would plainly indicate that nothing is set in stone except for the Ten Commandments, and your epitaph.
With the race well in hand at the midway point, the Sprakers, N.Y. resident handily fended off a charge from fellow modified kingpin 'Super' Matt Sheppard and sat poised to return to victory lane. Apparently fellow Canadian Mat Williamson had other plans.
Williamson – who floated around mid pack for the first half of the 100-lap feature – put on a late-race charge that Nostradamus himself couldn't have predicted let alone the driver of the Halmar sponsored No. 44. In short, Friesen was as shocked as anybody else at the outcome when the final lap was complete.
"I saw [Matt] Sheppard in turn one," He said post race on Tuesday night. "Turn one seemed to be my Achilles heel tonight; it was tough. There was a little bit of a lip and I would ride it and I tried to be smooth down there but we were just a little bit free to drive off and didn't have the side bite we needed. I expected to see Sheppard but I didn't expect to see [Mat] Williamson."
In truth, nobody expected to see Mat Williamson blow past both Sheppard and Friesen in the closing laps. The former due to a sudden motor failure and the latter; well the latter frankly was about as shocked as one could possibly be.
"Williamson just came flying by me," Friesen said with a laugh. "I did not expect to see him at all. Like I said, I saw Matt [Sheppard] here and there and then a couple of laps later I got away from him again and then all of a sudden, Williamson just drove on by. Hats off to Mat and those guys; they're working hard on some pretty different stuff and it might be something we have to start looking at doing."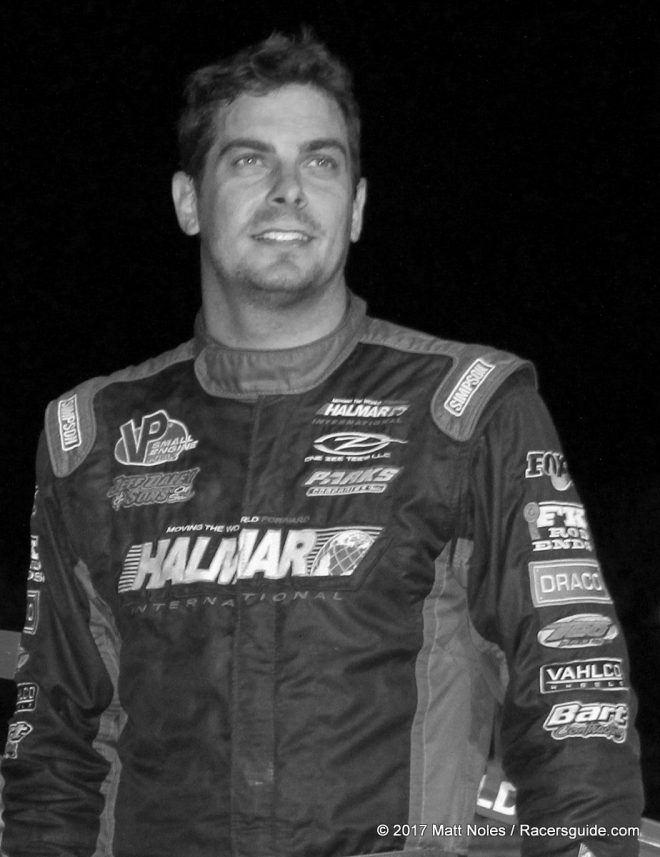 In clean air and with an open track in front of him, Friesen looked to have his Teo chassis set up exactly how he needed to. However, as the race entered the final stages and he found himself dealing with lapped traffic, his maneuverability fell off noticeably.
"We just got unhooked a little bit there about halfway through the race," Friesen continued. "With a clear track I was good but when I had to start moving around lapped cars, it just wasn't really maneuverable enough. It might have been too much heat in the tires but the car definitely wasn't in the race track like it was."
Though he may have been the bridesmaid and not the bride on Tuesday night, not all was a loss for the former track champion. If anything, he gained some important knowledge and notes heading into the small-block portion of Super DIRT Week at Oswego this coming Saturday afternoon.
"We came here tonight to shake this car down," explained Friesen. "This is a brand new car we put together with a brand new Billy the Kid spec small-block and we wanted to shake it down and see what we had. I imagine Oswego is going to be pretty similar to this come race day on Saturday so we have some good notes now."
With the biggest racing weekend for the northeast modifieds only days away, Friesen – who has simply dominated Super DIRT Week nearly every year since 2010 – sits poised to do so again. Move over Reggie Jackson; there's a new Mr. October in town.
"This is a good start to the week for us," Friesen concluded. "A win would have been great tonight but we came out here, we were quick in time trials, we won our heat race against some pretty tough customers so it was good. Now we'll go to Oswego and concentrate on the big stuff."
Is Old Technology Making a Comeback?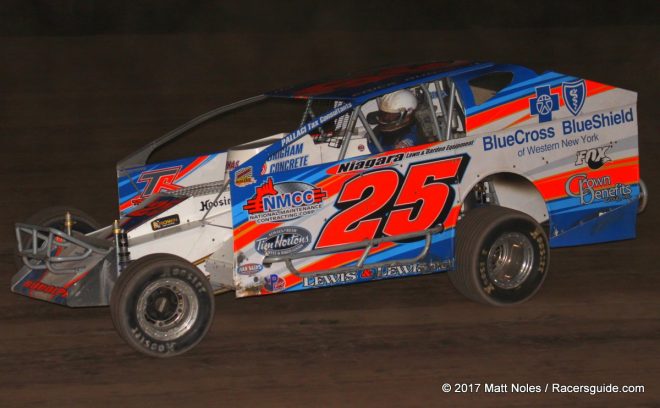 Ever since the invention of torsion bar modfieds 40-years ago, they've been the most prevalent choice among modified drivers with only a few exceptions. After Tuesday night though, there may be the slightest hint of a change in philosophy.
Stewart Friesen -who's been a torsion bar guy for the entirety of his career – sat sandwiched between two coil cars in victory lane at Utica-Rome. Both race-winner Mat Williamson and third place finisher Erick Rudolph were sporting "archaic" technology on both of their small-block modifieds.
With the vast improvement in spring and shock technology and quality, what was once old and outdated may actually be anything but. It's something to keep an eye on when the trade-shows roll around in 2018.
Matt Sheppard Catches the Wrong Type of Break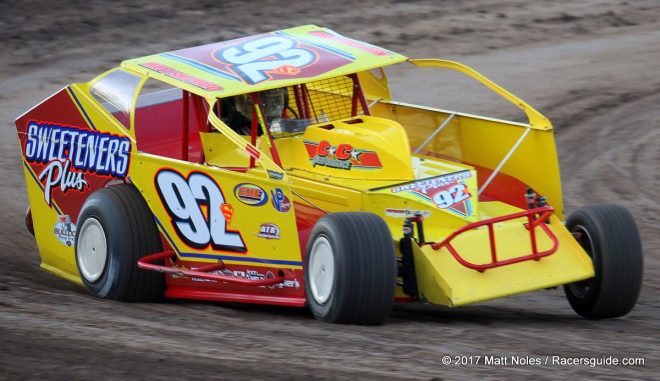 There are days when you're the bug and days when you're undeniably the windshield. On Tuesday night, Matt Sheppard was a little bit of both.
After a stellar qualifying effort, the Waterloo, N.Y. native quickly raced his No. 92s Sweetners Plus machine into the second position and looked to be heading for another victory in 2017 as his win total for the year closes in on forty total victories for the season. His motor had other plans.
While running second to Friesen, Sheppard put out a sudden smoke-screen that reeked of a burned piston relegating him to the infield for the remainder of the event. Though it's not necessarily the way one would like to start out Super DIRT Week, the odds of him having another DNF between last night at Sunday are slim to none.
With the indelible role he's been on over the past month, Matt Sheppard is a serious threat to reclaim the Super DIRT Week title this Sunday at Oswego.
Small-Block Racing Can Be Exciting?
When the staff of the Utica-Rome Speedway announced their plans to run small-block modifieds as their headline division in 2018, diehard big-block fans immediately started buying nails for the coffin that the speedway was obviously putting itself in.
After watching 100-laps of small-block racing Tuesday night, it's safe to say that the competition was just as fierce as it has been with the big-blocks and – dare I say – the racing might actually have been closer and more exciting.
Instead of over-powered modifieds slipping and sliding around the speedway with no real traction to speak of, we were privy to two and three wide racing in multiple grooves throughout the evening. There was never a single instance of follow-the-leader boredom that has been known to occur now and then. Even Helen Keller could see the difference.
2018 has the possibility of being an exciting year for the Shea family.
Matt Noles is a contributing writer for Racer's Guide and Dirt Track Digest. He currently resides in Sprakers, New York and can be reached via e-mail at matt_noles@yahoo.com.