Eric Goodale Gets First Stafford Win In Whelen Mod Tour NAPA Fall Final 150

Story By: Travis Barrett
Photos By: Dave Dalesandro/RacersGuide.com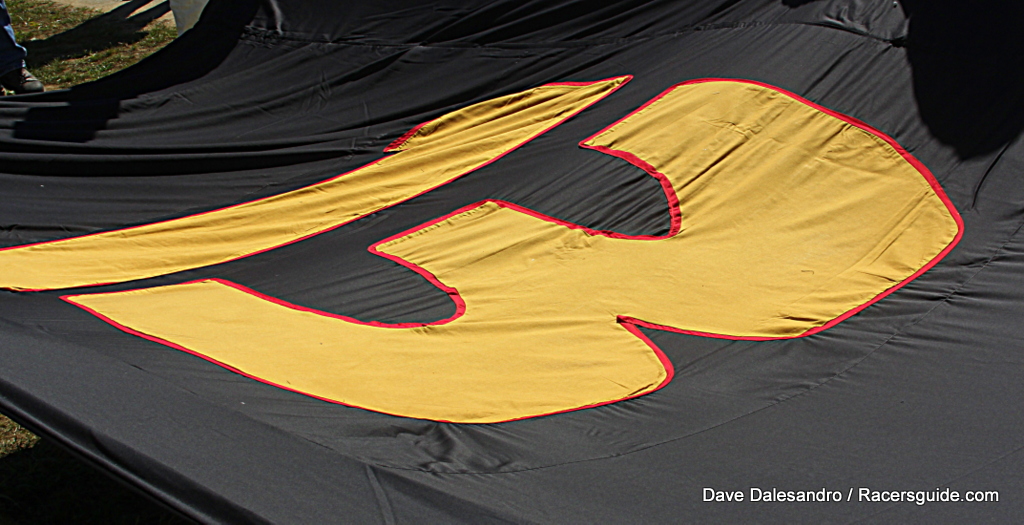 STAFFORD, CT — Eric Goodale never thought his moment would come at Stafford Motor Speedway, not after more than 30 career Whelen Modified Tour starts at the track and certainly not when an untimely caution flew less than 40 laps from the finish of the NASCAR Whelen Modified Tour NAPA Fall Final 150.
But just as he's had second chance after second chance at Stafford over the years, he got yet another on Sunday and didn't let it slip by.
Goodale passed Ryan Preece with just three laps remaining and held on for his first career win at Stafford. Preece, who was trying to become the first driver in history to sweep the season at Stafford, settled for second with Ron Silk finishing third in his second race for owner Kevin Stuart.
For Goodale, it was only his second top-five finish since finishing fifth at Thompson in June.
"Stafford is one of those places that you dream of winning when you're a little kid," said Goodale, who won on the Tour for the third time in his career. "I came up here watching races when I was seven, eight, 10 years old — when I was (my son) Chase's age. I've got a lot of races here under my belt, racing on the Tour the last eight years. We've come close many times, but it feels good to finally seal the deal and get to victory lane here."
"It's funny when you're mad finishing second," said Preece, who won the first two races of the year at Stafford. "They had a good car. You can't take that away from them. Strategy helped them, for sure, but they had a good car and they won the race. They had to pass me to do it. It's not like they just got track position."
Stafford has never been particularly kind to Goodale, who in 35 previous starts at the half-mile had only six top fives and 11 top 10s to show for it. The Riverhead, New York, driver appeared headed for another finish in the vicinity of his career average of 14th at Stafford, too, after qualifying only 18th in the 27-car field.
Goodale showed plenty of speed early in the race, rolling his way well inside the top 10 in the first 15 laps and cracking the top five by lap 29. When the race took on a long green-flag run extending well past the midway point, Goodale began chipping into the polesitter Preece's straightaway lead, and by lap 100 Preece's lead had been whittled to less than a car length by Goodale — who'd worked his way to the front by passing the likes of Doug Coby, Rowan Pennink and Kyle Bonsignore, all drivers who raced at the front of the field in the middle stages.
But Goodale's good fortune appeared to have run out, when on lap 112 the lapped car of Dave Sapienza spun while trying to steer clear of Goodale as he made his move for the lead under Preece.
The first car off of pit road on the ensuing lap 115 stop — when every lead-lap machine headed in for tires — Goodale grabbed the lead on a lap 120 restart. A rash of cautions and subsequent restarts eventually handed the lead back to Preece on lap 133.
"The guys on my pit crew killed it today," Goodale said. "We weren't always the first one in, but we were always the first one out. That's valuable track position here on a track that's predominantly hard to pass. We made ups some positions in the pits, and my hat's off to those guys."
Goodale never laid down, and once the two dominant cars of the day had cleared the rest of the leaders, they went back to waging one-on-one battle. Seven laps from the finish, Goodale got his first look at Preece's rear bumper, and he did it again three laps later. On lap 147, on the day Ted Christopher's No. 13 was retired by track officials, Goodale pulled off the pass for the lead out of turn four after having opened a door for himself seconds earlier on the frontstretch.
"I think (Christopher) would have approved of the move for the win at the end," Goodale said. "I tried not to rough up Ryan too bad, to make sure he could fall in behind me there, but it was my opportunity to get him. I had to take control of it.
"It all worked out at the end, here we are."
"I was going to try to hold him off, but it was going to be too hard," Preece said. "I could tell."
Chase Dowling and Timmy Solomito finished fourth and fifth, respectively. Championship hopefuls Justin Bonsignore and Doug Coby followed Solomito to the checkered flag.
Four drivers in Tour history had a chance to pull off a season sweep at Stafford. Most recently, Coby won the first three races at the track in 2012, as did Christopher in 2002 and Mike Stefanik in 1997.
In 1991, the last time only three races were held in a season at the track, Jeff Fuller won the first two.
"It sucks," Preece said with a smile. "I wanted to frigging get the sweep. It's all I was thinking about, but you can't have it all sometimes."
1.(18) Eric Goodale, Riverhead, N.Y., Chevrolet, 150 laps, 72.855 mph.
2.(1) Ryan Preece, Berlin, Conn., Chevrolet, 150.
3.(3) Ron Silk, Norwalk, CT, Chevrolet, 150.
4.(8) Chase Dowling, Roxbury, Conn., Chevrolet, 150.
5.(4) Timmy Solomito, Islip, N.Y., Ford, 1556b 0.
6.(15) Justin Bonsignore, Holtsville, NY, Chevrolet, 150.
7.(2) Doug Coby, Milford, Conn., Chevrolet, 150.
8.(10) Bobby Santos, Franklin, Mass., Chevrolet, 150.
9.(17) Craig Lutz, Miller Place, N.Y., Chevrolet, 150.
10.(6) Kyle Bonsignore, Bay Shore, N.Y., Chevrolet, 150.
11.(13) Anthony Nocella, Woburn, Mass., Chevrolet, 150.
12.(9) Dave Sapienza, Riverhead, N.Y., Chevrolet, 150.
13.(27) Andrew Krause, Holmdel, N.J., Chevrolet, 150.
14.(7) Jon McKennedy, Chelmsford, Mass., Chevrolet, 149.
15.(23) Calvin Carroll, Newton, N.J., Chevrolet, 148.
16.(20) Kyle Ellwood, Riverhead, N.Y., Chevrolet, 148.
17.(19) Austin Pickens, Windermere, Fla., Chevrolet, 148.
18.(21) Ken Heagy, Calverton, N.Y., Chevrolet, 147.
19.(11) Rob Summers, Manchester, CT, Chevrolet, 147.
20.(22) Wade Cole, Hartland, Conn., Ford, 145.
21.(24) Gary McDonald, Ronkonkoma, N.Y., Chevrolet, 144.
22.(25) Melissa Fifield, Wakefield, N.H., Chevrolet, 143.
23.(5) Rowan Pennink, Huntingdon Valley, Pa., Chevrolet, 141.
24.(12) Ronnie Williams, Ellington, Conn., Chevrolet, 136, right front.
25.(14) Woody Pitkat, Stafford, Conn., Chevrolet, 127, rear end.
26.(26) Walter Sutcliffe Jr., East Haven, Conn., Chevrolet, 74, clutch.
27.(16) Matt Swanson, Acton, Mass., Ford, 52, fuel pump.