Bobby Varin Wheels the Alton and Carole Palmer Owned No. 76 to KoD Victory Friday Night at the 'Track of Champions'
Story and Photos By: MATT NOLES / RACERSGUIDE.COM
FONDA, NY – September 23, 2017 – There are moments in racing where youthful exuberance overcomes age and experience. The small-block modified feature on Friday night at the Fonda Speedway in Fonda, N.Y. wasn't one of those moments.
After a spirited game of cat and mouse between young gun Jessey Mueller and seasoned veteran Bobby Varin that began at the onset of the evening for the King of Dirt small-block modified tour finale, the six-time modified track champion used lapped traffic to his advantage and went on to victory for the second consecutive week at the historic fairgrounds oval.
From the beginning of the night's festivities, both Mueller and Varin were easily the class of the field as the duo put on a show that started during their qualifying event and culminated in an exciting battle for the lead in the latter stages of the 35-lap KoD feature event. Varin, as he has done so many times before, came out on top and notched his 59th career win at the Montgomery county oval.
"We timed second quick in hot-laps and started on the outside of the front row for our heat," Varin said in victory lane. "Jessey [Mueller] was fast tonight; no question about it. We went out in our heat race and for sure I was going to get him, but he was being super aggressive so we settled for second."
When the heat races were completed – one that saw some sparks fly off of the right side of Varin's No. 76 after he scraped the wall heading into turn one on the outside of Mueller – the stage was certainly set for what many race fans thought was going to be a continuation of the battle between the two modified stars. Needless to say, the aforementioned fans weren't disappointed.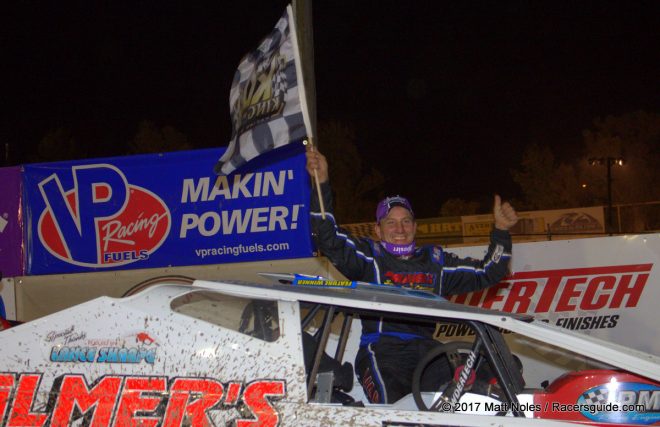 "We started fifth in the feature and man, it was shaping up to be quite a race," continued Varin. "Jessey was out front, Jeremy [Wilder] was fast, DeLorenzo was fast; I knew it was going to be a hell of a race and then DeLorenzo hit one of the tires between turns three and four and things got a little dicey."
Dicey in an understatement as DeLorenzo's misfortune nearly ended Varin's night before he had a chance to contend for the victory.
"He [DeLorenzo] broke his front axle in half and went across the race track," Varin explained. "First he went up the race track and then he came down the race track and just missed me. That was pretty close to ending our night."
While all of that was happening, Wilder was forced to check up which in turn allowed Varin to sneak by into second before the caution came out and the lap was completed. This put the wily veteran directly on the Mueller's back bumper for the ensuing restart.
"Jessey took off on that restart and he was peddling hard," Varin stated. "I just played it cool and tried to keep the tires under the car and I waited to get into lapped traffic so I could maneuver around with cooler tires a little bit better than he could. It all worked out and played into our hands perfectly."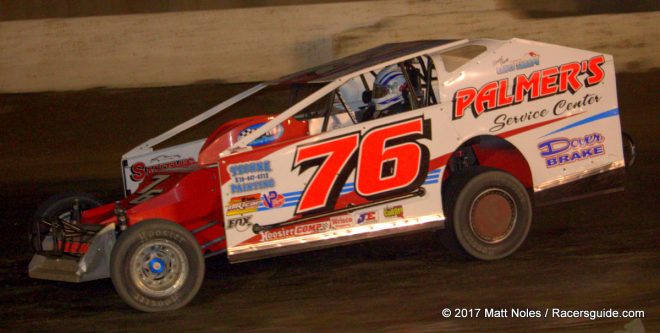 Once Varin got to the lead, there seemed to be no looking back. Then again, nothing in racing is ever simple nor do strong results ever seem to arrive with ease. "Those last ten-laps I started to skate around a little bit," He continued. "It was getting a little nerve wracking at the end. With Mike Maresca coming on in the closing laps, I'm glad there wasn't a caution because he might have had something for me."
With a career that has seemingly been either feast or famine for the Sharon Springs, N.Y. native, the latter has been the case more often than not over the past couple of seasons. With his third consecutive win since last Friday night, it seems that lady luck has finally stopped giving Varin the dreaded cold shoulder.
"It's so important to win races like we have been lately," He explained. "You have to keep your crew believing in you and you have to keep the fans on your side and obviously your car owners because I don't have the money to do this on my own. Alton and Carole [Palmer] are fantastic; they give me all the equipment that I need and they have some fast race cars that come out of that shop and good, strong JPM engines so I've got no complaints. As a matter of fact, I'm ecstatic and thrilled to be a part of this team. They're a class act and Alton is a proven champion and the two of us together are really able to zero in on what we need to do."
Anyone who knows Bobby Varin does so with the understanding that what you see is what you get. With that said, after using words like 'thrilled' and 'ecstatic' to describe his current race team, it may be safe to say that the driver many fans have grown to love and many competitors have grown to fear could be back in top form. Then again, one could argue that he never really left.
"I could definitely see myself ending my career behind the wheel of the No. 76 when the time comes," Varin concluded. "Obviously things could change and I could fall out of favor with my car owners; it's happened in the past. But the Palmer's seem to be very happy with what I'm doing right now and I'm very happy to be driving for them and I don't want to put the cart in front of the horse but I can definitely see myself driving for them for quite some time."
Matt Noles is a contributing writer for Racer's Guide and Dirt Track Digest. He currently resides in Sprakers, New York and can be reached via e-mail at matt_noles@yahoo.com.