Bobby Varin Wins Saturday's Super DIRTcar Series Feature at the 'Track of Champions;' Victorious in Fourth-Straight Start in the Alton and Carole Palmer Owned No. 76
Story and Photos By: MATT NOLES / RACERSGUIDE.COM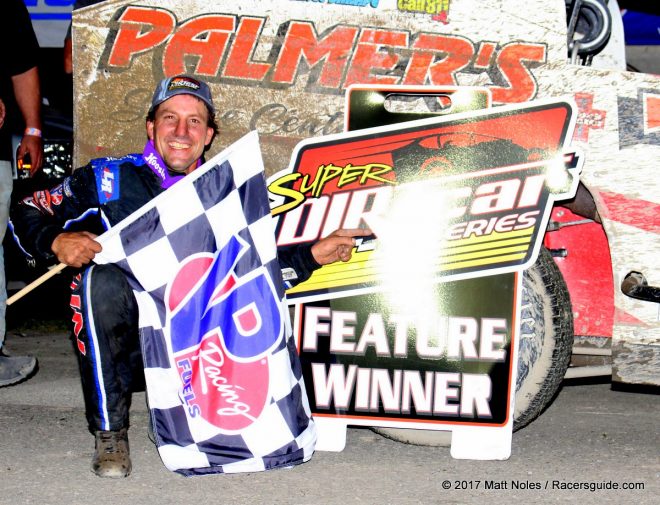 FONDA, NY- September 24, 2017- Success in racing often comes as the direct result of a few necessary character traits; talent, work ethic and at times, pure unadulterated luck.
On Saturday night at the Fonda Speedway in Fonda, N.Y., all three of those traits culminated in a way that most Hollywood directors couldn't have scripted if their careers or their lives absolutely depended on it.
After surviving a slew of late-race cautions due to one tire failure after another, veteran modified driver – and newly minted 2017 track champion – Tim Fuller looked to be well on his way to victory in the 100-lap Super DIRTcar Series main event at the Montgomery county facility. Then again, looks can be deceiving.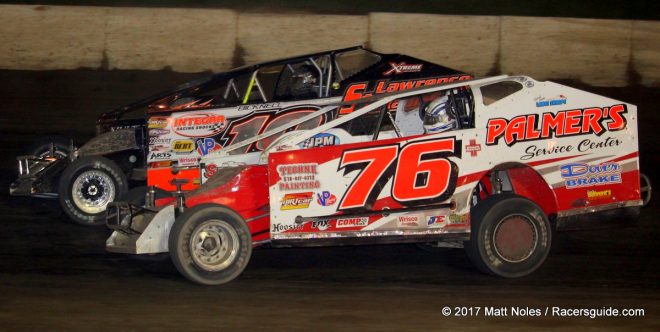 Having taken the white flag and with only a quarter-mile to go between himself and victory lane, Fuller's right rear failed handing the lead over to Bobby Varin with only two corners remaining. Varin, who has proven that he has talent and a strong work ethic many times over throughout his career, showed that luck can also pay it's fair share of dividends as he went on to win his first Super DIRTcar Series event at his home track since his initial triumph 22-years prior in 1995.
"We had a pretty good car tonight," said Varin in victory lane Saturday night. "We had a little bit too much stagger in the car for time trials and we were a little bit on the free side so we didn't get the time that we were looking for."
Not to be deterred, Varin and the Palmer Service Center team went to work and began throwing different ideas at his familiar No. 76 Teo Pro chassis. As time and experience has proven consistently, if you throw enough items at an object, something is bound to stick eventually.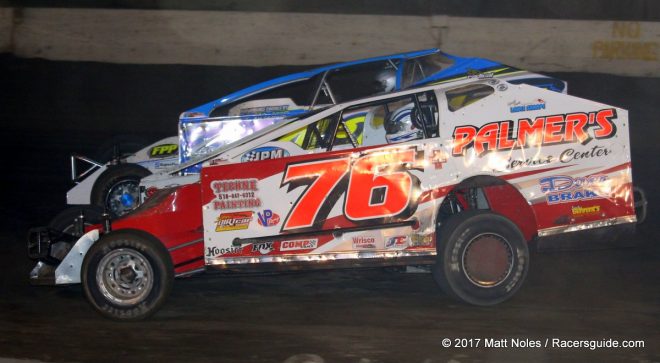 "We made some changes and ended up finishing third in our heat race," He continued. "We were actually getting stronger and catching the two leaders in the end of our qualifier so I knew we had a good, fast race car, it just needed some time to get going."
With the track surface being harder and more abrasive than normal, Varin and company decided to take and off-the-wall approach where long-distance is concerned. In short, strategy – not necessarily speed – may play a role in the evenings outcome. In hindsight, it was the right call to make.
"We tried some pretty off-the-wall and crazy stuff for the feature," He explained. "Our idea was a joke to start with but it didn't turn out to be a joke in the end. We ended up running a harder tire than probably everybody else and I think that it paid huge dividends here tonight. I had a feeling that that was the way to go."
Theory is often one thing, putting that theory into practice however is something entirely different. Yet with the mindset of damned if you do and damned if you don't, the decision was an easy one to make. Even with that now proven, Varin still nearly came up one position shy of victory.
"Fuller had a great car tonight," Varin stated. "He was able to keep it nice and straight and he was running a great line. He did a great job but I think we had a faster car if you want the truth but he knew enough to run right in the rubber and keep me behind him. I showed him my nose a couple of times in [turns] one and two and I tried to make him run a little harder to use up his tire and on the last lap, he got a flat and we were able to cruise on by and get the win."
Luck and talent were only part of the winning equation for the Sharon Springs, N.Y. native on Saturday night; patience played an extremely pivotal role in the outcome as well.
"I didn't have much choice but to be patient," said Varin. "The car was plowing and pushing real hard and I had to feather the throttle and let the stagger turn the car because the setup wasn't going to turn it so I had to be really, really patient with the car and it paid off and kept the rubber on the tires. I can't complain."
For Varin and the rest of the No. 76 team, his latest victory – career win No. 60 at the famed Fonda oval – made it four straight victories in four consecutive starts since last Friday night when the win streak kicked off at the Albany-Saratoga Speedway in Malta, N.Y. To say he's on a roll is almost as understated as casually mentioning that the sun is warm.
"This is big right now," He continued. "It's huge really. To be able to come out here and beat the best in the business – and these guys are the best dirt modified drivers in the country – is incredible. I mean, they call it the Super DIRTcar Series for a reason and to win a good paying race against some pretty heavy hitters feels good; it really does."
With four consecutive victories under his belt, one would wonder what could possibly be next. Simple answer; victory number five.
"We're going to Fulton Speedway [in Fulton, N.Y.] for the Outlaw 200 to see if we can extend our win streak next Saturday," Varin concluded. "And then after that, we'll take it as it comes. For right now, I can't thank Alton and Carole [Palmer] enough for what they've done for me. The Palmer Service racing crew is fantastic, the Dover Brake crew is fantastic, my guys have been fantastic; a lot of hard work went into these wins and I got a great group of people around me. Hopefully we can keep it going."
Matt Noles is a contributing writer for Racer's Guide and Dirt Track Digest. He currently resides in Sprakers, New York and can be reached via e-mail at matt_noles@yahoo.com.