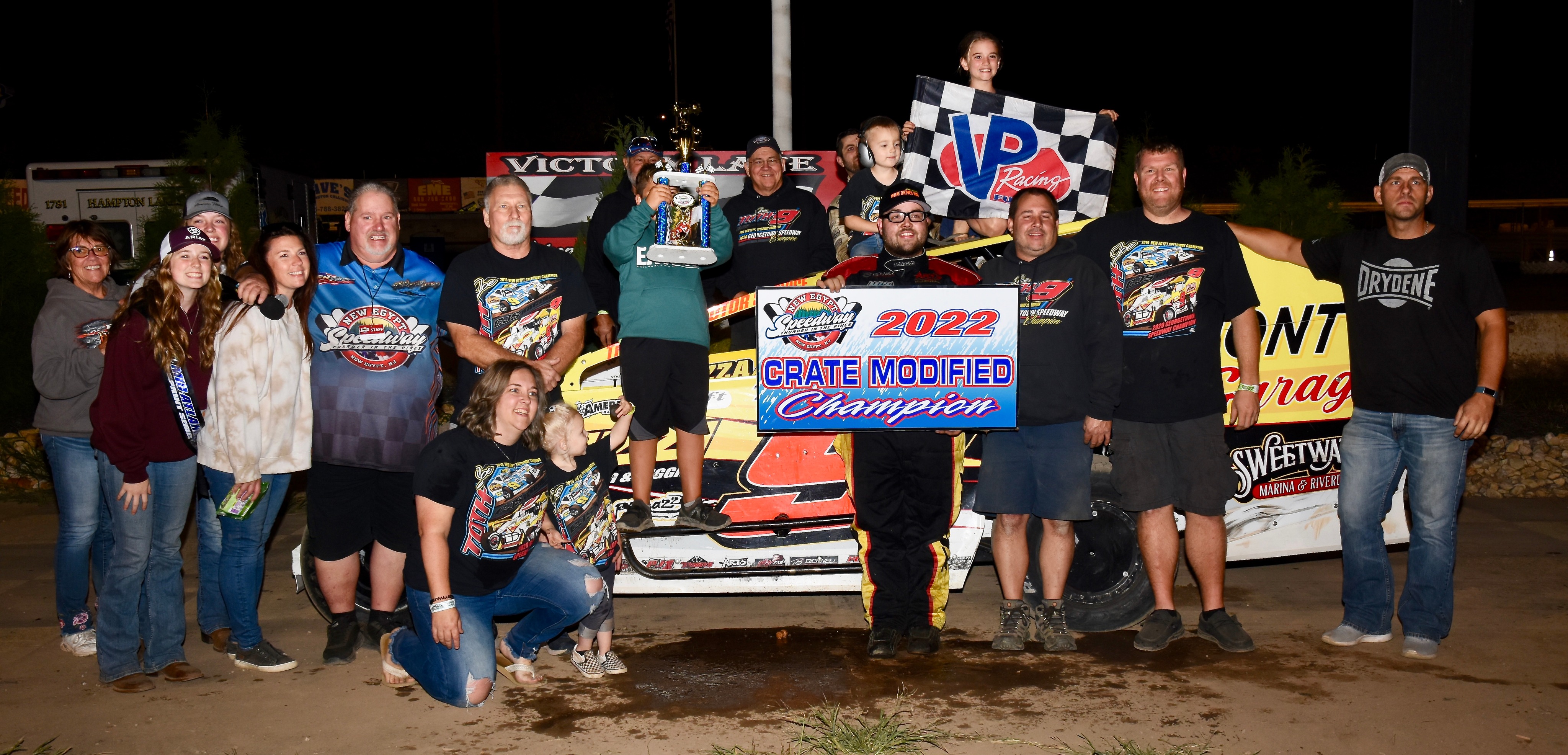 Harry Meeks Sr. Photo
TOTH TAKES THE WIN AND THE TITLE ON CHAMPIONSHIP NIGHT
After a brief absence, Joe Toth decided to return to the New Egypt Speedway for the 2022 season. The 2019 Crate champion was nothing more than a study in consistency throughout the season as he won the twenty lap Hamilton Auto Clinic Crate feature Saturday night and was crowned the 2022 champion. Twenty four cars lined up for the start of the event, and when the green flag fell, only fourteen competitors were able to negotiate turn two. All involved were able to return to the race except for
Johnny Bangs, who encountered frontend damage and Nick Van Wickle who was disqualified for moving his car under red flag conditions. The second attempt at starting the race proved to be more successful as Dan Fleming took control followed by Tom Klimkowski and David Burns. Burns slid into second one lap later and began to challenge the Washington, NJ driver. Biding his time, Burns finally saw the opening he was looking for on lap seven, becoming the new leader. Trying to rebound, Fleming and his peers saw the yellow flag fly on lap eight when Glenn McIntyre made heavy contact with the backstretch guardrail. Fortunately, he was uninjured in the severe crash which saw his #88 heavily damaged. Burns picked up the pace on the restart, but on lap eleven, Toth made a smooth move to become the third different leader of the race. Once out front, he continued to add to his lead with each lap recorded. That lead would be erased on lap seventeen when rookie Dom Antonelli spun in turn four. The single file restart gave renewed hopes of a win to Burns in second and Tom Princiotta in third. Unfortunately, Toth did not give the duo any chance at all as he drove to his sixth win of the year. Following Burns and Princiotta across the finish line were early leader Fleming and Will Dupree. Ryan Heim had a good run taking sixth with Wil Protinick seventh, Kevin Borden eighth, Ryan Simmons ninth, and Amanda Buchel tenth.
Brenden Hires continued his hot streak as he won his third Larry's Hot Rods and Harleys NEWS twenty lap feature in a row. Shea Wills lead the field of fifteen into action with Hires already in second from his eighth place starting spot on lap one. Wills tried his best to hold off the Hires #2, but finally gave way on lap five. With only green flag racing for the remainder of the feature, Hires was never seriously challenged taking the win. Defending champion Rich Mellor finished second with newly crowned champion Mick D'Agostino third, Larry Drake fourth, and early leader Wills fifth.
The fifteen lap Freedom Firearms Street Stocks main event was a thriller as Vern McLaughlin lead the first five laps before giving way to Spider Ensinger Jr. Appearing to be headed for his second win in a row, a caution on lap twelve saw the complexion of the race change quite a bit. Though Ensinger was able to hold off the McLaughlin bold challenge, it was on the white flag lap that McLaughlin saw the slightest of openings going into turn three and quickly took advantage of it. The two made contact, but McLaughlin was in a position in which to better hold his line as he took the big win. Ensinger finished second but was not happy with McLaughlin's race etiquette as he made contact with the car as the two went to the scales. Because of his actions, he was placed last in the final race results. Bill Liedtka finished second, newly crowned champion Brian Ludwig third, Spider Ensinger III fourth, and Kory Fleming fifth.
Joining the Wash Wagon 4 cylinder division a little over a month ago, Robbie Dunn started the race in third and never looked back leading all fifteen laps. Joe Garey Sr finished second with Joe Garey Jr. third, newly crowned champion Justin Dunn fourth, and Kyle Hurley fifth.
Buddy Schweibinz blasted past veteran Larry McVay on lap fourteen on route to his win in the twenty. five lap Fred Bitner Memorial event. Mark Bitner made a late race move for second with McVay third, Justin Mills fourth, and Eddie Wagner fifth.
Next up on the schedule will be the All Star Shootout 100 for the modifieds. Joining them on October 1st will be the Crates and the 4 Cylinders.