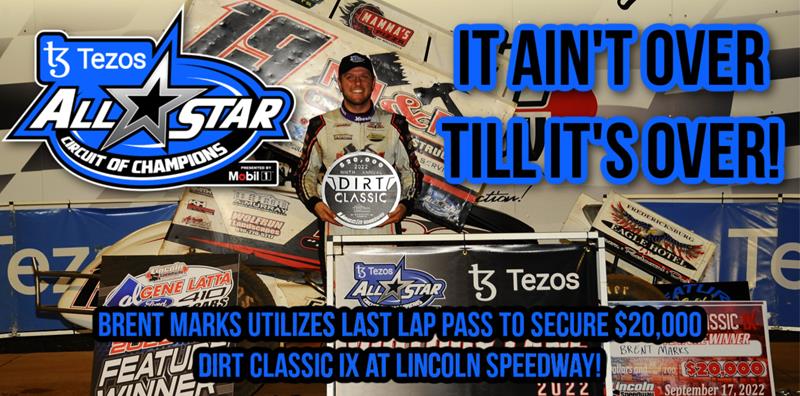 Saturday, September 24, 2022 (9AM) PA Karting Grand Nationals
Saturday, October 1, 2022 (3PM) AMA Motorcycles, Quads and 600 Xcel Modifieds
Tuesday, October 4, 2022 (6PM) Brian Montieth Classic: $7,000 to win 410 Sprint Only Show [rain date: October 5]
ABBOTTSTOWN, Pa. (September 17, 2022) – The last lap is the only lap that pays, and the "Myerstown Missile" Brent Marks certainly put that mentality to practice on Saturday night at the "Fabulous" Lincoln Speedway, securing his fifth Tezos All Star Circuit of Champions presented by Mobil 1 victory of 2022 with a last lap pass over Dillsburg's Anthony Macri. A marquee win, to say the least, Marks earned his triumph during Lincoln's annual Dirt Classic, locking down a $20,000 payday in the process while simultaneously increasing his overall season win total to 17.
Although lining up tenth on the Dirt Classic grid, arranged by a point system that was accumulated over qualifying and double heats, Marks commenced his march to the front right from the drop of the green, actually powering his way to a top-five position with just a quarter of the 40-lapper in the books. Meanwhile, Macri held command, doing everything he could to fend off early race challenges by defending Dirt Classic champion, Justin Peck.
Eventually working his way to third around Cory Eliason, then getting by Justin Peck for second with a slider on lap 34, Marks' new aim was on Anthony Macri, who continued to work Lincoln's outer line. It was the main event's last caution on lap 36, which led to open red conditions, that set up Marks' eventual takeover.
Working Lincoln's bottom groove, Marks used the last handful of circuits to inch closer and closer to the No. 39M. By the time the white flag waved, Marks was on Marcri's tail tank, driving hard into turn one to slide across the nose of the recent Tuscarora 50 champion. The move stuck, securing another crown jewel for the Myerstown, Pennsylvania, native.
Macri held on to finish second, followed by Peck, Buddy Kofoid, and Tyler Courtney.
"I didn't expect them to open up that last red…I'm usually not a fan of that. It worked out for us tonight," Marks said, driver of the M&M Painting & Construction/BAPS Auto Paint and Supply/No. 19M. "Man, that was a fun race. The track turned out to be excellent. Just an awesome night and I'm so proud of this team. I was actually pretty disappointed to have to start tenth because there were a lot of good cars ahead of us. I thought the track was going to be too fast to make up any ground, but we did it."
The All Star Circuit of Champions will continue the 2022 season with a visit to the world-famous Eldora Speedway in Rossburg, Ohio, on Saturday, September 24.
For those who can not witness the All Star Circuit of Champions live and in person, FloRacing.com, the official media partner and broadcast provider of the All Stars, has you covered. To access live and on-demand racing action from the All Star Circuit of Champions, visit FloRacing.com and become an annual PRO subscriber. Race fans can see all the USAC and dirt late-model action they want in addition to Eldora Speedway's slate of races and those of the All Star Circuit of Champions. The subscription unlocks access to premium content across the entire FloSports network. Watch the events across all screens by downloading the FloSports app on iOS, Android, Apple TV, Roku, Amazon Fire and Chromecast.
Contingency Awards/Results: Lincoln Speedway | September 17, 2022:
Dirt Classic | $20,000-to-win
Kistler Racing Products Pill Draw | Entries: 50
Nunzi's Advertising Hot Laps: Lance Dewease | 13.193
Dixie Vodka Fast Qualifier: Justin Peck | 12.946
Hunt Brothers Pizza Heat #1 Winner: Brent Marks
Competition Suspension Inc Heat #2 Winner: Danny Dietrich
All Pro Aluminum Cylinder Heads Heat #3 Winner: Chad Trout
Mobil 1 Heat #4 Winner: Tyler Courtney
Kistler Racing Products Heat #5 Winner: Zeb Wise
Hunt Brothers Pizza Heat #6 Winner: Glenndon Forsythe
Competition Suspension Inc Heat #7 Winner: Niki Young
All Pro Aluminum Cylinder Heads Heat #8 Winner: Tim Glatfelter
Mobil 1 Heat #9 Winner: Landon Myers
Kistler Racing Products Heat #10 Winner: Jim Siegle
Classic Ink USA Screenprinting and Embroidery B-Main Winner: Tyler Ross
Rayce Rudeen Foundation Contingency Award: Hunter Schuerenberg
Tezos A-Main Winner: Brent Marks (5)
Hercules Tires A-Main Hard Charger: Dylan Norris (+15)
Carquest Perseverance Award: Chris Windom
Tezos A Feature (40 Laps): 1. 19M-Brent Marks[10]; 2. 39M-Anthony Macri[1]; 3. 13-Justin Peck[2]; 4. 11K-Michael Kofoid[13]; 5. 7BC-Tyler Courtney[5]; 6. 11-Cory Eliason[3]; 7. 8-Freddie Rahmer[20]; 8. 24-Rico Abreu[19]; 9. 11T-TJ Stutts[4]; 10. 33M-Gerard McIntyre Jr[15]; 11. 44-Dylan Norris[26]; 12. 19W-Troy Wagaman Jr[23]; 13. 99M-Kyle Moody[9]; 14. 18-Giovanni Scelzi[18]; 15. 27-Daryn Pittman[14]; 16. 19-Chris Windom[24]; 17. 4-Cap Henry[17]; 18. 1X-Chad Trout[11]; 19. (DNF) 48-Danny Dietrich[8]; 20. (DNF) 16A-Aaron Bollinger[12]; 21. (DNF) 39-Chase Dietz[7]; 22. (DNF) 75-Tyler Ross[21]; 23. (DNF) 5E-Brandon Rahmer[16]; 24. (DNF) 21-Brian Brown[22]; 25. (DNF) 69K-Lance Dewease[25]; 26. (DNF) 26-Zeb Wise[6] Lap Leaders: Anthony Macri (1-39), Brent Marks (40)
Classic Ink USA B Feature (12 Laps): 1. 75-Tyler Ross[1]; 2. 21-Brian Brown[2]; 3. 19W-Troy Wagaman Jr[3]; 4. 19-Chris Windom[8]; 5. 55-Hunter Schuerenberg[9]; 6. 19R-Matt Campbell[7]; 7. 38-Cory Haas[12]; 8. 11A-Austin Bishop[5]; 9. 4Z-Zane Rudisill[4]; 10. 44-Dylan Norris[15]; 11. 91-Kyle Reinhardt[10]; 12. 69-Tim Glatfelter[19]; 13. 17-Carson McCarl[6]; 14. 9-Kasey Kahne[16]; 15. 59-Jim Siegel[17]; 16. 4R-Tim Wagaman II[11]; 17. 5W-Lucas Wolfe[14]; 18. 33R-Riley Emig[20]; 19. (DNF) 55K-Robbie Kendall[18]; 20. (DNF) 17B-Bill Balog[13]
Computer Man Inc C Feature (8 Laps): 1. 69-Tim Glatfelter[1]; 2. 33R-Riley Emig[2]; 3. 11P-Niki Young[6]; 4. 5-Glenndon Forsythe[5]; 5. 23A-Chris Arnold[7]; 6. 55M-Domenic Melair[10]; 7. (DNS) 1M-Landon Myers; 8. (DNS) 69K-Lance Dewease; 9. (DNS) 27S-Alan Krimes; 10. (DNS) 55S-Dallas Schott; 11. (DNS) 23-Michael Millard; 12. (DNS) 24T-TJ Greve
Hunt Brothers Pizza Heat 1 (8 Laps): 1. 19M-Brent Marks[2]; 2. 13-Justin Peck[1]; 3. 16A-Aaron Bollinger[3]; 4. 18-Giovanni Scelzi[4]; 5. 11A-Austin Bishop[5]; 6. 19-Chris Windom[7]; 7. 44-Dylan Norris[8]; 8. 69K-Lance Dewease[6]; 9. 33R-Riley Emig[9]; 10. 5-Glenndon Forsythe[10]
CSI Shocks Heat 2 (8 Laps): 1. 48-Danny Dietrich[2]; 2. 11-Cory Eliason[1]; 3. 5E-Brandon Rahmer[4]; 4. 24-Rico Abreu[6]; 5. 8-Freddie Rahmer[5]; 6. 4Z-Zane Rudisill[3]; 7. 38-Cory Haas[8]; 8. 9-Kasey Kahne[7]; 9. 27S-Alan Krimes[9]; 10. 11P-Niki Young[10]
All Pro Aluminum Cylinder Heads Heat 3 (8 Laps): 1. 1X-Chad Trout[3]; 2. 27-Daryn Pittman[5]; 3. 39M-Anthony Macri[1]; 4. 4-Cap Henry[4]; 5. 55K-Robbie Kendall[6]; 6. 4R-Tim Wagaman II[7]; 7. 5W-Lucas Wolfe[8]; 8. 69-Tim Glatfelter[9]; 9. 19W-Troy Wagaman Jr[2]; 10. 55M-Domenic Melair[10]
Mobil 1 Heat 4 (8 Laps): 1. 11T-TJ Stutts[1]; 2. 7BC-Tyler Courtney[2]; 3. 11K-Michael Kofoid[5]; 4. 33M-Gerard McIntyre Jr[4]; 5. 55-Hunter Schuerenberg[6]; 6. 19R-Matt Campbell[7]; 7. 17-Carson McCarl[3]; 8. 23A-Chris Arnold[8]; 9. 1M-Landon Myers[9]; 10. 23-Michael Millard[10]
Kistler Racing Products Heat 5 (8 Laps): 1. 26-Zeb Wise[1]; 2. 39-Chase Dietz[2]; 3. 99M-Kyle Moody[3]; 4. 75-Tyler Ross[4]; 5. 91-Kyle Reinhardt[6]; 6. 17B-Bill Balog[7]; 7. 21-Brian Brown[5]; 8. 59-Jim Siegel[8]; 9. 55S-Dallas Schott[9]; 10. (DNS) 24T-TJ Greve
Hunt Brothers Pizza Heat 6 (8 Laps): 1. 5-Glenndon Forsythe[1]; 2. 33R-Riley Emig[2]; 3. 44-Dylan Norris[3]; 4. 19-Chris Windom[4]; 5. 13-Justin Peck[10]; 6. 16A-Aaron Bollinger[8]; 7. 18-Giovanni Scelzi[7]; 8. 11A-Austin Bishop[6]; 9. 19M-Brent Marks[9]; 10. 69K-Lance Dewease[5]
CSI Shocks Heat 7 (8 Laps): 1. 11P-Niki Young[1]; 2. 38-Cory Haas[3]; 3. 24-Rico Abreu[5]; 4. 9-Kasey Kahne[4]; 5. 8-Freddie Rahmer[6]; 6. 11-Cory Eliason[10]; 7. 5E-Brandon Rahmer[7]; 8. 48-Danny Dietrich[9]; 9. 27S-Alan Krimes[2]; 10. 4Z-Zane Rudisill[8]
All Pro Aluminum Cylinder Heads Heat 8 (8 Laps): 1. 69-Tim Glatfelter[2]; 2. 5W-Lucas Wolfe[3]; 3. 39M-Anthony Macri[10]; 4. 4R-Tim Wagaman II[4]; 5. 27-Daryn Pittman[6]; 6. 4-Cap Henry[7]; 7. 1X-Chad Trout[8]; 8. 19W-Troy Wagaman Jr[9]; 9. 55M-Domenic Melair[1]; 10. (DNF) 55K-Robbie Kendall[5]
Mobil 1 Heat 9 (8 Laps): 1. 1M-Landon Myers[2]; 2. 19R-Matt Campbell[4]; 3. 11K-Michael Kofoid[6]; 4. 7BC-Tyler Courtney[9]; 5. 33M-Gerard McIntyre Jr[7]; 6. 55-Hunter Schuerenberg[5]; 7. 11T-TJ Stutts[10]; 8. 23A-Chris Arnold[3]; 9. 17-Carson McCarl[8]; 10. 23-Michael Millard[1]
Kistler Racing Products Heat 10 (8 Laps): 1. 59-Jim Siegel[3]; 2. 21-Brian Brown[6]; 3. 99M-Kyle Moody[8]; 4. 17B-Bill Balog[4]; 5. 39-Chase Dietz[9]; 6. 91-Kyle Reinhardt[5]; 7. 75-Tyler Ross[7]; 8. 26-Zeb Wise[10]; 9. (DNF) 55S-Dallas Schott[2]; 10. (DNS) 24T-TJ Greve
Dixie Vodka Qualifying: 1. 13-Justin Peck, 00:12.946[5]; 2. 11-Cory Eliason, 00:13.063[8]; 3. 39M-Anthony Macri, 00:13.093[15]; 4. 11T-TJ Stutts, 00:13.113[6]; 5. 26-Zeb Wise, 00:13.187[2]; 6. 48-Danny Dietrich, 00:13.250[16]; 7. 19M-Brent Marks, 00:13.250[28]; 8. 19W-Troy Wagaman Jr, 00:13.280[9]; 9. 7BC-Tyler Courtney, 00:13.312[24]; 10. 39-Chase Dietz, 00:13.339[4]; 11. 16A-Aaron Bollinger, 00:13.385[25]; 12. 4Z-Zane Rudisill, 00:13.410[12]; 13. 1X-Chad Trout, 00:13.430[41]; 14. 17-Carson McCarl, 00:13.441[1]; 15. 99M-Kyle Moody, 00:13.454[35]; 16. 18-Giovanni Scelzi, 00:13.459[43]; 17. 5E-Brandon Rahmer, 00:13.463[17]; 18. 4-Cap Henry, 00:13.477[37]; 19. 33M-Gerard McIntyre Jr, 00:13.484[32]; 20. 75-Tyler Ross, 00:13.488[13]; 21. 11A-Austin Bishop, 00:13.501[11]; 22. 8-Freddie Rahmer, 00:13.503[34]; 23. 27-Daryn Pittman, 00:13.504[33]; 24. 11K-Michael Kofoid, 00:13.504[44]; 25. 21-Brian Brown, 00:13.507[26]; 26. 69K-Lance Dewease, 00:13.522[30]; 27. 24-Rico Abreu, 00:13.533[42]; 28. 55K-Robbie Kendall, 00:13.540[21]; 29. 55-Hunter Schuerenberg, 00:13.540[48]; 30. 91-Kyle Reinhardt, 00:13.548[46]; 31. 19-Chris Windom, 00:13.556[39]; 32. 9-Kasey Kahne, 00:13.557[19]; 33. 4R-Tim Wagaman II, 00:13.558[29]; 34. 19R-Matt Campbell, 00:13.574[10]; 35. 17B-Bill Balog, 00:13.575[23]; 36. 44-Dylan Norris, 00:13.616[36]; 37. 38-Cory Haas, 00:13.619[18]; 38. 5W-Lucas Wolfe, 00:13.627[27]; 39. 23A-Chris Arnold, 00:13.656[38]; 40. 59-Jim Siegel, 00:13.659[22]; 41. 33R-Riley Emig, 00:13.688[14]; 42. 27S-Alan Krimes, 00:13.718[45]; 43. 69-Tim Glatfelter, 00:13.730[20]; 44. 1M-Landon Myers, 00:13.800[47]; 45. 55S-Dallas Schott, 00:13.848[3]; 46. 5-Glenndon Forsythe, 00:13.865[50]; 47. 11P-Niki Young, 00:13.883[31]; 48. 55M-Domenic Melair, 00:13.944[40]; 49. 23-Michael Millard, 00:14.335[49]; 50. 24T-TJ Greve, 00:59.999[7]