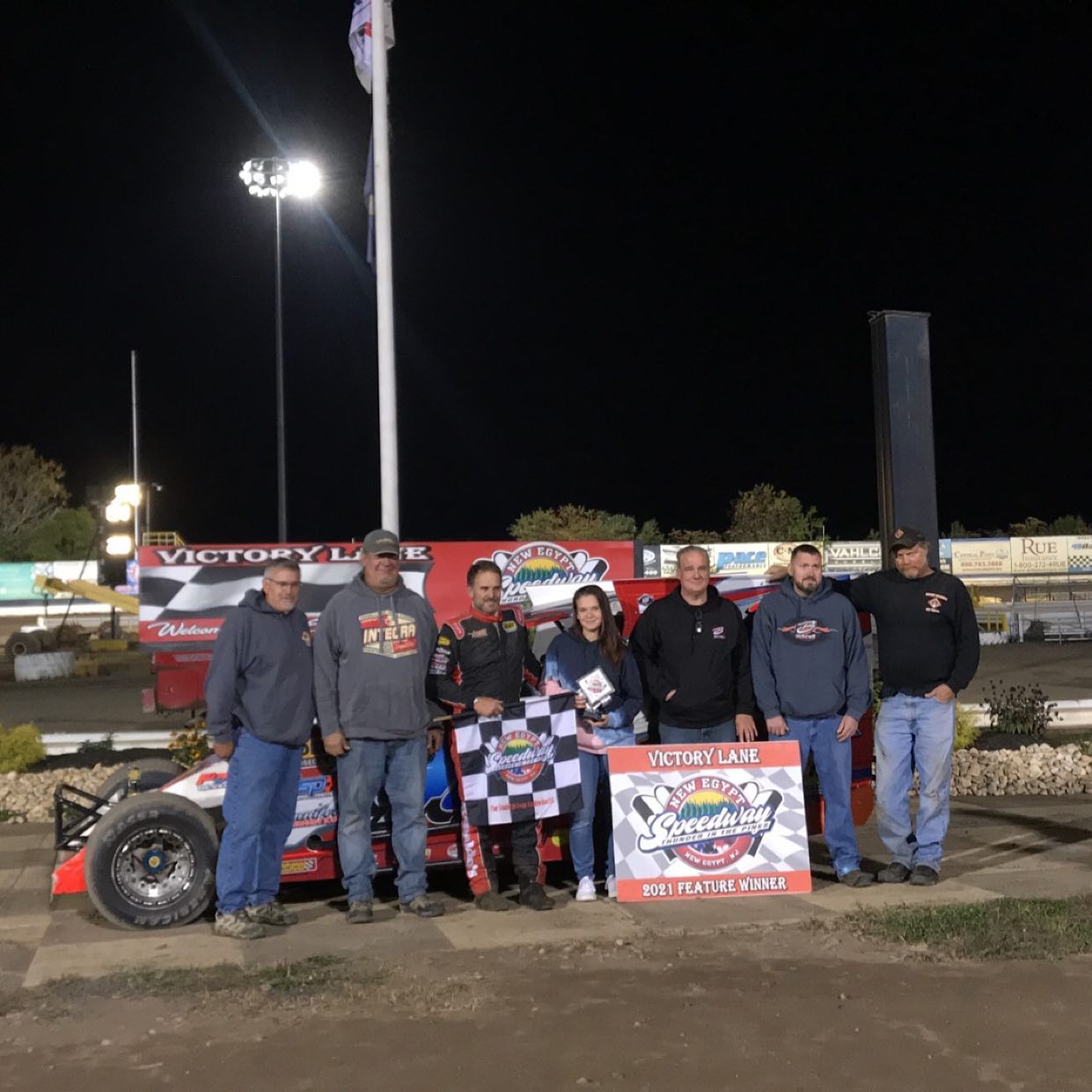 Cozze Edges Gular in New Egypt Legends of the Fall Thriller
(Oct. 23, 2021): Frank Cozze of Wind Gap, PA used a last turn pass to edge out reigning NES champ Mike Gular by .029 seconds and capture the thrilling Legends of the Fall 50 lapper Saturday at New Egypt Speedway. Cozze took advantage of a late race caution with 2 laps remaining to challenge Gular and utilize the outside groove thru the final turn to win his 28th career Modified feature event at the track.

"I knew I had a good car when that yellow came out, and I just laid it in there on the outside" Cozze exclaimed in Victory Lane, "When you can beat Mike (Gular), you beat one of the best. This is the closest I have seen this track to how it used to be back in 2004, with three fast grooves. We had a good car tonight and it paid off."

The initial start only got to turn three when a scary crash by PJ Oliver brought out the red flag. Oliver had made contact with another car, gotten into the backstratch fence and hit the guardrail at the opening of the pit gate at full speed. After several minutes Oliver exited the car under his own power and walked to the ambulance to be checked out, shaken up but ok. The second attempt was slowed again when a tangle occurred in turn two, but the third time turned out to be the charm as Danny Bouc jumped out to the early lead chased by Cale Ross and Gular. Gular worked his way by Ross and by lap 10 swept by Bouc to the lead. Cozze, who started in 7th was on the move catching both Ross and Bouc, and getting by both of them in heavy lapped traffic by lap 20 to move into second. Finding himself more than a straightaway behind Gular, Cozze seemed content to run second as he pulled away from the rest of the field with ease. As the top two pulled away, a fantastic race for third was shaping up with Bouc, Ross and David VanHorn. Gular lapped everyone but the top 6 cars when the yellow appeared with just two laps remaining, after 48 straight green flag laps. On the single file restart Cozze immediately challenged Gular on the outside for an entire lap only to see Gular pull back in front at the white flag. Cozze made his last attempt entering turn three on the final lap, sweeping around the far outside and pulling even with Gular. The two dragged raced down the front a credit card width apart with Cozze winning a photo finish by a whisker. Gular had to settle for second, followed by VanHorn third, Brandon Grosso making a late charge to fourth , with Cale Ross & Louden Reimert completing the top six.
The Crate Modified Legends 25 saw Ryan Simmons come home victorious for the second time this year. Simmons led every lap from his pole starting position, holding off numerous challenges from Justin Grosso who came home second. Anthony Tramontana, Nick Van Wickle & Ryan Godown Jr. rounded out the top five.

In a rare appearance byb the Eastern 600cc Micro Sprints, Sam LaMothe won the feature event over Whitey Kidd and New Egypt Speedway NEWS Sprint champion Rich Mellor.

New Egypt Speedway 10/23/21 – Legends of the Fall

Modified Feature Results (50 Laps):
1.) Frank Cozze 2.) Mike Gular 3.) David Van Horn 4.) Brandon Grosso 5.) Cale Ross 6.) Louden Reimert 7.) Danny Bouc 8.) Dominick Buffalino 9.) Jack Butler 10.) John McClelland 11.) Ryan Godown 12.) Bucky Kell 13.) Kory Fleming 14.) John Aumick 15.) Chris Grbac 16.) Steve Young 17.) Dean Metzger 18.) Ron Kline 19.) DJ Hunt 20.) Ryan Forte 21.) Ryan Krachun 22.) Bill Unglert 23.) Wade Hendrickson 24.) Tim Apgar 25.) PJ Oliver DNS: Frank Venezia
Heat Race Winners: John McClelland, Brandon Grosso & Jack Butler

Crate Modified Feature Results (25 Laps):
1.) RYAN SIMMONS 2.) Justin Grosso 3.) Anthony Tramontana 4.) Nick Van Wickle 5.) Ryan Godown Jr 6.) Matt Ellery 7.) Will Protinick 8.) Dylan Swinehart 9.) Paul Mancini 10.) John Scarpati 11.) Jim Avery 12.) Doug Dubiel 13.) Frank Holmes 14.) Tommy Klimkowski 15.) Mike Baldwin 16.) Glenn McIntyre
Heat Race Winners: Nick Van Wickle & Justin Grosso

Eastern 600 Sprint Feature Results (10 Laps):
1.) SAM LAMOTHE 2.) Whitey Kidd 3.) Rich Mellor 4.) Dylan Metzger 5.) Rich Deck Jr 6.) John Jenkins 7.) Richie Keller