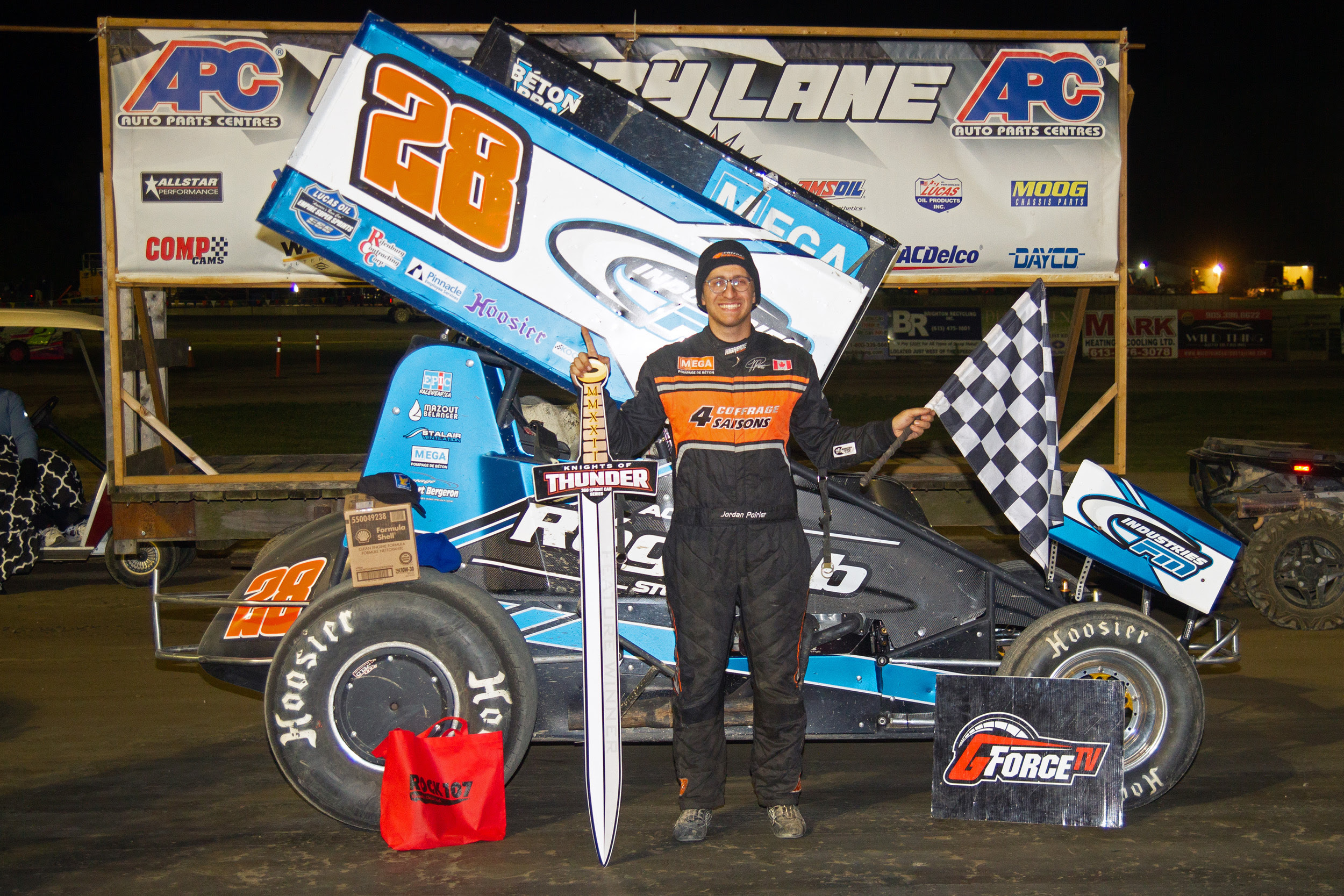 Rod Henderson Photo
POIRIER TAKES KNIGHTS OF THUNDER VICTORY ON SECOND NIGHT OF BRIGHTON'S LABOUR DAY CLASSIC
By Tommy Goudge
BRIGHTON, Ont. (September 4, 2022) – Jordan Poirier rode into town on Sunday and pillaged the Pinty's Knights of Thunder 360 Sprint Car series event at Brighton Speedway.
Poirier drew the pole for the 25 lap A-Main with Cory Turner on the outside of the front row. Poirier, the 2021 Knights of Thunder champion, did not compete the previous night at Brighton as he is chasing the Empire Super Sprints title in 2022. The initial start was called back and Turner was put back one row when officials determined that he jumped the start. D.J. Christie assumed the outside front row starting position next to Poirier, but Turner wasted little time moving ahead and challenging Poirier for the lead.
Turner used the outside groove to drive past Poirier, only to see the move negated by a yellow flag on lap three for a Kevin Pauls spin. Poirier didn't let his chance go to waste and drove away from the field after the restart, eventually winning by more than three seconds. The rest of the race was not without its challenges though, as traffic came into play and the track began to take rubber; drivers were forced to take care of their tires on the increasingly abrasive surface.
Cory Turner settled for the runner-up spot, followed by his brother Ryan, Liam Martin, and Mitch Brown. The top five finish for Brown was a successful salvage job for the championship contender after a hard crash in hot laps; his crew worked quickly and received help from others in the pit area to get his car repaired and ready for his heat race.
The Knights of Thunder series will next be in competition at the 18th Running of the Canadian Sprint Car Nationals on Friday, September 16 and Saturday, September 17 at Ohsweken Speedway. Visit www.knightsofthunder.com for more information.
Pinty's Knights of Thunder 360 Sprint Car Series
Race Report – Sunday, September 4, 2022
Brighton Speedway
Brighton, Ontario, Canada
A-Main [Started] 25 laps – NT
1. 28-Jordan Poirier[1]; 2. 13-Cory Turner[2]; 3. 15-Ryan Turner[3]; 4. 9-Liam Martin[8]; 5. 10-Mitch Brown[6]; 6. 45-Nick Sheridan[7]; 7. 5-DJ Christie[4]; 8. 11-Jamie Turner[9]; 9. 3G-Dale Gosselin[16]; 10. 11J-Chris Jones[13]; 11. 84-Tyler Rand[12]; 12. 68-Aaron Turkey[5]; 13. 1 10-Jake Brown[14]; 14. 21K-Kyle Phillips[18]; 15. 88H-Josh Hansen[15]; 16. 0-Glenn Styres[19]; 17. 46-Kevin Pauls[11]; 18. 87X-Shone Evans[17]; 19. 42W-Rick Wilson[10]
Margin of Victory – 3.287 seconds
Hard Charger – Dale Gosselin +7
Heat Race 1 [Started] 8 laps – NT
1. 68-Aaron Turkey, Ohsweken [4]; 2. 5-DJ Christie, Beachville [1]; 3. 10-Mitch Brown, Brantford [3]; 4. 46-Kevin Pauls, St. Catharines [2]; 5. 42W-Rick Wilson, Joyceville [6]; 6. 87X-Shone Evans, Scotland [5]; 7. 0-Glenn Styres, Ohsweken [7]
Heat Race 2 [Started] 8 laps – 2:01.205
1. 9-Liam Martin, Binbrook [4]; 2. 13-Cory Turner, Tillsonburg [2]; 3. 15-Ryan Turner, Dunnville [6]; 4. 11J-Chris Jones, Picton [1]; 5. 1 10-Jake Brown, Brantford [5]; 6. 21K-Kyle Phillips, Grand Island, New York [3]
Heat Race 3 [Started] 8 laps – 2:01.001
1. 45-Nick Sheridan, Mount Brydges [1]; 2. 28-Jordan Poirier, Saint-Mathieu-de-Beloeil, Quebec [4]; 3. 11-Jamie Turner, Caistor Centre [3]; 4. 84-Tyler Rand, Picton [2]; 5. 88H-Josh Hansen, Beamsville [5]; 6. 3G-Dale Gosselin, Saint-Pie, Quebec [6]
Up Next:
Friday, September 16, 2022 – Ohsweken Speedway – Ohsweken, Ontario
Saturday, September 17, 2022 – Ohsweken Speedway – Ohsweken, Ontario