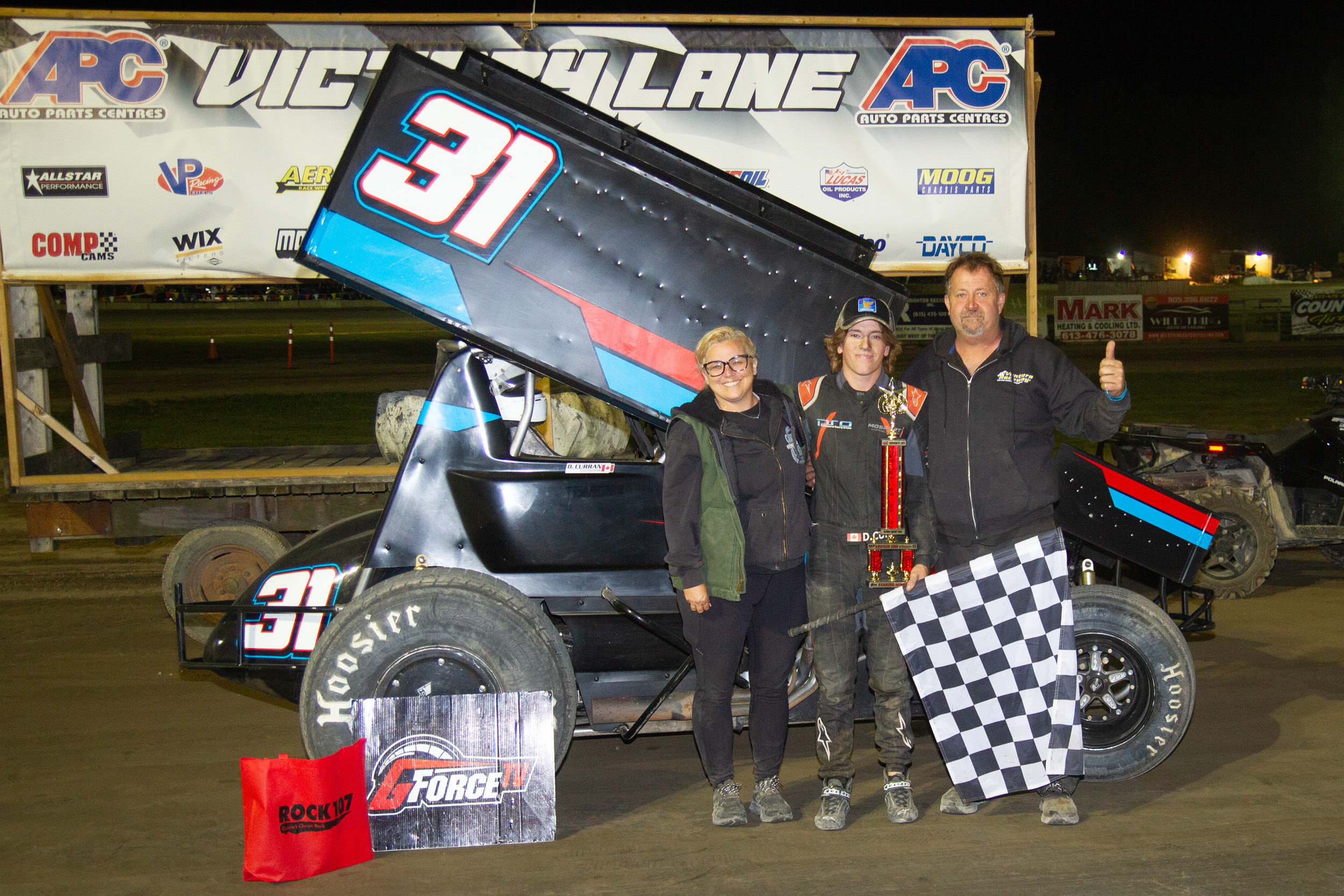 Rod Henderson Photo
CURRAN WINS SECOND NIGHT OF BRIGHTON'S LABOUR DAY CLASSIC, FIRST ACTION SPRINT TOUR VICTORY
By Tommy Goudge
BRIGHTON, Ont. (September 3, 2022) – Dale Curran was almost letter-perfect on Sunday night at Brighton Speedway, taking his first career Action Sprint Tour fueled by Pinty's win during the second night of the Labour Day Classic weekend.
Curran drew the pole position for the 25 lap A-Main with Allan Downey to his outside. Curran fended off a lap one challenge from Downey and subsequently one from Mathieu Bardier. Curran later made contact with the front stretch wall, but otherwise ran the outside groove to perfection and successfully negotiated traffic.
The race went green-to-checkered without a stoppage in under six and a half minutes, and Jacob Dykstra ran out of time in his bid to catch Curran after starting in row four. Curran's margin of victory was just over two seconds, with Dykstra settling for the runner-up spot. Bardier, Downey, and Austin Roes rounded out the top five.
The Action Sprint Tour fueled by Pinty's will next be in competition at the Trailer Pros Canada Sprint Race Weekend at Brockville Ontario Speedway on Friday, September 9 and Saturday, September 10. Visit www.actionsprinttour.com for more information.
Action Sprint Tour Crate Sprint Car series fueled by Pinty's
Statistical Report – Sunday, September 4, 2022
Brighton Speedway – Brighton, Ontario, Canada
A-Main [Started] 25 laps – 6:26.863
1. 31-Dale Curran[1]; 2. 5D-Jacob Dykstra[8]; 3. 19-Mathieu Bardier[3]; 4. 19D-Allan Downey[2]; 5. 3S-Austin Roes[4]; 6. 16R-Seth Roy[5]; 7. 00-Ryan Poole[6]; 8. 50LS-Adrian Stahle[12]; 9. 39-Jonah Mutton[13]; 10. 77T-Tyeller Powless[11]; 11. 4B-Darrell Pelletier[9]; 12. 33-Adam Turner[15]; 13. 12DD-Darren Dryden[17]; 14. 20-Johnny Miller[19]; 15. 28-Jordan Hill[14]; 16. 97-Sheldon Bender[21]; 17. 77E-Ashton VanEvery[10]; 18. 88-Lance Erskine[7]; 19. 9C-Brian Nanticoke[16]; 20. 115-April Wilson[20]; 21. 85C-Cam MacKinnon[18]
Margin of Victory – 2.090 seconds
Hard Charger – Jacob Dykstra +6
Heat Race 1 [Started] 8 laps – 1:57.922
1. 5D-Jacob Dykstra[3]; 2. 16R-Seth Roy[1]; 3. 31-Dale Curran[7]; 4. 50LS-Adrian Stahle[4]; 5. 9C-Brian Nanticoke[2]; 6. 12DD-Darren Dryden[5]; 7. 20-Johnny Miller[6]
Heat Race 2 [Started] 8 laps – 2:02.339
1. 00-Ryan Poole[3]; 2. 19-Mathieu Bardier[2]; 3. 77E-Ashton VanEvery[1]; 4. 39-Jonah Mutton[4]; 5. 28-Jordan Hill[5]; 6. 33-Adam Turner[7]; 7. 115-April Wilson[6]
Heat Race 3 [Started] 8 laps – 2:01.173
1. 3S-Austin Roes[2]; 2. 88-Lance Erskine[3]; 3. 19D-Allan Downey[5]; 4. 4B-Darrell Pelletier[6]; 5. 77T-Tyeller Powless[7]; 6. 85C-Cam MacKinnon[1]; 7. 97-Sheldon Bender[4]
Up Next:
Friday, September 9, 2022 – Brockville Ontario Speedway – Brockville, Ontario
Saturday, September 10, 2022 – Brockville Ontario Speedway – Brockville, Ontario