Mike Maresca Ends His Streak of Bad Luck with First-Career Victory Saturday Night
Story and Photos By: MATT NOLES / RACERSGUIDE.COM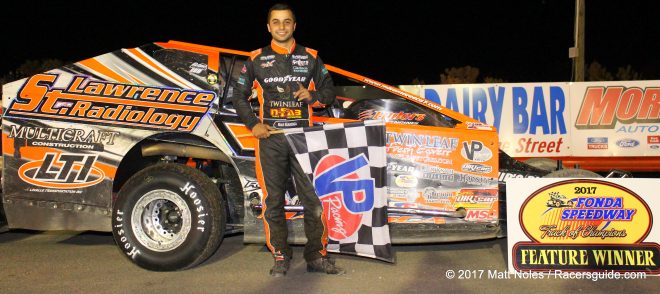 FONDA, NY- August 20, 2017- For young modified competitor Mike Maresca, it seemed that in 2017 if it weren't for bad luck, he'd have no luck at all.
The driver of the now familiar No. 7mm always unloaded with a fast and incredibly competitive car weekly at the famed Fonda, N.Y. oval, yet bad luck reared its ugly head at nearly every turn with flat tires and other inexplicably unfortunate circumstances. In short, the proverbial light at the end of the tunnel never seemed to be within reach.
With twin 20-lap features on the schedule for the final night of points at the 'Track of Champions,' Maresca had two more chances to remove the stigma that had followed him around the speedway for the entirety of the season; he wasted no time in doing so as he rocketed to victory lane in convincing fashion at the conclusion of the first of two main events Saturday night.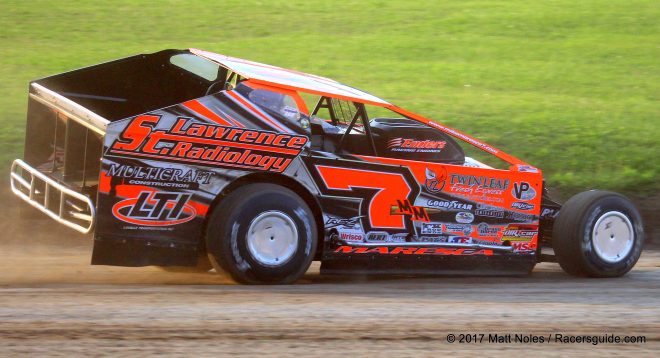 "We started off the year with a heat race win here," Maresca stated. "So things started off pretty good and then we broke on my way to the line for the feature that night. That was kind of the story for the rest of the year, really. We just didn't have much luck; we broke some motors, had unexplained flat tires and a lot of other weird one-off things."
The content of one's character is often shown under less than ideal circumstances; with the way Maresca's season unfolded – with strong runs weekly that yielded nothing but frustration and heartache – he could have just as easily let his bad luck define him. Where others may have crumbled under the weight of misfortune, he did not. That – by definition in the racing world at least – is called character.
"We definitely got better the second half of the year," Maresca continued. "We got better as far as speed and consistency go and it showed. To get a win on the final night of points here is a big monkey off my back."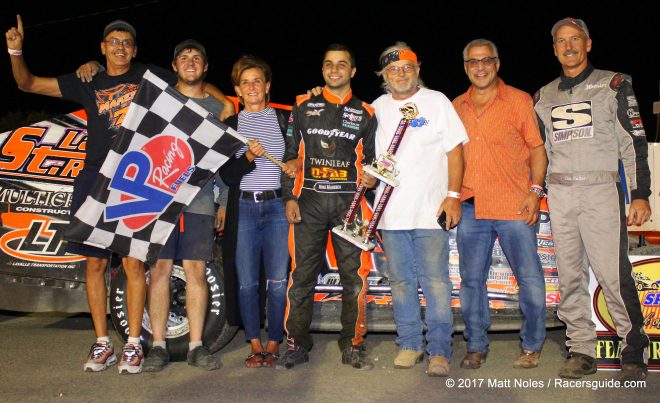 With competition that includes drivers like Stewart Friesen, Tim Fuller, Bobby Varin and others on a near-weekly basis, Maresca didn't just have to overcome his misfortunes or the difficult speedway that is Fonda; he also had to best some of the top drivers in the business to reach victory lane.
"It means something to win here," He remarked. "We came here tonight to do one thing; to win a race. We all had one goal from the moment we got here tonight and all of the gremlins that have been following me around stayed away. We were finally able to show what we can do; everybody works so hard on this car and we've been so fast; it's just nice to have things go our way for a change."
Experience tends to play a large role in success where weekly racing is concerned. For the Maresca team – though they are steeped in enthusiasm and talent – experience is something that they were lacking when the season started four short months ago. In short, there was an abundance of trial and error throughout the early stages of the schedule.
"This is my first full year in a modified," Maresca continued. "There's a learning curve; a steep one. We don't have a lot of experienced guys with us so we all just learned together this year. All of the little things that we have to deal with, a lot of other guys don't because they have experience or because someone in their family raced here. We've had to figure out a lot of stuff the hard way but man, these guys, this group of guys, they work hard."
Winning a modified feature at Fonda is always special; it's even more so when it's your first-career victory at the famous facility. The endless hours in the race shop – accompanied with the sheer determination behind the wheel – are seldom seen and in truth, they don't pay off as much as one would like. Yet every now and then, efforts are rewarded; tenfold.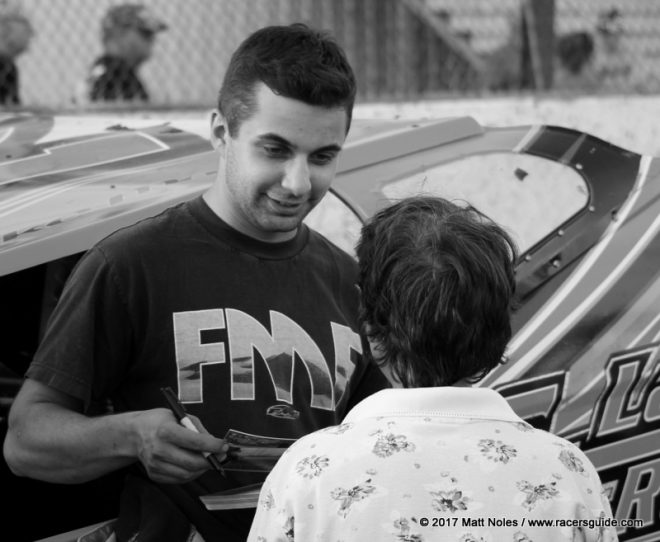 "When I came off of turn four, I actually thought there was another lap to go," Maresca explained. "I was fighting with the lapped traffic pretty hard and I was kind of freaking out a bit. Then, I saw the double checkers and I was like 'no way;' I couldn't believe it. It was done; over. I was pretty excited; pretty happy."
With his first point season at the Fonda Speedway officially in his rear-view mirror, one has to wonder what could be next for the newly-minted feature winner. From all appearances – and depending if all goes well between now and 2018 – Maresca is looking forward to making the Montgomery county oval his Saturday night home again next year.
"As long as my family is alright with it, this is definitely the first place I want to come back to," concluded Maresca. "I enjoy coming down here; I get treated like family here and a lot of places you go, you don't quite get the same atmosphere. The racing family is real strong here, the racing is pretty clean, the racing is hard and I have some good friends here now so yeah, I'd like to come back."
Matt Noles is a contributing writer for Racer's Guide and Dirt Track Digest. He currently resides in Sprakers, New York and can be reached via e-mail at matt_noles@yahoo.com.