Stewart Friesen Passes Craig Hanson on his way to Victory in Second 20-lap Feature at Fonda Speedway
Story and Photos By: MATT NOLES / RACERSGUIDE.COM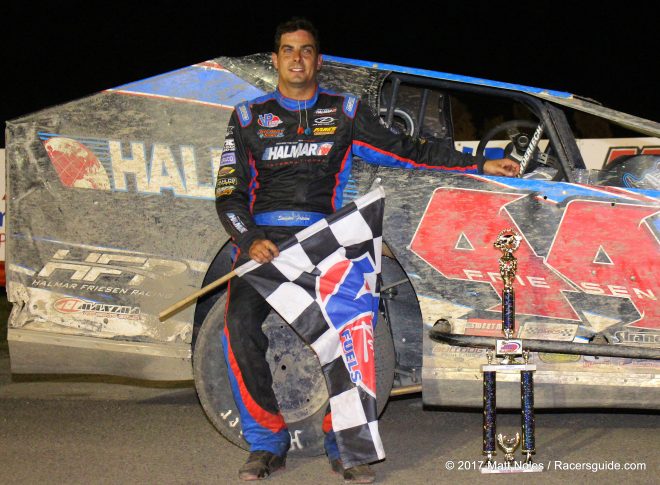 FONDA, NY- August 20, 2017- On the final night of points at the Fonda Speedway in Fonda, N.Y. last season, one person was missing; Stewart Friesen.
After being a fixture in victory lane every year since his arrival in 2012, last year saw the Sprakers, N.Y. resident calling the Orange County Fair Speedway in Middletown, N.Y. his home for the season leaving his usual place at the 'Track of Champions' empty in 2016.
His absence from one year ago was rectified last night as the four-time track champion returned to victory lane for the second-straight week behind the wheel of his now familiar No. 44 Halmar sponsored modified as the Canadian import picked up the victory in the second of twin 20-lap modified features, ending the point season before the annual break for the Fonda Fair.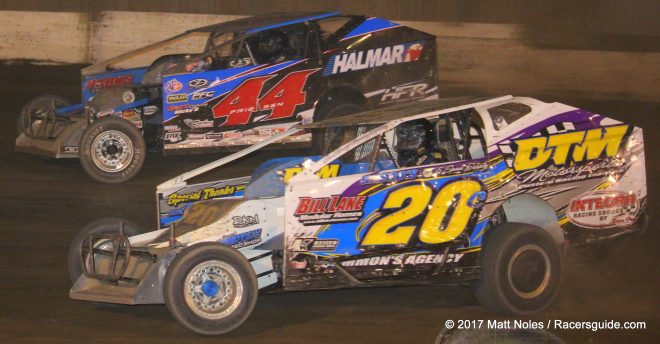 Friesen came from mid-pack and utilized a restart near the midway point of the event to blast to the outside of then leader Craig Hanson and cruise to yet another Fonda modified triumph with ease in his DKM Cyclone chassis.
"Tonight was good," stated Friesen. "We've just been changing stuff trying to get this DKM car to where it needs to be and we really haven't had it the same twice. We won last week and went back to the shop and changed some more stuff and after the first feature tonight, we put it all back to where it was a month ago and it came right back to life and it felt really good."
Hanson, who has had a seemingly endless stream of bad luck throughout the 2017 season, looked to have the race well in hand as the event reached its midway point. Unfortunately for the driver of the No. 20C, a caution put Friesen alongside for the ensuing restart and as history has shown in the past, that usually doesn't bode well for many. Last night was no different.
"I'm not sure if I had anything for him before that caution," Friesen continued. "I knew all those guys were lined up on the bottom and I had the top rolling well and it felt good and I could get the power down to the track whereas the first feature I couldn't. I had a pretty good idea coming up through the field that we had a pretty good shot."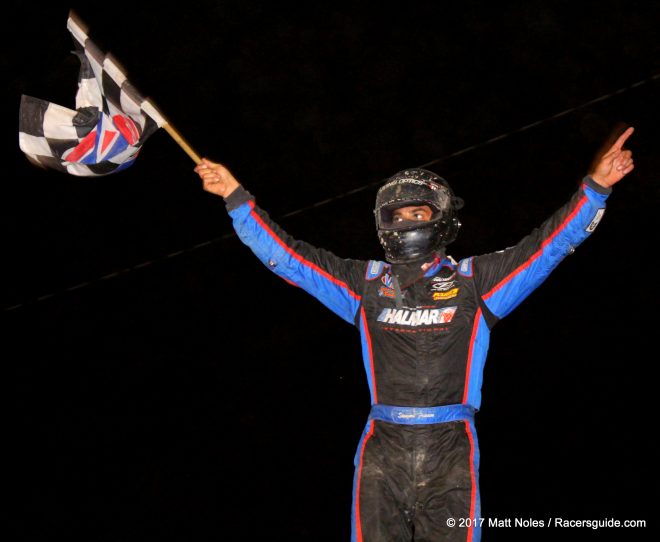 The 2017 season has seen a lot of changes for Friesen. From his full-time truck series schedule to changing from a Teo chassis to solely DKM built modifieds, the past year has been steeped in new challenges and a fair amount of obstacles to work through. As is typical, the Ontario native made it look fairly easy.
"We haven't totally left the Teo camp," Friesen explained. "Matt Hearn is a good friend and we still talk but we're just trying something to get our race team a little bit better you know? We're just trying to mix it up a little bit; everybody is chasing Matt Sheppard right now. He's just killing everybody everywhere so if we just sit on what we've been doing, we can never get better. We're just trying some different stuff to try to catch up because what he's found has been really good."
With the end of the point season at Fonda, other tracks around the northeast will be concluding their regular season programs shortly as well. For Friesen and every other modified competitor in the northeast that can only mean one thing; the big money races are approaching and they are doing so rapidly.
"We're getting into the big shows now," stated Friesen. "Mr. Dirt at Lebanon Valley [Speedway in West Lebanon, N.Y.] and Super DIRT Week and all those shows are coming up. We're searching and catching up with our cars and to be honest, we're close; I think we're as close as we've been all year."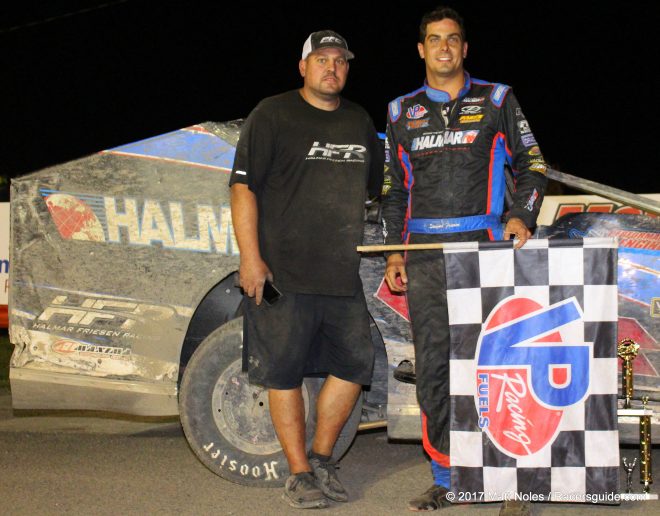 After running his entire season at Middletown in 2016, coming back home to Fonda was a welcome change for the multi-time Super DIRT Week champion. It was a change that – if the powers that be allow – he would like to continue with again in the 2018 season.
"I hope to be back here when I can be next year," Friesen concluded. "I'll talk to Chris Larson at Halmar and see what he says. The decision to come back was obviously a good one; we won a bunch of races and that's always good for confidence and with the traveling we've been doing with the truck, it's really nice to be able to race 15 minutes from home on Saturday's. We'll have to see what happens; we're still going week-to-week with the truck deal and in this sport, anything can happen."
Matt Noles is a contributing writer for Racer's Guide and Dirt Track Digest. He currently resides in Sprakers, New York and can be reached via e-mail at matt_noles@yahoo.com.