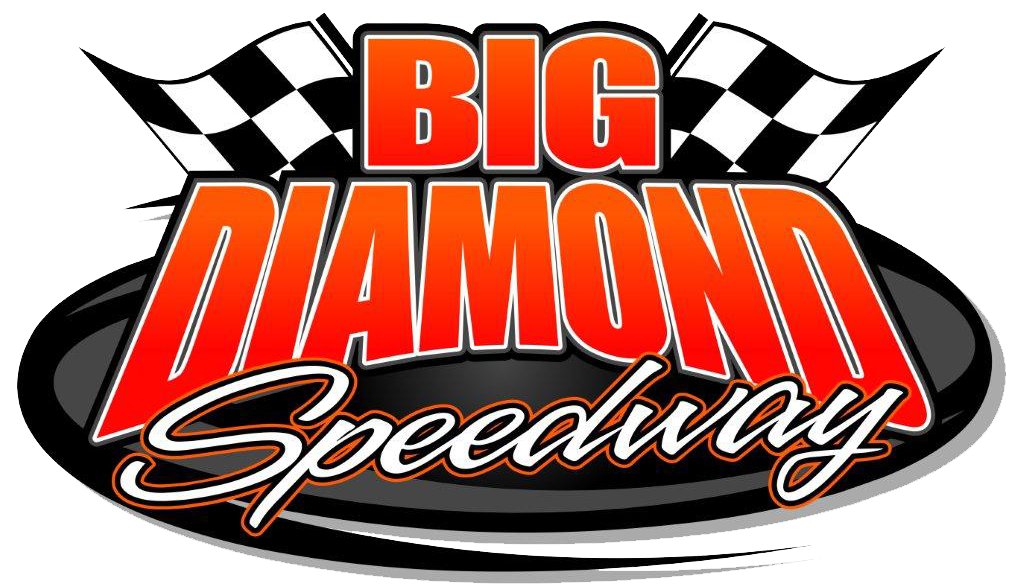 Track Promoters – Jake and Jasmine Smulley
Track – www.bigdspeedway.net   
Kressley rockets to $17,000 Coalcracker 72 win at Big Diamond, Logan Watt wins Coalcracker 30 Crate Feature
Brett Kressley may have lost the yearlong war for the points title, but the Orefield, PA wheelman came back with a vengeance to win last night's Jack Rich Inc, Coalcracker 72 at Big Diamond Speedway which netted Kressley a cool $17,000 pay day. Teenager Logan Watt dominated the USS Achey Crate Sportsman 30-lap Coalcracker feature paying the young driver $1,500 for his efforts.
The Coalcracker 72 may have been delayed a week, but the suspense was still there as all drivers returned looking for the big pay day with the exception of Brandon and Justin Grosso. With the Grosso's not being in attendance, it allowed the first two alternates Ryan Watt and Nick Rochinski to be added to the lineup.
Craig Von Dohren and Jordan Henn would lead the 24-car Coalcracker 72 starting field to the green with Von Dohren getting the quick jump to take the lead. As the field completed lap one, the only caution of the race was thrown as Jeff Strunk broke something in the right rear suspension and slowed dramatically. Strunk one of the pre-race favorites pulled to the pits and quick work by his crew had him back out when the race resumed.
Von Dohren would continue to lead as the field returned to racing with Sammy Martz Jr in second. Dillon Steuer made a move past Martz to take over the second spot as Von Dohren motored away from the field. The quick running Steuer would not let Von Dohren get away and even begin to close the gap between the two. While the race up front was getting interesting, 10th place starting Brett Kressley and 12th place starting Duane Howard were steadily working their way towards the front.
The running order at lap 10 saw Von Dohren leading by a small margin over Steuer, Martz Jr, Billy Pauch Jr, Kressley and Howard. The top five remained the same as the leaders started to catch the tail end of the field to put cars a lap down. Von Dohren remained out front, but Steuer was closing in on the leader. Lap 18 saw Kressley go around both Martz Jr and Pauch Jr to move into third. One lap later and Howard followed Kressley and into to fourth. While Von Dohren continued to lead, Kressley was quickly cutting down the distance between himself and second place Steuer.
Halfway and it was still Von Dohren leading Steuer, Kressley, Howard and Pauch Jr. As Von Dohren was being held up getting through traffic, Steuer tried to make a move under Von Dohren, but CVD held his spot. Steuer now had to worry about Kressley who had caught the leaders. Von Dohren started to pull away just a little as now Steuer was forced to defend second place as Kressley applied the pressure. Lap 35 saw Kressley make his move in turns one and two on the outside to move past Steuer and into second.
Kressley was on the move and quickly started to close in on leader Von Dohren. It took less than five laps and Kressley was all over the rear bumper of Von Dohren. As the leaders crossed the stripe to complete lap 41 they were side by side with a lapped car on the inside, with no one wanting to give the other an inch, they made contact with Kressley coming out on top as the sped into turn one. Von Dohren was not about to give up and stayed right with Kressley. Lap 43 Von Dohren being scored the leader as he worked the inside back by Kressley. Von Dohren started to put some distance on Kressley but not for long as Kressley was quickly back to battle for the lead. Kressley wasn't giving up and lap 50 saw CVD leading by a car length. As Von Dohren entered turn three, the No. 88X pushed up the track and the was the break Kressley was looking for as he steered his No. 19K to the inside and after some contact was back in front on lap 51.
This time, Kressley didn't wait around to see if Von Dohren was going to challenge him as he streaked away from the rest of the field. Kressley had his Bicknell chassis, Morgantini powered car flying 7 as he was gapping the field lapping up to the 7th place running Rick Laubach. It was Kressley's biggest win of his career. Von Dohren, Howard, Pauch Jr and Steuer completed the top five.
"I knew this coil car would shine after lap 50," Kressley said in victory lane with track announcer Dino Oberto. "Those bar cars, like Duane, he was better than us on a 30-lap run, but I knew this thing would be killer once we got a longevity race. We paced ourselves pretty good, I wasn't giving it everything we had expecting some cautions, but we got over halfway, and I figured we'd better change the plan a little bit and went for it. It was a good battle between me and Craig, but at the end of the day I think the better car won. We didn't have a chance to let this thing really shine all year bogging it down with 30-lap races, but we were able to shine tonight. Hats off to Jake (track promoter Jake Smulley), he got this place turned around and it's going to a fun place to race next year."
The 30-lap USS Achey Coalcracker Crate 602 Sportsman race saw Kevin Olenick take the lead at the drop of the green over polesitter Tajae Adams. The first half of the race saw multiple cautions slow the race. A lap five restart saw Nick DeSantis take the lead away from Olenick as Logan Watt was moving towards the front quickly from his sixth starting spot and into second. After one lap the yellow as out again and on this restart, the teenager Watt outpowered DeSantis into turn one on the outside to take the top spot. Two more restarts on lap nine and lap eleven didn't deter Watt as used the inside line to hold off DeSantis. Lap eleven would prove to be the last caution of the race as Watt distanced himself from the field.
While Watt was leading the race, Jordan Henn worked his way under DeSantis to move into second. Henn had nothing for the leader as Watt who kept stretching his lead. With no yellows to slow his pace, Watt had a commanding lead as he streaked under starter Jeff Merkel's double checkers to win the race and the $1,500 first place prize. Henn finished second with DeSantis, Brad Brightbill and Skylar Sheriff completing the top five.
"Oh my god, this is awesome. I can't believe it," said Watt in victory lane. "We had been having some trouble on restarts with the car stumbling, so we change a little something on the carburetor and it was really good. The car felt really nice, and I was fortunate to get the restart next to (Nick) DeSantis and he was fast, so I knew I had to try and go around the top and I was able to get him. You just to beat those to the front and they you get that clean air. Sometimes you get to the lapped traffic and that can be hard, but we are here. Winning this race is huge, I can't believe it."
The Red White and Blue Autos Roadrunner feature was run on Sunday September 4th was won by Andrew Fayash III over Alex Schoffstall, Chuck Fayash, TJ Fitzpatrick & Mike Reichert.
Full results from September 9th, 2022 – Coalcracker Night
Insigner Performance Modifieds (Coalcracker 72) – 1. Brett Kressley 2. Craig Von Dohren 3. Duane Howard 4. Billy Pauch Jr 5. Dillon Steuer 6. Sammy Martz Jr 7. Rick Laubach 8. Mike Gular 9. Matt Stangle 10. Frank Cozze 11. Nick Rochinski 12. Jordan Henn 13. Tim Fitzpatrick 14. Jeff Strunk 15. Kevin Beach Jr 16. Scott Albert 17. Timmy Buckwalter 18. Jared Umbenhauer 19. Jack Butler 20. Ryan Krachun 21. Bobby Trapper Jr 22. Ryan Watt 23. Louden Reimert 24. Craig Whitmoyer
Modified Heat Winners: Brett Kressley, Dillon Steuer, Craig Von Dohren & Sammy Martz Jr
Modified Consi Winners: Louden Reimert & Timmy Buckwalter
Did Not Return: Justin Grosso & Brandon Gross
Did Not Qualify: Mike Lisowski, Eddie Strada, Joel Smith, Frank Yankowski, Dave Hunt, Ken Eckert Jr. JR Fulper, Corey Renninger, Billy Lasko, Shawn Fitzpatrick, Dan Hineline, Heath Metzger, Aleia Geisler & Cliff Quinn
Modified Penske Shocks Gift Certificate Winners: Brett Kressley ($100), Craig Von Dohren ($75) & Duane Howard ($50)
DirtTrackDigest.TV Bonuses ($250 Each): Billy Pauch Jr. 4th, Mike Gular 9th, Kevin Beach Jr 15th, Jack Butler 19th & Craig Whitmoyer 24th.
Savage 61 Crate 602 Sportsman (Coalcracker 30) – 1. Logan Watt 2. Jordan Henn 3. Nick DeSantis 4. Brad Brightbill 5. Skylar Sheriff 6. Danny Buccafusca 7. Kevin Olenick 8. Paulie Hartwig III 9. Talan Carter 10. Jim Houseworth 11. Zane Roth 12. Ryan Graver 13. Tajae Adams 14. Eric Kocher 15. Chad Putalavage 16. Xavier Sprague 17. Marty Shappell 18. Kaitlyn Bailey 19. Matt Yoder 20. Tyler Vidal 21. Brandon Firestone 22. Daryl Dissinger 23. Brandon Oleski 24. Tyler James
Crate Sportsman 602 Heat Winners: Daryl Dissinger, Zane Roth & Brandon Edgar
Did Not Return: Brandon Edgar, McKenzi Smith, BJ Joly, Josh Mooney & Kevin Kaplafka
Crate 602 Penske Shocks Gift Certificate Winners: Logan Watt ($100), Jordan Henn ($75) & Nick DeSantis ($50)
Red White and Blue Autos Roadrunners (Feature run on Sept 4th) – 1. Andrew Fayash III 2. Alex Schoffstall 3. Chuck Fayash 4. TJ Fitzpatrick 5. Mike Reichert 6. Glenn Rowan 7. Jim Kost 8. Kyle Wingle 9. Damion Dusheck 10. Tonya Lance 11. Josh Harris 12. Terry Kramer 13. Tod Roth Jr 14. Ray Gara 15. Elijah Reed 16. Dave Schultz 17. Don Murphy 18. CJ Ferguson 19. Louis Gara
Roadrunner Heat Winners: Alex Schoffstall & Chuck Fayash