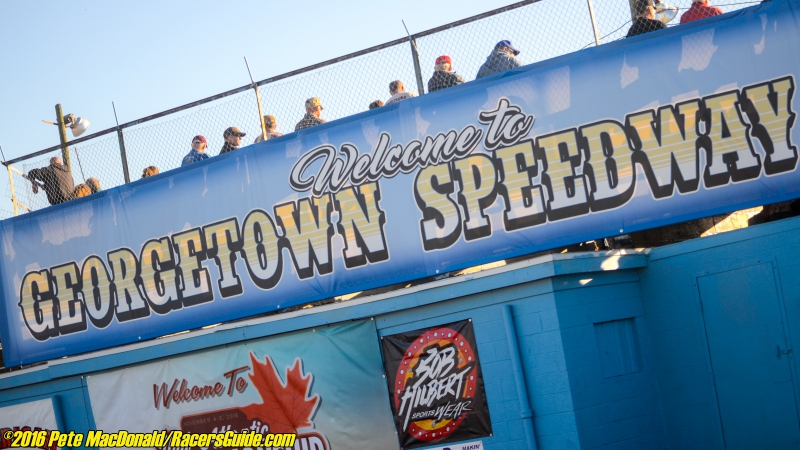 Media Contact: Brett Deyo – georgetownspeedway@gmail.com or 302.563.4896 (GTWN)
He's Back: Ryan Godown Wins First Since 2018 at Georgetown Speedway
Written by Chris Moore
GEORGETOWN, DE – Ryan Godown returned to Victory Lane at Georgetown Speedway for the first time May 2018, topping the 25-lap J.W. Brown Logging Modified feature on Northeastern Supply night.
The Ringoes, N.J., resident – enjoying a career season – moves into the Sunoco Championship chase point lead with his triumphant performance worth $3,000.
"We've won here before but man it seems like it's been forever," proclaimed Godown in Victory Lane.
"I just gotta tip my hat to my guys, we've been working really hard to get everything going the right way… this big-block wasn't 100% tonight but we got the job done."
Godown fired from the outside of the front row with Belle Mead, N.J.'s Brandon Grosso alongside following the redraw for starting positions.
Godown quickly slid by Grosso in the opening turn of the race, taking the top spot in the early going.
The opening 10 laps of the 25-lap affair were plagued by several caution flags for multiple drivers.
Eric Kormann and Mark Van Vorst both experienced difficulties, each slowing to a stop on the racetrack to bring out yellows on the first two laps.
Milford, Del.'s Joseph Watson was the next car to have problems, as his left rear wheel came off the No. 21w, sailing into the fence on the outside of turns three and four.
Milford, Del.'s Jordan Watson and H.J. Bunting, who was running third, both had problems on lap six bringing out a caution. Watson would return, while Bunting's night was over.
Watson returned, only to bring out another yellow one lap later. The point leader entering the program got his car to the attention of his crew and returned for good after the lap-seven yellow.
"My only concern was restarts because our carburetor was skipping a little on them and it seemed like there were a million tonight," Godown said of the numerous opportunities Grosso and Pipersville, Pa.'s Danny Bouc had at him on the restarts.
The next nine laps clicked off while Godown continued to set the pace up front, and Bouc continued his pursuit of the leader. The race's final yellow came on lap 16 when Austin Hubbard slowed in the first turn.
The final nine laps went off without a hitch, and while Bouc was catching Godown in the late stages, he came up short.
Godown raced away with the $3,000 top prize.
Bouc settled for second in the Craig and Leslie Pondish No. 6 and Sewell, N.J.'s Richie Pratt Jr. rounded out the podium cars in the Danny's Pizza Pizzazz No. 51.
Grosso took fourth in his family-owned No. 32 and Joseph Watson rebounded from losing a left-rear tire and cutting another one to round out the top five.
Finishing sixth through 10th, respectively were Ryan Riddle of Millsboro, Del.; Jordan Watson, who now sits second in the points; top Spec Small-Block finisher W.B. James; Sean Weiss, from the Keystone State; and fellow Pennsylvania native Blaine Bracelin rounded out the top-10.
Heat race winners were Pratt Jr. and Carson Wright.
Dallas Schott grabbed his second career URC 360 Sprint Car feature of his career on Friday night.
The Myerstown, Pa., resident led all 25-laps in dominant fashion to pick up the win, the first of his Georgetown Speedway career.
Tyler Ross, last year's winner of the event, got to second in the late stages but was unable to seriously challenge Schott for the victory.
Ross came home the runner-up followed by Adam Carberry, Troy Betts, and Kyle Spence.
After problems in the Modified, Austin Hubbard was victorious in the 20-lap First State Chevrolet Late Model feature driving the Karl Klink No. 49.
Hubbard passed Trevor Collins on a mid-race restart to take the lead he would never relinquish. Collins closed in late as Hubbard ran the bottom groove, but Hubbard switched to the top in the final three laps to pull away with the win.
Collins took second while Matt Hill, Joey Warren, and Michael Duritsky rounded out the top five.
D.J. Cameron topped the Southern Delaware Vintage Stock feature, taking advantage of Jamie Eicholz misfortune to take the lead away and the win.
Nathan Smith, who finished third overall, topped the Sportsman portion of the event.
Kirk Lawson used his pole starting position to his advantage, leading all 12 laps to take a crowd-pleasing victory with the Little Lincolns.
Robert Smith won the battle of the Smith brothers in the Delaware Super Truck feature. Robert's brother David raced from the 13th and final starting position to the runner-up spot, but Robert held on for the win.
Geoff Carey took home the Delmarva Charger feature, racing from his 10th starting spot to earn the victory.
Georgetown Speedway returns to life on Friday, September 30 and again Saturday, October 1 for the 50th Anniversary Camp Barnes Benefit Stock Car Race. Friday's action features the USAC East Coast Sprint Cars, plus the Modifieds, Crate 602 Sportsman, Southern Delaware Vintage Stock Car Club, Delaware Super Trucks, and Delmarva Chargers.
Saturday features a full card headlined by the Modifieds and Super Late Models, along with the Crate 602 Sportsman, RUSH Late Models, Southern Delaware Vintage Stock Cars, Little Lincolns, Delaware Super Trucks, and Delmarva Chargers.
Georgetown Speedway, originally constructed by Melvin L. Joseph in 1949, is located at the intersection of Route 113 and Speedway Road in Georgetown, Del., just miles from the Delaware beaches and less than a 40-minute drive from Ocean City, Md.
A website is live for the speedway at www.thegeorgetownspeedway.com. Like Georgetown Speedway on Facebook, follow @thegtownspdwy on Twitter, e-mail georgetownspeedway@gmail.com or contact the speedway hotline at 302.563.GTWN (4896).
NORTHEASTERN SUPPLY NIGHT RESULTS SUMMARY – GEORGETOWN SPEEDWAY SEPTEMBER 9, 2022
J.W. Brown Logging Modified Feature Finish (25 laps): RYAN GODOWN, Danny Bouc, Richie Pratt, Brandon Grosso, Joseph Watson, Ryan Riddle, Jordan Watson, W.B. James, Sean Weiss, Blaine Bracelin, John Willman, James Hill, Austin Hubbard, Kevin Sockriter, HJ Bunting, Tom Solderich, Mark Van Vorst, Eric Kormann.
Did Not Start: Tracey Gauger, Jordn Justice, Carson Wright.
Ad-Art Sign Company Spec Small-Block Bonus ($250): W.B. James (eighth)
URC 360 Sprint Car Feature Finish (25 laps): DALLAS SCHOTT, Tyler Ross, Adam Carberry, Troy Betts, Kyle Spence, Josh Weller, Cameron Merrimer, Ryan Stillwaggon, Mike Thompson, Jason Shultz, Preston Lattomus, George Streaker, Jr.
First State Chevrolet RUSH Late Model Feature Finish (20 laps): AUSTIN HUBBARD, Trevor Collins, Matt Hill, Joey Warren, Michael Duritsky, Derek Magee, Amanda Robinson, Nick Davis, Ben Scott, Cody Dawson, Jerry Marker, David Parsons, Travis Justice.
Did Not Start: David Dill.
Southern Delaware Vintage Feature Finish (12 laps): DJ CAMERON (MODIFIED WINNER), Jason Dean M, NATHAN AUSTIN (SPORTSMAN WINNER), Roscoe Clough S, Cale Pettyjohn S, Terry Chaney M, Maddie Jefferson S, Jamie Schirmer S, Chris Killen S, Glen Lyon S, Donald Porter S, Braydon Ritter M, Jamie Eichholz M, Kerry King M.
Little Lincoln Feature Finish (12 laps): KIRK LAWSON, Jordan Herbert, Eric Reed, Dylan Betts, Scott Calhoun, Todd Sammons, Matt Jester, Sawyer Tracy, James Harmon, Mel Joseph, Jr., Bryan Piercy, Matt White, Bunky White, M.J. White.
Delaware Super Truck Feature Finish (12 laps): ROBERT SMITH, David Smith, Zack Phillips, Scott Trice, DJ Dewey, Dan Streebig, Cameron Benson, Troy Hopkins, Michelle Jackson, Greg Nailor, Steven Portillo, Thomas "Action" Jackson, Jerry Hill.
Delmarva Charger Feature Finish (12 laps): GEOFF CAREY, Joe Waters, Ron Faulkner, Ashley Merritt, Jay Lowman, Garrett Smith, Jeff Merryman, Jonathan Pitcher, Randy Merritt, Craig Kelly, John Bailey, Robbie Strain