After a Solid and Well-Fought Run to Second Place, Hohenforst Declared the Winner of the Modified Feature after Stewart Friesen Fails to Make Weight
Story and Photos By: MATT NOLES / RACERSGUIDE.COM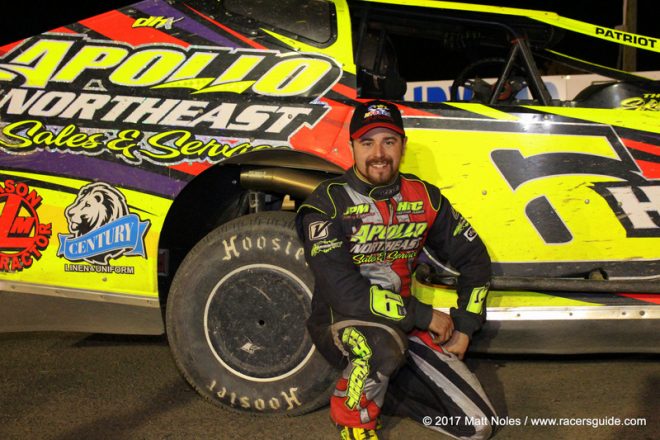 FONDA, NY- June 11, 2017- As Yogi Berra once stated, it ain't over 'til it's over.
When Stewart Friesen crossed the line ahead of all others at the conclusion of the DIRTcar modified feature at the famed Fonda Speedway in Fonda, New York on Saturday night, the race was seemingly – and convincingly – over. Then again, not all outcomes are permanent.
After failing to make weight post-race, the win was handed down to second-place finisher Josh Hohenforst much to the surprise and elation of the driver of the Apollo Northeast sponsored entry.
For Hohenforst, who waited to capture his second-career modified victory at 'The Track of Champions' for nearly three-years, his hiatus from victory lane didn't last nearly as long as the young pilot of the No. 6H captured his second triumph of the 2017 season.
"We didn't really get that great of a start tonight," commented Hohenforst in victory lane. "We finally got rolling and those early cautions really helped us to pick some cars off on the restarts. That last late-race caution we had, I was sitting in third and I was able to get up on the top and get around Danny Varin for second."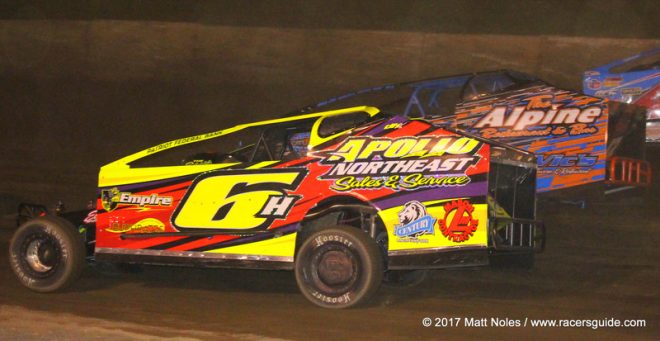 Hindsight being what it is, Hohenforst had no way of telling how pivotal that late-race charge around Danny Varin was going to be. In fact, he had come to terms with the fact that as long as Friesen was in front of him on this night, second was the best he could hope for.
"I was running second to Stew and I was happy with that," He continued. "And then we rolled across the scales and he didn't make weight. That was a shocker honestly; I don't know if the scales were off a little tonight or what the deal is but I made weight and two of the other guys did as well."
Though heading to victory lane is the perfect ending to the night for any racer, there still seemed to be a touch of remorse in his voice; a win may be a win but for a racer, winning by default will never bring the same amount of pride or joy.
"I'll take a win any way I can get it honestly," stated Hohenforst. "I would have loved to have beat him just flat out racing and it would have meant a lot more but it's tough to get wins down here and this is my second this year already."
Though his appearance in victory lane may be surrounded by a touch of controversy, the fact of the matter remains as this; he drove from deep in the field to second place on a difficult surface and past drivers named Johnson, Varin and Fuller. In short, his program is headed in the right direction and the results are beginning to prove that statement as fact.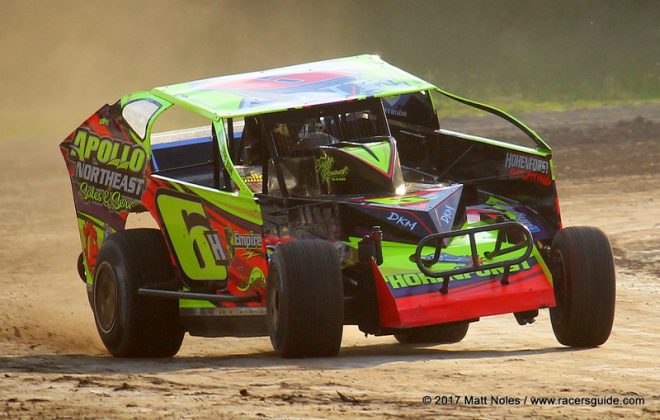 "We just put a new motor in the car this week," Hohenforst explained. "That's the first win with it and we're really starting to get everything figured out. I thought we were going to win last week and we got kind of torn up down here. We had a lot of work to do this whole week and we barely made it to the track before warm ups so we're definitely happy with where we're at right now."
With more consistent and positive results coming on a more regular basis, Hohenforst seems to be getting stronger and stronger every time he rolls onto the speedway surface. With the competition he faces weekly, the young modified pilot is certainly starting to turn some heads and with good reason. Simply put, he's becoming one of the more prevalent names on the short list of drivers to beat for the remainder of the 2017 season.
"We changed a few things and finally hit on a good setup," He concluded. "The track has been changing week-to-week but the car has been pretty consistent and now I know the changes to make before the feature and luckily, things have been going our way lately. All in all, I'm very happy with where we're at and thankful for all the sponsors that have been helping me. We just need to keep the momentum going in our direction."
Matt Noles is a contributing writer for Racers Guide and Dirt Track Digest. He currently resides in Sprakers, New York and can be reached via e-mail at matt_noles@yahoo.com.