After 29-years of Trying and 29-Years of Close Calls, 'Happy' Harry Shaffer Finally Finds Victory Lane at Fonda Speedway
Story and Photos By: MATT NOLES / RACERSGUIDE.COM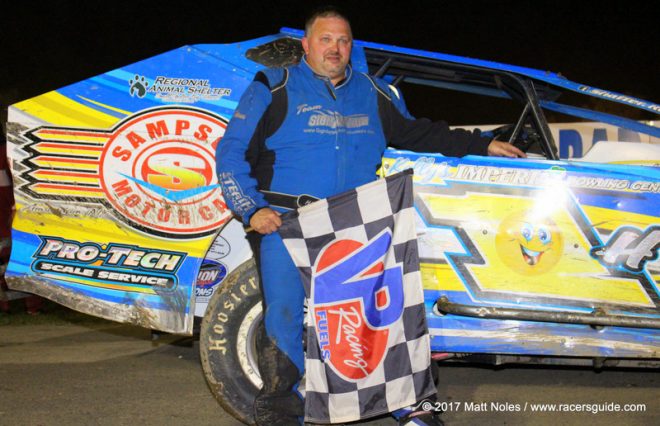 FONDA, NY- June 11, 2017- Sometimes it's the most important accomplishment, the most important triumph that can elude racecar drivers the most.
For Brett Hearn, it was a victory in the Outlaw 200 at the Fulton Speedway [in Fulton, New York], for Dale Earnhardt it was the Daytona 500 at the Daytona International Speedway, for Harry Shaffer, it was a victory at his most coveted piece of hallowed ground; the Fonda Speedway in Fonda, New York.
After 29-years of trying and 29-years of seemingly insurmountable odds and morale-crushing heartache, Harry Shaffer took his familiar No. 1H sportsman modified to victory lane in exciting fashion Saturday night at the Montgomery County oval and left the fans with a feeling of elation after beating fellow competitor Chad Edwards to the line after a fierce five-lap battle to the checkered flag.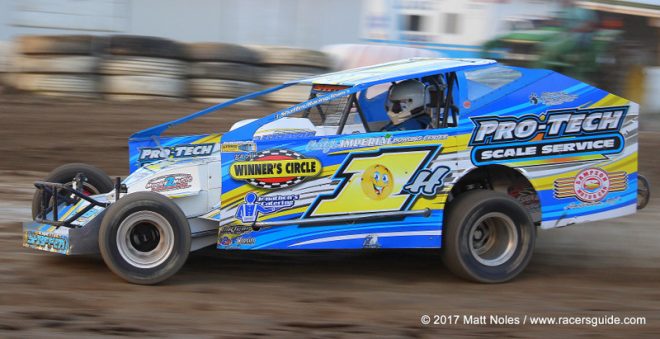 "This has been a long-time coming," Shaffer said in victory lane Saturday night. "We've been doing this for 29-years between running a street stock and a sportsman and this place has eluded me. This is awesome; I just wish I could have done this when my dad was still alive."
After jumping out to an early lead in the opening stages of the 25-lap feature, Shaffer felt his chance at immortality slipping away after Dave Constantino passed him for the lead on a restart before the halfway point of the event.
"I have over three years on this motor," He explained. "It's getting tired and it's awful on restarts. When that caution came out, that's what I was worried about. I knew that if I could get out front with no cautions, I'd be okay but a caution was going to put the fast guys right on me and that's what I was afraid of."
With a motor that is more or less ready to be put out to pasture, Shaffer was still able to hold his own as the feature continued. With only Constantino to chase, the pressure was on to try and retake the top spot. It was a task that seemed out of reach and outside of the realm of probability.
"I definitely thought the race was over when Dave [Constantino] passed me," He continued. "I was so mad and I was doing everything I could to catch him. I tried going down lower, I tried going into turn one a little harder on the high-side but no matter what I did, I could see him pulling away."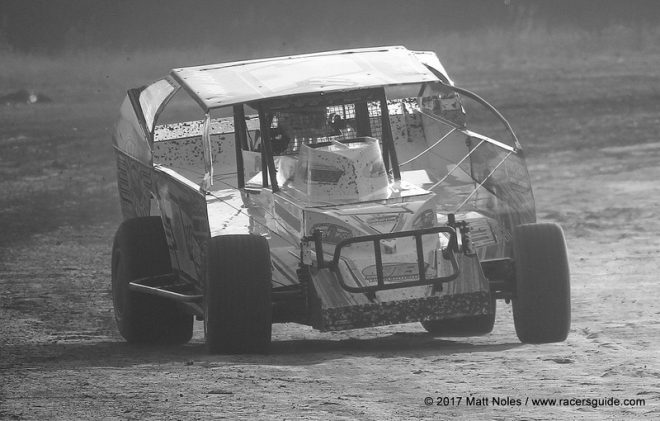 Every now and then, fate seems to step in and deal a helping hand when it's most needed; it may not be expected, but you can damn well bet that it's certainly appreciated. For Harry Shaffer – who came to the conclusion that victory had yet again slipped from his grasp – the aforementioned statement suddenly, and conclusively, rang true in every form.
"When I came around turn and saw the caution out and him [Constantino] stopping on the outside of turn four, I couldn't believe it," Shaffer recalled. "I thought 'are you kidding me?' I was back in the lead but I figured Rocky [Warner] or somebody was right behind me and all I could hope for was to do good enough on the restart to hold onto the lead."
Shaffer certainly had company at the front of the field with only five-laps remaining, but it wasn't the No. 1J of Warner; instead it was the No. 37 of Chad Edwards. 'Happy' Harry now knew who his competition was at the front of the field; he also knew he had a serious fight on his hands.
"I heard him right behind me," Shaffer explained. "And I was just trying to take up as much of the race track as I could. I figured that the good guys were behind me so I knew I wasn't going to get spun out; they were either going to go around me or under me, but not through me."
What ensued over the remaining circuits was nothing short of a Hollywood scripted dogfight between Shaffer and Edwards. One that will remain lodged in the memories for years to come of not just the combatants, but the witnesses as well.

"I felt Chad under me with a few laps to go," Shaffer stated. "I came down and all of a sudden I felt the left rear kick out a little and I knew that he was right there. I just stayed on the gas and did the best I could to keep my car straight and to keep him behind me."
His best was certainly more than good enough on this night and the weight of what he accomplished really didn't set in until long after the checkered flag flew.
"It didn't hit me that I had won until long after I passed the flag stand," commented Shaffer. "I just stayed on the gas until I got down into turns one and two then I knew I had it. I couldn't believe it and I still can't really; this is just awesome."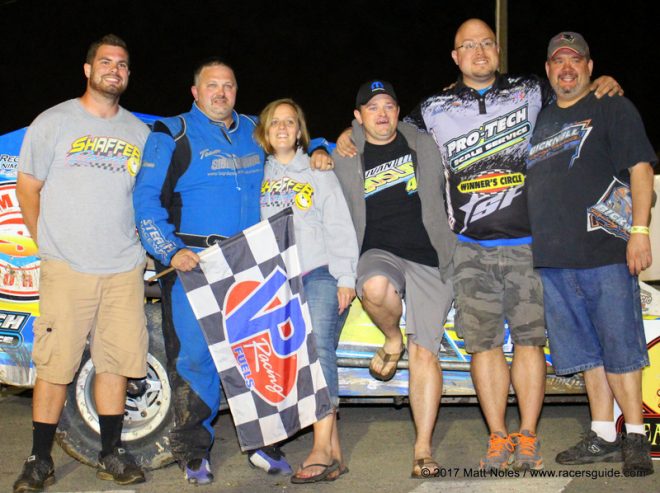 Racing has always been a family affair for Harry Shaffer and whether they're blood relatives or not, his crew – led by his younger brother Mikey Jackson – falls into that category in more ways than one. Without them, and Shaffer freely admits this fact, his lifelong dream of winning at Fonda Speedway never would have happened.
"I don't know what my brother did to the car tonight," Shaffer concluded. "But whatever it was, this thing was awesome. They scaled the car three times today and made some changes and worked their asses off getting this thing ready. It's been a long time coming and I've got that monkey off my back and it's all because of them; my wife, my brothers, my crew, my family; everyone. They made it possible and it was all worth it."
Matt Noles is a contributing writer for Racers Guide and Dirt Track Digest. He currently resides in Sprakers, New York and can be reached via e-mail at matt_noles@yahoo.com.