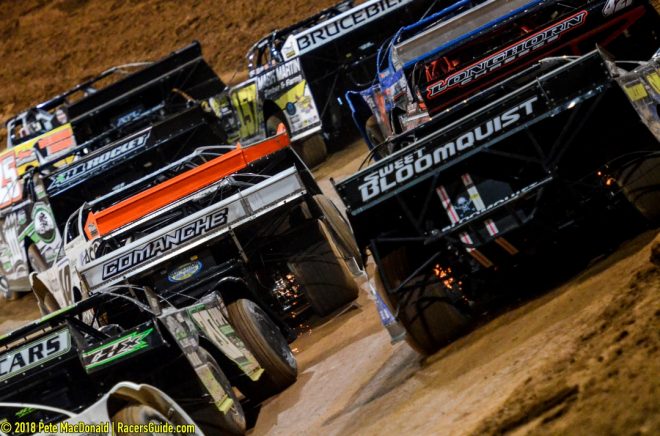 DRIVEN TO SUCCEED: Indiana Racer Kent Robinson Takes on World of Outlaws and Summer Nationals Stars Friday at Terre Haute
Story By: Jordan DeLucia/WoOLMs
Photos By: Pete MacDonald/RacersGuide.com
TERRE HAUTE, IN — June 24, 2019 — As a former World of Outlaws Morton Buildings Late Model Series Rookie of the Year contender in 2012, Kent Robinson is certainly no stranger to strong competition. In fact, it drives the Indiana native to do better at the track in front of his friends, family and fans.
"When you get to the World of Outlaws level, those guys are all professional, so you've got to have your mind right coming in there," Robinson said. "But what might make it a little bit easier is being close to home and knowing that you have a lot of your supporters there and have people cheering you on."
He'll definitely have a few more supporters at the track this weekend when the World of Outlaws Morton Buildings Late Model Series make its second-ever appearance at the Terre Haute Action Track on Friday night, June 28.
"K-Rob" hails from Bloomington, IN, and will be one of the home-state drivers in attendance for this unique race that pits the Outlaws up against the very best of the DIRTcar Summer Nationals tour. Growing up around the racetrack, Robinson has a lot of fond memories visiting Terre Haute, becoming a fan of the World of Outlaws brand before ever climbing into the seat of a racecar.
"The prestige that Terre Haute's racetrack has is big," he said. "Growing up, I got to watch a lot of World of Outlaws Sprint Car races there, seeing Steve Kinser and Sammy Swindell and a lot of drivers that I looked up to, and still do."
Prestige is also something Robinson earned a bit of with the Outlaws in his visit to Volusia Speedway Park earlier this season for the DIRTcar Nationals, picking up two top-10 finishes and a PFC Brakes Fast Time Award.
"We were happy. We took the momentum from there and were able to relay that into some good runs as the season went on, too," Robinson said.
Those good runs were materialized in back-to-back winning performances last month, when Robinson scored his first win of the season in a weekly show at Fairbury Speedway, just seven days before holding off Allen Weisser and Darrell Lanigan in the Farmer City 74 at Farmer City Raceway.
A runner-up finish in Friday night's Group A Feature portion of the Dirt Late Model Dream at Eldora Speedway just over two weeks ago displayed his continued momentum, as did making the big $125,000-to-win finale on Saturday at the Rossburg, OH half-mile.
"I really like Eldora," Robinson said. "To have that many cars there and so many competitive teams, it's just on another level of competition. But that's what I like about it."
This Friday, Robinson will take his Jones Oil Company, JB's Salvage, VP Racing Fuels, MB Customs Chassis #7 into another half-mile, still in search of his first career World of Outlaws win. He rounded out the top-five in the Terre Haute race last year, and he'll certainly be looking to continue his string of success on half-mile tracks this weekend.