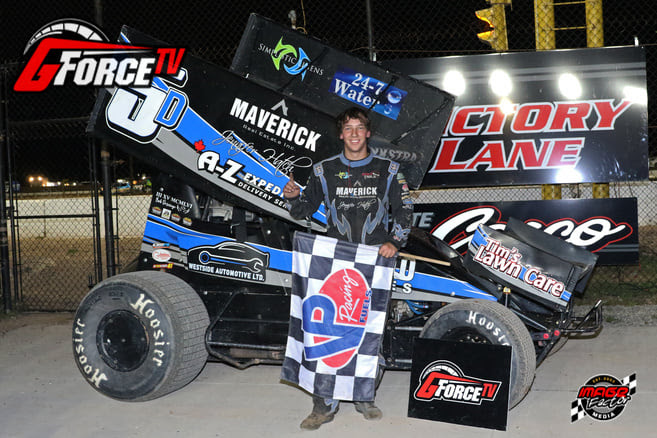 Photos by Dale Calnan/www.imagefactor.ca
By Tommy Goudge
DYKSTRA EXTENDS WIN STREAK WITH HUMBERSTONE TRIUMPH
PORT COLBORNE, Ont. (September 10, 2021) – Jacob Dykstra ran his win streak on the Pinty's Action Sprint Tour to five after a decisive victory on Friday night at Humberstone Speedway.
Darren Dryden and Lucas Smith started the 25 lap A-Main on the front row and Dryden took the early lead while chaos reigned through much of the rest of the field. Nick Sheridan started next to Dykstra in row four, and both charged forward with Sheridan taking the lead from Dryden just before a yellow flag negated the pass. Sheridan's misfortune worked to Dykstra's advantage, and Dykstra took the lead from Dryden on lap nine.
Dykstra kept pushing after taking the lead and had several close calls in traffic, but ultimately locked down the win while Lucas Smith took the runner-up spot. Sheridan settled for third, followed by Allan Downey and Dryden. Row six starter Brett Stratford and row ten starter Luke Stewart finished sixth and seventh, followed by Eric Gledhill and Dale Curran. Steven Beckett rounded out the top ten after starting last in the B-Main and gaining a total of 16 positions. Austin Roes, Lucas Smith, and Darren Dryden claimed heat race wins, while Luke Stewart won the B-Main.
The Action Sprint Tour will next be in competition on Saturday, September 11 at Southern Ontario Motor Speedway. Visit www.actionsprinttour.com for more information.
Pinty's Action Sprint Tour Crate Sprint Car Series
Race Report – Friday, September 10, 2021
Humberstone Speedway
Port Colborne, Ontario, Canada
Roster
08 Steven Beckett – Fonthill, Ontario
3S Austin Roes – Mossley, Ontario
5D Jacob Dykstra – Port Colborne, Ontario
7 Eric Gledhill – Thamesford, Ontario
MK8 Matt Hill – Ohsweken, Ontario
9 Luke Stewart – Sydenham, Ontario
12DD Darren Dryden – Freelton, Ontario
14 Larry Gledhill – Thamesford, Ontario
19D Allan Downey – Waterloo, Ontario
20 Johnny Miller – Six Nations, Ontario
26 John Verney – Salmon Arm, British Columbia
26X Terry Baker – Ancaster, Ontario
31 Dale Curran – Bowmanville, Ontario
38 Derek Miller – Six Nations, Ontario
39 Shane Stickel – Kitchener, Ontario
BS39 Brett Stratford – Wainfleet, Ontario
45 Nick Sheridan – Mount Brydges, Ontario
48 Lance Erskine – Brantford, Ontario
49L Lucas Smith – Brantford, Ontario
50LS Adrian Stahle – Kitchener, Ontario
51 Trevor Young – Ancaster, Ontario
56 Dereck Lemyre – Hamilton, Ontario
74 Rob Neely – Rockwood, Ontario
77E Ashton VanEvery – Ohsweken, Ontario
77T Tyeller Powless – Ohsweken, Ontario
99 Joshua Hill – Ohsweken, Ontario
Heat Race 1 [Started] 8 laps – 1:57.443
1. 3S-Austin Roes[2]; 2. 5D-Jacob Dykstra[5]; 3. 99-Joshua Hill[1]; 4. 20-Johnny Miller[4]; 5. BS39-Brett Stratford[7]; 6. 26X-Terry Baker[6]; / 7. 9-Luke Stewart[8]; 8. 51-Trevor Young[3]; 9. 14-Larry Gledhill[9]
Heat Race 2 [Started] 8 laps – 1:59.037
1. 49L-Lucas Smith[1]; 2. 7-Eric Gledhill[3]; 3. 56-Dereck Lemyre[6]; 4. 38-Derek Miller[7]; 5. 77E-Ashton VanEvery[2]; 6. 39-Shane Stickel[9]; / 7. MK8-Matt Hill[8]; 8. 77T-Tyeller Powless[5]; 9. (DNF) 08-Steven Beckett[4]
Heat Race 3 [Started] 8 laps – NT
1. 12DD-Darren Dryden[2]; 2. 45-Nick Sheridan[5]; 3. 19D-Allan Downey[6]; 4. 31-Dale Curran[8]; 5. 74-Rob Neely[3]; 6. 50LS-Adrian Stahle[7]; / 7. 26-John Verney[1]; 8. 48-Lance Erskine[4]
B-Main [Started] 12 laps – 3:07.777
1. 9-Luke Stewart[1]; 2. MK8-Matt Hill[2]; 3. 26-John Verney[3]; 4. 48-Lance Erskine[5]; 5. 08-Steven Beckett[8]; 6. 14-Larry Gledhill[6]; / 7. 77T-Tyeller Powless[4]; 8. 51-Trevor Young[7]
A-Main [Started] 25 laps – NT
1. 5D-Jacob Dykstra[8]; 2. 49L-Lucas Smith[2]; 3. 45-Nick Sheridan[7]; 4. 19D-Allan Downey[5]; 5. 12DD-Darren Dryden[1]; 6. BS39-Brett Stratford[12]; 7. 9-Luke Stewart[19]; 8. 7-Eric Gledhill[9]; 9. 31-Dale Curran[3]; 10. 08-Steven Beckett[23]; 11. 3S-Austin Roes[6]; 12. 56-Dereck Lemyre[4]; 13. 99-Joshua Hill[11]; 14. 26X-Terry Baker[18]; 15. 48-Lance Erskine[22]; 16. 74-Rob Neely[16]; 17. MK8-Matt Hill[20]; 18. 38-Derek Miller[10]; 19. 20-Johnny Miller[14]; 20. 14-Larry Gledhill[24]; 21. 26-John Verney[21]; 22. 77E-Ashton VanEvery[17]; 23. (DNF) 39-Shane Stickel[13]; 24. (DNF) 50LS-Adrian Stahle[15]
A-Main Lap Leaders – Darren Dryden 1-9; Jacob Dykstra 10-25
Margin of Victory – 5.032 seconds
Hard Charger – Steven Beckett +13
Up Next:
Saturday, September 11, 2021 – Southern Ontario Motor Speedway – Merlin, Ontario