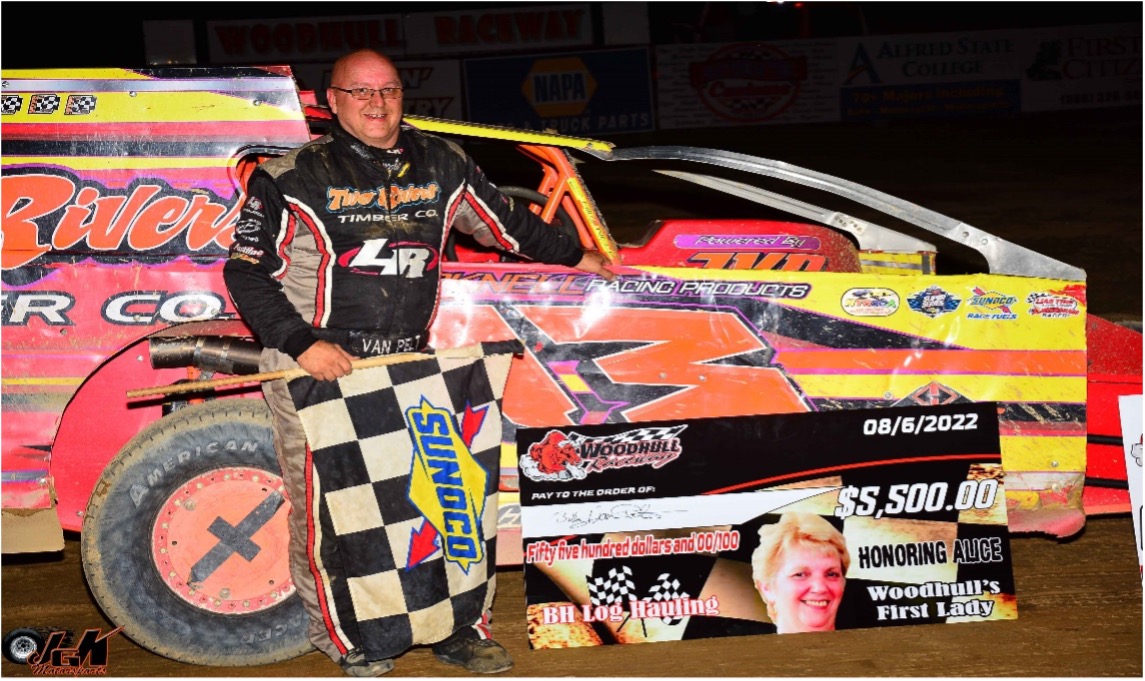 Joe Kaminski Photo
BILLY VANPELT TAKES HONORING ALICE $5,500 WOODHULL RACEWAY PAYDAY AND IMMEDIATELY ANNOUNCES IT AS HIS LAST NIGHT OF COMPETITION FOR 2022 WITH POSSIBLE RETIREMENT LOOMING.
Kenny Peoples Jr, (Crate Sportsman), Jason Knowles (Crate LM), Branden Morseman (Street Stocks), Kaiden Dgien (Hobby Stocks), Rick Amidon (Mini Stocks), Wes Houghtaling (FWD) and Bradly Morseman (Warriors) all multi time 2022 feature winners.
Story by Kenny Shupp Jr.
(Woodhull, NY) It was the highest paying non-sanctioned Modified event ever held at the Woodhull Raceway as the track honored the First Lady of the track, the late Alice Williams who her and her family would lead the Woodhull Raceway thru it's first thirty-three years in existence.
With BH Logging, Dave's Custom Logging and Insinger Performance all onboard as nightly sponsors the huge crowd in attendance was treated to great race action from start to finish.
When track owners, Terry and Niki Brewer put the 57th Anniversary 2022 schedule of events together over this past winter they wanted to do something big for the drivers that for years have supported the Insinger Performance Modified Division.
With 50 laps and $5,500 on the line to win, a stellar field of some twenty- seven drivers from across the region all converged on the high banked one-third of a mile clay oval all looking for the huge payday.
By the luck of the BH Logging re-draw, twenty-three- time Woodhull Modified Track Champ, Billy VanPelt drew the number one slot as he and outside front starter, Dayton Brewer would bring the twenty-four field to the opening green flag. Before one lap could be completed a traffic jam in turns three and four would stop the event with everyone from row three on back caught up in the fray. On the ensuing restart the yellow rag would fly a second time before things settled down with the next thirty- eight laps run off without a caution flag. During that time, BVP would take command and opened as much as a full five second advantage and lap up to the twelfth-place machine before the next caution would wave on lap thirty-nine for a turn two tangle. All the while Vanpelt was safely out front, Joe Dgien, Cory Costa and Russ Morseman were all within eye- sight of the VanPelt #13 machine. Dayton Brewer who had run in the third position throughout most of the event exited on lap thirty-three with a broken rear end moving Cole Youse into a top five spot. Brady Fultz, who had come from the back of the field after the lap one caution had moved back into seventy position, but like Brewer before him, Fultz run would end up on the hook- on lap forty-three bringing out the final caution, he too with rear end issues. This set up a seven- lap run for the checkered flag with current high point man, Joe Dgien now on VanPelt's rear bumper. Cory Costa, who had been quietly going about his business after beginning the event in fourth was now in third with Morseman and Youse holding fourth and fifth. On the restart, BVP immediately opened a three- car edge, but Dgien was mounting a late race rally on the very top of the banking and was cutting into VanPelts advantage. With the parallel sticks in the air, Dgien was within a car length and had VanPelt in the cross hairs and as the white flag waved the crowd was on their feet in anticipation of an upset, however VanPelt was able to hold on and win by less than a car length over Joe Dgien who finished second with Cory Costa rounding the top three podium spots. A pair of big block Chevrolet powered machines in Russ Morseman and Cole Youse would round out the top five in a field dominated by the more popular small block engines.
In VanPelt's victory lane interview he told the huge crowd that he would be sitting out the remainder of the 2022 season at Woodhull as his long- time car owners, Kevin and Karen Chilson were liquidation the entire operation and closing shop after a long-standing relationship with the man that has won more feature wins and track titles at Woodhull than any other.
A more detailed account of the half century feature along with sidebar stories including VanPelt's exiting of the Chilson owned operation, and his future will appear in this weeks Area Auto Racing News.
It was business as usual in the Armstrong RUSH Crate Late Models with just one lone caution to slow the pace on lap four. A pair of rookie contenders in Rickie Loucks and Jacob Tubbs would lead the field to the opening green, but it was Jason Knowles taking charge on lap four from his outside row three starting position and from there he would go onto his fourth victory of the 2022 season. With Knowles comfortably in front and clicking off quick laps on the fast and smooth surface, Loucks had his hands full with Jason McGregor who lined up along side of Knowles at the start as the pair battled for second, but when the double checkered flags waved it was Jason Knowles with a full straight away edge over Rickie Loucks who came home second for his best run of the year thus far. McGregor, who has one feature win earlier in the season had to settle for third while another Rookie of the Year contender, Aaron Miller and last weeks feature winner, Austin Allen completing the top five.
With a rare DNF by brother, Brian Knowles, Jason has somewhat closed the point gap between the two as they continue to hold court at the top of the Armstrong RUSH Crate Late Model Point Standings.
A massive train wreck on a lap two restart in the NAPA Crate Sportsman would find half the field out with thousands of dollars in damage. It started exiting turn four as the thundering herd had just taken the green flag and by the time it was finished cars were stuffed into the front stretch wall all the way into turn one with cars in the infield as well. Involved in the crash were the current top two high point men in Josh Nobriga and Stacy Jackson. After an approximate half hour clean-up only seven cars were remaining with Kenny Peoples taking the lead and never looking back. The brothers Lawson in Cayden and Blake were in a slug fest for second place with Ted Morseman and AJ Costley in tow and that is how they would finish with Peoples Jr taking home his third feature win of the season with Cayden and Blake Lawson nailing second and third with Morseman claiming fourth. Costley was able to recover from being involved in the second lap incident to round the top five.
In his victory lane interview, Kenny Peoples Jr. stated that he was very fortunate to have avoided the second lap melee. "I don't know what happened. I didn't see it, but I sure could feel and hear it and I was very fortunate to have been able to get thru that mess."
Like the Late Models before them earlier in the program, the Joe Willcox Street Stocks ran off their twenty- lap feature with only one yellow to slow the pace. Two- time 2022 feature winner, Brayden Morseman would take the lead right off the drop of the opening green and never look back in claiming win three on the season. With Morseman out in front by a few car lengths a furious battle was going on between Dan Gardner and Brett Crawford as the pair trying to keep pace with leader, Morseman. However, Branden Morseman was just too strong on this night as Gardner and current high point man, Crawford would hold their positions in claiming second and third. Four- time 2022 feature winner, Travis Webster finished fourth with June 25 winner, Luke Boom completing the top five.
In the twenty lap Hobby Stock feature event, Dillon Philip and Brandon Conklin would lead the charge from their front row starting positions with Philip immediately assuming the lead. However, Kaiden Dgien was mowing thru the field from his fourth row starting position and was able to chase down Philip and make the late race pass and go on for his sixth feature win and third in a row. 2021 class Track Champion and opening night feature winner, Jeredd Dennis moved into second from his third row starting spot but was no match for the high flying Kaiden Dgien and had to settle for second place to the car that he and his father built for Dgien to compete. Coming home in third was Dillon Philip after leading the first seventeen laps with Paul Dgien and Scott Brown completing the top five.
Rick Amidon had been shut out of victory lane since his lone 2022 season victory on April 30, however that all changed on this night as Amidon would take advantage of a lap fourteen caution flag that involved the top two race leaders in Ryan Stone and John Hand and go on to the win. For Amidon it was a classic situation of being at the right place at the right time and staying out of the caution flag as he would lead the remaining six laps and win by a comfortable margin. Finishing in second place was current high point man, Jason Warner who used a borrowed car to compete in the feature event as July 23 winner, Travis Southard nailing third at the finish. Last weeks feature winner, Dillon Morseman along with Jordan Costley completed the top five.
With current Front Wheel Drive high point getter, Ryan Austin not able to make the open bell for the fifteen- lap feature event it made life much easier for Wesley Houghtaling as he would go on for his eighth win on the campaign and seventh in a row. However, Houghtaling had to contend with early race leader Kayley Bacon who continues to show major strides in her racing career. But, in the end Houghtaling was just too strong and would go on for the win with Bacon having one of her better finishes of the season in claiming second. Nate Freeland and Kevin Doud would begin the event on the front row, race with the leaders all event and go on to claim third and fourth with Preston Cobb rounding the top five.
After another spirited battle between Woodhull Warrior top guns, Bradly Morseman and Marshall O'Brian, it was Morseman wrestling away the top spot from O'Brian mid-way thru their fifteen-lap feature as he would go on to win thirteen on the season and all but wrap up the point title. Two time "22" winner, O'Brian would take home second place as the lead duo was followed by Jaden Stone who continues to impress in finishing third. A large contingent of Morseman's would follow in tow with Kaleigh taking fourth place over Izzabella who rounded the top five. Courtney Thomas, Desaray Miles and Brandon Feenaughty, after an earlier season broken wrist would complete the field.
Congratulations to all competitors.
Coming up at Woodhull on August 13 it will be the return of the A. Verdi Storage Containers Patriot Sprint Tour as they will make a return engagement for their second and final stop of the season.
In addition to the 360 Sprints, it will be a Regular Great 8 Show of all weekly classes with Twin Tier Detailing and Pepsi as the nightly event sponsors.
For more information go to www.Facebook.com/WoodhullRaceway/ or www.woodhullraceway.com.
WOODHULL RACEWAY RESULTS. August 6, 2022. UNOFFICIAL
Honoring Alice Night.
BH Logging, Dave's Custom Logging, Insinger Performance.
INSINGER PERFORMANCE MODIFIEDS. (27 cars)
50 lap feature. BILLY VANPELT (6), Joe Dgien, Cory Costa, Russ Morseman, Cole Youse, Alan Rudalavage, Mike Bills, Brayden Bills, Brian Doolittle, Tyler Siri, Josh Nobriga, Brady Fultz, Steve Coots, Jake Dgien, Shannon Whaley, Ron Cartwright Jr., Ajay Potrzebowski, Alex Hoag, Dayton Brewer, Brian Malcolm, Ryan Tracy, Aiden Groover, Donnie Lawson, Eric Grice. DNQ. Gregg Turner, Ken Wade, Ken Titus.
NAPA CRATE SPORTSMAN. (13 cars)
25 lap feature. KENNY PEOPLES JR. (3), Cayden Lawson, Blake Lawson, Ted Morseman, AJ Costley, David Mayo, Reese Hackett, Stacy Jackson, Tim Guild, Isabel Barron, Levi Riley, Greg Crooker, Josh Nobriga.
ARMSTRONG RUSH CRATE LATE MODELS. (11 cars)
20 lap feature. JASON KNOWLES (4), Rickie Loucks, Jason McGregor, Aaron Miller, Austin Allen, Brett Marlatt, Joe Layfield, Jacob Tubbs, Brian Knowles, Steve LeBarron, Dennis Loucks.
JOE WILLCOX PERFORMANCE STREET STOCKS. (13 cars)
20 lap feature. BRANDEN MORSEMAN (3), Dan Gardner, Brett Crawford, Travis Webster, Luke Boom, Ted Morseman, Mike Williams, Ray Hyer, Willy Easling, Jesse Tuthill, Mick Seeley, Josh Price, Jim Buck.
HOBBY STOCKS. (16 cars)
20 lap feature. KAIDEN DGIEN (6), Jeredd Dennis, Dillon Philip, Paul Dgien, Scott Brown, Mike Spencer, Brandon Birdsall, Joe Birdsall, Greg Young, Glenn VanCise, Brandon Conklin, Adam Leubner, Josh Oles, Meadow Dgien, Scooter Brown, Tracy Dunn.
WICKED TEE'S MINI STOCKS. (8 cars)
20 lap feature. RICK AMIDON (2), Jason Warner, Travis Southard, Dillon Morseman, Jordan Costley, Ryan Stone, John Hand, Danielle Thomas.
FRONT WHEEL DRIVES. (8 cars)
15 lap feature. WESLEY HOUGHTALING (8), Kayley Bacon, Nate Freeland, Kevin Doud, Preston Cobb. DNS. Ryan Austin, Carl Odell, Nick Brown.
WICKED TEE'S WARRIORS. (8 cars) 15 lap feature. BRADLY MORSEMAN (13), Marshall O'Brian, Jaden Stone, Kayleigh Morseman, Izzabella Morseman, Courtney Thomas, Desaray Miles, Brayden Feenaughty.