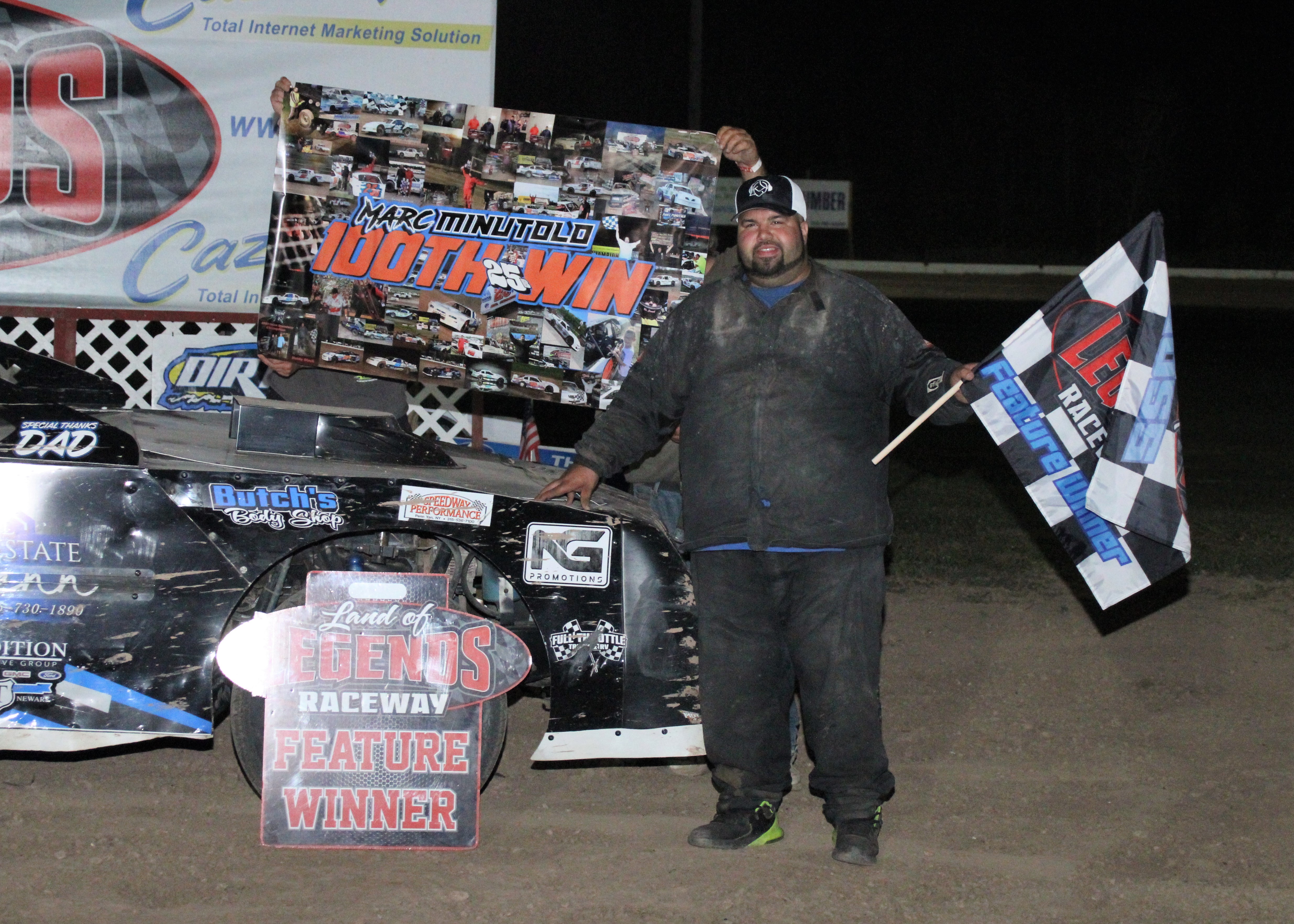 Shawn Greene Photo
Bad Luck Bites Britten Again, A.J. Slides To 3rd Big-Block Win At LOLRGuererri, Ruggles, Johnson, Minutolo & Liechti run away with checkers on hot summer night
Canandaigua, NY – August 6, 2022 – Tom Skibinski, Land of Legends Raceway PR
For the second straight Saturday show at Land Of Legends Raceway, the bad luck bug bit Peter Britten, forcing the popular international pilot to fall short in his bid for a second Pepsi Big-Block Modified victory of the 2022 season in Canandaigua.
Mechanical misfortune befell Britten on the final lap as July ended with a heart-breaking loss to Tim Fuller while Alan Johnson was in prime position to take advantage when a flat tire forced the high-flying 'Batman' pitside with 10 to go as August opened in the same frustrating fashion.
"Unfortunate for Britten because I think he had it won, I lost some that way too so I'll take this one," said Johnson, mirroring the post-race remarks made by Fuller two weekends earlier. "I think Britten pretty much had us covered but once he lost that tire it was anybody's race."
The first 'Saturday Spectacular' of the month at the racey Ontario County oval was more forgiving for a handful of drivers that returned to victory lane as Auction Direct, DisBatch Brewing Company and Admar presented the big six-star card.
Carl Johnson (no relation) matched Alan with his third triumph in the Eldredge & Sons Scrap Recycling Street Stock final, his second straight in the full-fender ranks, while defending Mike Emhof Motorsports 305 Sprint Car points champion Darryl Ruggles scored a track-high fourth win in the SuperGen Products with Champion Power Equipment CRSA Sprint Car Series A-Main.
Both logging their second wins of the season, Frank Guererri Jr. copped the Speed Connection Sportsman feature while Marc Minutolo claimed top honors in the Lloyd's Contracting Hobby Stock finale, making career win #100 around the dirt circuit for the second-generation wheelman.
Justin Liechti closed out the program with his third MighTea Boba New Legends Sportsman victory in LOLR's entry-level open-wheel division.
While second-year Big-Block chauffeur Garrison Krentz opened up a comfortable lead in the early stages of the 30-lap Modified main, Johnson was methodically maneuvering his way toward the front from his 10th starting position. Rookie pole-sitter Ricky Newton lasted only 10 laps before slowing down the back chute to incur the first caution with Johnson riding sixth and ready to refire under green.
The lap 12 restart was just what Justin Wright was looking for as the Piffard pilot charged around Krentz through turns one and two to lead his first laps of the season. Torrey Stoughtenger looped his mount in turn four to slow the action on lap 15, with 13th starting Britten running wild to factor in fourth at the midway mark.
Britten wasted little time blasting into the lead on lap 19, and when Krentz' mount broke exiting turn two, Johnson found himself third when the yellow flag dropped. Britten appeared in command back under green, but in less than a half-mile that all changed as his no. 21A Pepsi-Ryder Racing/Bicknell entry suddenly slowed when a right-rear tire went soft circling turns three and four.
Wright moved to the point on lap 21 followed by Johnson with fast-closing Tim Fuller and defending track champ Justin Haers ready to pounce. In a wide-open three-wide rush with a half-dozen to go, Johnson edged under Wright at the line then slid up high in turn two to slam the door on Wright and forge the final lead change.
Haers grabbed second on lap 26 while Fuller overtook Wright for third two circuits later, yet there was no catching Canandaigua's all-time winner steering Mark Spoor's #14J Friendly Ford-Cargill-Conley Farms-MCS Farms & Feed/Bicknell ride on this night. The Middlesex marvel authored a convincing eight car-length victory while returning veteran Pat Ward stole fourth from Wright to complete the final top-5.
Britten replaced the right rear shoe and returned to finish 10th on the lead lap.
"Exciting, track was super racey out there tonight," remarked Johnson, on the heels of career feature win #130 at Canandaigua, with 128 registered in Big-Block competition. "This car couldn't have been much better I don't think."
"The track was just multi-groove, don't think it changed much during the race at all really. A little slick coming off the top side of (turn) four but other than that a lot of grip pretty much everywhere. (Winning) gets more exciting these days, you never know if its going to be your last one, you just stay at it. Mark keeps this thing going, its not easy and he does it by himself, mostly have to thank him," added Johnson, following his third win of the '22 campaign at the fairgrounds, keeping him third in points behind only Haers and Britten.
The 25-lap Sportsman finale boiled down to a battle among the Guererri gang with Central New Yorkers Zach Sobotka and Tyler Corcoran ultimately crashing the family reunion under the checkers waved by chief starter Tyler Groescup.
Frank stormed around Nick Guererri on lap 12 then staved off every challenge from runner-up Sobotka with division points leader Corcoran having the best view in the house holding on to third at the line. Nick, two-time reigning points king Matt Guererri and all-time LOLR Sportsman winner Paul Guererri crossed the line next.
"Man, my cousin Nick was checked out there in the beginning, didn't think my car was that good," divulged Guererri, now with four wins at Canandaigua while Paul (45), Matt (16) and Nick (11) rank among the best all-time in Ontario Co. "Just kept searching, I knew in (turns) three and four you had to be glued to them tires down there and I was bound and determined to figure something out in one and two. Thought I was gonna sink like a rock but those restarts helped me. Just drove this thing and was as aggressive as I could be and here we are."
Brandon Grover out-dragged front row partner J.T. Sperring to gain an early advantage yet that was short-lived as fifth starting Nick Guererri rocketed from third to first in a lap four flurry hugging the inside lane. Beginning alongside his cousin outside row three, Frank moved into second the next time around while 14th-place starter Sobotka cracked the front-five with six complete.
After dicing with Sobotka for fourth, young Kasey Coffey spun low in turn two to require the first yellow flag on lap 12. A turn one incident triggered by Dalton Martin glancing off a uke tire collected Ryan Shanahan and Tony Velez for a second slowdown while Sperring and Grover initiated a third caution after both mounts slid high off the track rounding turn one.
Frank was quick on the gas to overtake Nick on the final restart, with Sobotka securing second just as fast. The last half of the race ran non-stop and despite Sobotka staying close as the laps dwindled, still came up three car-lengths shy of the #113jr. Wally's Auto Group-Precision Automotive & Fabrication-NG Promotions/Bicknell machine in his bid for win number one on the season.
"Sobotka runs the top so if you're gonna beat him you gotta be up there," figured Guererri, after the Seneca Falls driver won the closest feature of the night. "Last week I ran the top and made a mistake. I knew tonight I couldn't make that mistake and it was gonna take everything I had to hold those guys off. Have to thank Wally Darwish and my cousin Nick, they provide plenty of support."
Featuring all top-10 teams in the current point standings, a return appearance by the CRSA series stars did little to rattle Canandaigua's local crop as Ruggles, Trevor Years and Jason Whipple sandwiched race runner-up Kyle Pierce in the 20-lap main event.
Hopewell hero Ruggles sprinted from fourth to first on the initial circuit then salvaged a tidy five car-length victory over Pierce to collect the $1,000 top prize.
"We worked our tail off all week long so I have to thank everybody that works on this car," said Ruggles, following his fifth career CRSA series win at LOLR to push his all-time track-best total to 46. His second tour triumph of the season gives him 11 on the CRSA circuit since 2014. "And there are so many people that help sponsor us. This win is for them."
Ethan Gray slid high off the track exiting turn two the second time around to require a lengthy caution period yet back under green Ruggles made his intentions clear. Falling in seventh on the 20-car starting grid, Pierce had his own agenda, pulling into second five laps with down and hoping to contest for his first win upstate.
Yet even after John Cunningham coasted to a stop on lap 13 to bring the third and final yellow, there was no catching the #48jr. Stirling Lubricants-Champion Oil-Eldredge & Sons Scrap Recycling-VanBortel Trucking Eagle as Ruggles was on rails the remainder of the way.
CRSA point leaders Dalton Herrick (2nd) and Jordan Hutton (1st) finished fifth and sixth respectively while Frenchman Tomy Moreau, last-place starter Alysha Bay, who won the CRSA showdown at LOLR in June, Steve Glover and Southern Tier traveler Scott Landers rounded out the Top-10.
Just as Ruggles led the distance en route to his decisive winged win, Johnson was more than assertive as the Penn Yan pro also darted from fourth to first on the opening lap to lead flag-to-flag in the 10-mile Street Stock main.
While three-time race winner Josh Pangrazio rammed the outside cement retaining wall to end his night last on the scoresheet, Johnson's next biggest threat, Mike Welch, finished a straightaway behind the winning #87 Heart of Gold Veterinary Care-Zimmerman Bros. Fertilizer-84 Lumber Chevrolet Monte Carlo in the most dominating performance of the night.
"Been an incredible season for us, certainly have to thank all the sponsors, and especially Rick for putting in all the time with car maintenance," noted Johnson, who still trails Welch in the standings with three point shows on the docket. "Tonight the car was working real well high in one and two and much better low in three and four. Track seemed to have some bite in it inside and outside, as far as the grooves I was running were pretty good.
"There's a slick spot coming out of turn two, had to make sure to miss that, either run high or low. Was slick in three and four, especially in the middle. Just kinda pick your line and hopefully find something that's pretty quick," Johnson added.
Johnson was quick all night, although the same couldn't be said the same about hard luck driver Minutolo in his first feature of the night. Frontstretch contact on lap three ripped off the front piece from his #25B Monte Carlo before a trailing arm bracket broke to send him pitside for the remainder before half the race was done.
While Welch settled for second-place to retain his big points lead, Rick Crego was the unofficial 'hard charger' in the race after starting last (16th) and improving to third. Adam DePuy and Parker Smith filled out the final front-five.
Minutolo's misfortune in the Street Stock feature did a 360-degree turnaround in the 15-lap Hobby Stock finale, as the Newark mainstay inherited the lead when Tyler Burnell broke a $30 lower ball joint with six complete and then out-distanced Frank 'Bubba' Burnell to garner the milestone victory.
"Its been 15 years of working our butts off," beamed Minutolo, with 62 of his stock car wins posted at LOLR and the remainder shared between Outlaw (35), Weedsport (2) and Fulton speedways. "After that first run tonight I didn't know if we should just load up everything and go home, but it was an awesome rebound and I'm super glad to be here."
Second-generation driver Burnell led from the outset until suffering mechanical woes just shy of the halfway point. Before that, a pair of cautions for Craig Dingy and a rare red flag when Jon Almekinder had a driveshaft break to send his no. 17A Monte Carlo upside down out of turn three kept the field intact.
The second half of the race ran off caution-free with Minutolo's black no. 25B Real Estate By Jenn-Tradition Automotive-Big Mike's Auto Repair Chevrolet Camaro building up a half-straightaway lead at the finish. With long-time division points leader Wayne Ellison reportedly selling out for the season, the elder Burnell placed second to establish a comfortable perch atop the standings.
Trading in Casey Wagner's red no. 43 entry for a ride in Shawn Lloyd's blue #86L car on this night, Alex Trautman finished third ahead of Blane Smith and Jamie Eldredge Jr., who climbed aboard Ellison's re-numbered 17jr. Monte Carlo.
Liechti proved no match for his closest pursuers in the curfew-shortened 10-lap Legends race, leading the entire distance with his #57 OMI Racing/Bicknell mount.
"Honestly, never got my car to work on the bottom side like that before, finally worked out for me so it felt great," the Newark rookie revealed after another successful outing. "Never ran the bottom like that before and really stuck to it. Been stuck up top because my car wouldn't turn to the bottom like I wanted it to so it worked out tonight."
Behr Grover finished second in just his second show at LOLR while Kennedy Payne and Angel Sperring came next.
SUMMERFAST '22 SPEEDING AHEAD
The countdown continues as the debut of the Super DIRTcar Series SummerFAST is now less than two weeks away with one of the biggest mid-week motorsports events in the Northeast on tap Aug. 15-18.
After rain showers and severe weather warnings forced officials to postpone the Hall of Fame 100 series stop at Weedsport Speedway on July 24, 'The Port' will now kick off the inaugural SDS speedfest on Mon. Aug. 15.
Leading up to NASCAR Watkins Glen Int'l Cup Weekend, the premier series for Big-Block Modifieds will run four consecutive races during the week; in Central New York at Weedsport then Brewerton Speedway on Tue. Aug. 16 and Fulton Speedway on Wed. Aug. 17 before traveling west to Canandaigua and the Land Of Legends for the fourth and final leg on Thr. Aug. 18.
Providing an early teaser of week-long racing before the 50th NAPA Auto Parts Super DIRT Week (Oct. 3-9) arrives at Oswego Speedway, Weedsport's rescheduled 100-lap HoF Classic boasts a $10,000 top prize while each of the three 60-lap feature races that follow pay $7,500 to win.
The upcoming August invasion marks the Super DIRTcar Series second trip to LOLR this year, with Max McLaughlin capturing his first career points-paying tour win in the June thriller over Justin Haers, current SDS points leader Matt Sheppard, Erick Rudolph and Stewart Friesen.
LEGEND LEDGER
The second 'Saturday Spectacular' of the month hits the track August 13th with Land Of Legends Raceway staging another 'Big 6' program headlined by the mighty Pepsi Big-Block Modifieds. Speed Connection Sportsman, Mike Emhof Motorsports 305 Sprint Car, Eldredge & Sons Scrap Recycling Street Stock, Lloyd's Contracting Hobby Stock and MighTea Boba New Legends Sportsman divisions fill the summer slate on Geneva Club Beverage / Ballard Sports Night that includes the fourth Wall of Fame induction of 2022, showcasing the career in Canandaigua for long-time fairgrounds frontrunner Gary Tomkins.
Practice sessions kick off on-track activity at 5:30pm and heat race qualifiers go green at 6:30pm. Pit gates open at 3:30pm and spectators gain admittance into the main grandstands at 5 o'clock. The annual Power Wheels Races for kids highlight the weekend program that carries fans and racers midway through the month.
Land of Legends Raceway Event Summary – August 6, 2022Auction Direct / DisBatch Brewing / Admar present Saturday SpectacularPepsi Big-Block Modified
*Feature (30 laps): 1. 14j-Alan Johnson ($2,000), 2. 3-Justin Haers, 3. 19-Tim Fuller, 4. 42p-Pat Ward, 5. 19w-Justin Wright, 6. 23c-Kyle Coffey, 7. 7z-Zach Payne, 8. 21-Derrick Podsiadlo, 9. 34-Kevin Root, 10. 21a-Peter Britten, 11. 17-Marcus Dinkins, 12. 22g-Gil Tegg Jr., 13. 88-Dave Allen, 14. 27jr-Daniel Johnson Jr., 15. 55j-Loren Lincoln, 16. 7s-Torrey Stoughtenger, 17. 56-Garrison Krentz, 18. 70a-Alex Payne, 19. 29ny-Greg Birosh, 20. 11n-Rick Newton, 21. 56a-Troy Sperring, 27j-Danny Johnson(DNS).
Heats (8 laps)
#1: Coffey, Wright, Ward, Tegg, Newton, Lincoln, D.Johnson, Sperring(DNS).
#2: Krentz, A.Johnson, Haers, Root, D.Johnson Jr., Birosh, Allen.
#3: Fuller, A.Payne, Britten, Podsiadlo, Z.Payne, Stoughtenger, Dinkins.
Speed Connection Sportsman Modified
*Feature (25 laps): 1. 113jr.-Frank Guererri Jr. ($750), 2. 38-Zach Sobotka, 3. 64-Tyler Corcoran, 4. 25g-Nick Guererri, 5. 12g-Matt Guererri, 6. 7-Paul Guererri, 7. 30-Nick Root, 8. 35-Nick Cooper, 9. 31-Kane Bristol, 10. 18h-Justin Henderson, 11. 36-Jimmy Grant, 12. 32rs-Ryan Shanahan, 13. 9-Tim Baker, 14. 32c-Kasey Coffey, 15. 7j-JT Sperring, 16. 28-Mark Potter, 17. 04-Eric Years, 18. 02-Ken Welty, 19. 36b-Brandon Grover, 20. 132-Dalton Martin, 21. 10-Karl Comfort, 22. 21v-Tony Velez.
Heats (8 laps)
#1: Grover, P.Guererri, Cooper, Sobotka, Sperring, Root, Years, Welty.
#2: Coffey, M.Guererri, N.Guererri, Bristol, Shanahan, Velez, Henderson.
#3: Martin, Baker, Corcoran, F.Guererri, Comfort, Grant, Potter.
SuperGen Products with Champion Power Equipment CRSA Sprint Car Series
*Feature (20 laps): 1. 48jr.-Darryl Ruggles ($1,000), 2. 9k-Kyle Pierce, 3. 13t-Trevor Years, 4. 38-Jason Whipple, 5. 29-Dalton Herrick, 6. 66-Jordan Hutton, 7. 22-Tomy Moreau, 8. 48a-Alysha Bay, 9. 121-Steve Glover, 10. 33-Scott Landers, 11. 25w-Dana Wagner, 12. 28-Ronnie Greek, 13. 18c-Dan Craun, 14. 2-Randy Years, 15. 14-James Layton, 16. 7w-Calvin Wheelock, 17. j27-John Cunningham, 18. 10j-Johnny Kolosek, 19. 17e-Ethan Gray, 20. 1Q-Thomas Radivoy, 29t-Tori Kaplin(DNS), 23-John Smith(DNS), 53-Bobby Parrow(DNS).
Heats (8 laps)
#1: Ruggles, Greek, Craun, Cunningham, Layton, Kolosek, Kaplin, Smith.
#2: T.Years, Pierce, Hutton, Moreau, Herrick, Wagner, Landers, Parrow(DNS).
#3: Whipple, Glover, Gray, Bay, Radivoy, Wheelock, R.Years.
Eldredge & Sons Scrap Recycling Street Stock
*Feature (20 laps): 1. 87-Carl Johnson, 2. 00-Mike Welch, 3. 5c-Rick Crego, 4. 99-Adam DePuy, 5. 55p-Parker Smith, 6. 93-Jared Hill, 7. 57j-Nick Dandino, 8. 122-Chris Beyea, 9. 9-Aksel Jensen, 10. 39-Ely Mangiarelli, 11. 63-Mike Fellows, 12. 3-Patrick Hobbs, 13. 18-Jeff Almekinder, 14. 25b-Marc Minutolo, 15. 74-Ronald "Bundy" Metcalf, 16. 7-Josh Pangrazio.
Heats (6 laps)
#1: Johnson, Smith, Pangrazio, Hill, Dandino, Metcalf, Fellows, Hobbs.
#2: Minutolo, Welch, Mangiarelli, Beyea, Almekinder, Jensen, DePuy, Crego(DNS).
Lloyd's Contracting Hobby Stock
*Feature (15 laps): 1. 25b-Marc Minutolo, 2. 57b-Frank 'Bubba' Burnell Jr., 3. 86L-Alex Trautman, 4. 55b-Blane Smith, 5. 17jr.-Jamie Eldredge Jr., 6. 25j-Justin Eldredge, 7. 22-Craig Dingy, 8. 88-Justin Jacoby, 9. 57jr.-Tyler Burnell, 10. 17a-Jon Almekinder.
Heat (6 laps)
#1: Ju.Eldredge, Ja.Eldredge, Minutolo, F.Burnell, T.Burnell, Trautman, Almekinder, Dingy, Jacoby, Smith.
MighTea Boba New Legends Sportsman
*Feature (10 laps): 1. 57-Justin Liechti, 2. 30-Behr Grover, 3. 31k-Kennedy Payne, 4. 56a-Angel Sperring.
Heat (6 laps)
#1: Grover, Liechti, Payne, Sperring.
NEXT EVENT: Saturday Spectacular, August 13 @ 6:30pm; Geneva Club Beverage and Ballard Sports present "Prelude To SummerFAST" – Big-Block Modified/Sportsman/305 Sprint/Street Stock/Hobby Stock plus New Legends Sportsman with Farmington Victor Kiwanis Club Benefit and Wall of Fame Induction Night #4 – Gary Tomkins.