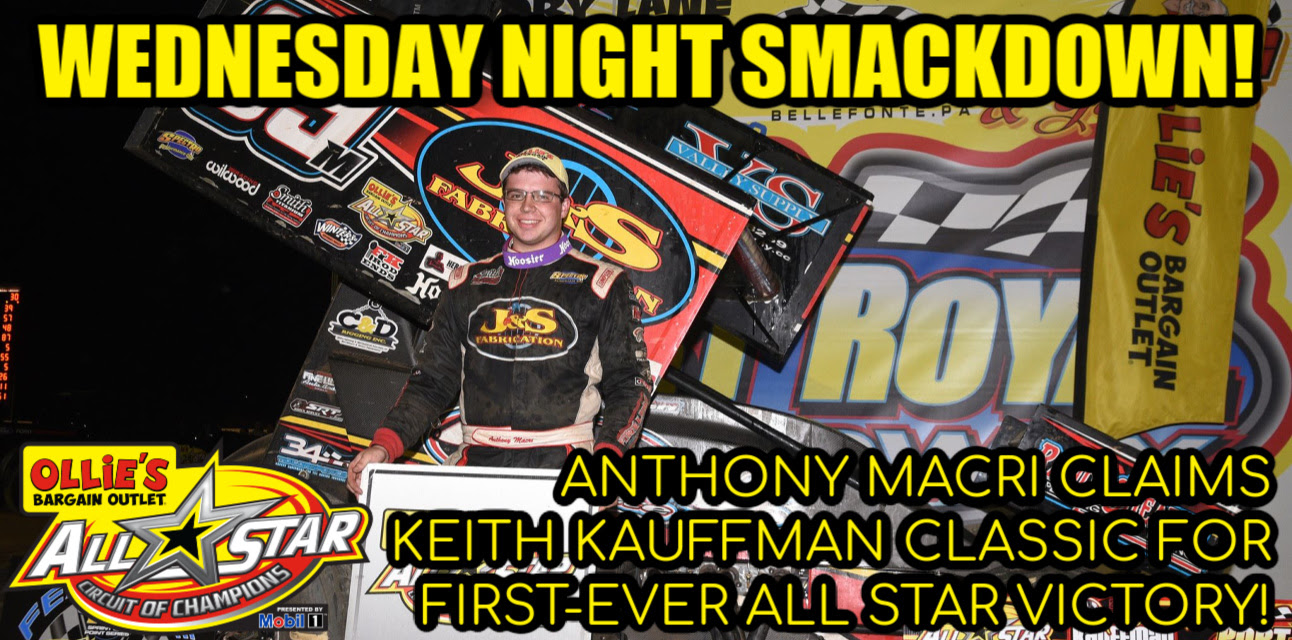 Photo Credit: Chad Warner
Anthony Macri outruns field in Port Royal's Keith Kauffman Classic for first-ever All Star victory
PORT ROYAL, Pa. (June 24, 2020) – For the first time in his young career, Dillsburg, Pennsylvania's Anthony Macri is an Ollie's Bargain Outlet All Star Circuit of Champions presented by Mobil 1 main event winner, doing so, in unbelievable form, during Port Royal Speedway's annual Keith Kauffman Classic on Wednesday, June 24. The victory, earning Macri $6,000 in the process, was accomplished in flawless fashion, eventually outrunning the entire field, including a late-charging Kyle Larson, by just under four seconds.
Macri started from the pole position and led every circuit of the 30-lap main event, navigating through waves of intense traffic with ease, and in certain periods, separated himself from the field by upwards of four lapped cars.
"I don't even know what to say," Anthony Macri said in victory lane, driver of the Macri Concrete/J&S Fabrication/No. 39M sprint car. "We threw some stuff at (the car) for the dash and we weren't even sure it was going to work, but clearly it showed that it worked in the dash. So all we did was add some fuel and let her eat in the feature."
Although imposing no threat on Macri, Kyle Larson, Danny Dietrich, Aaron Reutzel, Brent Marks, and Brock Zearfoss all battled within the top-five over the course of the Keith Kauffman contest, swapping positions on several occasions. It was not until a caution on lap 22, brought out for a slowing Zearfoss, that allowed a few of the teams to find their true finishing potential. In fact, the ensuing restart propelled Larson from fourth to second, banging the boards on the top edge of the speedway to drive around Dietrich and Reutzel on laps 24 and 25, respectively.
A final lap maneuver by Dietrich to get around Reutzel allowed the Gettysburg-native to claim third at the line, followed by Reutzel and Brent Marks.
The All Star triumph included, Macri has now won three-in-a-row at the Port Royal 'Speed Palace.'
"My team has given me a great car over the last few weeks. I could put the car wherever I wanted," Macri continued, who earned his pole position by way of dash victory; he started fifth. "I know the fast lane is normally the top of turns one and two, and it normally cleans off in turns three and four on the bottom. After about 15 laps, I pretty much killed my tires. I was actually on defensive mode for a little while just hoping they weren't going to blow by me. I was trying to push hard through traffic, but I was happy to see the yellows just so I could have some clean air. I knew I could drive the car as hard as I could.
"The month we spent out on the road this year really changed me as a driver. I came back here and I'm ready to win."
What's Next:
Diving deep into the heart of Dixie, the Ollie's Bargain Outlet All Star Circuit of Champions presented by Mobil 1 will continue their 2020 championship campaign with a doubleheader on the highbanks of Volunteer Speedway in Bulls Gap, Tennessee, on Saturday and Sunday, June 27-28. Dubbed the Food City presents the Tennessee Sprint Car Nationals, the Bulls Gap invasion will feature back-to-back $5,000-to-win main events, also awarding points toward the season-ending championship purse.
Although the Tennessee Sprint Car Nationals visit will be a first during Tony Stewart's tenure as owner of the All Stars, it is certainly not the first stop in Series history, most recently invading the northern Tennessee facility on March 19-20, 2010, with Joey Saldana and Jason Meyers each earning feature wins.
Online Coverage:
Each and every event on the 2020 Ollie's Bargain Outlet All Star Circuit of Champions presented by Mobil 1 schedule will be broadcast live exclusively at www.floracing.com. To access live and on-demand racing action from the All Star Circuit of Champions, visit www.floracing.com and become an annual PRO subscriber. The subscription unlocks access to premium content across the entire FloSports network. Watch the events across all screens by downloading the FloSports app on iOS, Android, Apple TV, Roku, Amazon Fire and Chromecast. To check out exclusive content, visit https://bit.ly/2XR863e.
Contingency Awards/Results: Port Royal Speedway – June 24, 2020:Event: Keith Kauffman Classic
Entries: 35
C&R Racing Warm-Ups: Aaron Reutzel – 17.789Lincoln Electric Fast Qualifier: Brock Zearfoss – 16.531Ford Performance Heat #1 Winner: Mike WagnerAll Pro Aluminum Cylinder Heads Heat #2 Winner: TJ StuttsHunt Brothers Pizza Heat #3 Winner: Brent MarksMobil 1 Heat #4 Winner: Tyler ReeserKear's Speed Shop Dash #1 Winner: Anthony MacriKear's Speed Shop Dash #2 Winner: Brock ZearfossClassic Ink USA Screenprinting & Embroidery B-Main Winner: Tony Stewart
Rayce Rudeen Foundation First Non-Transfer: Jared EshOllie's Bargain Outlet A-Main Winner: Anthony MacriHercules Tire A-Main Hard Charger: Dylan Cisney (+9)
Qualifying
Group (A)1. 3Z-Brock Zearfoss, 16.531; 2. 26-Cory Eliason, 16.815; 3. 11-Zeb Wise, 16.951; 4. 55-Mike Wagner, 16.967; 5. 5c-Dylan Cisney, 17.012; 6. 13-Paul McMahan, 17.117; 7. 33-Jared Esh, 17.256; 8. 99-Skylar Gee, 17.283; 9. 70-Sye Lynch, 18.168
Group (B)1. 48-Danny Dietrich, 16.773; 2. 14-Tony Stewart, 16.875; 3. 11T-TJ Stutts, 16.888; 4. 2-AJ Flick, 16.990; 5. 91-Tony Fiore, 17.100; 6. 51-Freddie Rahmer, 17.168; 7. 10-Paulie Colagiovanni, 17.495; 8. 12-Blane Heimbach, 17.664; 9. W20-Greg Wilson, 18.395
Group (C)1. 87-Aaron Reutzel, 16.632; 2. 39M-Anthony Macri, 16.680; 3. 5-Brent Marks, 16.777; 4. 1-Logan Wagner, 16.871; 5. 20-Ryan Taylor, 17.252; 6. 39-Cale Thomas, 17.305; 7. 98-Kyle Reinhardt, 17.371; 8. 57J-Jeff MIller, 17.417; 9. 47K-Kody Lehman, 17.622
Group (D)1. 17-Josh Baughman, 16.628; 2. 57-Kyle Larson, 16.680; 3. 24-Rico Abreu, 16.822; 4. 35-Tyler Reeser, 17.165; 5. 24w-Lucas Wolfe, 17.271; 6. 12B-Robert Ballou, 17.331; 7. O7-Gerard McIntyre, 17.362; 8. 25-Tyler Bear, 17.397
Heat #1 – Group (A) (8 Laps) – Top 5 Transfer1. 55-Mike Wagner [1]; 2. 26-Cory Eliason [3]; 3. 11-Zeb Wise [2]; 4. 5C-Dylan Cisney [5]; 5. 3Z-Brock Zearfoss [4]; 6. 33-Jared Esh [7]; 7. 13-Paul McMahan [6]; 8. 99-Skylar Gee [8]; 9. 70-Sye Lynch [9]
Heat #2 – Group (B) (8 Laps) – Top 5 Transfer1. 11T-TJ Stutts [2]; 2. 48-Danny Dietrich [4]; 3. 2-AJ Flick [1]; 4. 51-Freddie Rahmer [6]; 5. 12-Blane Heimbach [8]; 6. 14-Tony Stewart [3]; 7. 10-Paulie Colagiovanni [7]; 8. W20-Greg Wilson [9]; 9. 91-Tony Fiore [5]
Heat #3 – Group (C) (8 Laps) – Top 5 Transfer1. 5-Brent Marks [2]; 2. 87-Aaron Reutzel [4]; 3. 39M-Anthony Macri [3]; 4. 1-Logan Wagner [1]; 5. 39-Cale Thomas [6]; 6. 20-Ryan Taylor [5]; 7. 98-Kyle Reinhardt [7]; 8. 47K-Kody Lehman [9]; 9. 57J-Jeff MIller [8]
Heat #4 – Group (D) (8 Laps) – Top 5 Transfer1. 35-Tyler Reeser [1]; 2. 57-Kyle Larson [3]; 3. 24-Rico Abreu [2]; 4. 17-Josh Baughman [4]; 5. O7-Gerard McIntyre [7]; 6. 24W-Lucas Wolfe [5]; 7. 25-Tyler Bear [8]; 8. 12B-Robert Ballou [6]
Dash #1 (4 Laps)1. 39M-Anthony Macri [5]; 2. 87-Aaron Reutzel [1]; 3. 48-Danny Dietrich [2]; 4. 55-Mike Wagner [3]; 5. 11T-TJ Stutts [4]
Dash #2 (4 Laps)1. 3Z-Brock Zearfoss [1]; 2. 57-Kyle Larson [2]; 3. 5-Brent Marks [3]; 4. 35-Tyler Reeser [4]; 5. 17-Josh Baughman [5]
B-Main (12 Laps) – Top 4 Transfer1. 14-Tony Stewart [1]; 2. 91-Tony Fiore [2]; 3. 98-Kyle Reinhardt [7]; 4. 20-Ryan Taylor [3]; 5. 33-Jared Esh [4]; 6. 25-Tyler Bear [8]; 7. 24W-Lucas Wolfe [5]; 8. W20-Greg Wilson [13]; 9. 10-Paulie Colagiovanni [9]; 10. 13-Paul McMahan [6]; 11. 57J-Jeff MIller [14]; 12. 99-Skylar Gee [10]; 13. 12B-Robert Ballou [11]; 14. 70-Sye Lynch [15]; 15. 47K-Kody Lehman [12]
A-Main (30 Laps)1. 39M-Anthony Macri [1]; 2. 57-Kyle Larson [4]; 3. 48-Danny Dietrich [5]; 4. 87-Aaron Reutzel [3]; 5. 5-Brent Marks [6]; 6. 55-Mike Wagner [7]; 7. 5C-Dylan Cisney [16]; 8. 26-Cory Eliason [11]; 9. 11T-TJ Stutts [9]; 10. 51-Freddie Rahmer [17]; 11. 35-Tyler Reeser [8]; 12. 1-Logan Wagner [15]; 13. 11-Zeb Wise [13]; 14. 17-Josh Baughman [10]; 15. 39-Cale Thomas [18]; 16. 14-Tony Stewart [21]; 17. 12-Blane Heimbach [20]; 18. 2-AJ Flick [14]; 19. 98-Kyle Reinhardt [23]; 20. 20-Ryan Taylor [24]; 21. 13-Paul McMahan [25]; 22. 3Z-Brock Zearfoss [2]; 23. 24-Rico Abreu [12]; 24. 91-Tony Fiore [22]; 25. 25-Tyler Bear [27]; 26. 57J-Jeff MIller [28]; 27. O7-Gerard McIntyre [19]; 28. 70-Sye Lynch [26]
Lap Leaders: Anthony Macri (1-30)
2020 All Star Circuit of Champions Driver Standings: (As of June 24, 2020)
1. Aaron Reutzel – 1736
2. Cory Eliason – 1688
3. Danny Dietrich – 16784. Zeb Wise – 1648
5. Brock Zearfoss – 1632
6. Paul McMahan – 1590
7. Tony Stewart – 1560
8. Josh Baughman – 1500
9. Greg Wilson – 1494
10. Skylar Gee – 1486
2020 All Star Circuit of Champions Winners:Volusia Speedway Park, Fla. (2/5/2020): Brad SweetVolusia Speedway Park, Fla. (2/6/2020): Aaron ReutzelEast Bay Raceway Park, Fla. (2/10/2020): Aaron Reutzel (2)East Bay Raceway Park, Fla. (2/11/2020): Kyle LarsonPark Jefferson International Speedway, S.D. (5/29/2020): Aaron Reutzel (3)Park Jefferson International Speedway, S.D. (5/30/2020): Austin McCarlRed Dirt Raceway, Okla. (6/5/2020): Aaron Reutzel (4)81 Speedway, Kan. (6/7/2020): Kyle Larson (2)Lawton Speedway, Okla. (6/8/2020): Kyle Larson (3)Devil's Bowl Speedway, Texas (6/10/2020): Kyle Larson (4)Southern Oklahoma Speedway, Okla. (6/11/2020): Brock ZearfossMonarch Motor Speedway, Texas (6/12/2020): Danny DietrichLonestar Speedway, Texas (6/13/2020): Aaron Reutzel (5)Chatham Speedway, Louisiana (6/14/2020): Dominic ScelziPort Royal Speedway, Pa. (6/24/2020): Anthony Macri
Contact: Tyler Altmeyer
Ollie's Bargain Outlet All Star Circuit of Champions presented by Mobil 1
(724) 954-4915, pr@tonystewart.com