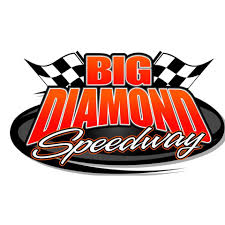 For Immediate Release
Big Diamond PR 7/13/20
Track Promoters – Jake and Jasmine Smulley
Track Website – www.bigdspeedway.net
After suffering our first rainout of the season this past Friday, Big Diamond Speedway will roar back to action on Friday July 17th with the roaring 20's as the night's theme on Insigner Performance night.
Insigner Performance is a proud sponsor of Big Diamond Speedway along with the title sponsor of the 358 Modified division. This Friday night the Insigner Performance modifeds will run in a pair of Twin 20-lap feature events with $2,000 going to the winner of each race. Twin 20's are always crowd pleasers as the racers typically throw patience out of the window trying to get to the front. Twin 20's are also known to present new and uncommon winners with the shorter distance. Craig Von Dohren is your current point leader in the modifieds followed closely by Jeff Strunk, Mike Gular and Billy Pauch Jr. Look for opening night winner Jared Umbenhauer to return with the Mike and Jen Harvery No. 1H after his hard tumble two weeks ago.
Continuing the 20-lap theme for the evening will be the USS Achey Open Sportsman along with the Red White and Blue Autos Roadrunner divisions. The Open Sportsman division has been extremely competitive all season long with three different winners in three events. Brad Brightbill, Glenn Rowan and Brandon Edgar have each won a race in 2020 and all will be looking to be the first to repeat. Brightbill is the current points leader in the Open Sportsman over David Burns and Edgar.
It will be a sportsman double header this Friday night when the Savage 61 Crate 602 Sportsman will also be in competition running their own separate program. The Crate 602 Sportsman have only had one feature event this season with Cody Manmiller bringing home the checkered flag.
The division that has provided the most action in 2020, week in and week out is the Red White and Blue Autos Roadrunner division. The roadrunners feature has dazzled the fans each week and look for much of the same this week. Just like in the other weekly division, there still has not been a repeat winner this season. Alex Schoffstall is the current Roadrunner division points leader without the benefit of winning a feature this season.
Gates will open this Friday at 5:30pm with warm-ups getting underway at 7:15pm. Racing will begin at 7:45pm.
General admission for this Friday night is $25, Senior admission is $23.
Kids 16 and under are FREE for this Friday. Active Military with valid ID are FREE.
If you cannot make it to the track on Friday, you can purchase the Pay-Per-View at Dirttrackdigest.tv.
*Note – In an effort to make up for lost races earlier this year, the Insigner Performance Sunoco Modifieds have been added to the schedule on July 24th and August 14th.
For more information on the upcoming 2020 season, please visit the Big Diamond Speedway website at www.bigdspeedway.net