Pauch Racing Weekly Recap
Story By: MANDEE PAUCH / MEDIA RELATIONS
Photos By: RACERSGUIDE.COM PHOTO STAFF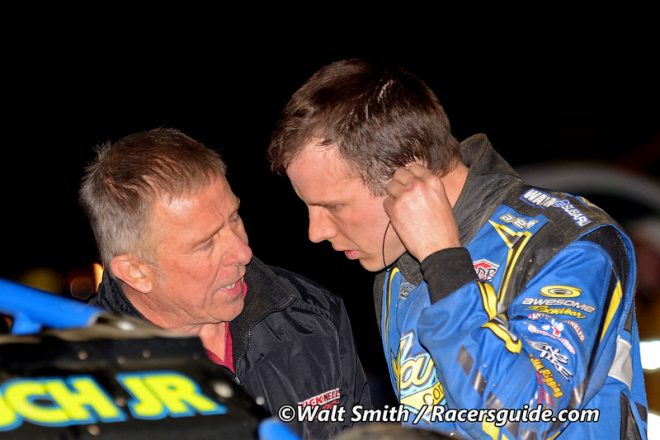 Freehold NJ.- June 6, 2017- Billy Pauch Jr. picked up two victories last week in the No.X Micro Sprint at Action Track USA and the No.96 Modified at New Egypt Speedway.
The race week kicked off Wednesday night for Pauch Jr. at Action Track USA in the SpeedSTR and 600 micro sprint.
Jr. locked into the main event by timing second fastest in time trials.
Jr. started on the inside of the sixth row for the thirty-lap main event. "We weren't really able to pick the right lines," Jr. said. "We had a great battle with James Morris. Overall we had a good night."
Jr. crossed the line in third in the No.27 SpeedSTR.
In the micro sprint heat race Jr. finished second from his fourth-place starting spot.
"We started tenth and were fortunate enough to drive all the way up to third," he said about the main event. "Coming into three on the last lap the guy in second broke so we crossed the line in second. Fortunately for us the winner came up with a DQ and we were able to inherit the win."
Friday night saw Jr. at Big Diamond Speedway in the Growers Greenhouse No.15 modified.
Jr. mentioned having issues in the heat race. He started fifth and qualified fourth, missing the redraw by one spot.
"We made only four laps and got caught up in a tangle and got two flat tires." Jr. was unable to make it back out.
Jr. closed out his week at New Egypt Speedway on Saturday.
"We did just what we needed to do to qualify in the heat," Jr. said.
He qualified fifth after starting seventh.
Jr. drove through the field from his seventeenth starting spot up to second until a caution came out with a few laps remaining. "We were able to inherit the lead on the restart from Bryan Kuhl who was checked out," Jr. mentioned.
Jr. picked up his fourth victory in the No.96 modified Saturday night at New Egypt.
Pauch Sr. raced at Georgetown Speedway Friday night with his retro No.15.
Despite a J-bar getting bent in the heat race, Sr. won his heat from his eighth-place start spot.
The crew was able to fix the damage from the heat race in time for the feature.
After a top-13 redraw, Pauch Sr. rolled out in second for the 33-lap feature.
"We didn't have too bad of a car until the drive line broke on us a few laps into the feature which ended our night early."
Pauch Sr. will next be at Big Diamond Speedway Tuesday and Bridgeport Speedway on Thursday. Pauch Jr. will be at Big Diamond Speedway on Tuesday, Action Track USA Wednesday, Bridgeport Speedway on Thursday, Big Diamond Speedway on Friday and New Egypt Speedway on Saturday.
PAUCH RACING QUICK RESULTS –
Billy Pauch Sr.
June 2, 2017 – Georgetown Speedway; Heat 1 (8); Feature: DNF (2)
Billy Pauch Jr.
May 31, 2017 – Action Track USA
SpeedSTR – Feature: 3 (11)
Micro Sprint – Heat: 2 (4); Feature: 1 (10)
June 2, 2017 – Big Diamond Speedway; Heat: 4 (5); Feature: DNF (14)
June 3, 2017 – New Egypt Speedway; Heat: 5 (7); Feature: 1 (17)
PAUCH RACING SEASON STATS –
Billy Pauch Sr.
10 races – 3 top 5's, 4 top 10's
Billy Pauch Jr.
25 races – 6 wins, 14 top 5's, 19 top 10's
UP NEXT –
Billy Pauch Sr.
Tuesday, June 6 – Big Diamond Speedway
Thursday, June 8 – Bridgeport Speedway
Billy Pauch Jr.
Tuesday, June 6 – Big Diamond Speedway
Wednesday, June 7 – Action Track USA
Thursday, June 8 – Bridgeport Speedway
Friday, June 9 – Big Diamond Speedway
Saturday, June 10 – New Egypt Speedway