Is the "Old" Bristol Experiencing A Rebirth?
Story By: REID SPENCCER / NASCAR WIRE SERVICE
Photos By: GETTY IMAGES / NASCAR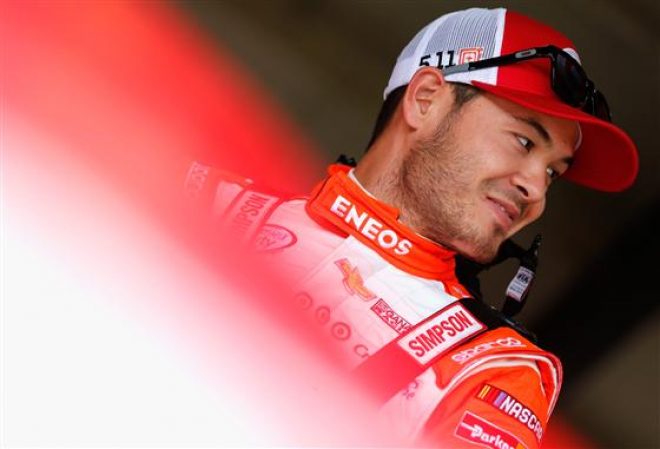 BRISTOL, Tenn. – April 23, 2017- As it turned out, Kyle Busch was prophetic when he talked about the changing character of Bristol Motor Speedway.
"I'm sure (Kyle) Larson's thrilled and he'll have to rubber in the top himself while the rest of us are rooting and gouging for the bottom," was Busch's tongue-in-cheek assessment of the racing characteristics of the .533-mile short track, where Monster Energy NASCAR Cup Series drivers will compete in the Food City 500 on Sunday (2 p.m.  ET on FOX).
Bristol is different this spring, thanks to a wider denser strip of VHT TrackBite applied to the bottom lane through both sets of turns at Thunder Valley. For the past few years, after Bristol ground the outside lane of the concrete surface in 2012, the top lane was superior after it had a chance to take on rubber.
The application of the track sealer, to a greater degree than was used for last year's Night Race in August, has flipped the equation, and drivers speculated that the bottom lane would be the faster lane on Sunday.
If that's the case, the action at Bristol would harken back to the old days, when the best way to pass a car was simply to bump it out of the way.
"I think you're going to see the bottom lane does wear off a little bit as the weekend progresses," Busch told the NASCAR Wire Service. "It looks like they did a little more here this time than they did last time, so we'll see how that transpires and what that means.
"From what I'm watching already, there's a lot of bottom going on and not a whole lot of middle or top."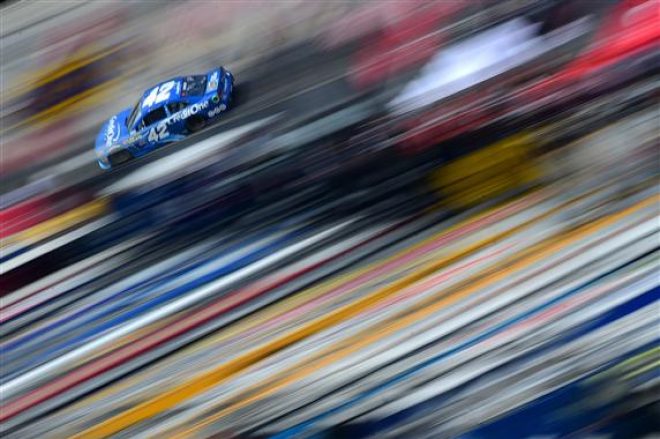 And sure enough, when cars took to the track for Saturday morning's first Monster Energy NASCAR Cup Series practice, there was Larson, the polesitter, in his No. 42 Chip Ganassi Racing Chevrolet singlehandedly trying to rubber in the top groove.
With about seven minutes left in the session, Larson spun and clipped the outside wall but the cosmetic damage to his Chevy wasn't enough to force the team to a backup car. After repairs to the sheet metal, Larson was back in action for final practice.
"I feel like it would still be really fast up there (in the top lane), it's just nobody is brave enough to go up there and work in the groove," Larson said. "The VHT is wider than the width of our race cars now, too, which makes it extremely easy to run around the bottom…
"I thought the fall race (last year), I think it was like three or four feet wide. I thought that was a good width because you could get your left sides in it, and you really had to be cautious of hitting your marks every corner.  Now it's like you just fire off from the corner and it doesn't really matter where you enter, and as long as your right sides are in the grip, you're going to rip around the corner."
After running 30 laps on the bottom during Happy Hour, Larson moved up to the top, stubbornly trying to work in the outside groove. Shortly thereafter, Ty Dillon followed into the top lane, and seven-time champion Jimmie Johnson did the same.
All told, Larson ran 59 laps in final practice, finishing 26th fastest among the 37 drivers who participated.
BRISTOL BRINGS BACK POSITIVE VIBES FOR MONTOYA
Juan Pablo Montoya got a warm welcome on his return to Bristol Motor Speedway, even if it was just to announce his sponsor for the upcoming Indianapolis 500.
Montoya will compete for Team Penske in the May spectacle with Fitzgerald Glider Kits as his sponsor, the same company that holds the entitlement for Saturday's NASCAR XFINITY Series race at Bristol.
But when asked about his first trio around BMS in a stock car, Montoya waxed nostalgic.
"I love this place," Montoya told the NASCAR Wire Service. "Because for me, the biggest problem I had with a stock car was it had no grip.  Here, with the banking, it made up a lot of grip. I always ran really well here. This was a fun place for me."
Asked whether the relationship with Penske and Fitzgerald Glider Kits might lead to a return to NASCAR racing in a one-off situation, Montoya shrugged and smiled.
"I don't know," he said. "They tell me go here, I go there. I mean they say, 'Jump,' I say 'How high?'"
In general, however, Montoya thinks cross-pollination between racing series is a good thing. In the Indy 500 he'll compete against Fernando Alonso, a rival in Formula One from 2001 through 2006.
"I think it would be nice for motorsports to do a little more of that, because it's just going to create a little more interest overall," said Montoya, who doesn't have a full-time IndyCar ride this season. "It is something that it would be nice to see all motorsports to be able to see top drivers jump from one to the other just for one race.
"I was lucky enough to be in all the top series in the world, and being able to win in all of them and everything. I've been very blessed in that point of view."
Montoya, however, wasn't immune from some good-natured ribbing that also recalled his NASCAR days. Fitzgerald Glider Kits founder Tom Fitzgerald Sr. introduced Montoya as "Mr. Jet Dryer," a reference to the driver's fiery collision with track-drying equipment under caution during the 2012 Daytona 500.
"I wasn't going to do that," quipped Fitzgerald, "but I couldn't resist."
SHORT STROKES
Joe Gibbs Racing teammates Kyle Busch and Daniel Suarez posted the fastest speeds in Happy Hour, running laps at 128.563 mph and 128.262 mph, respectively. The Hendrick Motorsports entries of Kasey Kahne, Chase Elliott and Jimmie Johnson were third, fourth and fifth. Kahne had the fastest 10-lap average at 127.482 mph…
Ricky Stenhouse Jr. clipped the outside wall during Saturday's first practice and did enough damage to the right rear that the team considered going to a backup car before opting to fix the primary No. 17 Roush Fenway Racing Ford. In the repaired car, Stenhouse was 30th fastest in final practice. "I had just been really loose and just got down in the corner, and it took off," Stenhouse said of the accident. "I thought I saved it and just got the right rear in the wall."