Polesitter Kyle Larson Among A Handful Of Practice Casualties
Story By: REID SPENCER / NASCAR WIRE SERVICE
Photos By: GETTY IMAGES / NASCAR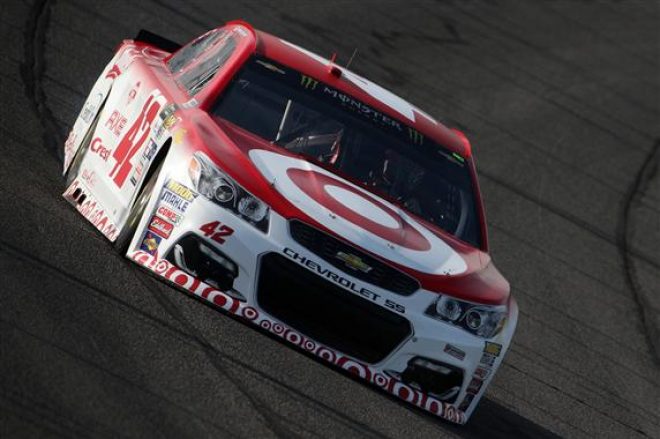 FONTANA, Calif. –March 26, 2017-  Polesitter Kyle Larson and 13th-place starter Chase Elliott both had brushes with the outside wall during Saturday's final Monster Energy NASCAR Cup Series practice at Auto Club Speedway.
The damage to the right side of Larson's No. 42 Chip Ganassi Racing Chevrolet SS was cosmetic, and in short order his team had the series leader back on track.
Elliott's issue was more serious. Shortly after he posted the fastest lap in the session at 187.480 mph, the No. 24 Chevy's contact with the wall pushed the right rear quarter panel into the rear deck lid and knocked the deck lid out of kilter.
As Final Practice ended, Elliott's Hendrick Motorsports team was evaluating possible chassis damage and trying to repair the car, but a final decision hadn't been made as to whether Elliott will have to go to a backup and lose his starting spot in Sunday's Auto Club 400 (at 3:30 p.m. ET on FOX).
"We had a part come loose on the left front, and it's obviously something that needs to be together to make laps," Elliott said of the cause of the accident. "I'm not real sure why it broke or why that happened. It was nothing fancy that we were doing. I was getting into (Turn) 3 at the time.
"I don't know if it was some sort of roughness to the race track that bounced it loose, or what. I was really happy with the NAPA Chevy throughout that run. Unfortunately, this now puts us behind. But we'll look into it and try to get this car fixed for tomorrow. We would love to keep this primary car. I don't know if we can or not. I know they'll work hard and try to get it tuned up for tomorrow."
Both Busch brothers also had issues in final practice, with Kyle spinning late in the session and Kurt brushed the wall with his No. 41 Ford Fusion late in the final minutes.
SATURDAY'S FIRST PRACTICE WAS NO PICNIC EITHER
The final 10 minutes of Saturday morning's Monster Energy NASCAR Cup Series practice at Auto Club Speedway provided unwelcomed excitement for drivers Kevin Harvick and David Ragan.
With roughly 10 minutes left in the 55-minute early-morning session, Harvick's No. 4 Stewart-Haas Racing Ford Fusion scraped the wall in Turn 4.
Harvick drove the car back to the garage, where the team began repairing the cosmetic damage to the right side to avoid going to a backup car and losing the seventh-place starting position earned in Friday's qualifying session.
With three body men at the race track, the No. 4 team had ample time to fix the damage.
Ragan wasn't as lucky. With time running out in the session, the driver of the No. 38 Front Row Motorsports Ford Fusion pounded the Turn 3 wall after cutting a tire and destroyed the race car.
Forced to use a backup, Ragan will drop from his 27th starting position to the rear of the field for the green flag in Sunday's Auto Club 400.
"We just cut a left-rear tire going down the back straightaway, and I tried to start slowing it down as quick as I could and just couldn't slow it down fast enough," Ragan said of the incident. "By the time I got to Turn 3, I was wrecking before I even got to the corner.
"It's certainly unfortunate. I felt like our Camping World Ford was pretty decent. We made a few adjustments and hadn't put new tires on yet, and I felt like our speeds hadn't fallen off a lot, so it's unfortunate."
NEW TIRE RULES COULD HAVE PROFOUND EFFECT ON SUNDAY
Second-place qualifier Denny Hamlin doesn't think tire strategy per se will play a huge role in Sunday's Auto Club 400 because drivers are likely to take four tires at every available opportunity.
However, tire allotment could play a huge role, with new rules compelling teams to work with two fewer sets than they had for last year's race.
"If there's a lot of cautions, it's going to be a factor, for sure," Hamlin told the NASCAR Wire Service. "This race track is nearly like Atlanta, where you have to take tires, (event) if you just roll around under caution. I like it for that reason. It's one of the oldest surfaces we have on our circuit. It's still a great surface to race on.
"Being that we have two less sets, we have to be mindful of it. It's tough on the crew chiefs, because you don't know when the cautions will fall. You only know when two will fall (at the ends of the first two stages). So you've got to try to plan around that if you have cautions in-between.
"My guess is, if there's a lot of cautions early, somewhere in the middle of the race you'll have to stay out on a short stint to save tires for the end."
FORMER NASCAR DIVERSITY INTERN DIRECTS XFINITY RACE
A former member of NASCAR's Diversity Internship program, Jusan Hamilton, was tapped by the sanctioning body to serve as the race director for Saturday's XFINITY Series Service King 300 at Auto Club Speedway.
Hamilton was charged with making the necessary split-second decisions regarding officiating, safety and emergency services.
"Being Race Director is similar to being the quarterback in football, "Hamilton said, "You have to know your job and the jobs of every other team member to be successful."
The 26-year old has swiftly ascended the NASCAR ranks during his nearly four-and-a-half-year tenure at the company, the majority spent as a key member of the racing operations and event management team.
With Saturday's assignment, Hamilton will become the first African-American to serve as Race Director for a national series race.
The Ithaca, New York, native's entry into racing began as a driver at dirt tracks across New York state and road courses across the East Coast. Hamilton is just one of many rising stars at NASCAR regularly appointed to race control to manage the sanctioning body's 92 national series races each year.