Newgarden Drives To Second Barber Win, First Victory With Team Penske
Story By: MITCH ROBINSON / INDYcar Seies  MEDIA
Photos By: CHRIS JONES / INDYcar SERIES PHOTO STAFF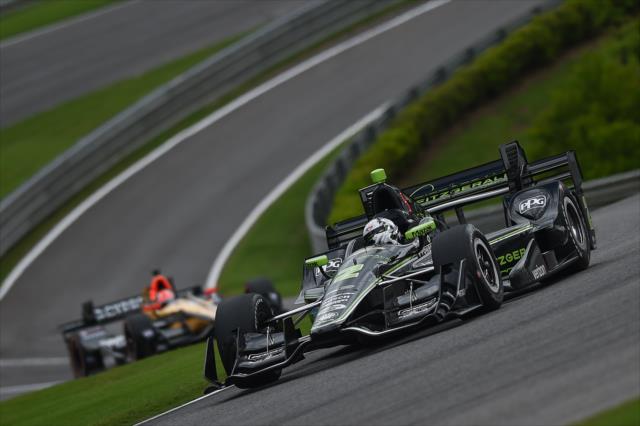 BIRMINGHAM, Alabama – April 24, 2017- It did not take long for Team Penske's newest acquisition to get comfortable. In just his third Verizon IndyCar Series race for the storied organization, Josef Newgarden claimed victory in the Honda Indy Grand Prix of Alabama presented by America's First.
The win is the fourth of Newgarden's career and his second at the 17-turn, 2.3-mile Barber Motorsports Park road course, where he scored his maiden victory in 2015 driving for CFH Racing. It is also the 188th win in the illustrious history of Team Penske.
"It's not easy to win this one," said Newgarden, who now sits third in the series points standings after three races. "Whenever you get opportunities, I think you've got to seize it. We were in a great position to do it. We had a great car this weekend.
"Happy for Roger (Penske, team owner) and the group. Be able to check that off in the box, being able to contribute, I'm really happy for the team and happy to get this result for everybody."
Newgarden (No. 2 Fitzgerald Glider Kits Team Penske Chevrolet) was handed the lead on Lap 77 when pole sitter and race leader Will Power (No. 12 Verizon Team Penske Chevrolet) was forced to pit with a deflating tire. Holding off Chip Ganassi Racing's Scott Dixon through the final laps, the Tennessean crossed the line 1.0495 seconds ahead of the Kiwi at the checkered flag.
Spencer Pigot and Charlie KimballTeam Penske teammate Simon Pagenaud (No. 1 Menards Chevrolet) rounded out the podium with Helio Castroneves (No. 3 AAA Insurance Team Penske Chevrolet) and Alexander Rossi (No. 98 Andretti Herta Autosport/Curb Honda) joining them in the top five.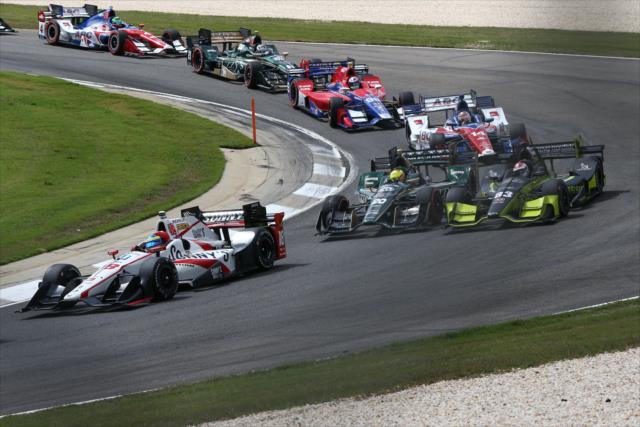 After leading 60 of the race's 90 laps, Power's late unscheduled stop relegated him to a 14th-place finish. Having started from pole at two of the season's three races, Power has yet to post a top-10 finish.
"It was such a great effort, all around," Power said of his team. "The car was so fast and I just feel bad. It's just, yeah, I don't know what to say."
After being told by his crew to pit, Power tried to convince the team he could hold onto the car despite the slow leaking tire, but he eventually felt the effects and followed the team's request.
"I could feel (the car) starting to bottom," said Power, "and then having issues in some fast corners. I tried to tell (the team) for as long as I could that it was all right. But I knew it was going down, you could feel it."
For Newgarden, winning in just his third race with the team could be classified as a surprise. Under similar circumstances, it took Pagenaud 19 races to score a win for Team Penske after joining the four-car team in 2015. Now in his sixth year overall in the Verizon IndyCar Series, Newgarden seems to be right where he wants with his new group.
"You certainly hope you can win early and win often," Newgarden said. "I think my goal was to maximize our potential, my potential, in the team as early as that could be. It's not easy integrating into a new group. It's been pretty fluid for me just because Team Penske is a very easy group to join, I find. They're very open, welcoming, there's so much information to look at, the teammates are so good, it helps you kind of get on pace pretty quick."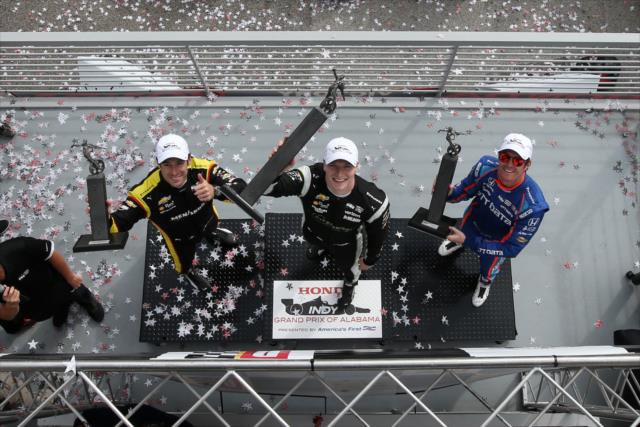 The Verizon IndyCar Series gets right back to action with the Desert Diamond West Valley Phoenix Grand Prix at Phoenix Raceway weekend April 28-29. Qualifying takes place Friday. Live race coverage under the lights begins at 9 p.m. ET Saturday on NBCSN and the Advance Auto Parts INDYCAR Radio Network.