Pennink Brings "Ole Blue" Back to Victory Lane With Thompson Win
Story By: JEFFREY PRICE / TSMP MEDIA
Photos By: RACERSGUIDE.COM PHOTO STAFF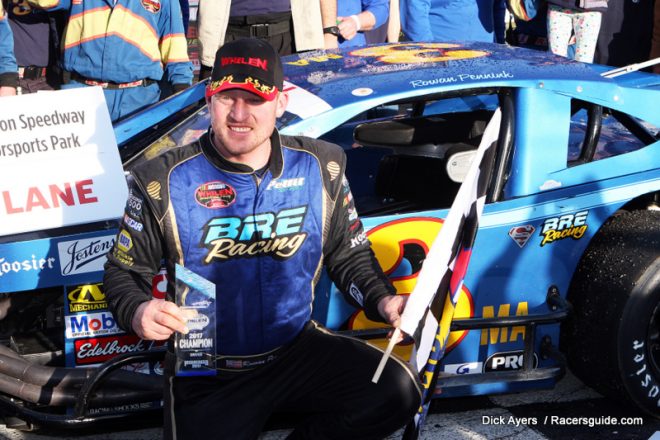 Thompson Ct.- April 10, 2017 –The newly unified NASCAR Whelen Modified Tour took center stage during day two of Icebreaker weekend at Thompson Speedway Motorsports Park with the Icebreaker 150 capping of the tracks annual opening weekend on Sunday, April 9.
Thompson served as the second stop of the Whelen Modified Tour season and after finding early success in Myrtle Beach, reigning Icebreaking winner Timmy Solomito looked to continue his strong early run in the 2017 campaign with a possible win at the Big-T. While Solomito got off to a good start on the day, capturing the pole for the 150-lap feature, it was another driver who shined with a dominating performance as Rowan Pennink took the checkered flag in the weekend's main event.
The win didn't come easy for Pennink, despite a dominating performance during the mid-portion of the race and leading the most laps. Pennink, who started fourth, wrestled the lead away from Timmy Solomito after an early caution and opened up a significant lead, but had to recover following a late race pit stop that put him in seventh after a caution with 28 laps to go. Pennink made a daring three-wide pass for the lead against Bobby Santos, but lost the top spot when a caution came out before he could complete the pass. When the green flag finally came back out Pennink left it all on the track, passing Santos for good and taking the checkered flag, his second at Thompson and his first since the World Series in October of 2013.
It was a special win for both Pennink and his team, BRE Racing whose legendary "Ole Blue" #3 car is a fan favorite on the Whelen Modified Series Tour. Pennink ended not only his own personal win drought, but also a lengthy drought for the BRE Racing team who is celebrating 60 years of racing for "Ole Blue" in 2017. After his win Pennink said it was certainly a special victory for everyone involved.
"It's unbelievable for this #3 team," Pennink said. "This team has been dying real hard for a win and they've been working hard in the shop. I'm glad we could get it done for them here. A lot of team effort went into getting this win. It's been a while for me too, but I finally got one and hopefully we have some more coming."
Pennink said he was a little surprised how dominant his car was over the course of the race. He complimented his team for giving him the equipment he needed to get the job done and bring the #3 back to victory lane. "I knew we had a good car after practice, but the way the thing got out front there and we got ourselves a comfortable lead we ran the pace we needed to run and when they put new tires on it was one of the best cars I've ever driven in my life in the final laps," said Pennink. "Hats off to all the guys on this team. They put their heart and souls into this car and I couldn't have done it without a great group of guys like them."
With a second place finish, defending Icebreaker winner Timmy Solomito continued to show strength at the Big-T and said even though his team didn't win it all, a runner-up finish felt like a win. "We had a really good car all day. We were a little bit late getting new tires, but we were able to come back through the field and we were strong all day. For a pole win for today and a second place it's pretty good," said Solomito. Max Zachem, Bobby Santos, and Patrick Emerling rounded out the top five in the final race results for the race behind Pennink and Solomito.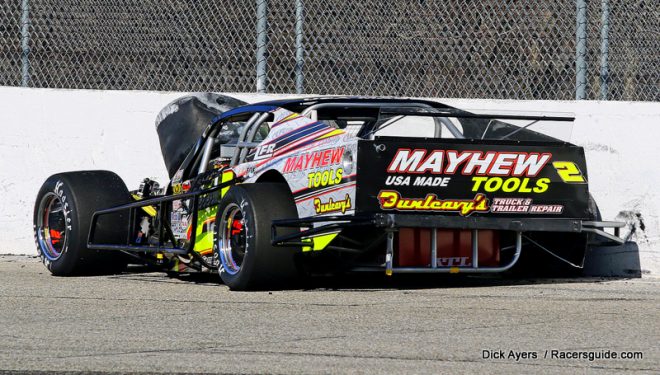 Defending Whelen Modified Tour Champion Doug Coby failed to finish the Icebreaker 150 after a wreck at the drop of the green flag caused heavy damage to Coby's car. After several cars made contact in turn one a domino effect eventually sent Coby into the backstretch wall, ending his day prematurely and leaving the 2015 Icebreaker winner frustrated.
"It's ridiculous. It's lap one of the Icebreaker and the caution is out. I heard from my spotter 'caution is out, hand up', that's three or four seconds at least after the caution is out and I'm slowing down and got hooked into the fence. I'm really disappointed for my team. We had a winning car today and the thing's junk," Coby said after the wreck. The finish continued a slow start for Coby's championship defense in 2017 after a 13th place finish at Myrtle Beach.
The Whelen Modified Tour was not the only division to provide some fireworks on the track throughout the second day of Icebreaker weekend. The Late Models provided possibly the most dramatic finish of the afternoon as reigning champion William Wall raced side by side with challenger Raymond Christian, III for most of the 25-lap feature.
The two drivers were challenged by veteran Rick Gentes and survived numerous restarts and a red flag before another caution slowed the pace in the closing laps. After getting a jump on the final restart, Wall held on to the lead until turn two of the final lap when Christian was able to drive up to Wall's back bumper, diving into turn three in an attempt to take the lead. Wall and Christian would make contact in turn four, collecting Gentes in the process and allowing Ray Parent to become the surprise winner of the race.
Parent was as shocked as everyone else that he was able to cross the finish line first and said that he may not have had the best car on the track, but luck was on his side for the Icebreaker.
"I've won a lot of races, but I've never won a race that way," said Parent. "I didn't have enough steam to pass those guys, but the car was handling pretty good – This is short track racing at it's best. I'm glad to be on the receiving end of this win today."
The Sunoco Modified series started off the second afternoon of Icebreaker activity at Thompson with Ryan Preece outracing the competition to take his first checkered flag of 2017 at Thompson in a 30-lap feature. Preece had to survive several restarts over the course of the race, fighting off the likes of defending champion Keith Rocco and Rowan Pennink in the closing laps to secure the victory. Rocco and Pennink held on for second and third place respectively.
Preece said the win is a good start for his championship hopes, but he acknowledged that if he wants to hoist the trophy at the end of the season it will take consistency and a respect for the competition.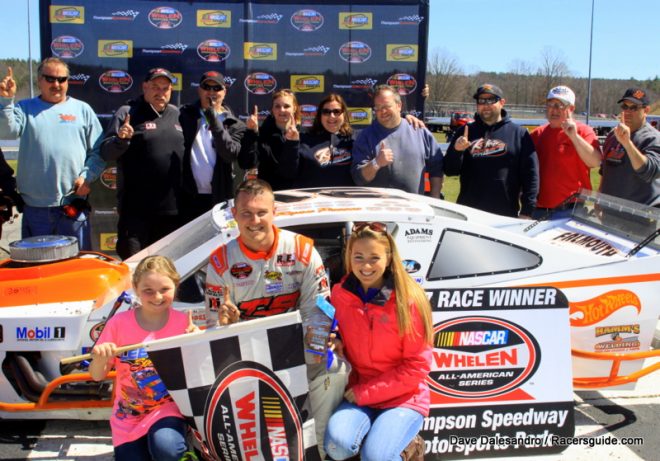 "I think towards August last year we really found our stride. We got the car to work a little better and it's carried over to this year. I'm not saying that we're going to go out and win every race, but I feel like we definitely have a car that can contend. The competition is getting a lot harder up here," said Preece.
The Pro All Stars Series also took to the track with their own 75-lap feature where restarts proved to be a difference maker for the eventual winner, Eddie MacDonald. MacDonald managed to capture the victory after losing and regaining the lead during subsequent restarts early on in the event and took the lead for good on lap 19, holding off hard charging series rookie Eddie Fatscher. MacDonald said he learned from his mistakes early in the feature to conquer the late race restarts and take his first checkered flag of the season at Thompson.
"That was incredible. It's been a long time since I've been to victory lane here in Thompson," MacDonald said in victory lane. "I wanted to stay out front as much as I could. I screwed up a little bit on that first restart and wanted to make sure that didn't happen again. I just can't thank my guys enough."
Eddie Fatscher held on to second place at the finish line and said he walked away with a satisfying effort after the conclusion of the race. "We made a few runs to beat (MacDonald), but he just had a better car," Fatscher said. "We saved a little bit there in the beginning and middle of the race. He messed up a little bit I think and we got one run to get after him, but we couldn't get it."
The remaining winners of the day were Jesse Gleason, who claimed a dominating victory in the XtraMart Limited Sportsman Series 20-lap feature, and 2015 champion Dave Trudeau who held off Eric Bourgeois to claim his first victory of the year in Thompson's Mini Stocks division. Next up for Thompson Speedway Motorsports Park is the Limited Sportsman Long Distance event on Sunday, May 21. The day will include a 30-lap XtraMart Limited Sportsman race as well as features for the Sunoco Modifieds, Late Models, Mini Stocks, and Lite Modifieds. Active military members will be admitted for free as a thank you by the track for their service.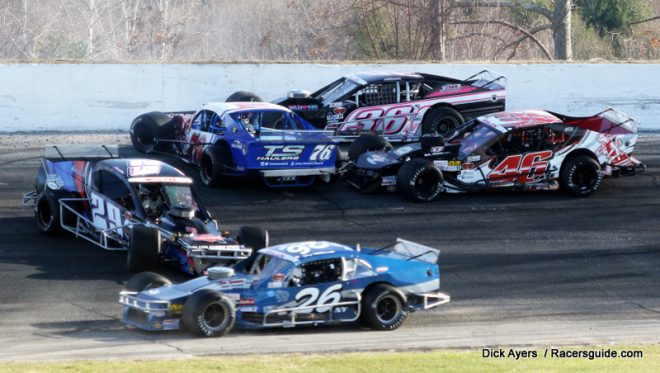 NASCAR Whelen Modified Tour Top-10: 1. Rowan Pennink (Huntingdon Valley, PA); 2. Timmy Solomito (Islip, NY); 3. Max Zachem (Preston, CT) 4. Bobby Santos (Franklin, MA); 5. Patrick Emerling (Orchard Park NY); 6. Eric Goodale (Riverhead, NY); 7. Matt Swanson (Acton, MA); 8. Woody Pitkat (Stafford, CT); 9. Justin Bonsignore (Holtsville, NY); 10. Todd Szegedy (Ridgefield, CT)
SUNOCO MODIFIED SERIES TOP-10: 1. Ryan Preece (Berlin, CT); 2. Keith Rocco (Berlin, CT); 3. Rowan Pennink (New Egypt, NJ); 4. Woody Pitkat (Sturbridge, MA); 5. Ronnie Williams (Tolland, CT); 6. Danny Cates (Chaplin, CT); 7. Adam Norton (Palmer, MA); 8. Todd Owen (Somers, CT); 9. John Studley (Framingham, MA); 10. Nick Salva (Prospect, CT)
PRO ALL STARS SERIES TOP-10: 1. Eddie MacDonald (Rowley, MA); 2. Eddie Fatscher (Long Island, NY); 3. DJ Shaw (Center Conway, NH); 4. Derek Ramstrom (Worcester, MA); 5. Derek Griffith (Hudson, NH); 6. Garrett Hall (Scarborough, ME); 7. Johnny Clark (Hallowell, ME); 8. Joey Polewarczyk (Hudson, NH); 9. Dave Farrigton, Jr. (Jay, ME); 10. Ben Rowe (Turner, ME)
Limited Sportsman Top-10: 1. Jesse Gleason (Lisbon, CT); 2. Scott Sundeen (Sutton, MA); 3. Chris Meyer (North Franklin, CT); 4. Ryan Waterman (Danielson, CT); 5. Shawn Monahan (Waterford, CT); 6. Brent Gleason (Griswold, CT); 7. Larry Barnett (Moosup, CT); 8. Phil Jacques (Dudley, MA); 9. Troy Waterman (Danielson, CT); 10. Mike Palin (Dudley, MA)
Late Model Top-10 (unofficial): 1. Ray Parent (Tiverton, RI); 2. Ryan Morgan (Pawcatuck, CT); 3. Mark Jenison (Warwick, RI); 4. Brandon Dion (Taunton, MA); 5. Nick Johnson (Rehoboth, MA); 6. Jared Materas (Westfield, MA); 7. Wait Sutcliffe (East Haven, CT); 8. John Lowinski-Loh (Millville, MA); 9. Brian Tagg (Oxford, MA); 10. Rick Gentes (Burriville, RI)
MINI STOCKS TOP-10: 1. Dave Trudeau (Mansfield, CT) 2. Eric Bourgeois (East Haddam, CT); 3. Wayne Burroughs, Jr. (Oakdale, CT); 4. Jeff Moffat, Sr. (Danielson, CT); 5. Roger Ducharme (Foster, RI); 6. Larry Loomis, Jr. (Moosup, CT); 7. Steve Michalski (Brooklyn, CT); 8. Ian Brew (Woodriver Junction, RI); 9. Mike Anzalone; 10. Nick Matera (Warwick, RI)